The Modern & Simplistic Style of Aesop
Aesop has to be one of my favorite beauty brands. Their products are mostly plant based and include high amounts of anti-oxident properties for the skin and hair.  I especially love their Parsley range and also their Geranium Leaf body scrub, which is absolute perfection.
Aside from their amazing product line I am always equally in awe of how well designed their stores are around the globe.  The Melbourne based company takes special care in working with amazing architects and use excellent craftsmanship to create inspiring interiors that pay homage to influential contemporary artists and the city's history depending on where they are.  All of the stores embody a unique approach to minimalistic and utilitarian interior design, many times using reclaimed materials such as original copper piping or simple craft design including pegboard panels. I love a company that brings such contemporary and simplistic views to style and design their brand as a whole; products, labelling, interiors, etc…  Check out a few of my favorite stores and see how their clinical aesthetic is beautiful and inviting.  Also you can check out their website here.
AESOP'S INTERIORS
Aesop Berlin – This amazing sea green store is located in the central borough of Mitte in Berlin and the interior was crafted by local architects.  It was inspired by the abstract and monochromatic canvases of German artist Gerhard Richter and also the city's industrial history.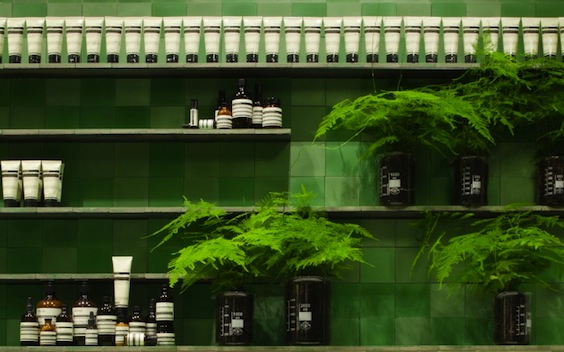 Aesop East Hampton – Love this use of simple but effective design materials here. Pegboard panels line the walls for "practical and programmatic" interior style.  This minimal and natural design is very cool and pleasing to the eye.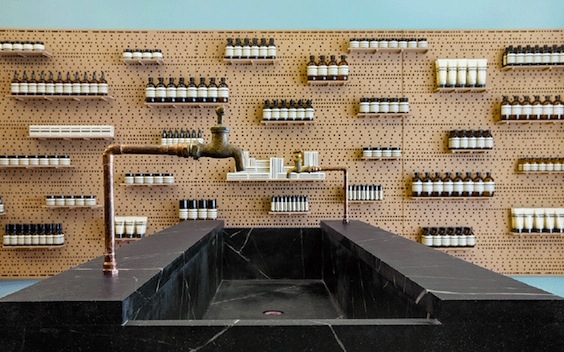 Aesop Chelsea, NYC – This store was designed as a collaboration between Aesop and the French literature magazine Review.  The design here is fun and inspiring.  Love the ceiling!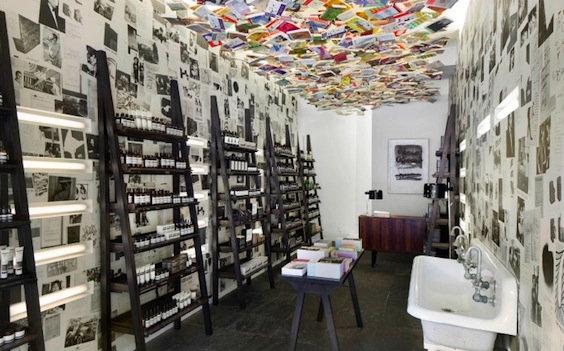 Aesop Saint – Sulpice, Paris – This gorgeous store was designed by Italian architects Dimore Studio.  It combines the classic minimal style of Aesop with more opulent chosen materials such as bronze, marble and velvet. Such Parisian glamour and I love those checkerboard floors.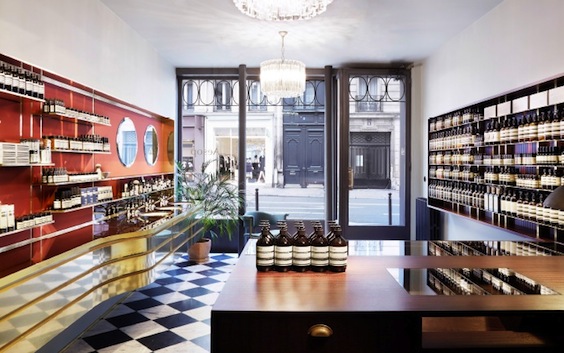 Aesop Tokyo (Pop Up Installation) – This temporary store popped up in Tokyo Midtown Galleria last year from April- June 2013.  It was designed by Aesop creative consultant Hiroko Shiratori who used utilitarian chairs to create an art installation of walls and shelving.  I love Aesop's emphasis on contemporary art and creativity.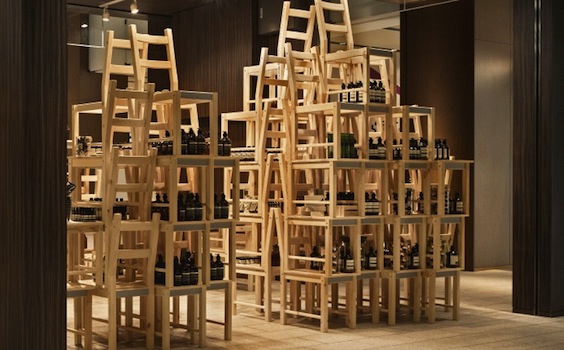 Aesop Covent Garden, London – Designed with white washed walls, exposed copper plumbing and engraved green cement tiles, this London flagship store is bright, airy and so welcoming. It feels very pristine and minimal…love it.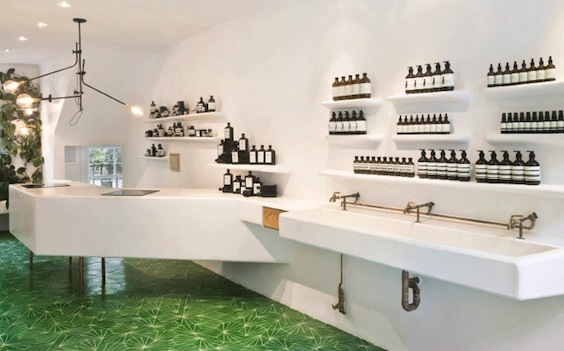 Aesop Montmartre, Paris – Designed as a collaboration between Aesop and local architects Cigue, this interior includes reclaimed materials and original fittings.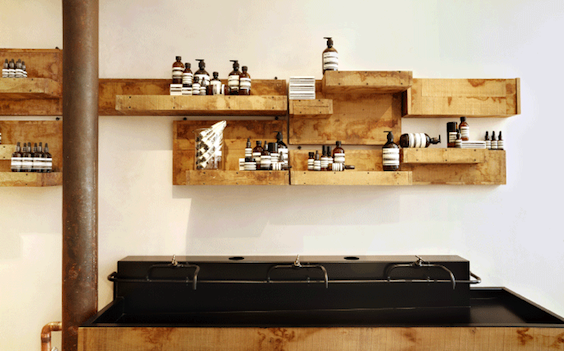 Images & Source via Aesop