People & Their Spaces: Sleek Industrial Designed Barber Shop
Interior: Barber and Frank | Andy Philippou: Barber | Daisy Kelly: Designer | Frank: Cockapoo 
Today we are featuring the effortlessly cool interior of the Brighton based barber shop, Barber and Frank.  About a year ago, Andy (the owner) decided to open up a new shop. Together with his talented designer girlfriend Daisy, they began the renovation process that took about 10 months in total. With Andy focused mainly on the functionality of the shop and Daisy on pure design appeal, they became a kind of dream team in creating an amazing interior, designed with sleek industrial edge which also has that classic barber shop charm, full of character, personality and warmness.  We love everything about the design and feel of this space, but we probably love Frank (their 14 month old Cockapoo) the most, who you can find chilling in Barber and Frank everyday.
The interior design of the shop left no detail overlooked.  Check out images of this fantastic space, as Daisy walks us through the design process.
BARBER AND FRANK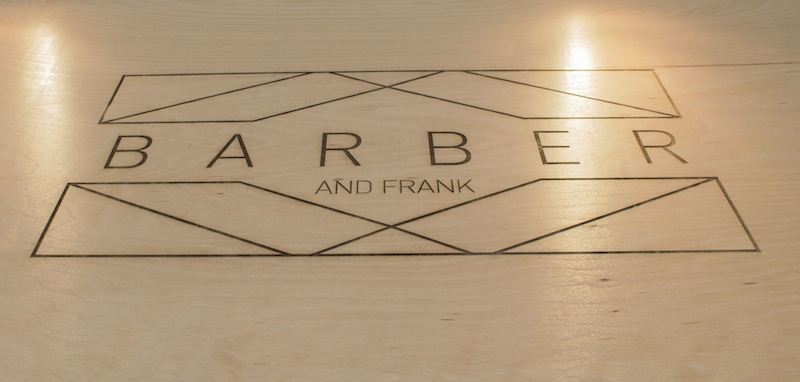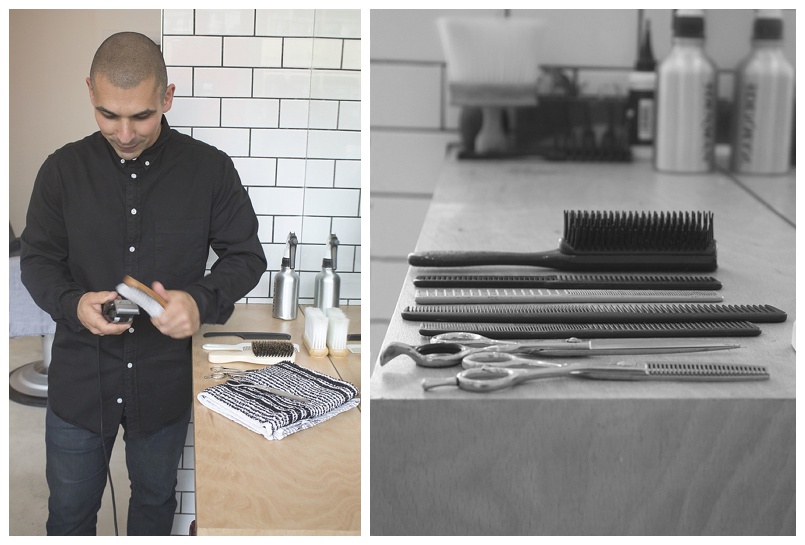 For the copper piping accents
, "I love copper piping, I drew up designs for the things I had in mind and my dad, who is a heating engineer, made them."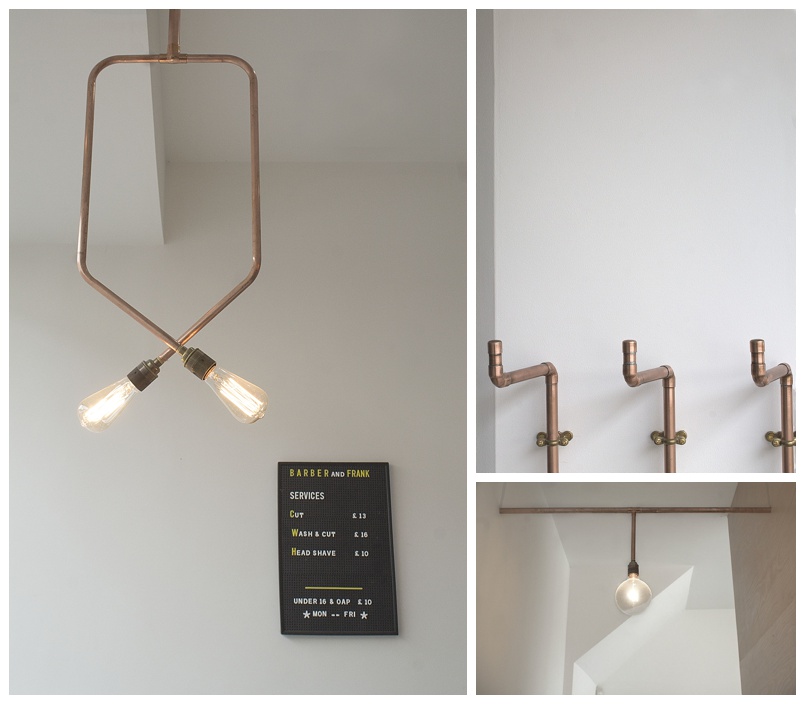 The
 "Barber and Frank"
(We love the pops of red against the monochrome palette of the interior)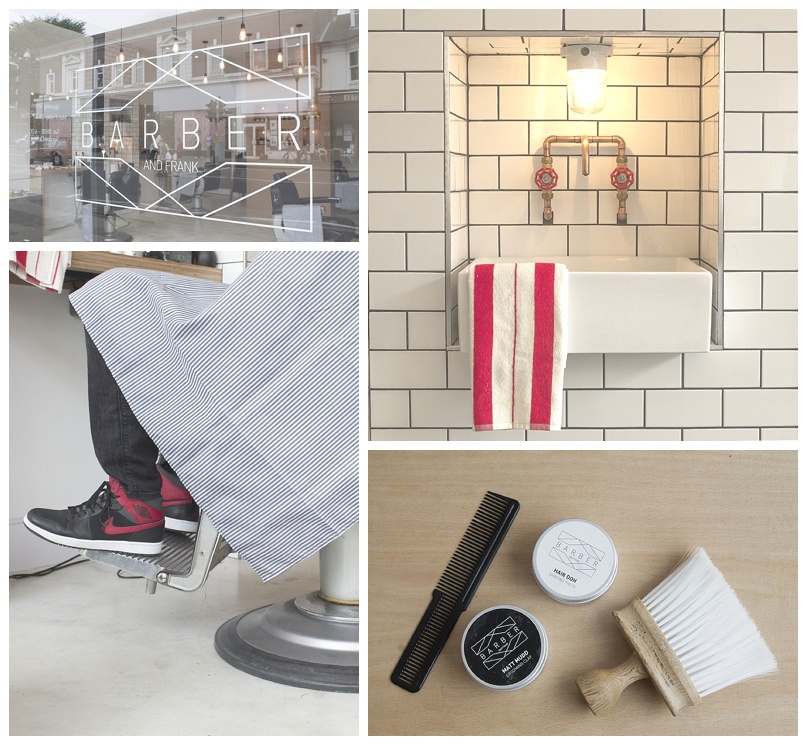 For the cement floor,
"The floor had to be practical and I thought a concrete floor would work well with the design."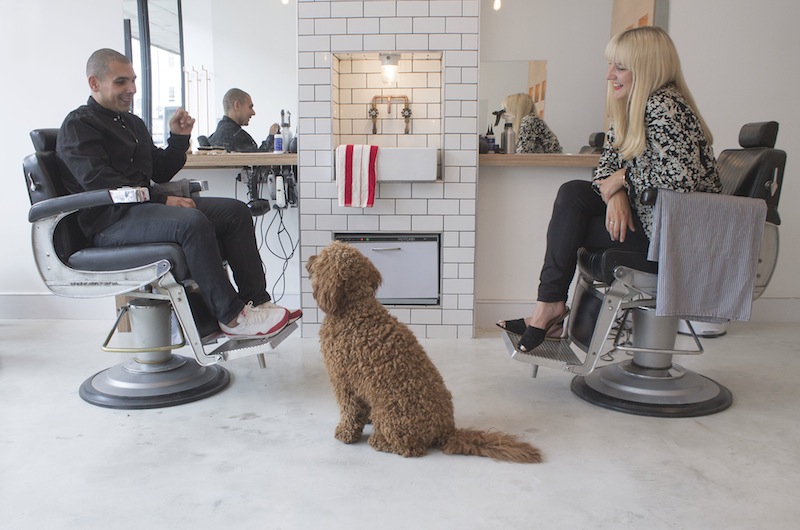 For the bathroom accents,
"I desperately wanted some kind of geometric tiled floor somewhere. I think it's nice when something is unexpected. It was the only thing I had to persuade Andy on."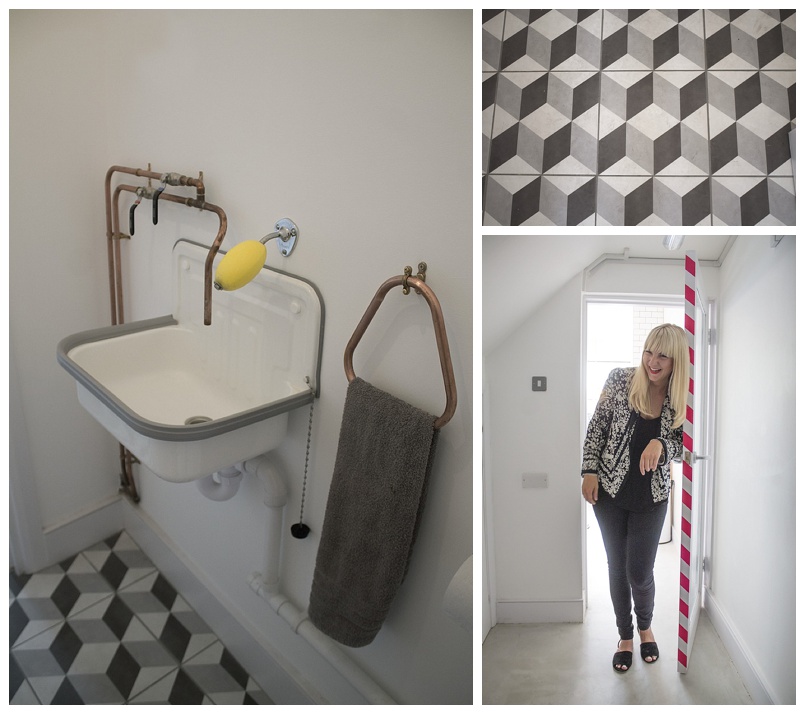 For the Edison bulbs,
"I really like the simplicity of the bulb lights and I thought the Bakelite ones I chose would go with the original barber chairs. They are also practical because they spread light and don't cast too many shadows."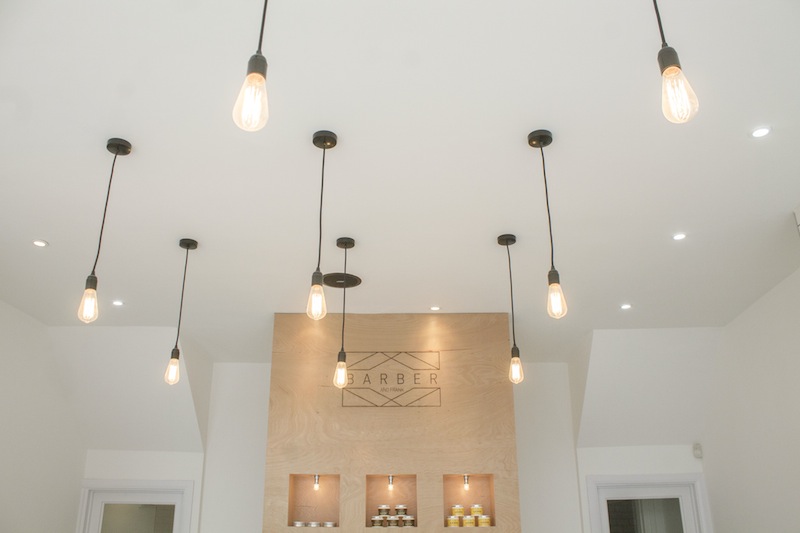 For the plywood elements,
"I worked closely with an experienced carpenter to create the counters. I wanted to work with the detail plywood edges have. I am very happy with how the plywood bench turned out too."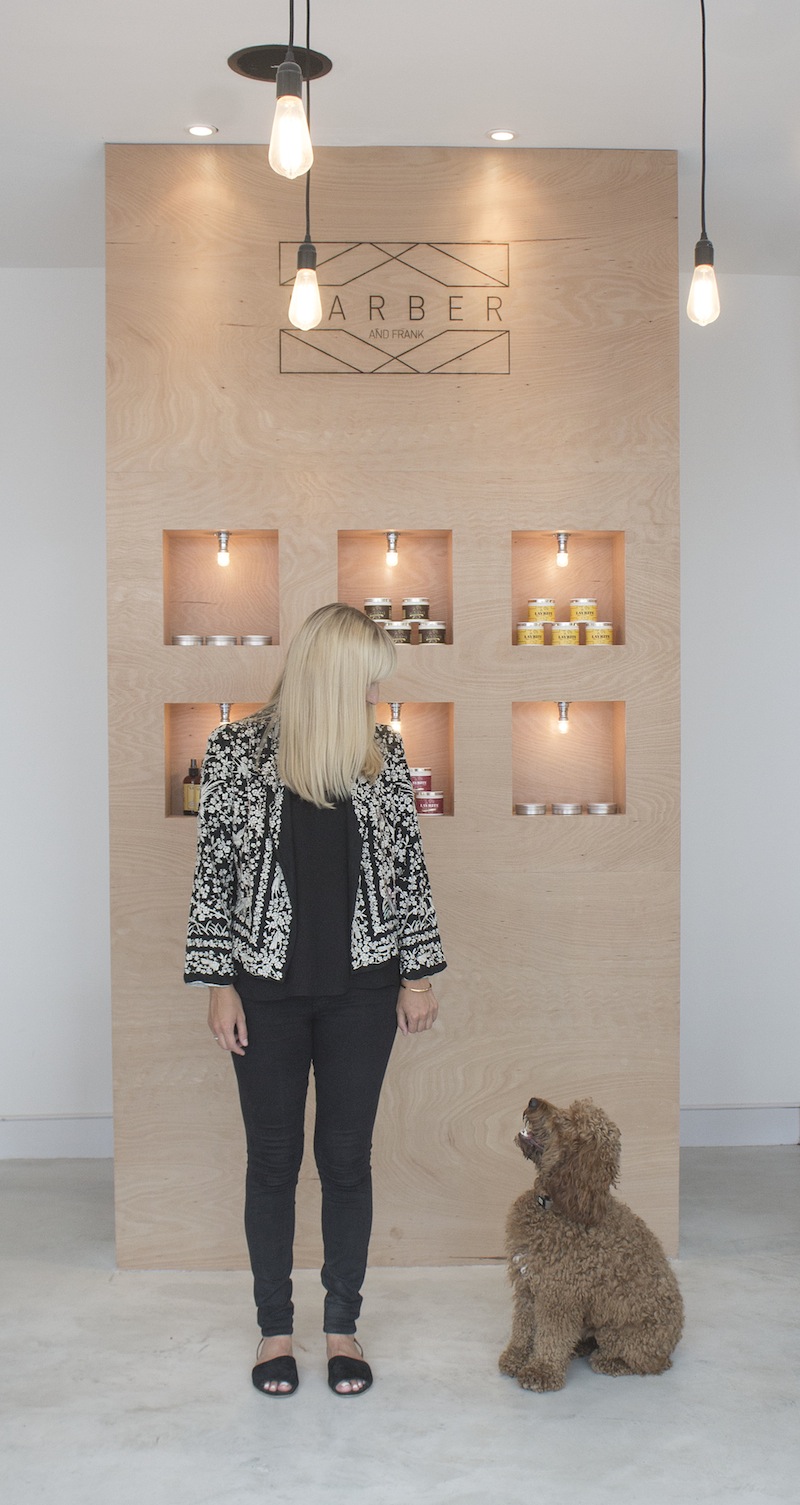 (some of our Polaroid outtakes)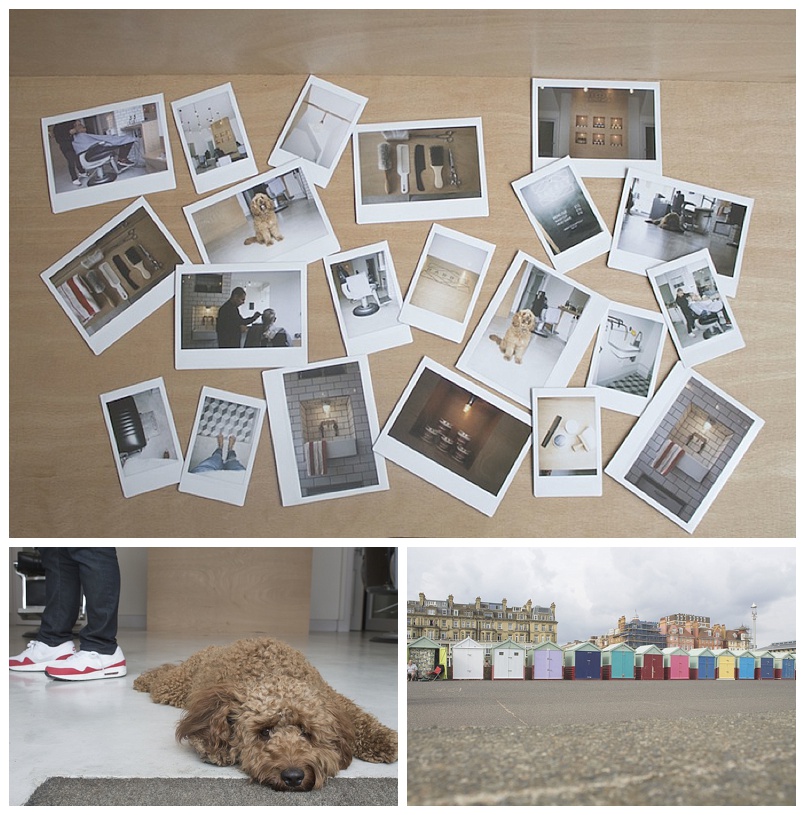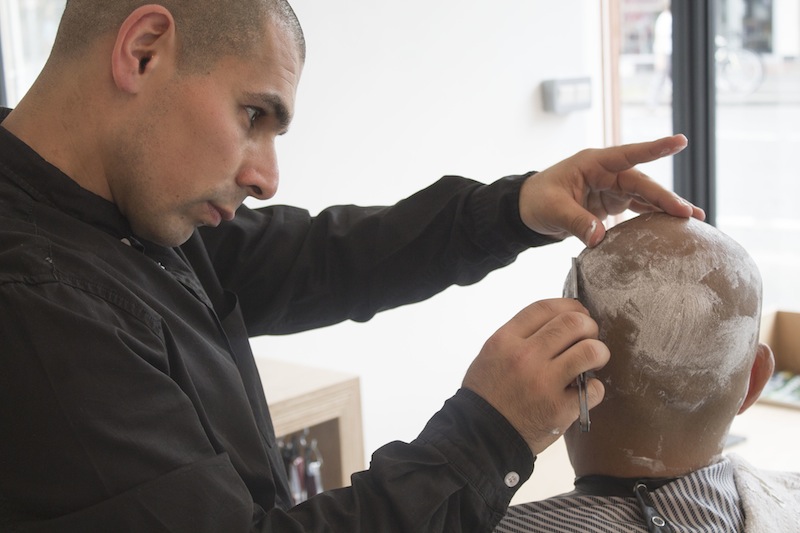 For the barber chairs
, "Each barber chair in the shop is an original vintage chair, they were all found separately over the course of a year on different auction sites."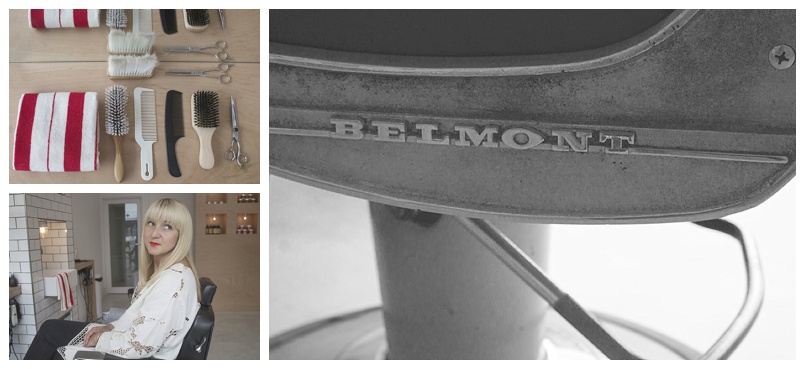 (such a fantastic space & design)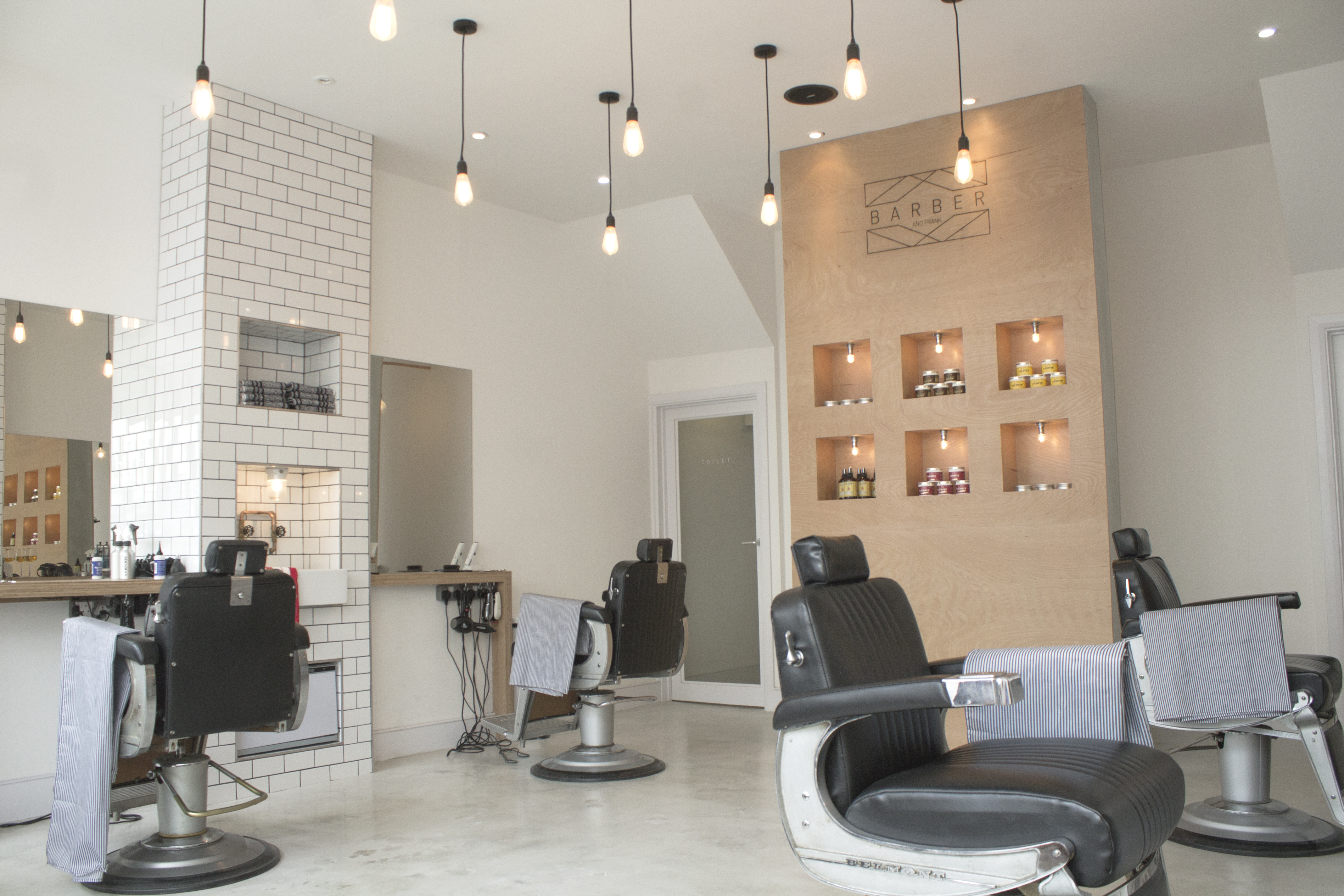 For the logo,
"I hadn't originally planned to design the logo but I think I just felt I knew what kind of logo I wanted for the shop's design. I designed about six, all inspired by the diagonal lines on a barber pole, and everyone we showed chose this one."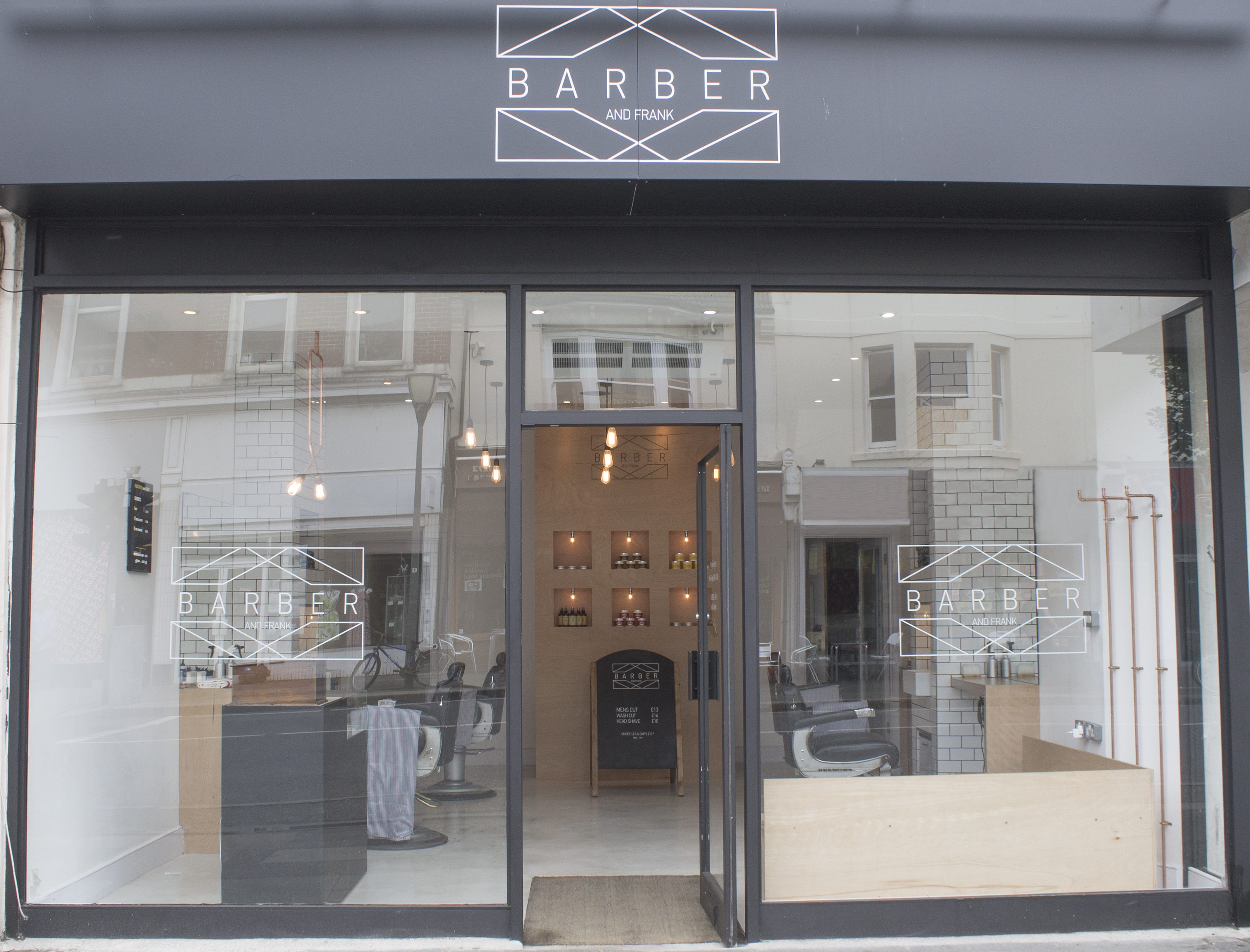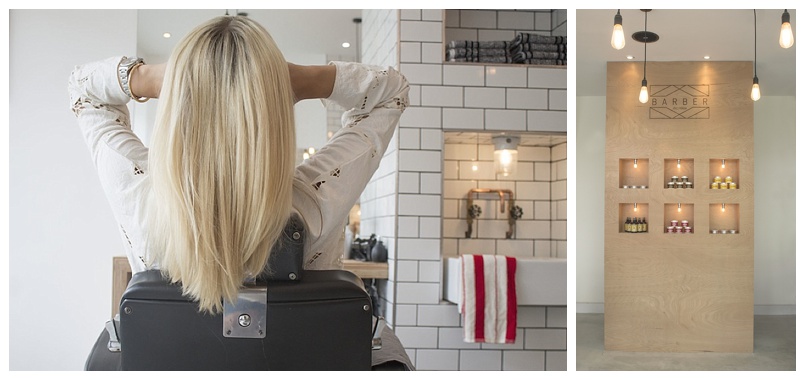 The Brighton Sea Front
, "This is about 3 minutes from the shop and where Frank takes his daily walks."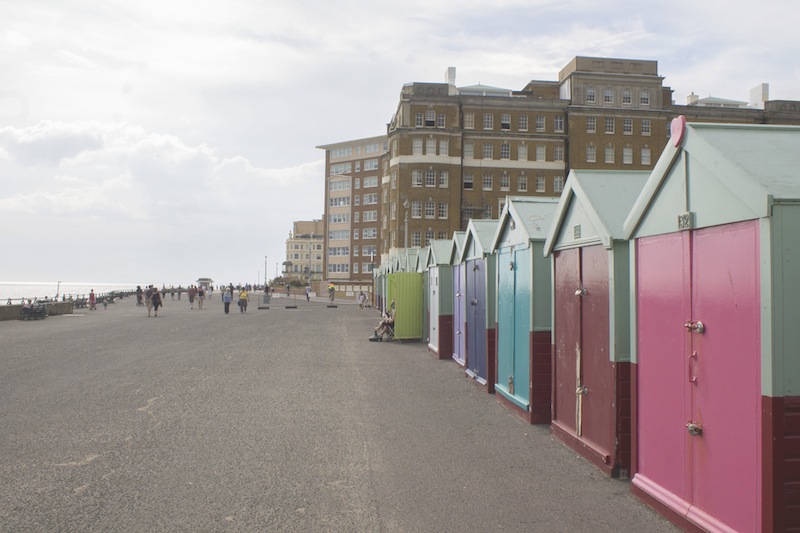 Q & A 
What was your main design inspiration for Barber and Frank?
Daisy: The original chairs Andy had sourced and purchased previously. I also had recently visited the abandoned Chameri Metro station in Madrid, it has amazing subway tiles. We didn't want it to look like a typical barber's.
What is your favorite piece (or thing) in the shop and why?
A: The peg price board, because this is what they used in old barbershops and it reminds me of that
D: I'm not sure, the warning tape I stuck on the side of the doors to look like barber poles makes me smile.
What was the most challenging aspect of the renovation and design for this project?
D&A: 5 weeks timescale to renovate was challenging and trying to replace the obvious front washbasins with something different.
In three words, describe the interior design of the space
D: I hope inviting, different, and interesting.
To you, what makes a great space?
D&A: Atmosphere and functional design
What advice would you give to someone about to start his or her own business?
A: Plan ahead, be passionate, and have experience in the field you are going into. Don't let negative people put you off.
What advice would you give to someone in the process of renovating his or her own space?
D: Spend some time in the space before planning, create a mood board to keep your vision focused. Remember the room's function and design around it. Measure, and then measure again.
What are your favorite outlets for design inspiration?
D: Magazines like Living Etc. and Elle Decoration, exhibitions and Pinterest. But I think inspiration can be found anywhere and is often more original when found from something less obvious. I love visiting new places and experiencing new things.
To you, what makes Barber and Frank so unique and special for your customers?
A: The environment and experience, quality of work, and old-fashioned barbershop banter and community feel.
What was your favorite part of this design and renovation process?
A: Seeing the finished project
D: Although directed by its function, definitely having full control of the design.
90 Blatchington Road, Hove, East Sussex, BN 3 3YF
Photography by Heather Perkins