People & Their Spaces: A Home With Personality
Interior: Colorful Home in Shoreditch | Alex Lu | Owner of Life is Short- Start Living
We love a home with personality and that is exactly what Alex's 3-story Shoreditch house is full of!  From her vibrant, art filled neighborhood to her bright and colourful interior, Alex's happy and energetic personality comes through with each design element.  Today we are excited to share some images of this lively East London space that is airy, happy and warm.
The Neighborhood  
Just like Alex's home, her neighborhood of is chock full of color and personality.  Amazing street art is literally everywhere you look (on each block, draped from the buildings and on the street itself) and each piece is fantastic.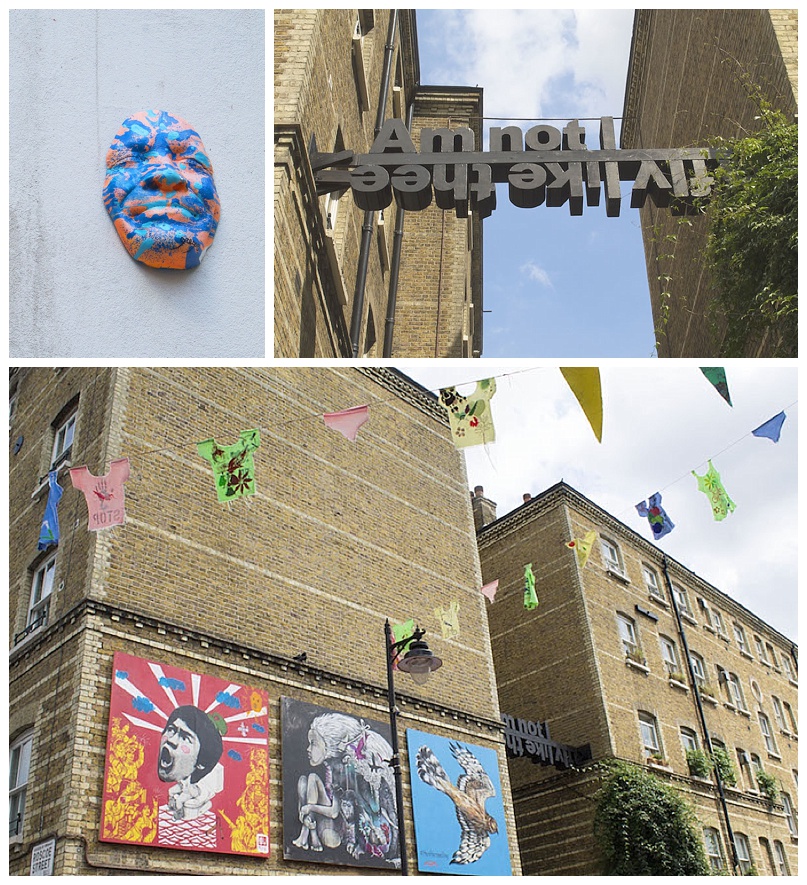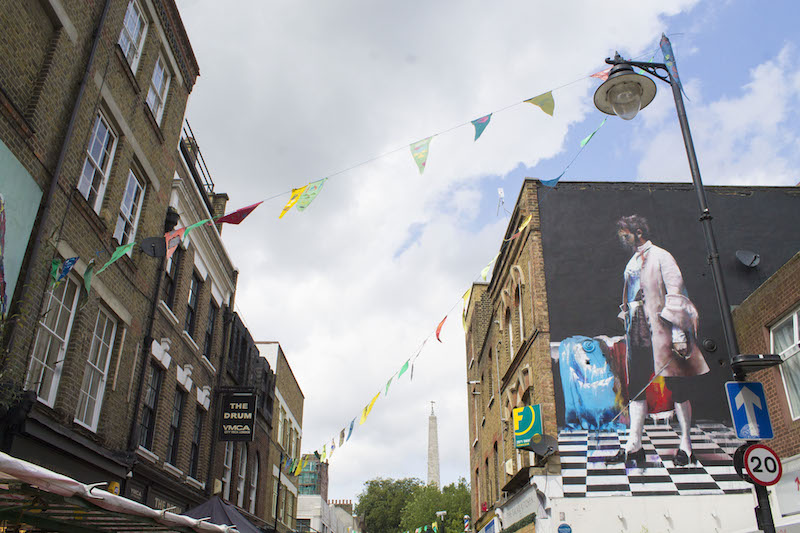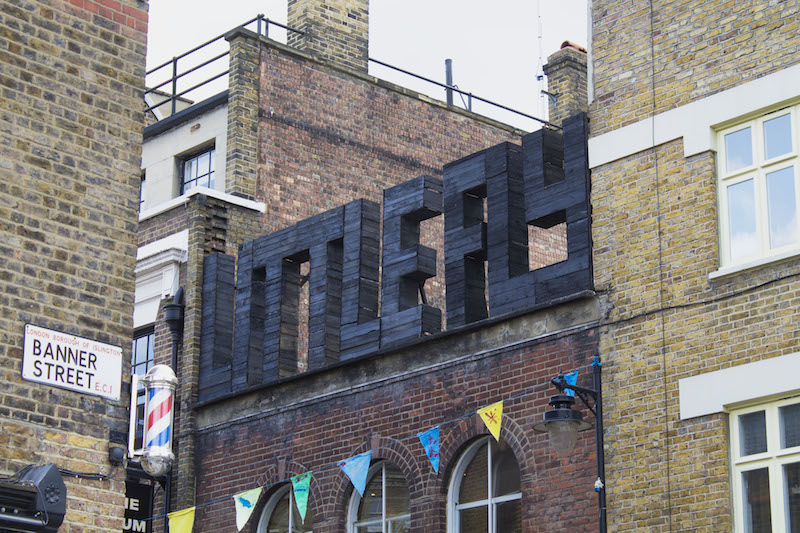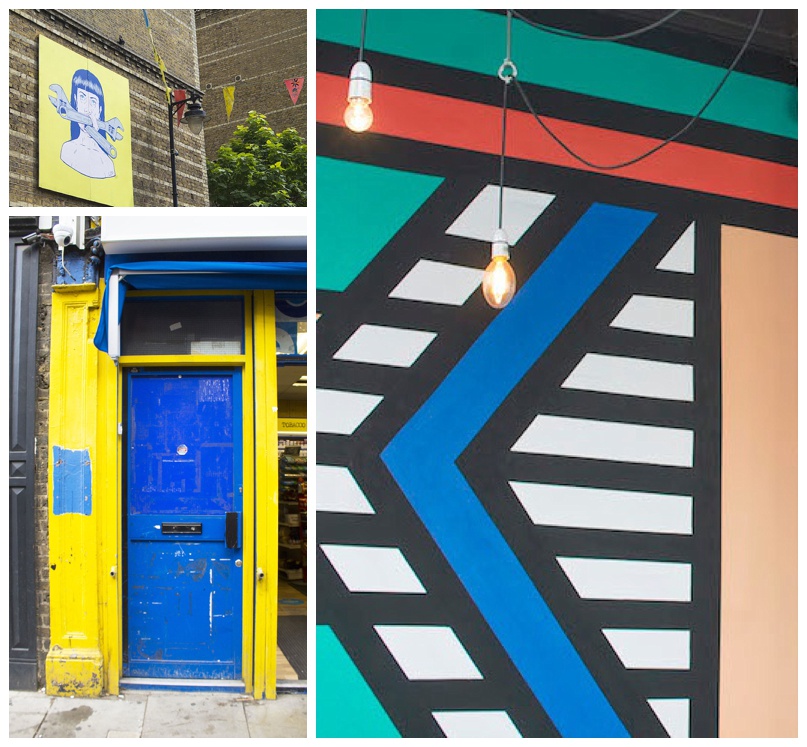 Just outside, the Whitecross Street food market is bustling at midday for lunch.  We especially loved this teal food truck. 
About the hot pink door,  "It resonates with me. It makes me happy, and I hope I am that pink door to most people I encounter in life as well."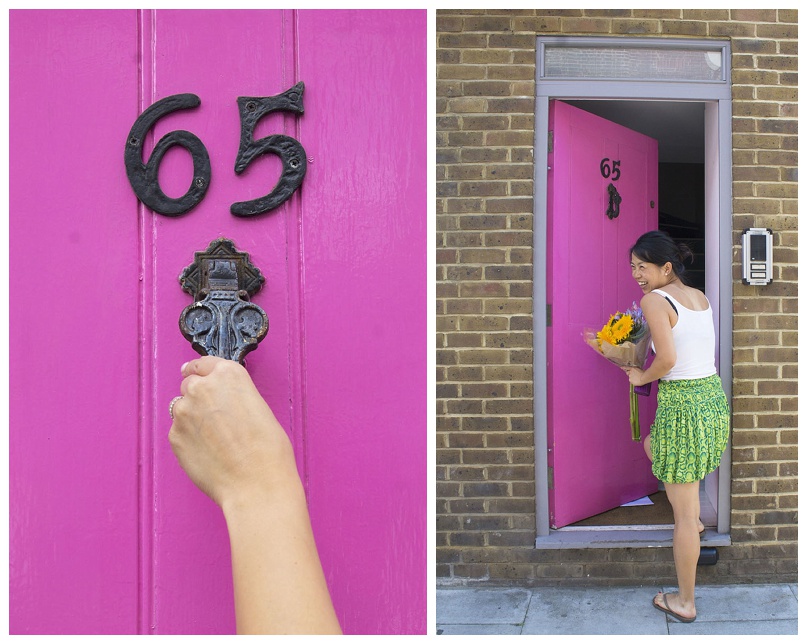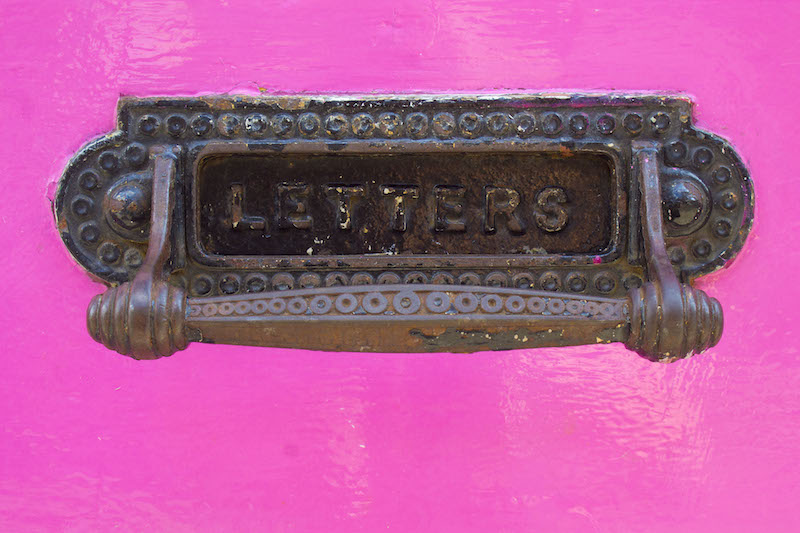 Shades of blue and green are consistent throughout the interior space as well as various patterns that bring life to each room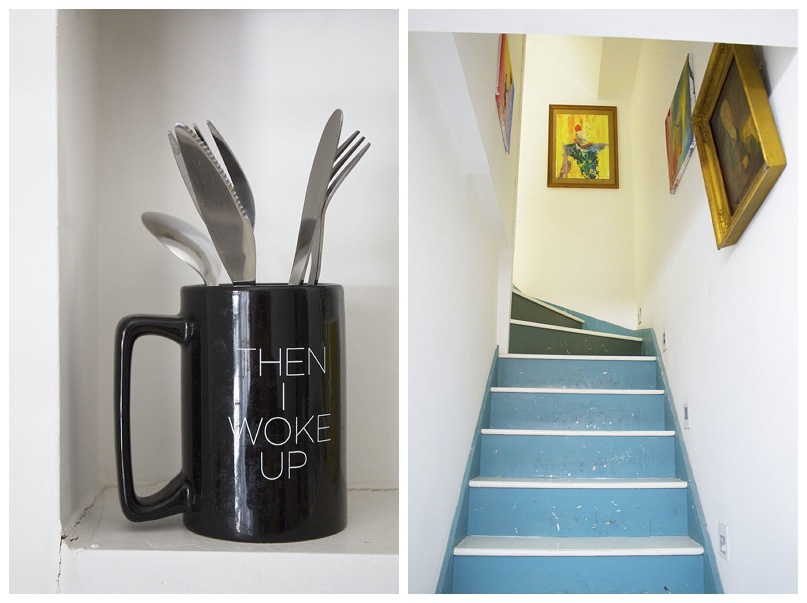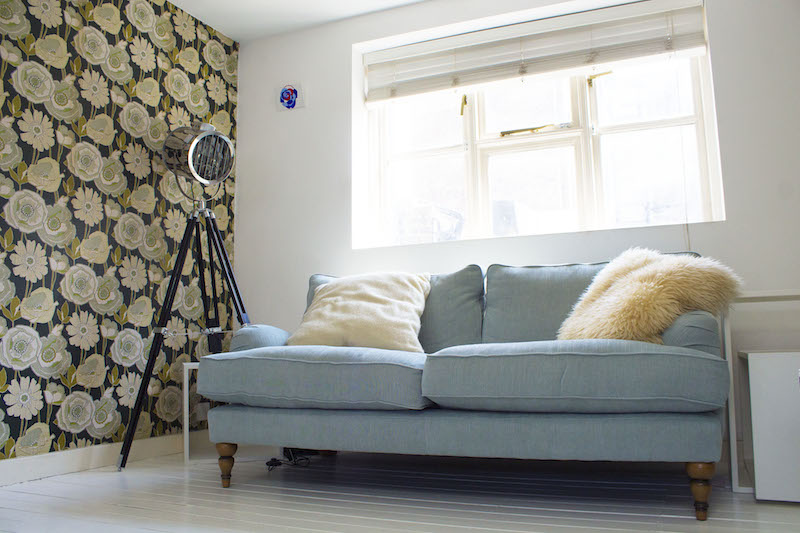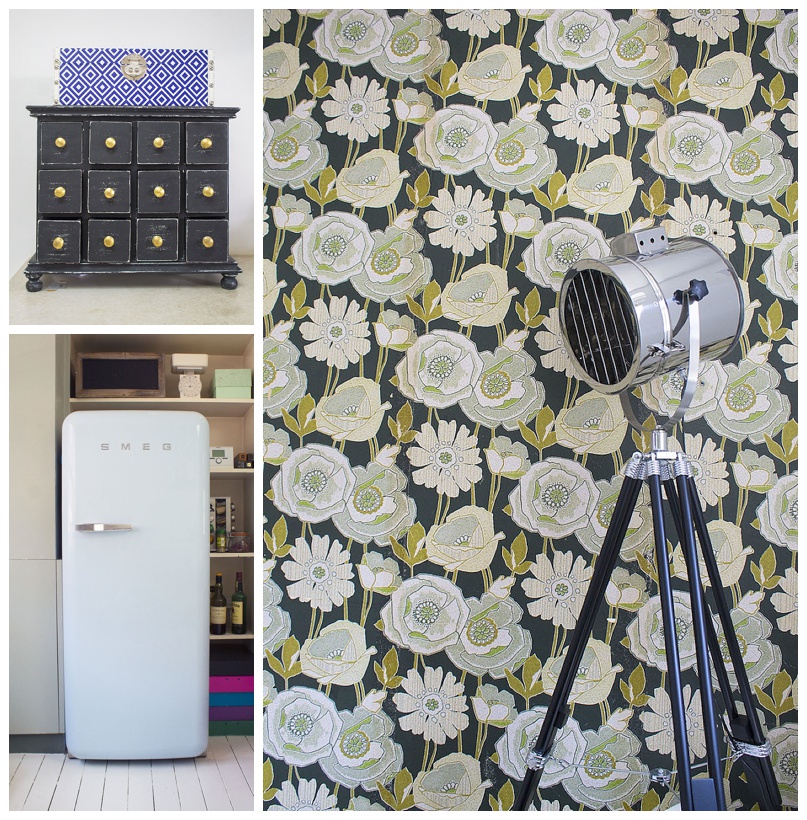 The kitchen and dining has a simple, almost industrial feel with the open kitchen, white floorboards and airy loft-like space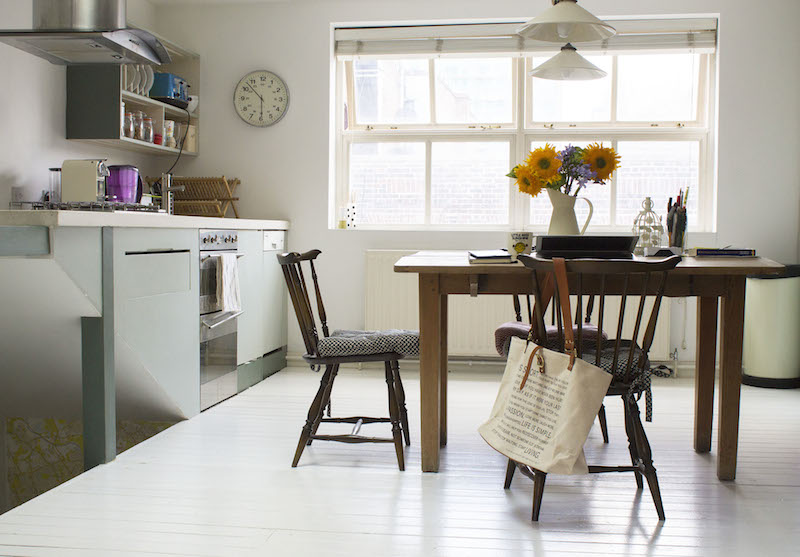 Open stairway leads up to the rooftop terrace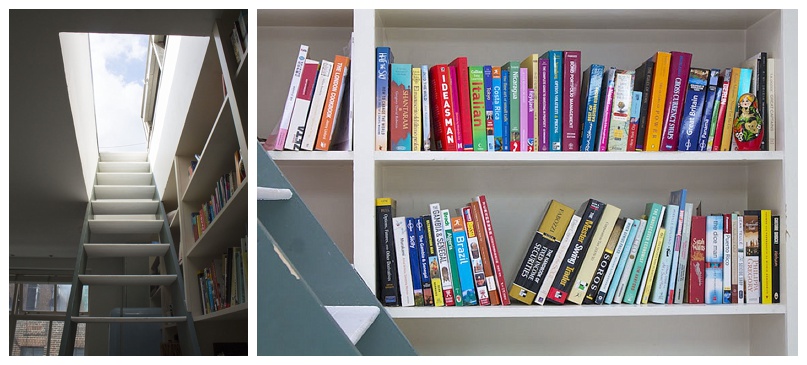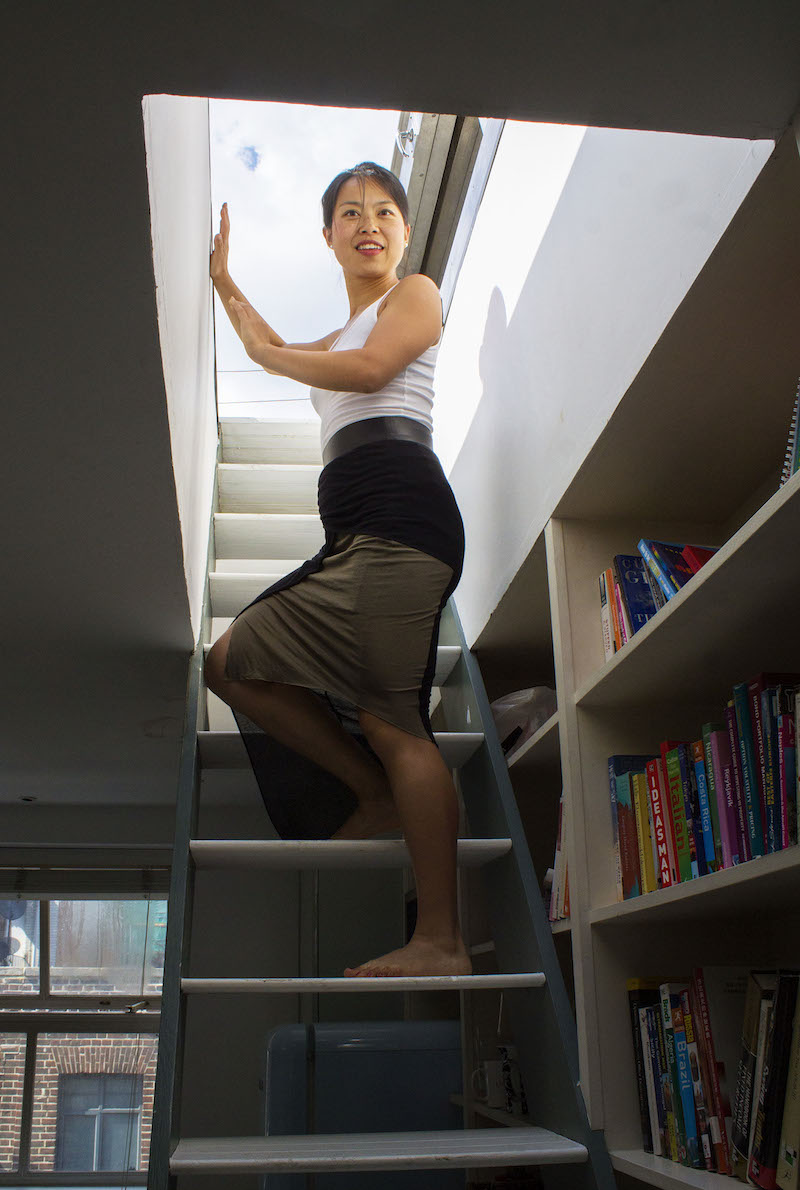 About (all) the travel books on the bookshelf, "I lost track of how many countries I have been to.  Maybe over 60 countries now.  I thought I could have been Christopher Columbus if I had been a man 600 years ago. The reality is-  I am just grateful for being alive in 21st century and having the opportunity to travel and explore like I do."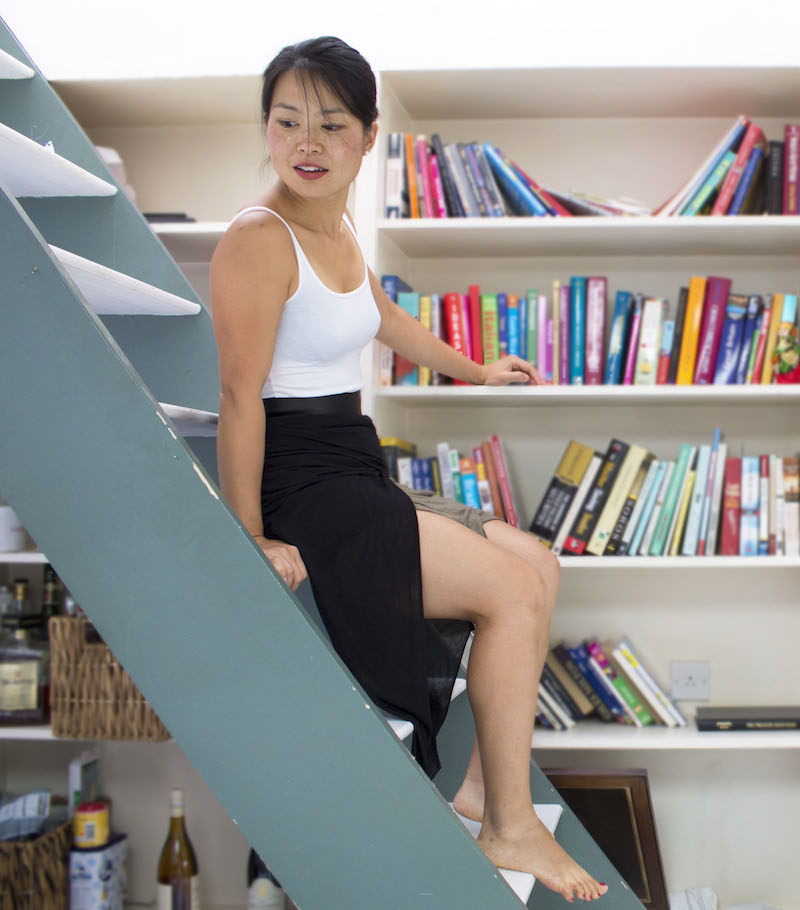 Alex's mug which embodies her personality and home perfectly  
Polaroid outtakes from the day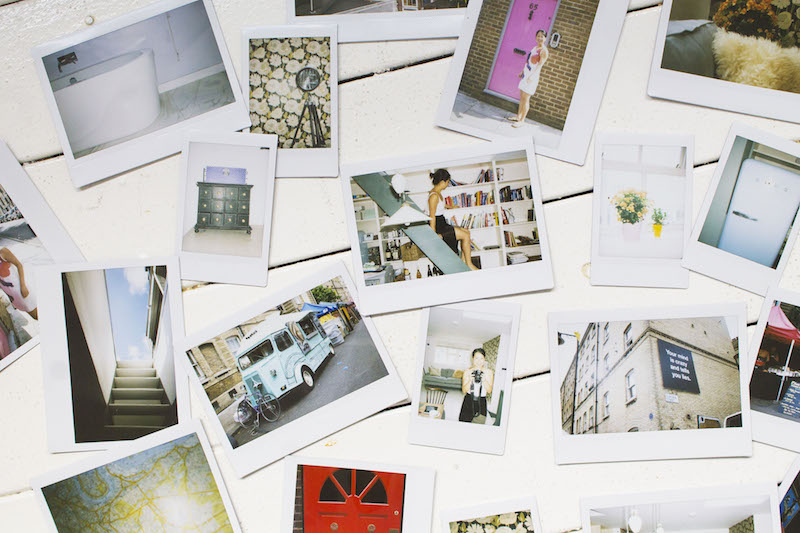 Powder blue accents are all around the living space
About the powder blue Smeg Refrigerator, "I always loved the SMEG design. But it was a very good friend of mine insisted that I must have SMEG for the sake of beauty and harmony of the house. It was the best decision ever. I like happy colors! Baby blue seemed like a good tone that goes with the rest of the fittings."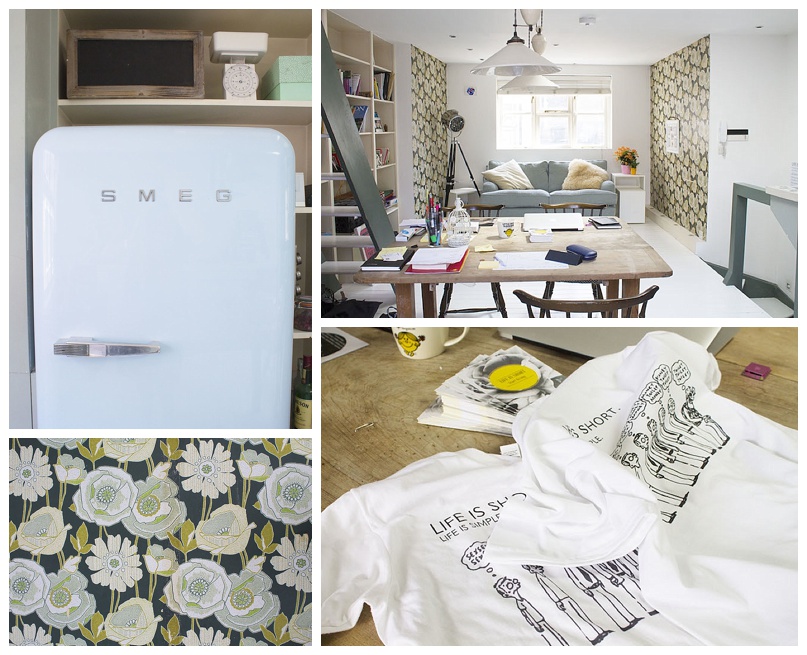 White washed wooden floorboards bring an airy brightness to the interior and also allow the colorful accents and patterns to pop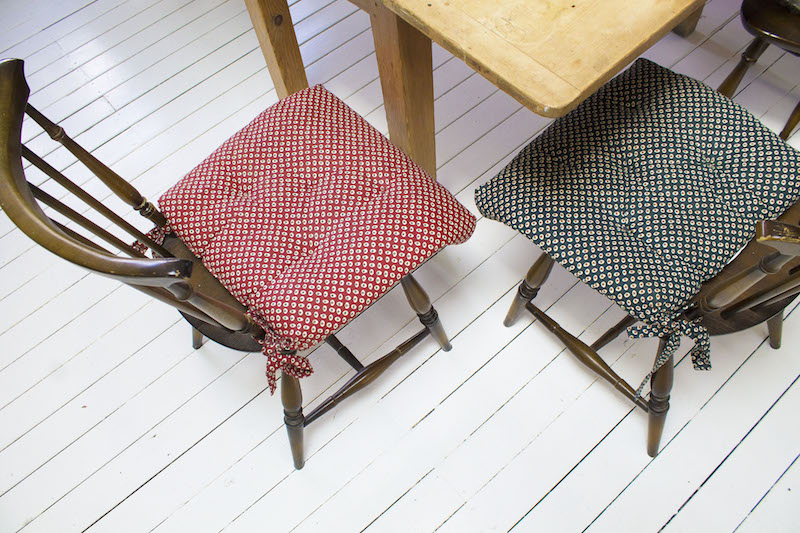 Wallpaper in the hallway is a large map of London 
About the wallpaper, "It came with the flat! I am giving full credit to the previous owner!"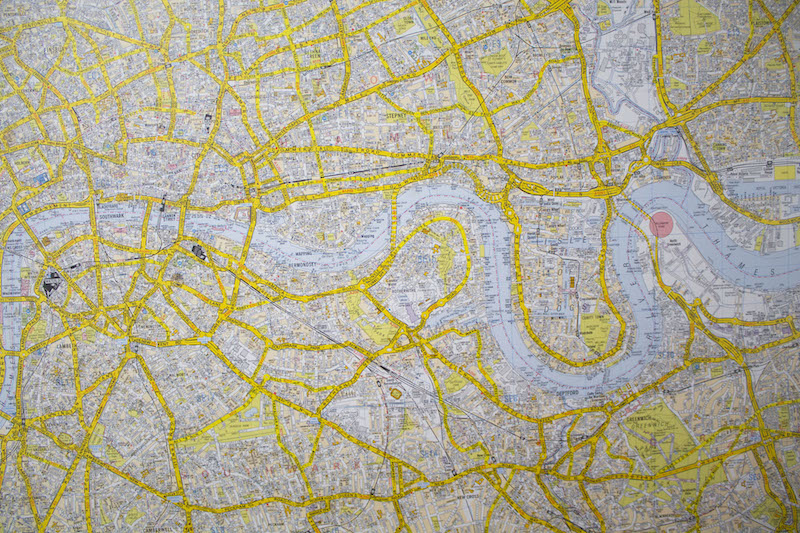 A carry tote from Alex's company 'Life Is Short- Start Living' draped over the hallway railing 
Happy and colorful floral accents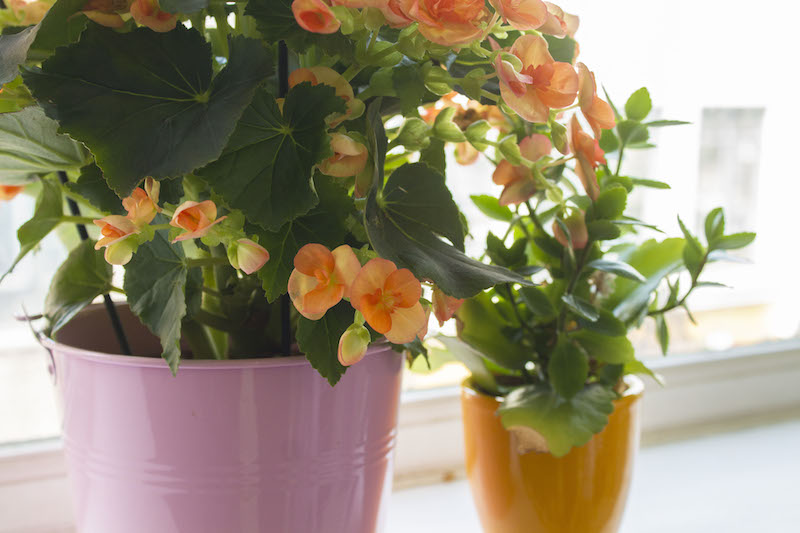 The spare bedroom is also rented out on Airbnb on occasion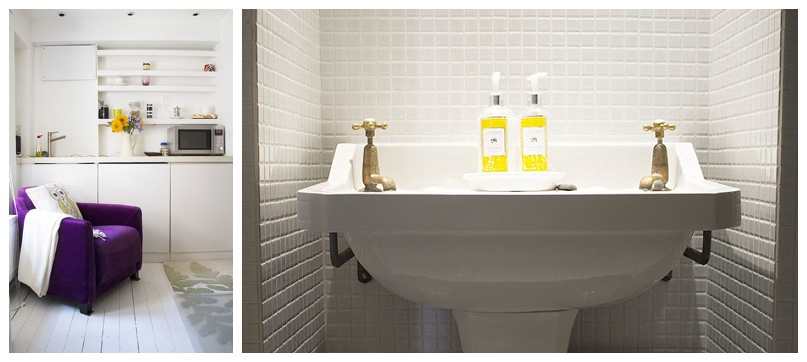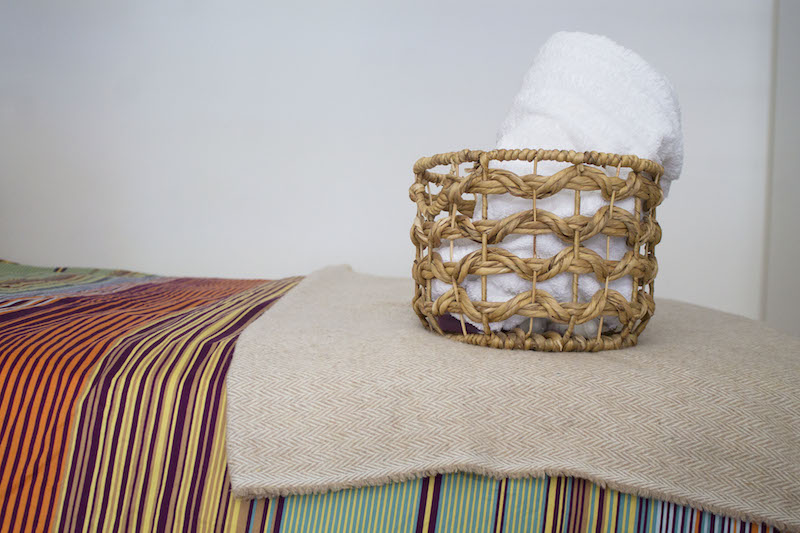 Such gorgeous bathroom accents of lavenders and blues keep with the overall vivid interior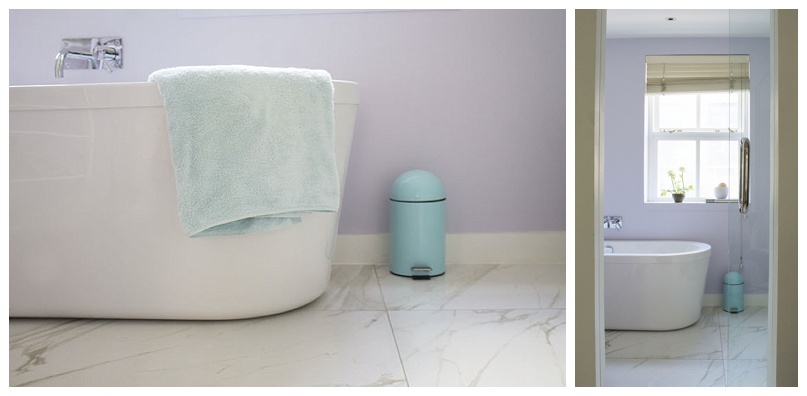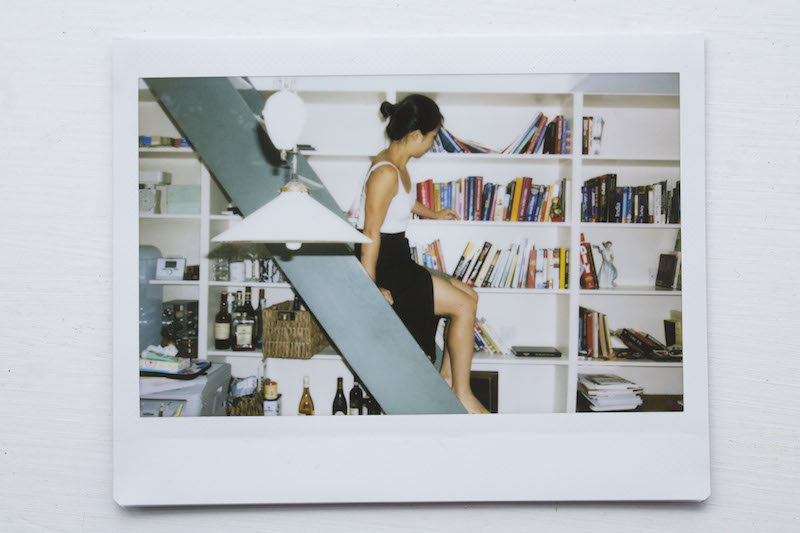 That amazing hot pink door and views from the rooftop terrace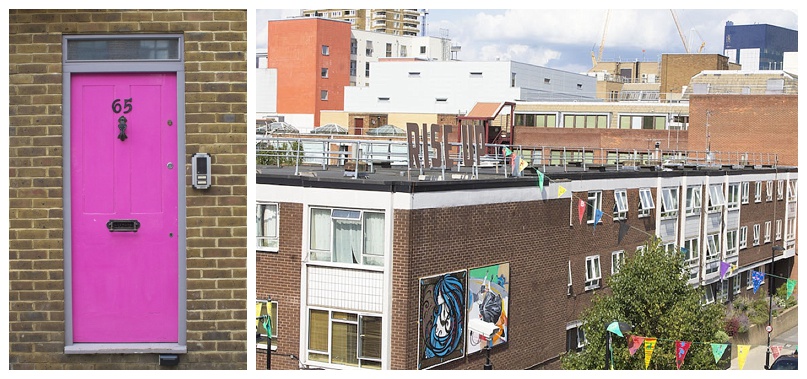 Q & A 
What do you love most about your neighborhood?
Graffiti! Creativity! And Randomness!
In 3 words, how would you describe your interior space?
Light. Minimal. Cottage.
What is your favorite piece (or thing) in your home and why?
The bathroom. I give all the credit to a good friend of mine, Carlo Palombo. He has a great sense of design and perfection. He found the tiles in a specialist store in Clerkwell, and they were shipped from Italy. At the time, I didn't think it is worth all the trouble. But now, I really appreciate the attention to detail. Afterall, we spend fair amount of time in the bathroom!
What to you makes a great space?
Authenticity, Uniqueness and Comfort (very subjective from person to person).
What are some of your favorite spots in London?
The Timber Yard coffee shop that's around the corner from me has a great atmosphere. I liked it so much that I wanted to work there part time, but they turned me down. Regent canal is one of my favourite running routes. Princi in Soho is a great people watching spot. Trullo in Highbury Islington is the only place where I ordered another pasta dish for dessert! Flower Market makes me smile. My neighbor Simo makes the best cocktail! He is opening a new cocktail place in Soho underneath the Whisky Shop Milroy. Do check it out when it opens!
What is your favorite book on your bookshelf?
The Late Mattia Pascal by Luigi Pirandello
How has your creative neighborhood influenced your interior space?
The flower market is a 15 minute walk from me.  I go there as often as possible on Sunday morning to get fresh flowers.
How do you think your personality is reflected within your living space?
I don't like emotional attachment with physical objects and I like to be true to my self-identity. Hence, my living space reflects those life philosophies. My living space is also my creative studio for my start up company www.lifeisshort-startliving.com
What advice would you give to someone looking to purchase a flat in London?
London flats are not just commodity/real asset, they are a form of liquid money. That applies to NY, Tokyo, HK and many major capitals of the world.
Photography by Heather Perkins