6 Simple Ways To Organize Your Closet
Ok so I live in London which is fantastic.  One of the not so fantastic things though, about living in such a big city with limited space is the dreadful storage situation that exists in pretty much in every flat or house in the city.  When I moved into my current flat, I thought "yeah my closet is amazing, I am movin on up".  Those sentiments lasted approximately a week, which was also about the same time that it took me to grow out of my new "larger" closet.  The thing is though, as much as I am blaming my closet issues on living in smaller space in a big city, I feel that we all have a tendency to grow out of our closets no matter what the size.  This is a result of all kinds of things, usually for me it is keeping unwanted clothes that "I know I will wear again" although I haven't worn it in about five years and also getting lazy about organisation which is the KEY factor in keeping a closet that looks great, as opposed to having one that is a complete disaster.  And we all know what happens when your closet is a mess…you usually end up wearing the same five items that are easiest to see as you have no clue what you even own within the fabric jumble in the back.  So today, I am doing something embarrassing.  I am showing you a small area of my wardrobe which has become like a crime scene (seriously it's pretty bad).  I am also going to share six very easy and inexpensive closet upgrades that you can do to help transform your closet for the better without any major work on your part.  Just remember to maintain it.  For me that's the hardest part!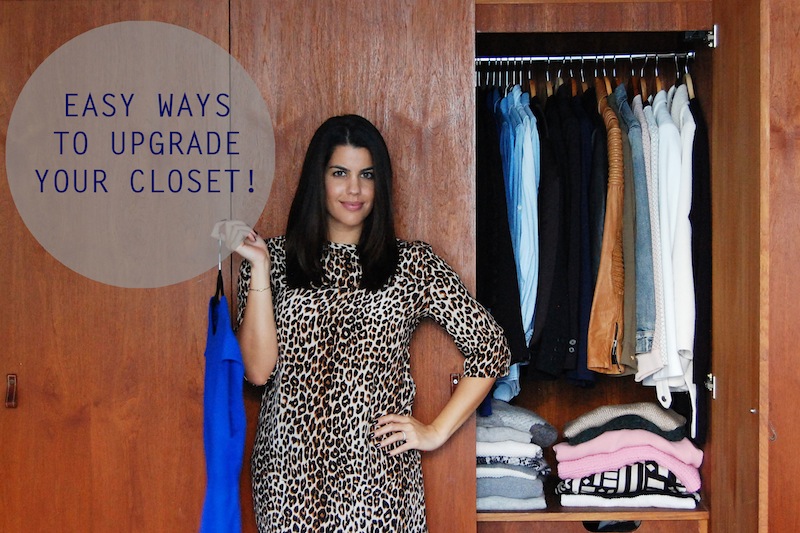 v
BEFORE
So here is my closet before… total mess, disaster zone.  Let's fix this ASAP!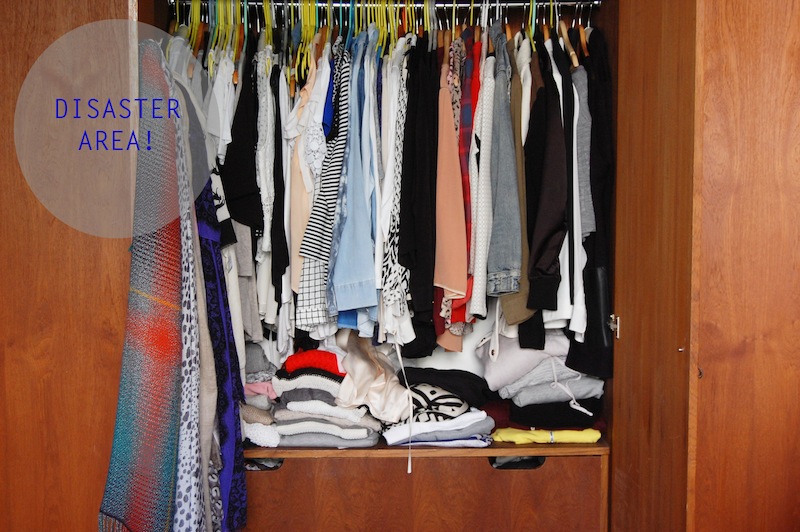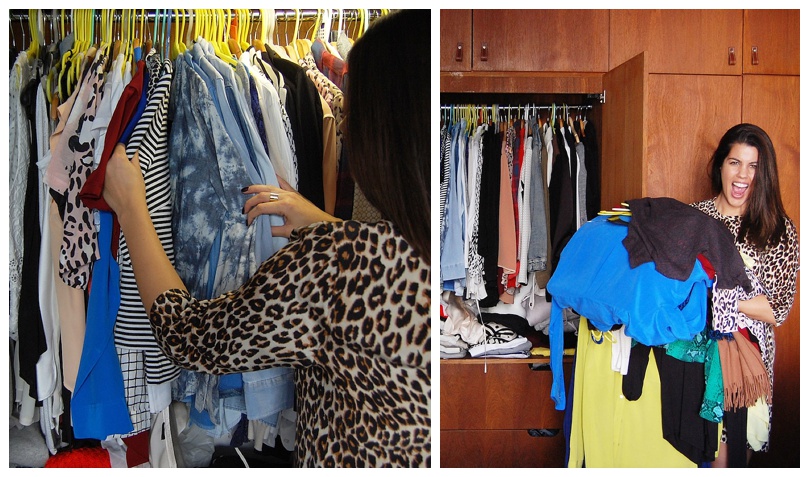 STEP 1: REMOVE UNWANTED CLOTHES
The first step is to take a moment and sift through your wardrobe to make sure that your closet isn't getting clogged with clothing that you have grown out of (whether that is by size or your taste).  I heard once that if you haven't worn something in one year you should get rid of it.  For me, that is too soon, but I think that a two year bench mark is a good time to re-evaluate the item (unless it's super special then keep it by all means).

STEP 2: HANGERS…OUT WITH THE OLD AND IN WITH THE WOOD & FELT
Because of dry cleaning I have collected an entire range of mis-matched hangers which include…WIRE HANGERS (don't judge me).  Getting consistent with your hangers is probably the most important part of your closet upgrade.  Try your very best to get rid of as many of your mis-matched hangers as possible, especially the wire ones (this is a must).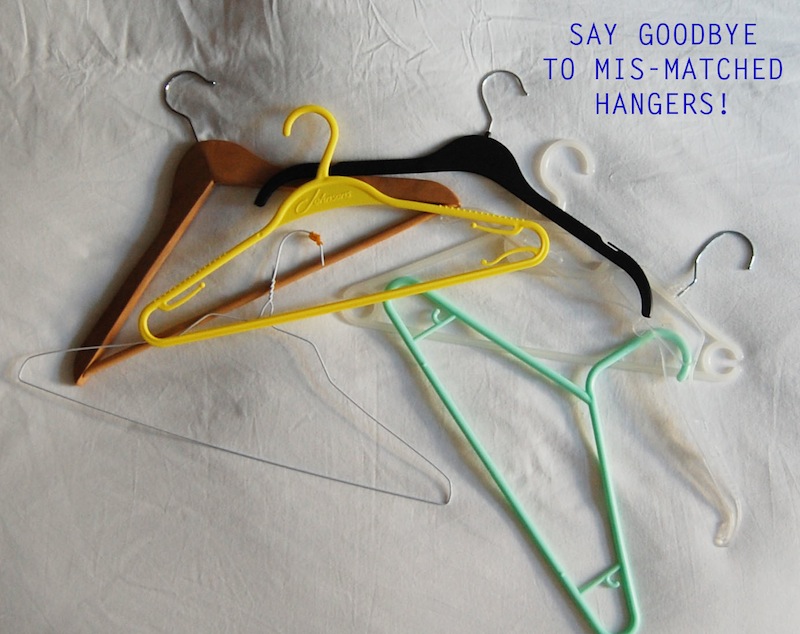 I decided to narrow my hangers down to 2 types: Wood and Black Felt.  I am using the wood hangers for my jackets or heavier items and the (non-slip) felt hangers for all of my shirts.  Having these hangers will not only help your clothes to last and keep their shape, it will create a nice simplified backdrop for your clothing making it easy on your eyes when you are looking for your outfits. I got my wood hangers here and the felt here.  This is worth the investment.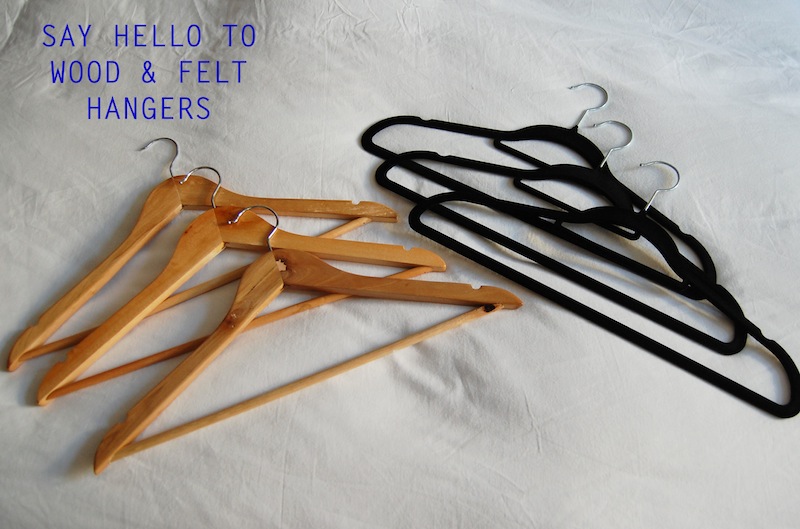 STEP 3: HANG ALL OF YOUR CLOTHES IN THE SAME DIRECTION
This makes such a difference and will make your life so much easier.  Face all of your hangers in the same direction on the rod and all of your clothing in the same direction on the hanger.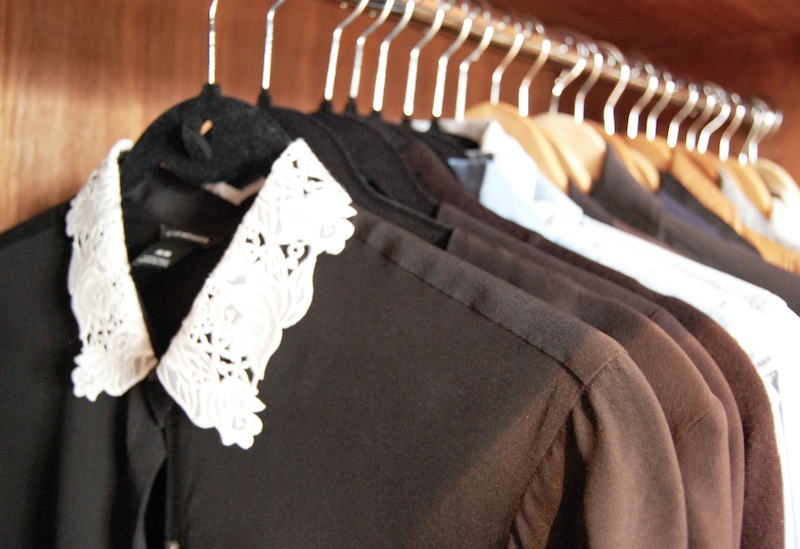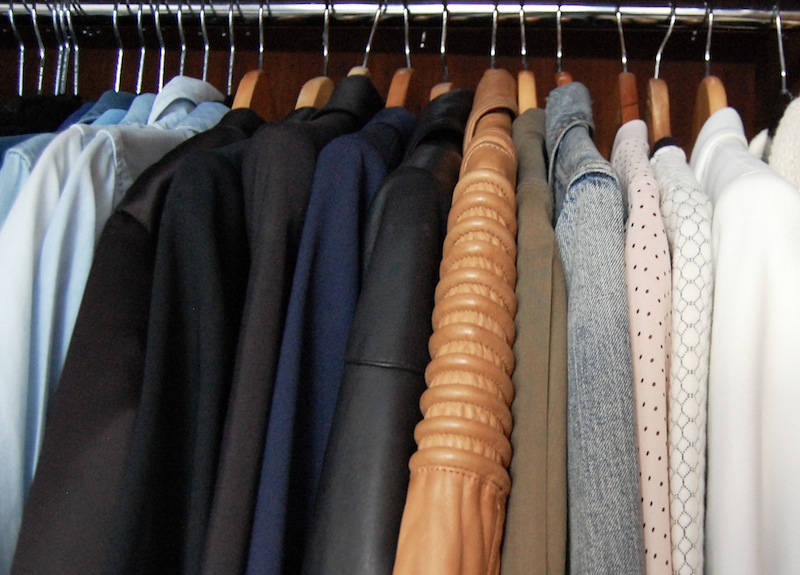 STEP 4: GROUP YOUR CLOTHING BY TYPE & COLOR COORDINATE
I like to place my clothes in groups, for example, nice silk shirts in one area, casual t-shirts, lightweight jackets, etc. Once I group the type of clothing together I then place the clothes in color order.  This makes it really easy to find what you are looking for and also know exactly where to put the piece back when you are finished.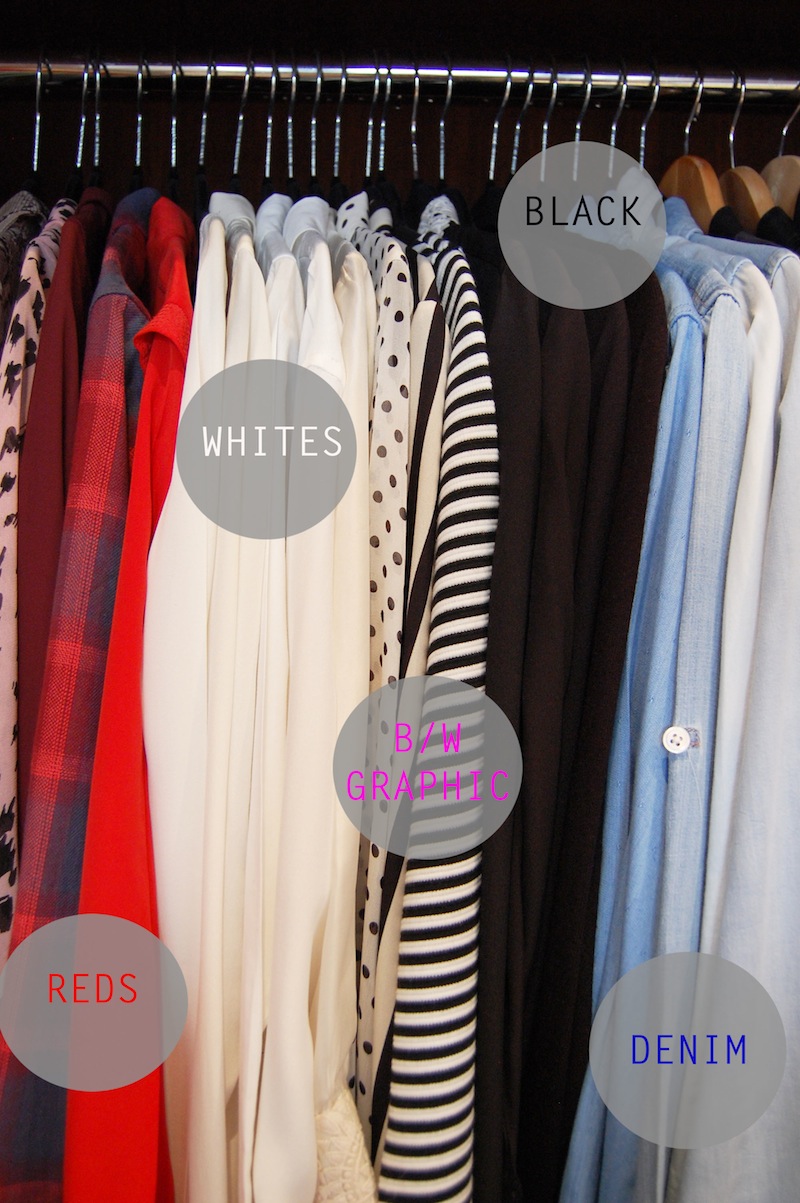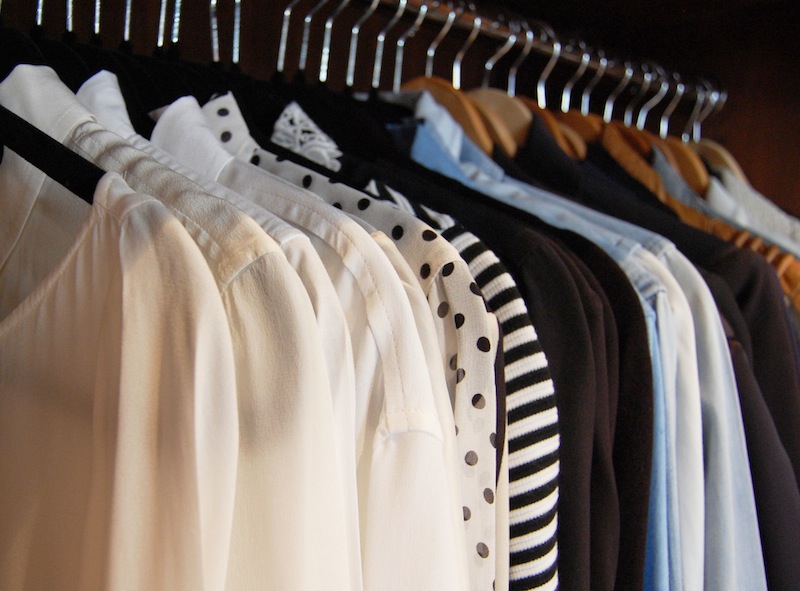 STEP 5: FOLD ALL YOUR SWEATERS NEATLY & IN COLOR GROUPINGS
I always fold my sweaters to avoid getting hanger marks on the shoulders.  Keep these color coordinated if possible as well!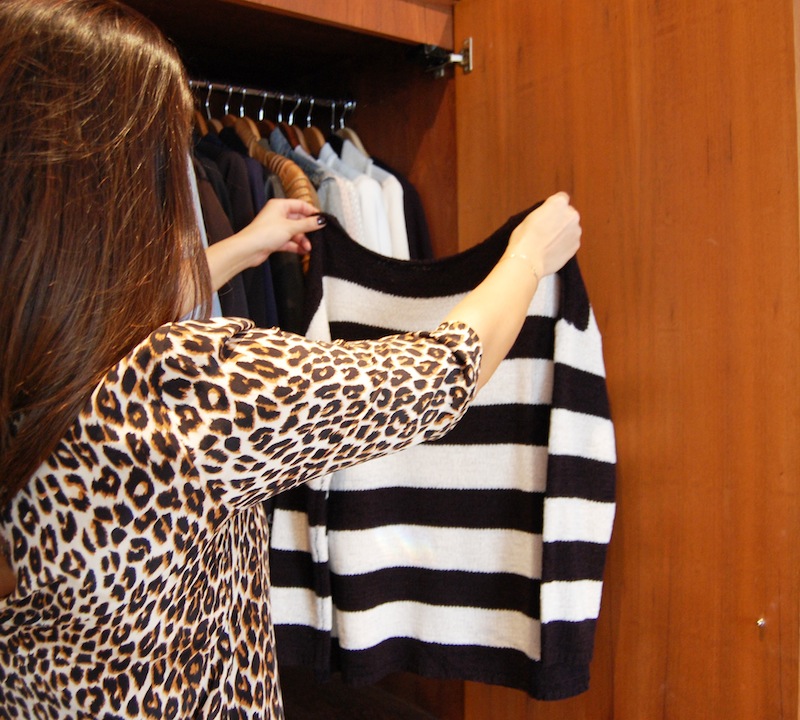 STEP 6: Freshen It Up
I know this sounds like it's not necessary, but adding a nice fragrance to your wardrobe is a really great way to keep your wardrobe special (which it is).  I absolutely love this scented oval from Diptyque or you can always try a smaller more traditional potpourri version.  Just hang them on a couple hangers and stick them right in your closet.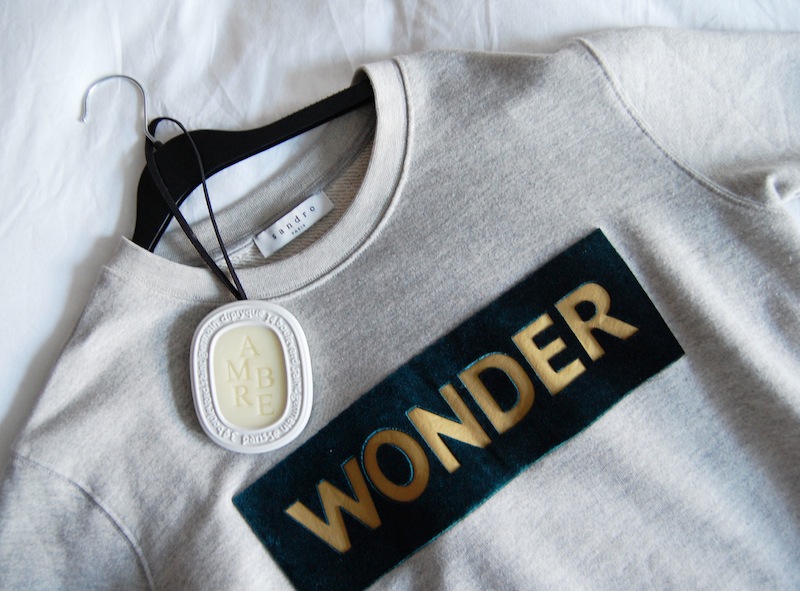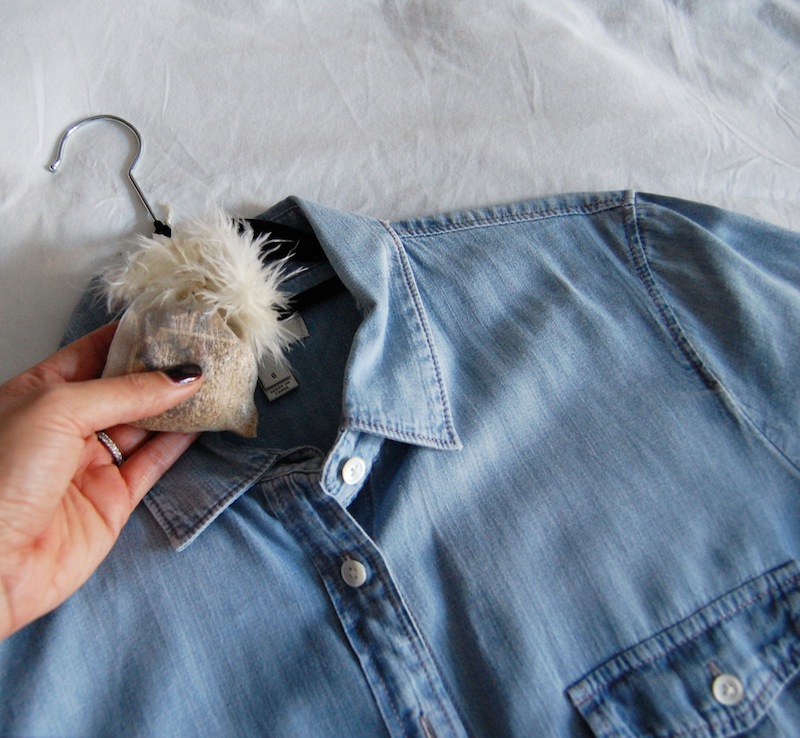 AFTER
Here is the closet after those small and easy upgrades.  It helps so much and really this is just a matter of taking an hour out of your weekend to really make a difference in your wardrobe!