Great Sources For Inexpensive Wall Art
Two weeks ago I shared on the blog a new gallery wall that I put up in my living room (see it here).  Today I wanted to go back to that post and share the sources of where I purchased each artwork from.  I wanted to share this because I feel that the idea of coming up with 10 + pieces of art and framing each of them can seem really daunting and could possibly turn you off completely from creating your own gallery wall.  There are so many great sources out there to find great inexpensive artwork and the key is to create the look of an "art collection" that was assembled over time (even if it was actually bought within a few weeks).  I will also point out some helpful tips that will help this process stay focused and therefore become easier.  Here goes….
v
5 TOP TIPS
Tip 1:  Think Of A Theme. Come up with a theme for your wall.  This theme can be as simple as all black and white images or even a color hue that you would like to use as a base for all of your pieces.  For mine, I decided to go with (mostly) black and white artwork with a general theme of deep blues and greens running throughout the collection of pieces.  This kept me really focused on what to buy and also what I already owned.  Remember, you don't have to stay true to your theme the entire time…(creativity it key), this is just a helpful tool to keep you on track so your artwork choices don't become completely mismatched.
Tip 2:  It's All In The Framing.  I am a HUGE believer in good framing.  I think that you can have a basic picture, but if framed correctly it can transform the image into something really fantastic.  I am not saying that you need to spend hundreds on framing (although it can be expensive), what I am saying though is take time in choosing how to frame your pieces.  Use tactics like large white mounting (borders) around your work, collect vintage frames from flea markets that are interesting in their own right to bring character to your wall, or you can even keep all of frames EXACTLY the same to create a wonderful striking symmetry to your wall.  Whichever your style, take some time to think about how you want to frame your pieces (often times this is just as important as the artwork itself).
Tip 3:  Get Personal!  A gallery wall allows you to show off so many pieces that usually there is room for you to incorporate some of your own treasured art throughout the wall.  By your own art I mean anything from a photograph, to a letter to a old drawing from when you were younger.  These pieces will again give the wall character and for you (the person who is living with the wall) will be a great way to see your favorite things on the daily.
Tip 4:  Don't Rush It.  Even with lots of pieces, take your time in finding the right ones.  This might take a couple weeks (or even longer if you are crazy like me), but it's so worth it in the end.  I really kept an eye out over a couple months to find the right artwork that fit within the color scheme I was working with.  I also "built" on the wall which helped with framing ideas (I could see the frames I already had done, so I was able to switch things up with new frames to keep it fresh).
Tip 5:  Get Creative! Like I mentioned (in tip 3), you don't have to just use artwork on your gallery wall.  There are so many wonderful ways to fill up space, that if done right, will look so fantastic that no one will ever know that you only spent $2.00 on the postcard picture that you framed (see no. 13 below).  I have framed things like artwork from auction catalogues, postcards, letters and polaroids before and here is the trick: pick the best imagery you can find and it will look amazing I promise.
v
MY ARTWORK SOURCES
Here are the sources for each of my pieces.  Some of the artwork has been sold now but I have listed the links to their shops for similar works.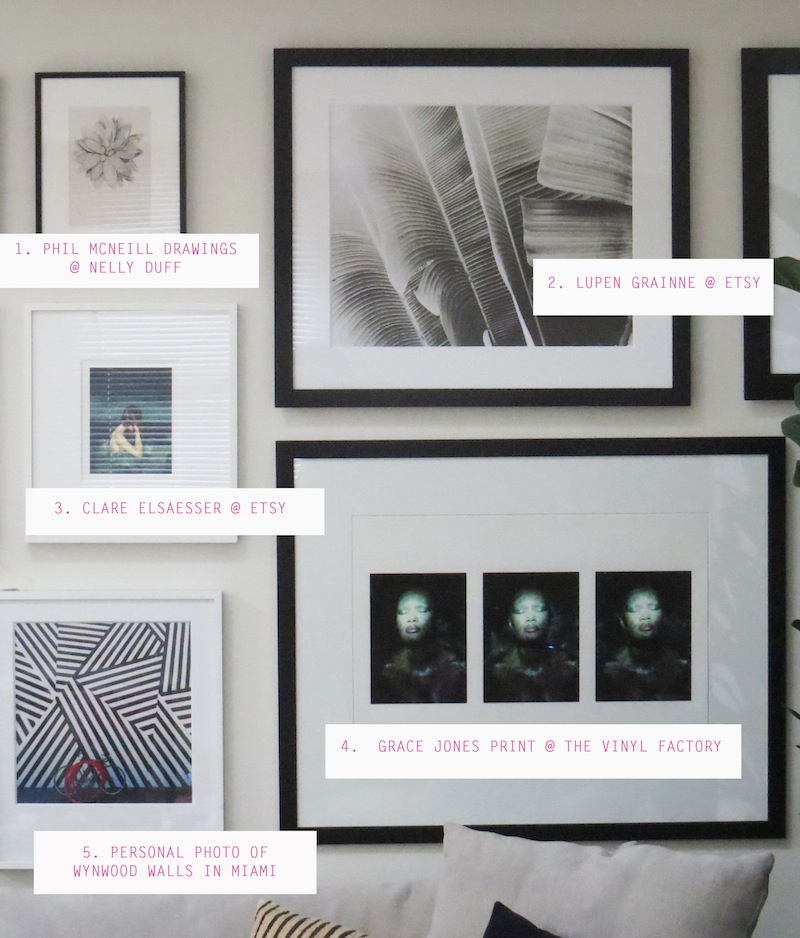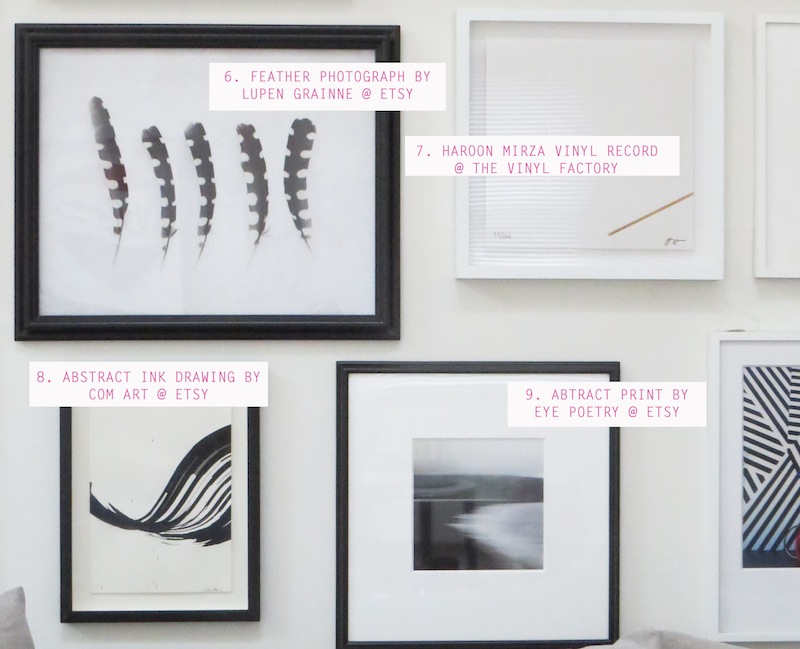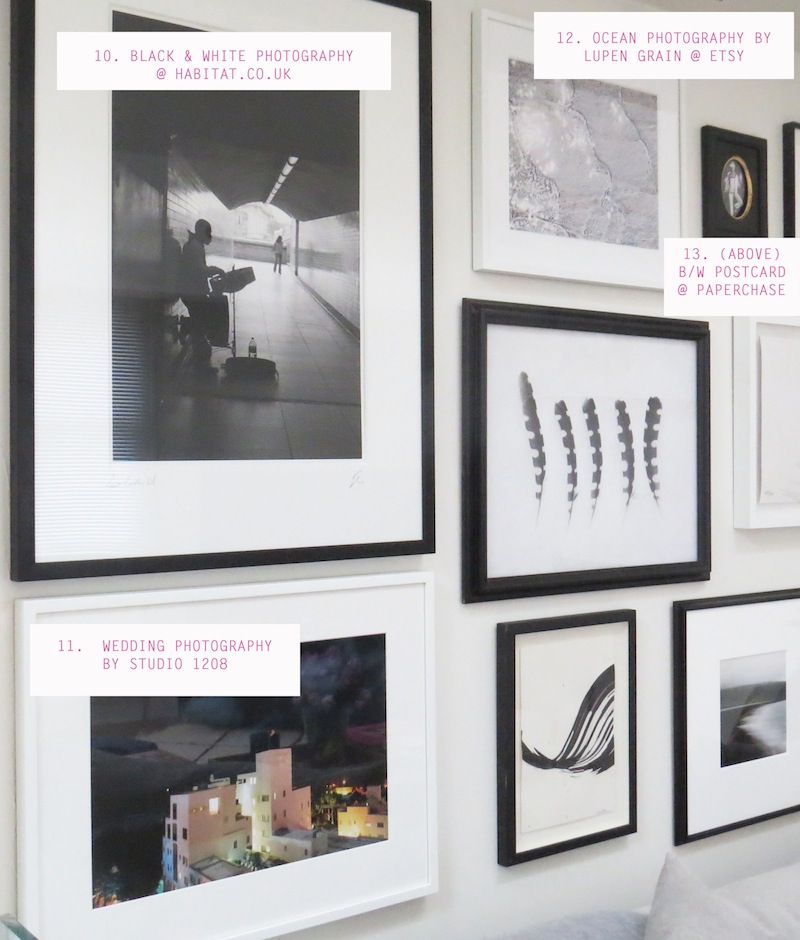 If you forgot how the entire wall looks here it is….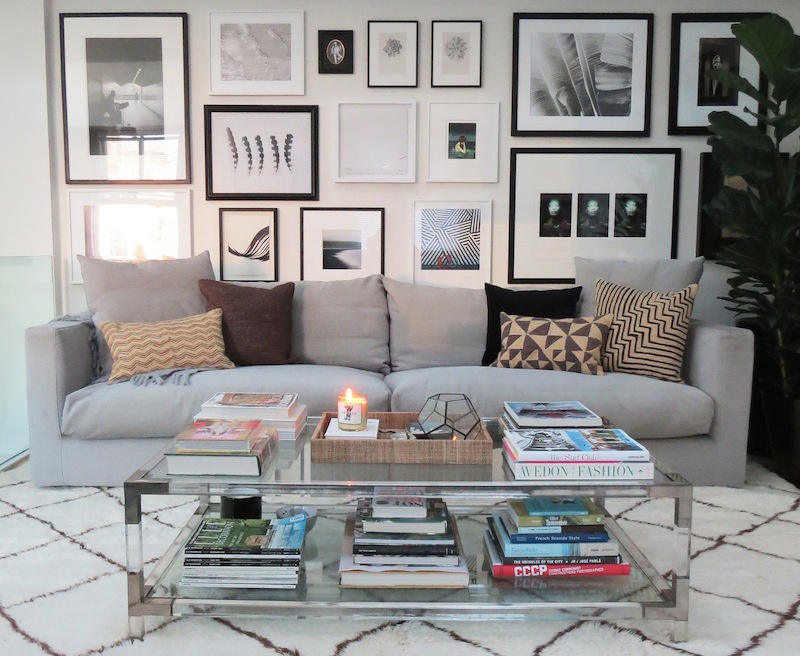 ARTWORK LINKS:
1.  Phil McNeill drawings from Nelly Duff Gallery in London.  I saw these and thought they were great.  They were only £25 each and so I bought two with the idea to group them together.  I framed them the exact same way since they came in a pair.
2. Palms Photography by Lupen Grainne at Etsy.  I love botanical prints and I thought that these black and white palms were calming and simple.  Check out a post a while back here I did on Lupen Grainne's botanical photography because I love it so much.
3.  Clare Elsaesser at Etsy.  I have bought her work before for clients but love the deep moody colors so much I got one for myself. This was only $20!
4. Grace Jones Print at The Vinyl Factory.  This was a print I had already had for a few years but the colors fit perfectly with what I was going for.
5.  This is a picture I took myself of the famous Wynwood Building in the Design District in Miami. (see more here).
6. Feather photography by Lupen Grainne from Etsy.  Another black and white favorite.
7. Haroon Mirza Vinyl Record at The Vinyl Factory.  I loved this album cover artwork.  Really simplistic and with that graphic touch of gold = perfection.
8. Abstract Ink Drawing from Com Art at Etsy. I loved this painterly abstract work and it fit perfectly with my monochrome(ish) gallery wall theme.
9.  Abstract Print by Eye Poetry on Etsy. Another great abstract piece and only $30.
10. Black & White Photography from Habitat.  I bought this when I first moved to London six years ago…it's called "Love London".  It's not available anymore, but check out their site for some other fun options.
11.  This is a landscape shot taken from the penthouse of the iconic Raleigh Hotel in Miami Beach by my amazing wedding photographers Studio 1208.  I love this moody evening shot and also this image is also so personal to me.
12.  Ocean photography by Lupen Grainne on Etsy.
13.  Retro postcard from Paperchase.  This was so cheap, but I thought the image was so great and decided to put it in an old vintage frame I found at Portobello Market. This is the cheapest thing on the wall, but still one of my favorites.
v
SOME OTHER GREAT SOURCES:
Max Wagner, Nelly Duff, Society 6, Gray Malin, Little Paper Planes,