When I am at the office I try to make it feel as cosy as possible.  I like to set up my desk so that it feels well styled but also practical at the same time.  I am having a major brass moment as of late and so I am using some beautiful gold objects which also act as organizational  tools.  Check out my current essentials for those days when you are chained to your desk and need it to feel as stylishly practical as possible.
v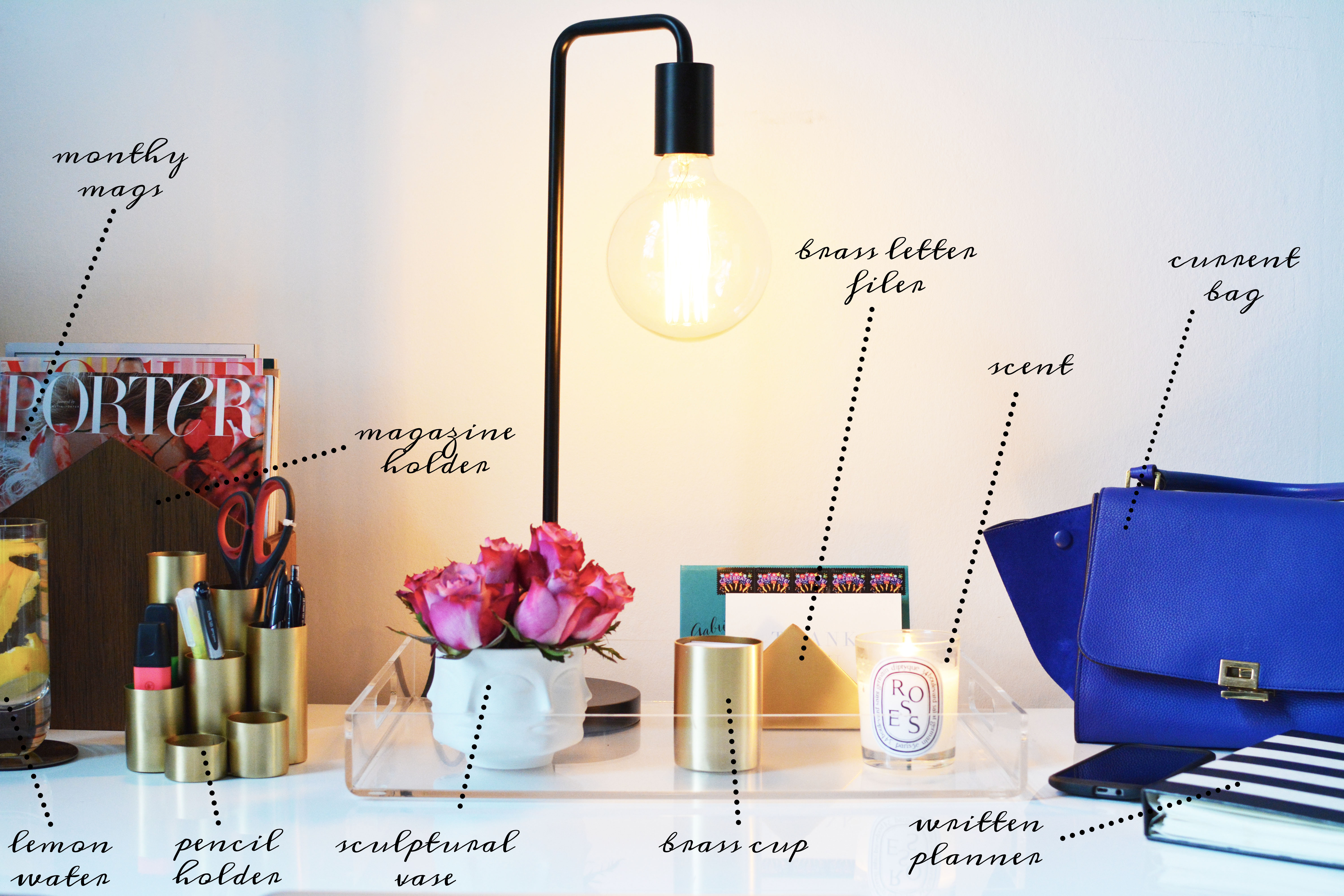 DESK ESSENTIALS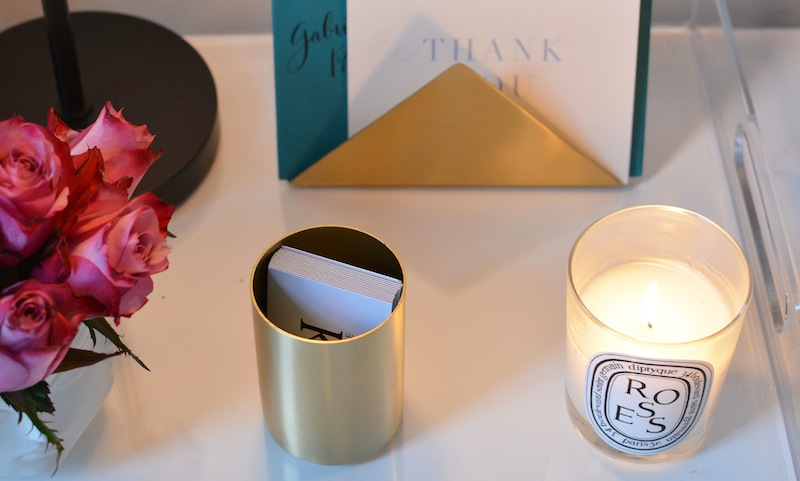 Decorative : Brass Cup  I keep business cards in this.  It's a perfect little holder but for me this piece is also just a beautiful decoration that matches my other brass accents.
Structure : Acrylic Tray   I like the feeling of sectioning off parts of the desk.  This tray keep things in order and I am a huge fan of acrylic decor accents.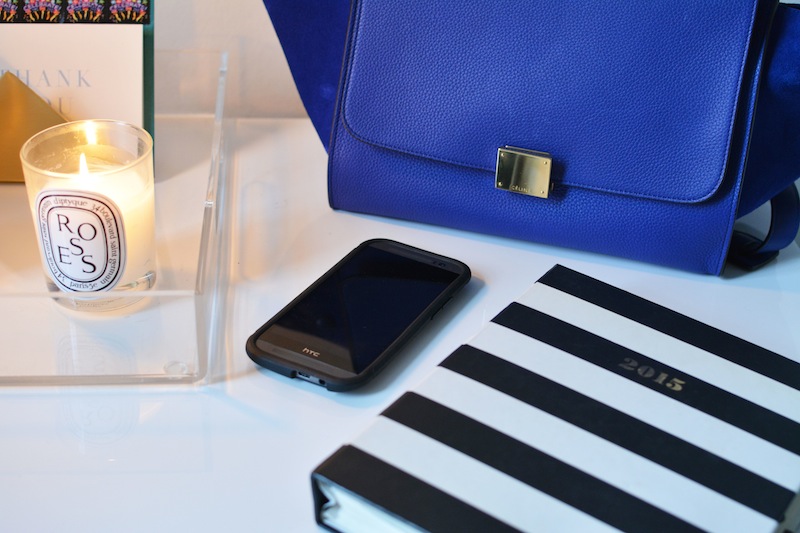 Scent : Diptyque Roses  Other than Baies, Roses is one of my favorite scents from Diptyque.  I burn it nearly every day.
Stuff : Cobalt Blue Celine  I always keep my handbag literally on top of my desk or if there is no room very very close by.  No matter how hard I try I am digging around it all throughout the day and well…I also like the way it looks too .
Planning : Written Daily Diary  Yes I am old fashion and still have a written planner (this one is from Kate Spade and I love it).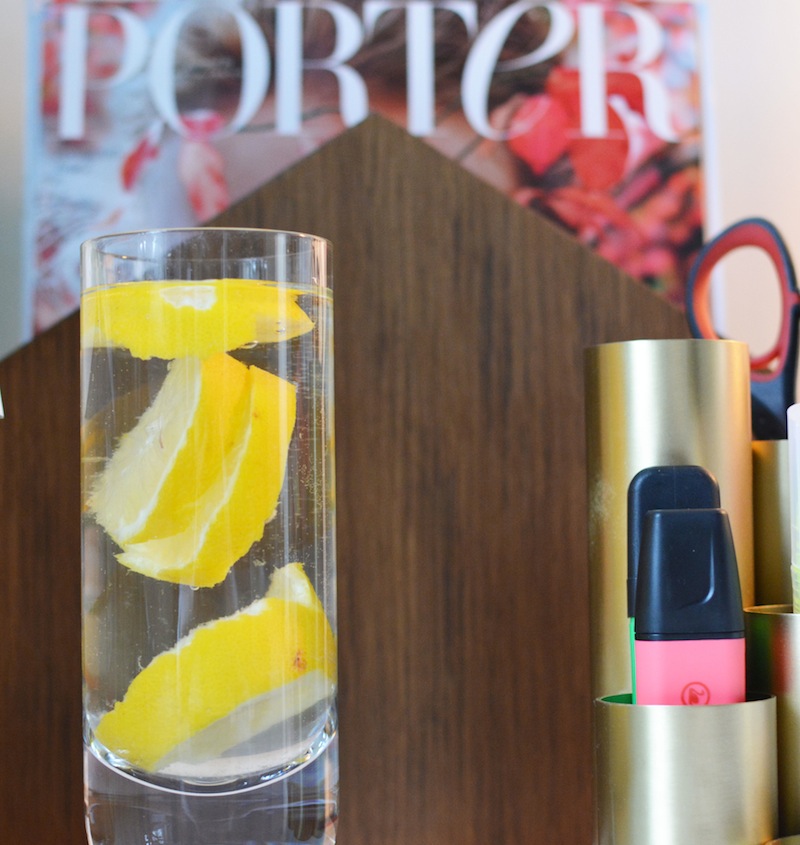 Health : Lemon Water  Keeping healthy during the day is so important.  I have been reading so much about lemons recently and so I have been drinking lemon water every single day.  I load up my glass with almost an entire lemon and refill.  It's so good for your digestion and weight loss…just to name a couple things. I always have it on the desk.
Organization : Wooden Magazine Holder  We all need practical pieces on our desk to help organize and file.  I love this structural wooden piece by Ferm Living.
Organization : Brass Pencil Holder  Another gem from Ferm Living.  This is a really cool multiple pencil holder in brass.  I am obsessed with it.
Inspiration : Monthly Mags  I always have my monthly magazine at hand.  Porter, Elle Decoration, Living Etc, Wallpaper, Domino and Vogue are my favorites.  I use them for inspiration for designing and staying on point with what is happening.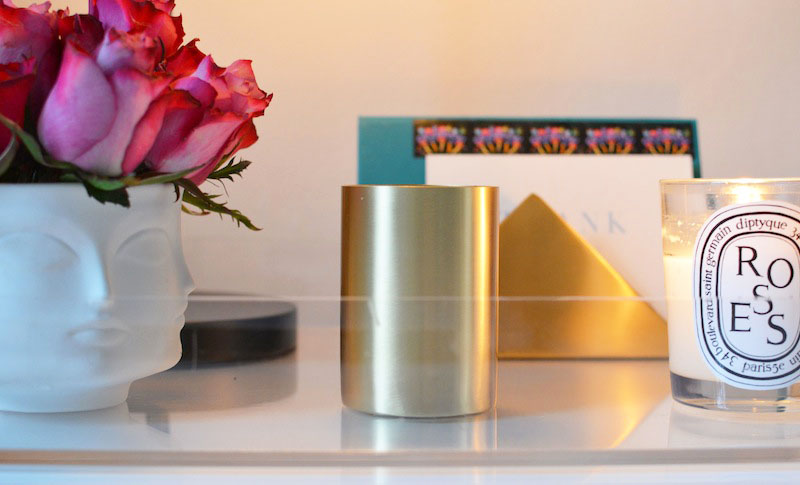 Sculptural : White Vase  This vase from was originally the Muse Candle from Jonathan Adler but I loved the shape so much I cleaned it out and now use it as a vase.
Organization : Brass Letter Filer  This cool triangular piece is from Ferm Living (one of my favorite online resources for stylish graphic decor pieces).  It's perfect for your desk.