People & Their Spaces: Charming Green & Grey Seaside Home
Interior: Green + Grey Inspired | Home of Sylvie Kelly | Brighton, England
Today on the blog we are featuring a beyond lovely home in the seaside town of Brighton, England.  This home embodies some of my favorite things: brightness, pops of green & grey hues, amazing pattern, creative design and floral accents.  It also has one additional element that is not so much about design but more of a home's character… which is that it is a warm and inviting space, filled with meaningful pieces pertaining to the people that make this home so special.  This single level house is located just minutes from Brighton Beach and was designed with Day Design Company to combine a perfect blend of color and simplicity, literally bringing the elements of the outdoors in.  It allows for the wallpaper (which we are obsessed with) to stand out perfectly amongst the fun sofa and cushion styles.  Sylvie take us through her wonderful space on this edition of People & Their Spaces!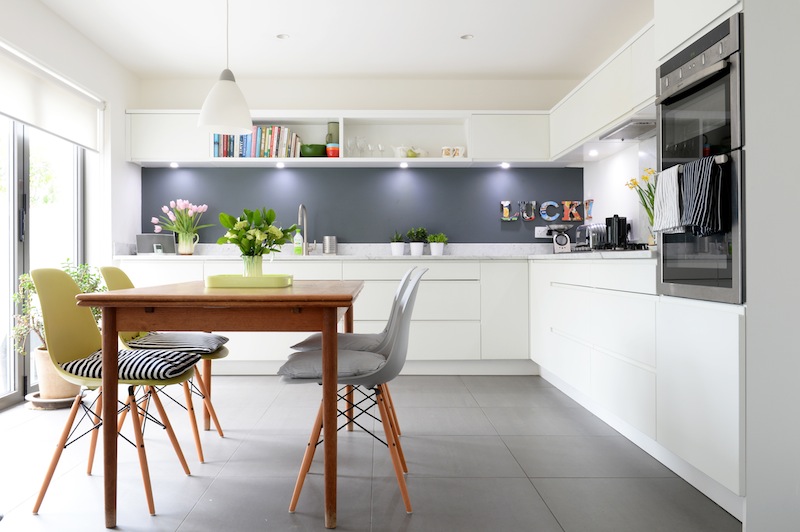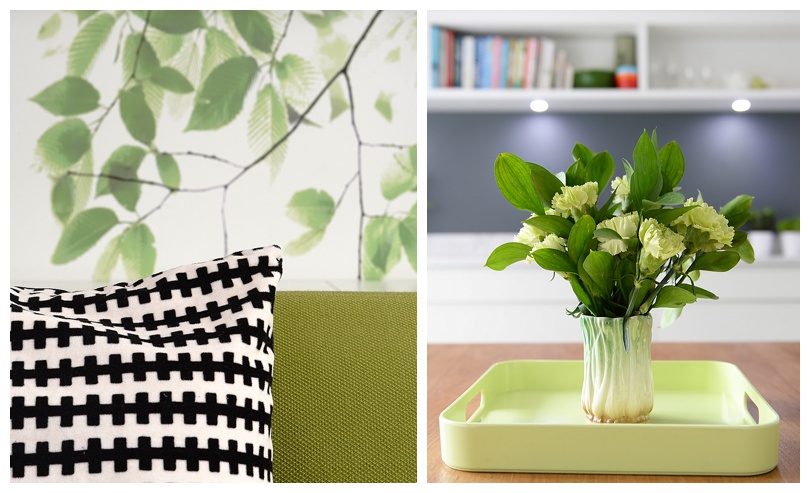 About choosing the paint color: "We chose Farrow & Ball's Downpipe for the color of the kitchen backsplash to go along with the grey tones of the house and to match the grey shades of our Eames dining chairs.  We thought this was a perfect color grey".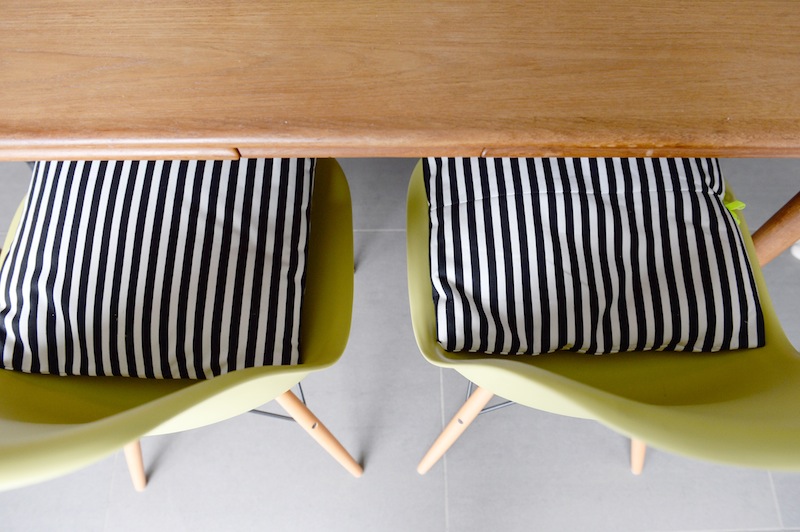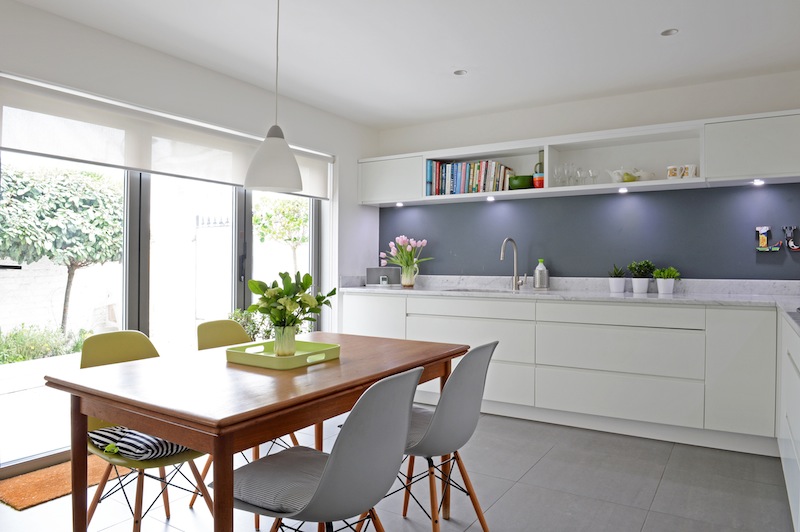 Inspiration for choosing a green + grey color palette:  "I love the earthy natural colours of green and grey and I find them calming to live with."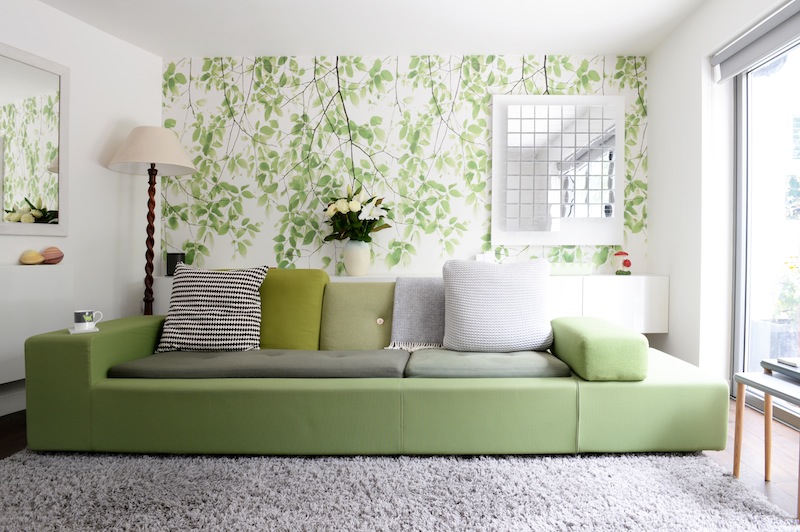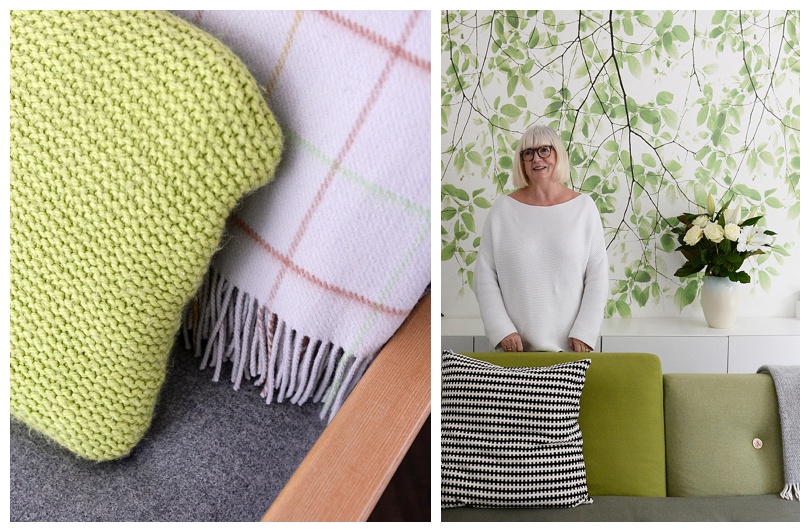 About the wallpaper… "We found the green wallpaper some 5 years ago online, it was chosen because of the way the leaves and branches fall down from the ceiling, giving the illusion of standing under a tree, and we felt it mimicked the planting outside to give some continuity bringing the outside in."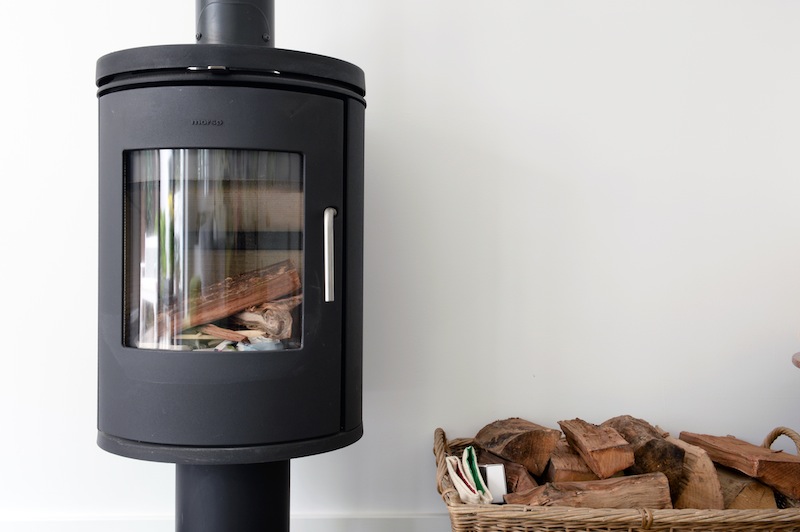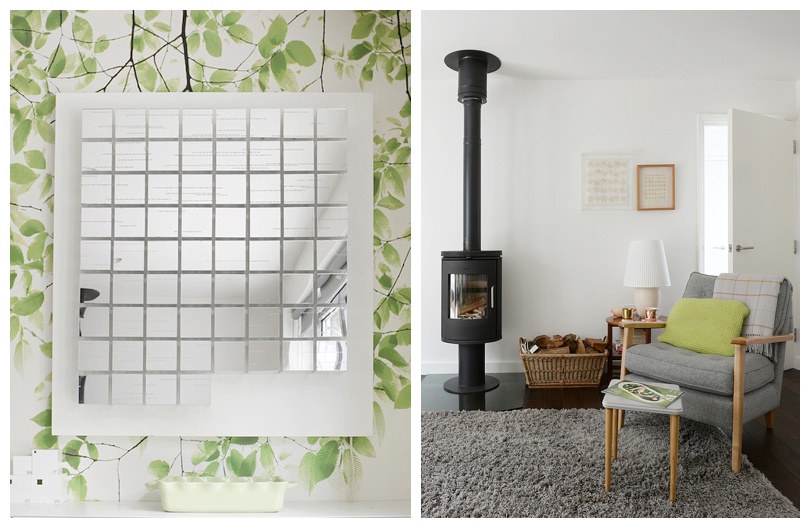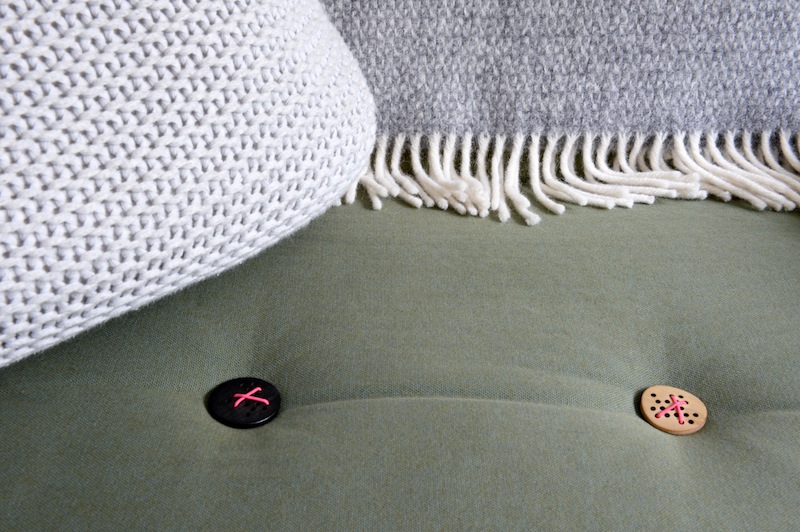 About the sofa… "Our sofa is called the Polder Sofa by Hella Jongerius and it is from The Conran Shop.  (The sofa itself was inspired by Polder, which in Holland refers to the land reclaimed from the sea through the construction of dykes and drainage ditches.  Similar to this land, the sofa has a look of chequered and varied colored plots in shades of green.)  Along with the green hues, we also loved the button details."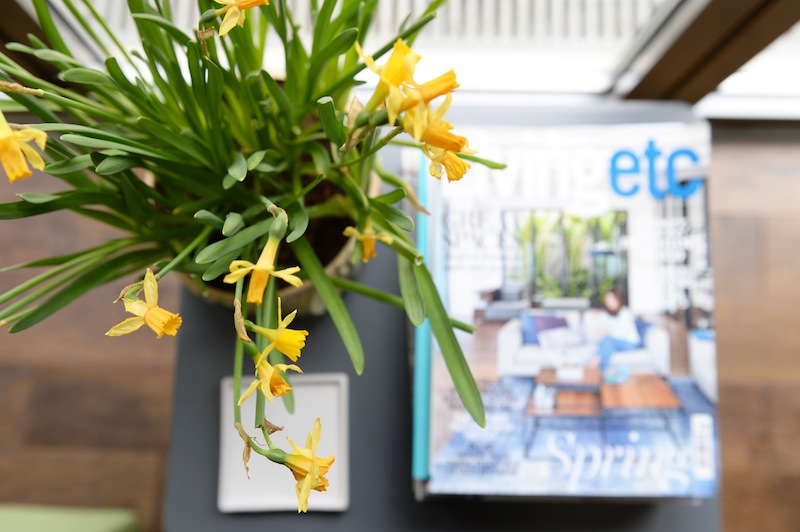 The color and décor inspiration is from …  "Our daughter's enthusiasm in all things of a decorative nature, the Farrow and Ball paint palette, Living Etc. and Elle Decoration magazines."
The dark paint used in the bedroom: "We used Farrow and Ball Railings in the bedroom which created a darker, cozy feel but still went along with the color scheme of the house."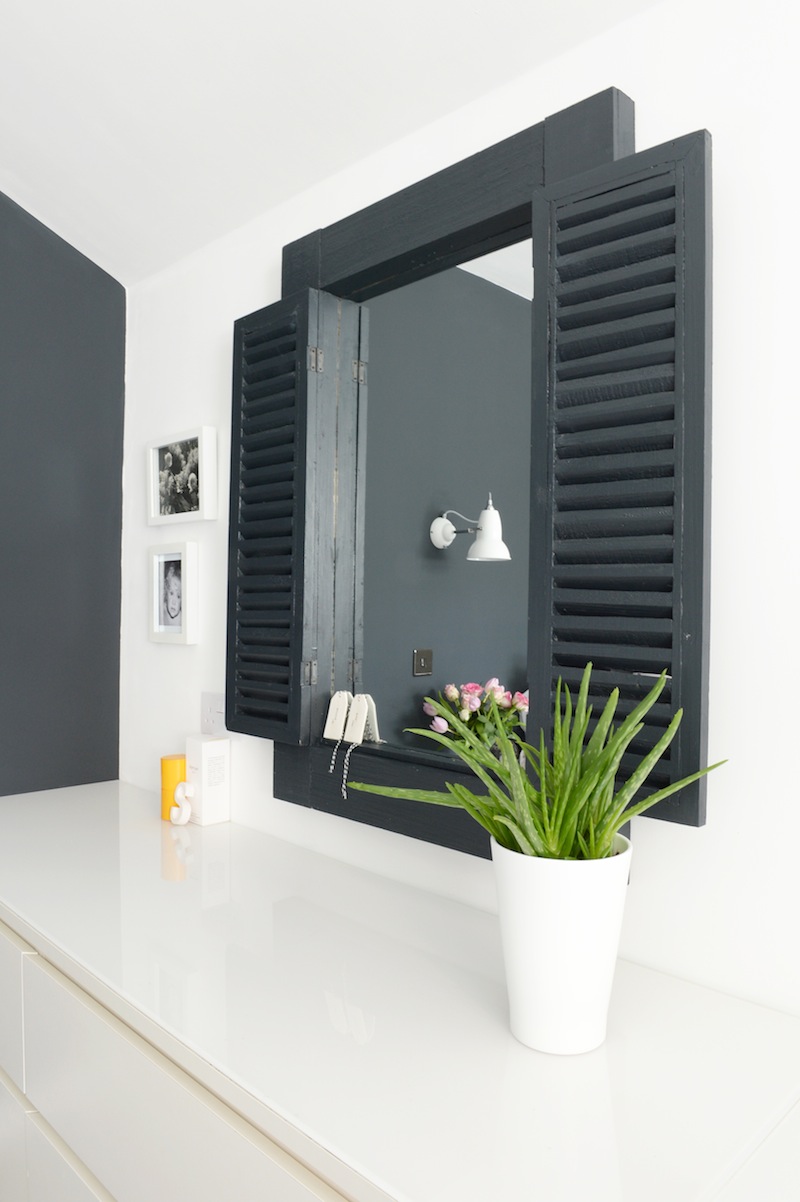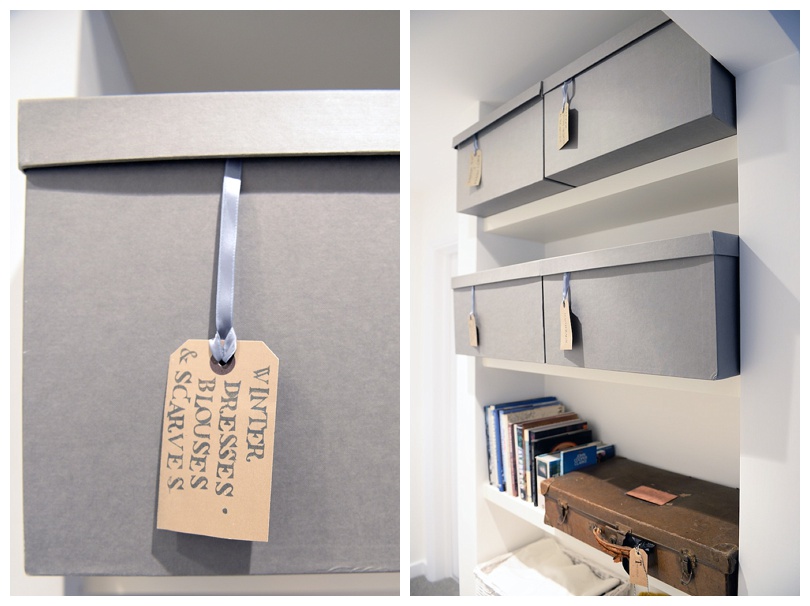 Sylvie used stylish grey storage boxes to match her home's decor.  Each tag flips over for the storage details depending on the season! Perfect space savors.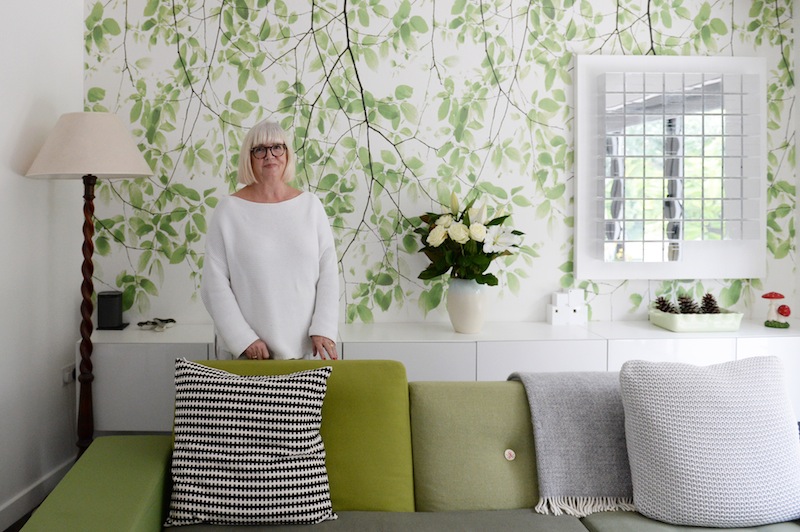 v
Sylvie tells us more about her space…
v
 What are your 3 favorite pieces in your home and why?
 1 – Artwork made and bought by my children
2 –  Wonderful old leather suitcase in my hallway, full of written memories from family and friends, arranged by my beautiful daughter and given to me on my last birthday.
3 – Old black and white framed photographs of my children when they were young.
 What are your favorite flowers in use in your space?
This time of year I love tulips in white or palest pink and daffodils particularly Tete a Tete.
How did you find inspiration for your interior décor?
Paying attention to the shape of the room and the way that the natural light falls throughout the day and then choosing items and colours that sit well in the space.
To you, what makes a home inviting and warm?
The people that are in it.
You have a bold sense of design and are clearly not afraid of color and pattern. What is your advice to someone looking to incorporate vivid color or pattern into his or her home?
Try it! You may be pleasantly surprised.
What is the most important thing to you about your home?
It is where my beloved lives.
v
Thank you Sylvie for opening up your home to Flat 15 and sharing your design process with us! 
v
Photography by Valerie Bennett