People & Their Spaces: Street Meets Chic
23 Apr 2015
People And Their Spaces
Interior: Art Deco Inspired Flat in South Croydon, England | Sarah Akwisombe | Interior Designer, Stylist & Blogger
Every inch of interior designer and blogger Sarah Akwisombe's home is unique. From her bold choices of wall color and pattern, to the distinct art deco design influences and perfect vintage pieces, each design element reflects Sarah's eclectic style and taste.  Taking her style inspiration from things like mid-century modern design, the art deco era, hip hop and even cult movies, it's no wonder that Sarah's home is a perfect combination of "street meets chic" with just the right touch of retro glam added into the mix.  I think that Sarah's style is so refreshing as it is doesn't follow along with the typical trends or looks that we are used to seeing, especially when it comes to interiors.  It really is a perfect example of home design reflecting bold personal style and I find that inspiring.  Today we are featuring her home on People & Their Spaces, as Sarah takes us through her design process.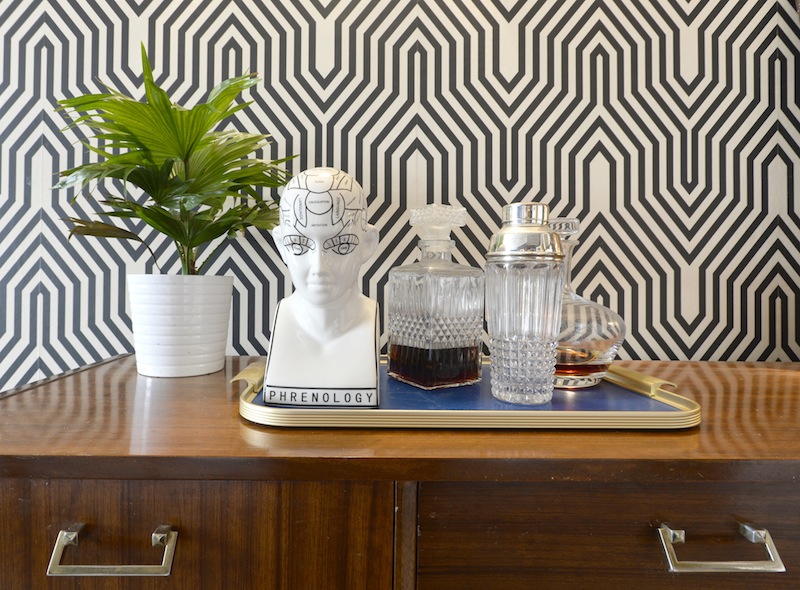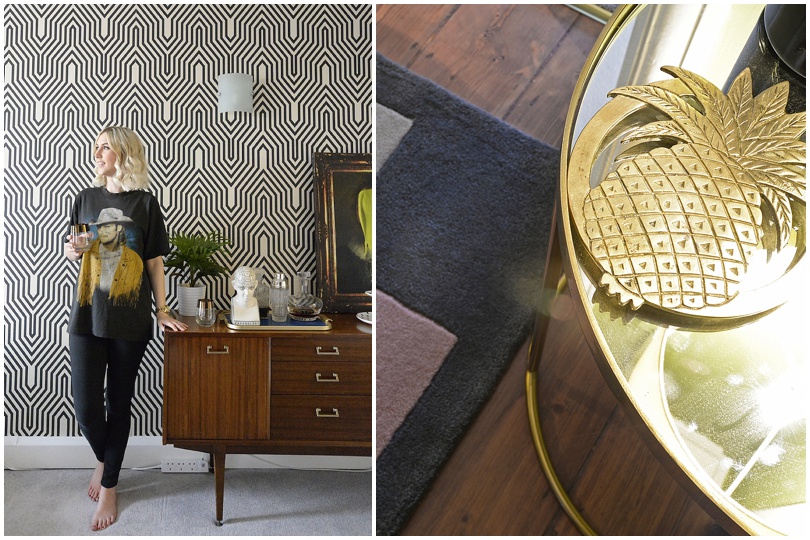 About Sarah's style and how it translates into her home design: "I always describe it as street meets chic. It's really urban luxe with elements of vintage, retro and completely modern pieces. This is true for both my personal style and interior decorating style – personally I wear vintage and a lot of sportswear but dress it up to look more glam. I wear a lot of statement patterns and loud things like clashing prints or weird T shirts. I love loads of makeup and big retro hair. I get a lot of Gwen Stefani comparisons. I think I'm more a Betty Draper in Nike air max!"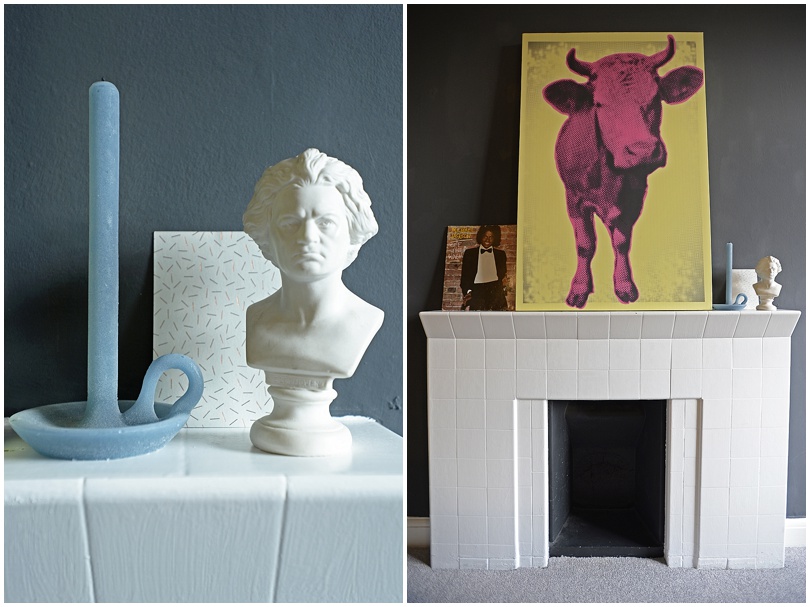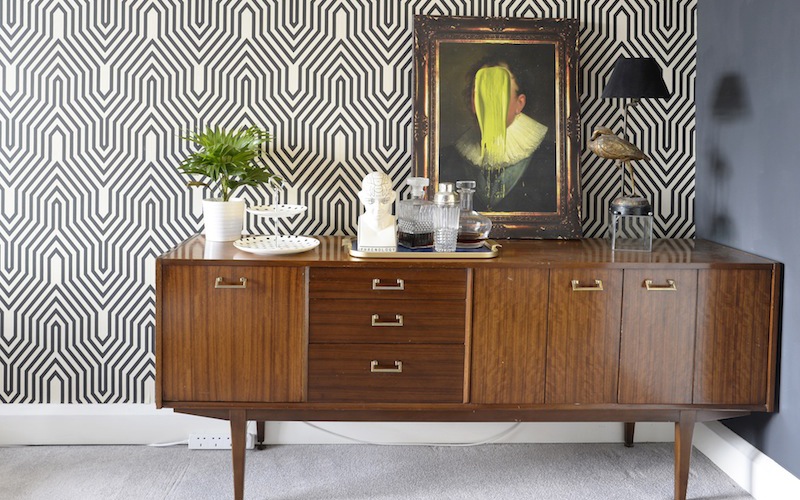 About the wallpaper: "The flat is part of a really Art Deco block that was built in 1931, so I knew I wanted to pull through some of the original Art Deco motifs and themes throughout the house (like with the dark wooden floors, the brass toggle light switches and soon arriving marmoleum flooring). One of the strong motifs throughout the Art Deco movement was the ziggurat.  New archeological discoveries were being made daily during that period of time and the shapes and lines of these discoveries influenced art and style a lot. I liked that surrounded by Deco pieces the wallpaper could look really vintage, but with modern pieces it could fit in really well too."   (Shop this wallpaper here).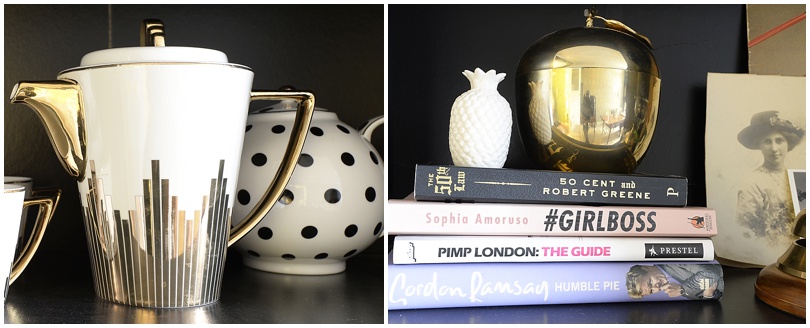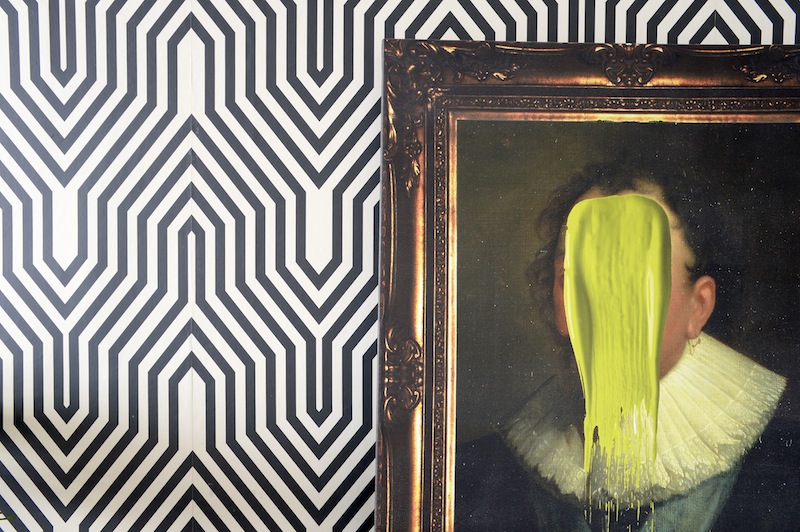 About the artwork:  "The 'George' canvas is from my new curated sale at Joss and Main.  I love the canvas because it's so rebellious and it's the perfect mix of old and new."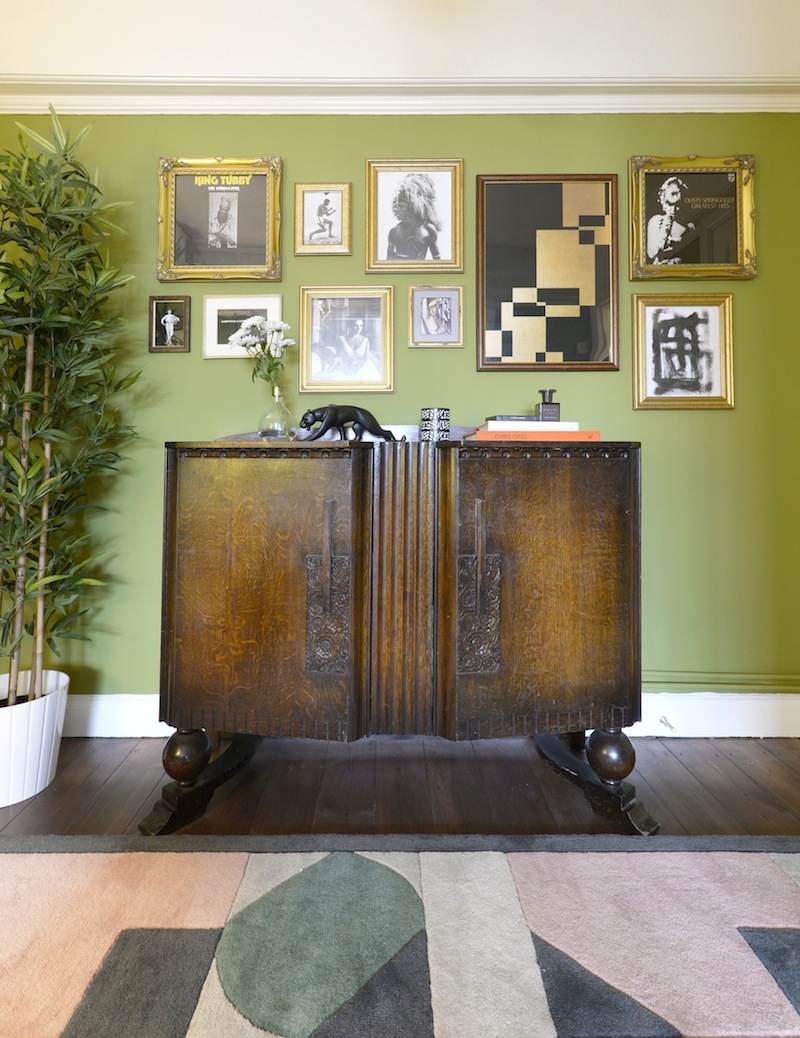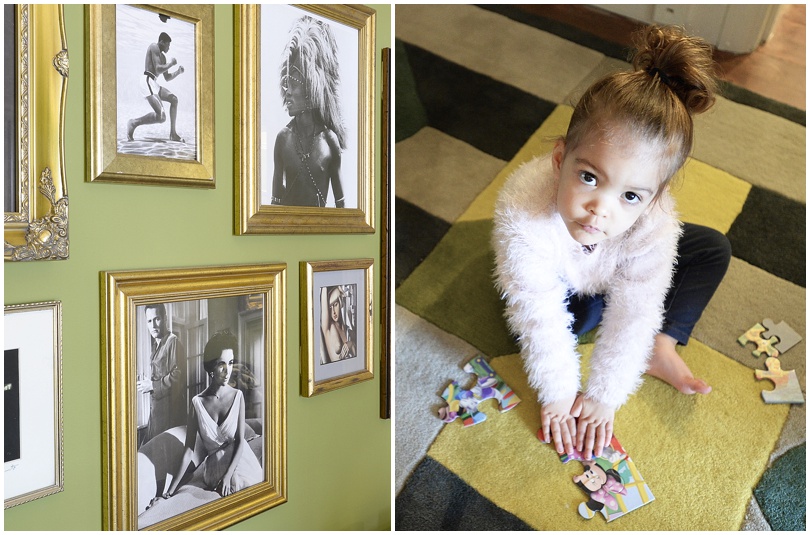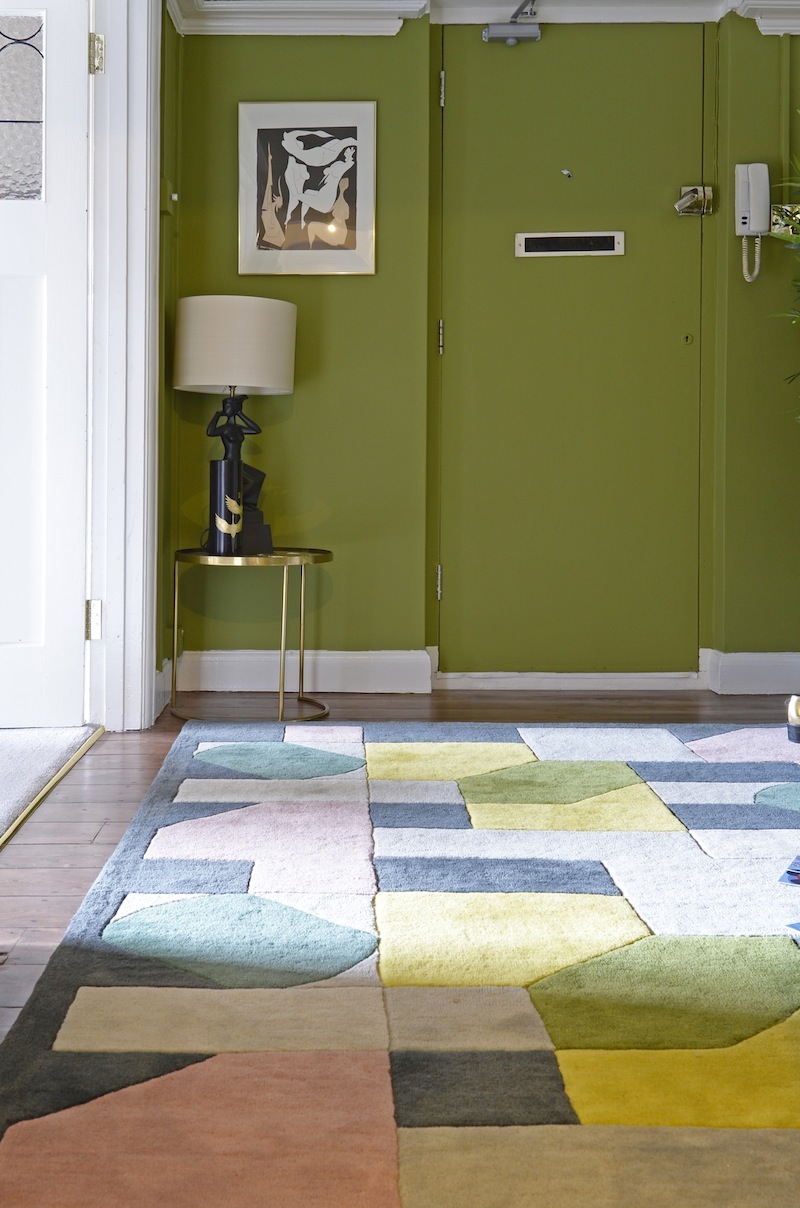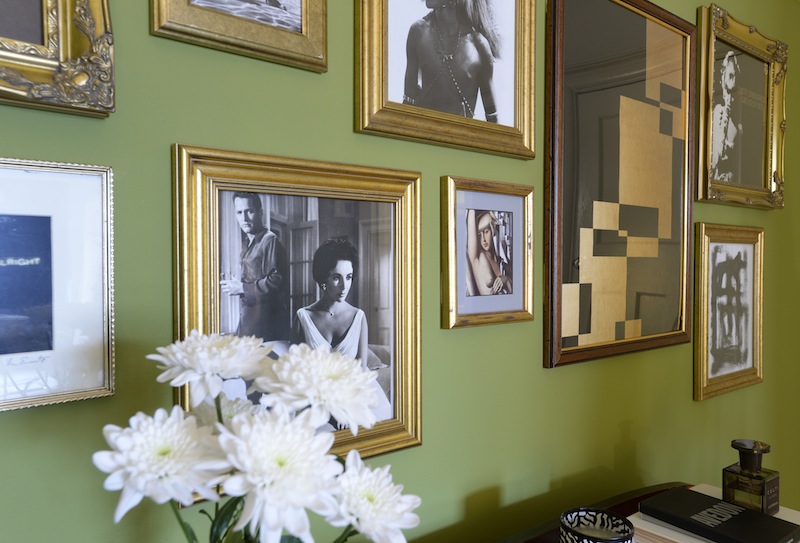 About the entryway:  "I was stuck between Farrow and Ball's 'Pelt', a deep aubergine, and the colour we eventually went for, Little Greene's 'Citrine'. Pelt was the on trend choice… which is why I went for Citrine! We've always loved the gilt frames and had a big gilt framed mirror that my grandpa gave me so we worked around that. We initially wanted to use more vibrant and colourful artwork but when we got it up we realised that the black and white photos looked a lot more chic. The pop of colour now comes from the rug."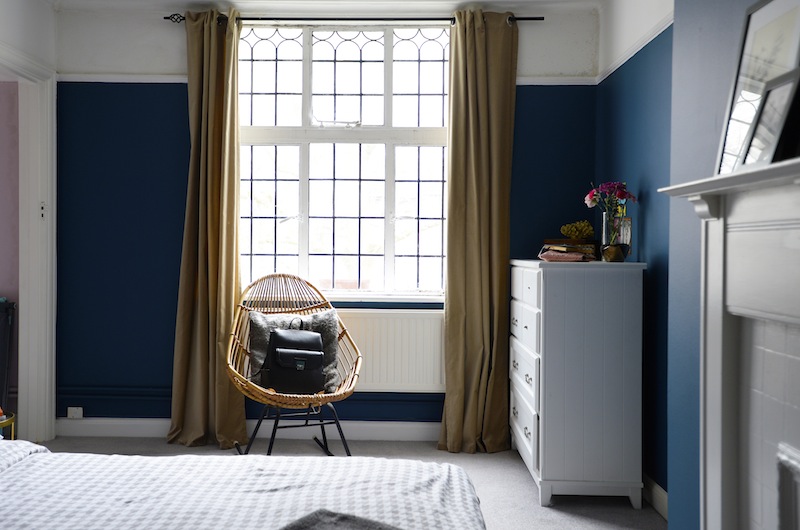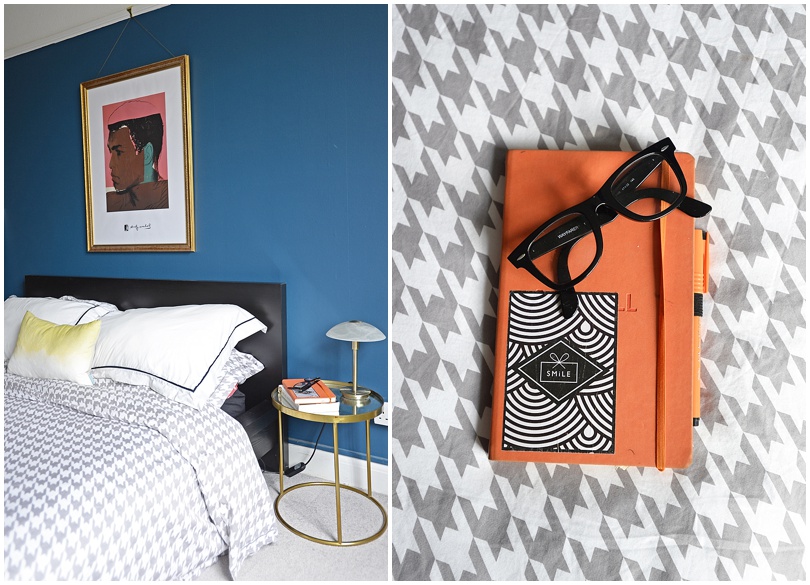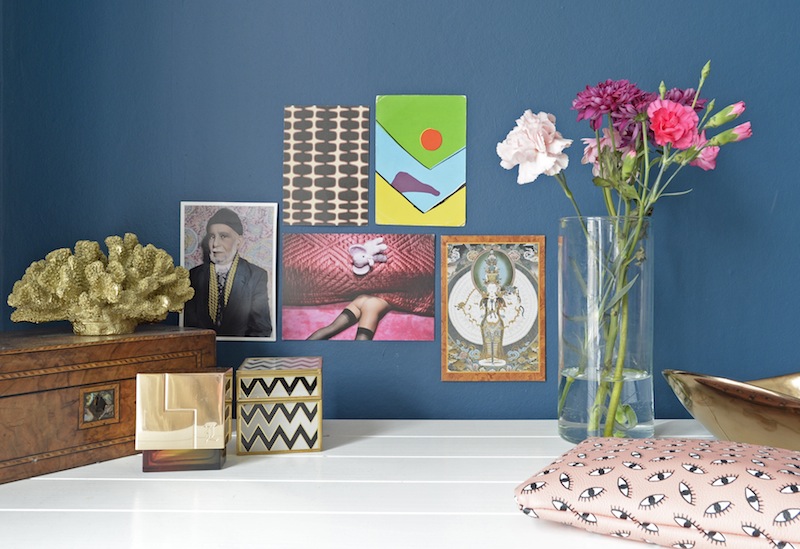 About Sarah's Inspiration: "I'll tell you now none of my inspiration comes from other interior photos. I look at Pinterest and magazines of course, maybe to spark colour palette ideas but I usually find the ideas are quite samey… Girly, luxe, glam which isn't really what I'm about (though I have my moments!) My REAL inspiration comes from cult movies, hip-hop, inspirational figures, contemporary art, hotels, restaurants, the 20th century, midcentury modern, art deco, English eccentricity, urban culture. I just look for things that I'm pulled to and it's usually because they are controversial or bold. Or just plain weird."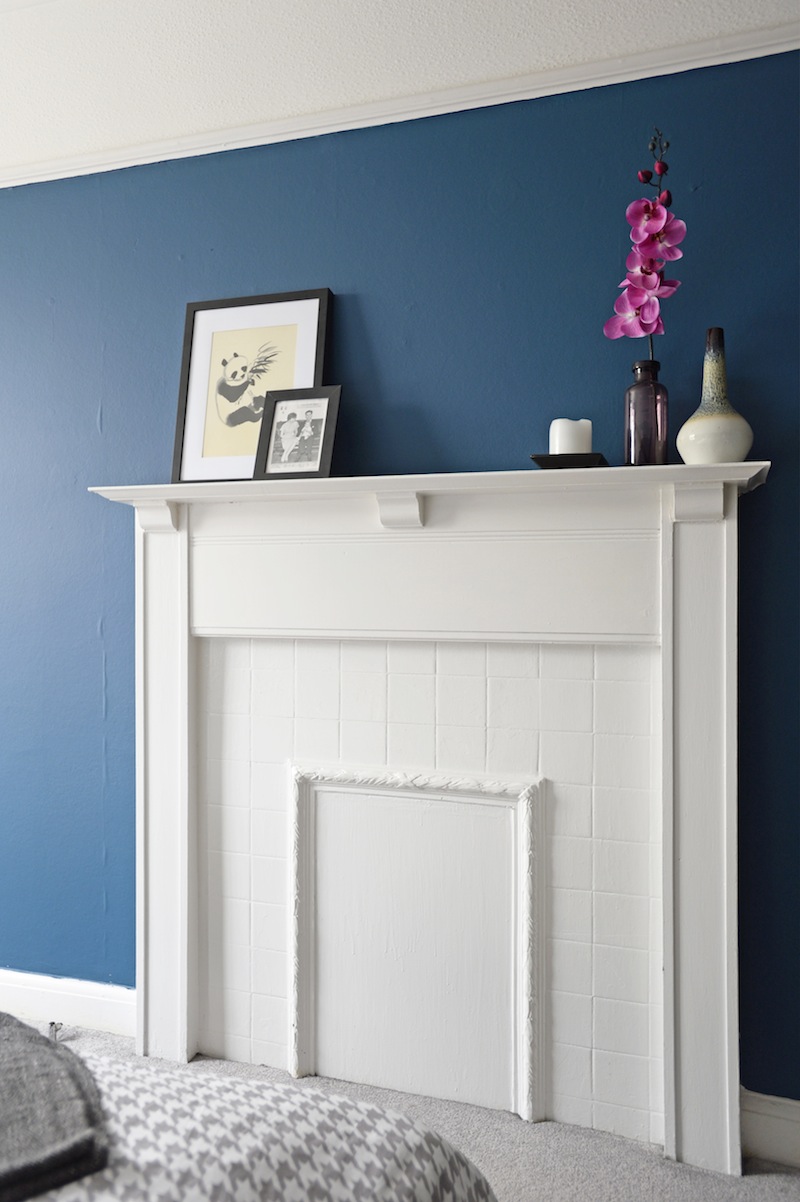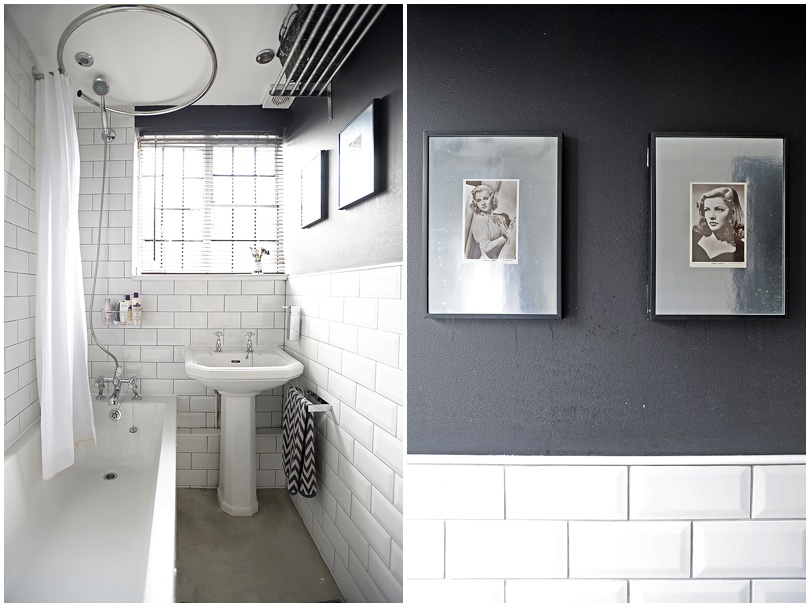 About the bathroom tiling: "Because we already had the main bits of sanitaryware and they were pretty classic we just wanted to continue the theme of things being Art Deco influenced. We went for a dark grout to make the brickwork pattern stand out a bit more and chose bevelled edge tiles rather than completely flat for a bit more interest. It's going to look great when we get the black and white floor in!"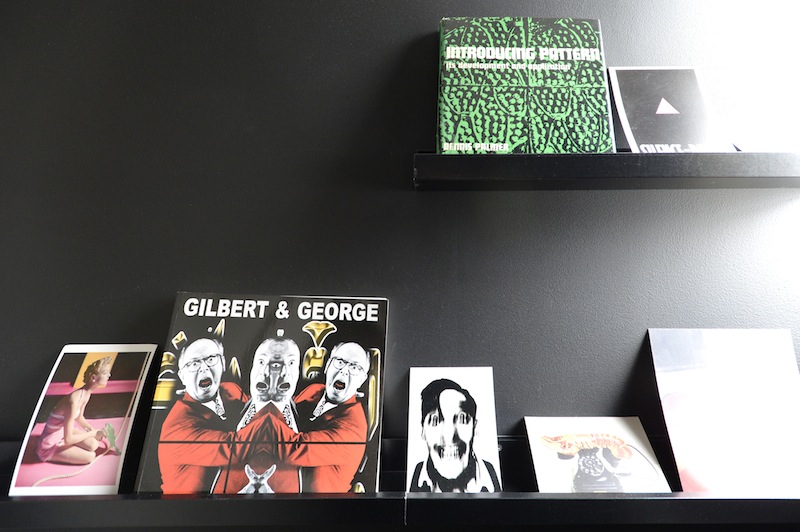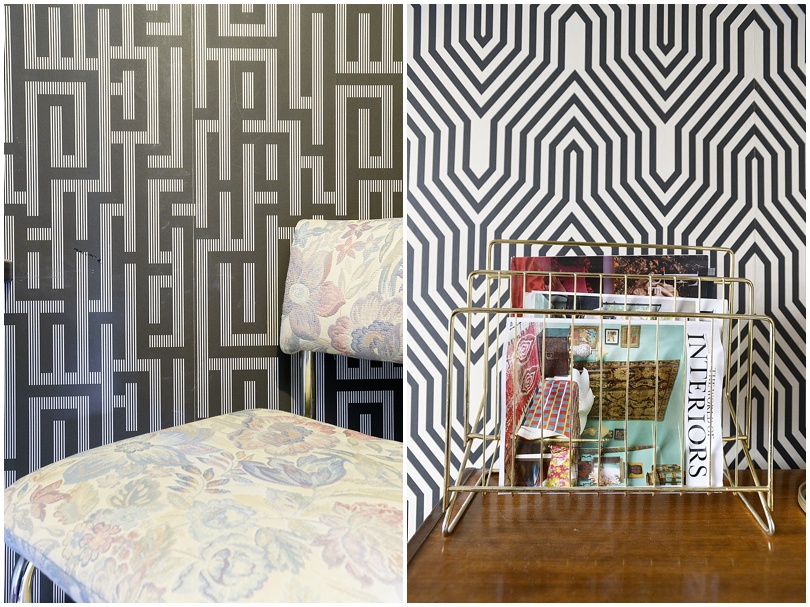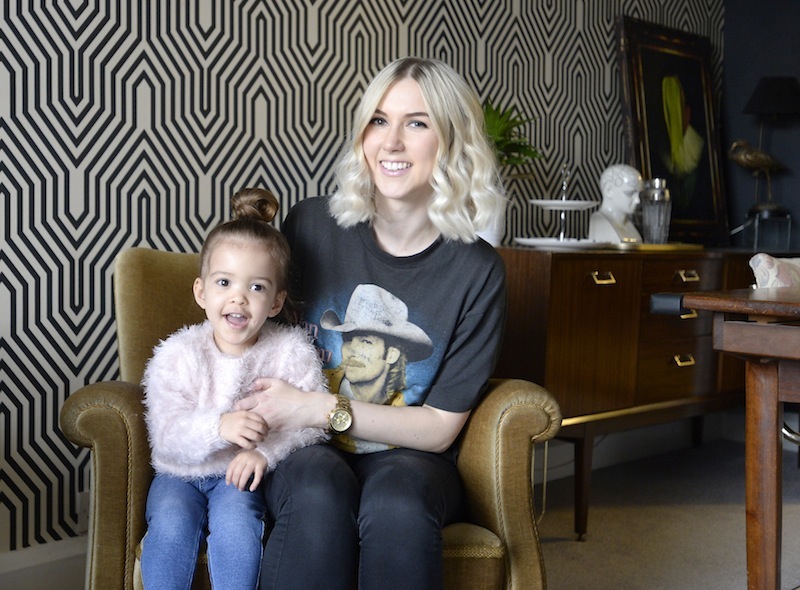 Sarah and her daughter Marley sit together in the living room.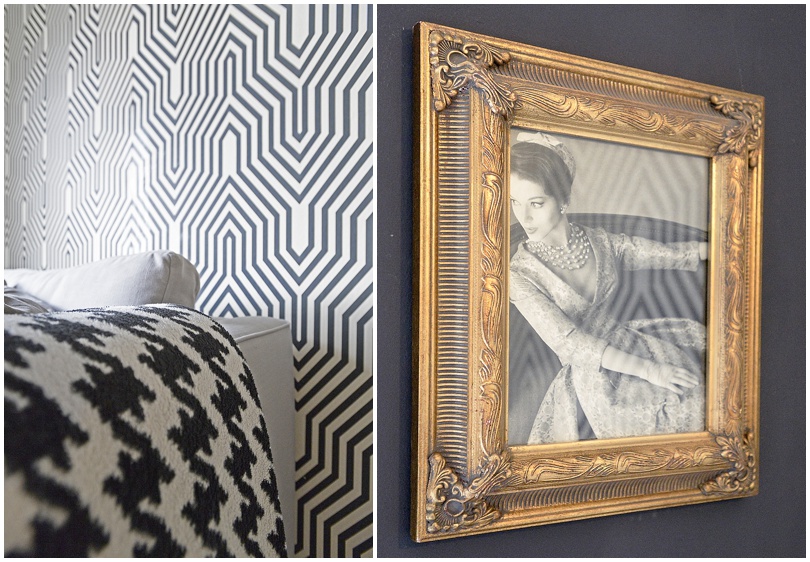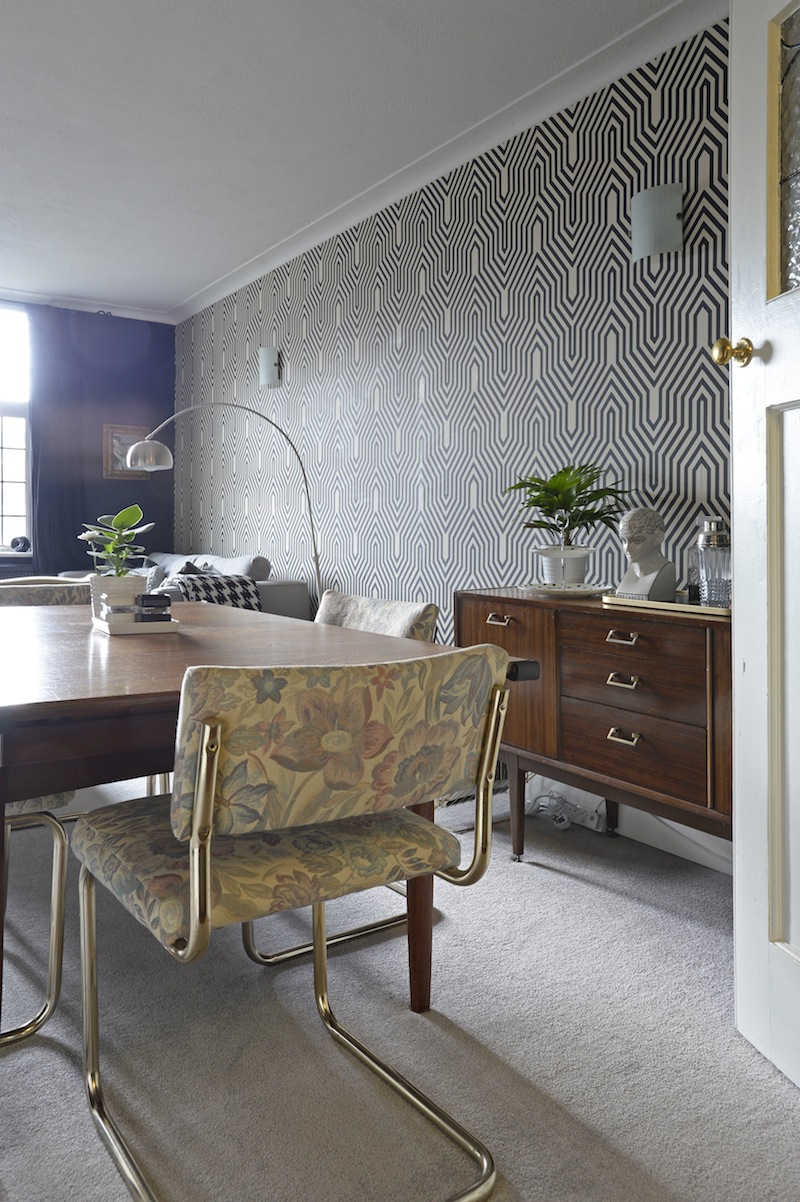 Sarah tells us more about her space…
v
In three words, how would you describe your home?
Eclectic, quirky, rebellious
Do you have a favorite go-to shop for interior design?
I love just wandering around Heals as they have such a great selection of classic pieces and new styles with some great craftsmanship. I love the Crystal Palace Triangle for antiques and vintage shopping. Amara is great for the more luxury pieces. Rockett St George and Abigail Ahern have a nice range of dark and moody bits.
You are really not afraid to use bold color and pattern within your space, which can sometimes be daunting for people when decorating. What advice can you give to someone who might be thinking (but scared) to add these vivid tones and patterns to their interior?  
Build your confidence over time by starting small. Maybe start with soft furnishings which are easy to swap in and out if you change your mind. For paint colours, paint large sections of card or paper and hold them up in various places around the space to see how they will work with light (here's a blog I did on just this!). There are also some great visualiser apps (from crown and dulux) where you can take a photo of your space and then see what it will look like in your chosen colour. Great for those who have trouble visualising things and want some idea of the end result.  BUT – the main thing is to really do work within yourself and find out what your personal taste and style is. What makes you YOU? What are your quirky loves and passions? Not following the crowd and having your own style is what will really give you confidence. Want to know the secret to why? No one can criticize somewhere that is so uniquely you. Follow the trend and do it badly… then you're open to all sorts of judgement. Feel the fear and do it anyway.
How did you get started with design blogging and interior design?
I've always been blogging since when I was making and releasing music (that's another story). So I knew the impact it could have on building a brand. After I bought my flat and starting doing the work I realised my creativity was now channeling itself through interior design, so I decided to build my own brand and became an interior designer. Basically, I just decided and then did it!
Has blogging or your design work changed your own personal interior design direction at all?
Yes, it's constantly evolving. Sometimes I find a piece that I'm really drawn to but in my head I am thinking 'this is so not my style'. Then I realise that the mish mash is what makes it my style. It's not one piece alone, it's the sum of the parts.
You have some amazing vintage pieces in your home.  What are your thoughts on incorporating vintage design and where do you source these pieces from?
Charity shops mainly! Sometimes little vintage shops or fairs and travels abroad. I don't think there are any set rules or best ways to incorporate it into your home – it's just about going for pieces that you feel a connection to. It's handy to sometimes look at the period of your property. Midcentury modern stuff works quite well in new builds because the lines of midmod have actually carried through into contemporary design. Taxidermy and oddity type pieces work well in victorian and Edwardian style properties.
Do you have a favorite item in your home and why is it so special?
I love the vintage heron lamp in the living room. It was found in a pop up antique shop in Barcelona. It was such a pain to get home and it didn't even work – I needed to re-wire it once I got back. But I just knew I would regret it if I didn't bring it home! It's special because I've never seen anything like it and I remember buying it so vividly. Barcelona is such a cool city and it was a really fun and memorable trip, so it's great to have something to remember it by.
What would you say are some key points that you keep in mind when decorating and styling a space.

The personality of the homeowner, the period of the property and the feel or 'vibe' that the person living there wants to create. There's no point in creating something that can barely be touched if the owner has kids, for example.
To you, what is the most important quality for a home to have?
Personality!
Do you have any design projects in your future for your home?
Loads! We are about to lay marmoleum flooring throughout the kitchen bathroom and toilet in black and white diamonds. We then need to completely redo my daughter's bedroom as we have a condensation issue (joy)! That's just for this year. In general, there is so much more to do.
v
Thank you so much Sarah for sharing your home with us and for your insightful thoughts on design & style! For more of Sarah's interior style, don't forget to check out her fab blog here!
Photography by Valerie Bennett