My Favorite Art Walls of East London
As much as I am a Notting Hill girl, I also spend lots of time in my other favorite area of the city which is East London (and more specifically Shoreditch).  It is the complete opposite to West London on every level and that is one of the things that makes it so special.  It is not as "traditionally" pretty as other areas of London, but between the design, creativity, artwork and personality…it is so beautiful in its own unique way.  Along with the loft type architecture and concrete details of the neighborhood, one can find exceptional street art which covers small corners to extensive walls.  These super colorful additions to the area are in my opinion, the best part and I can't help but to admire them every time I am in the area.  So today I wanted to share my top 5 favorite pieces of street art found in Shoreditch.  Seriously, there are so many amazing pieces but these are just a couple of the ones that I drool over, every. single. time.  Cause yeah… they are that good.
v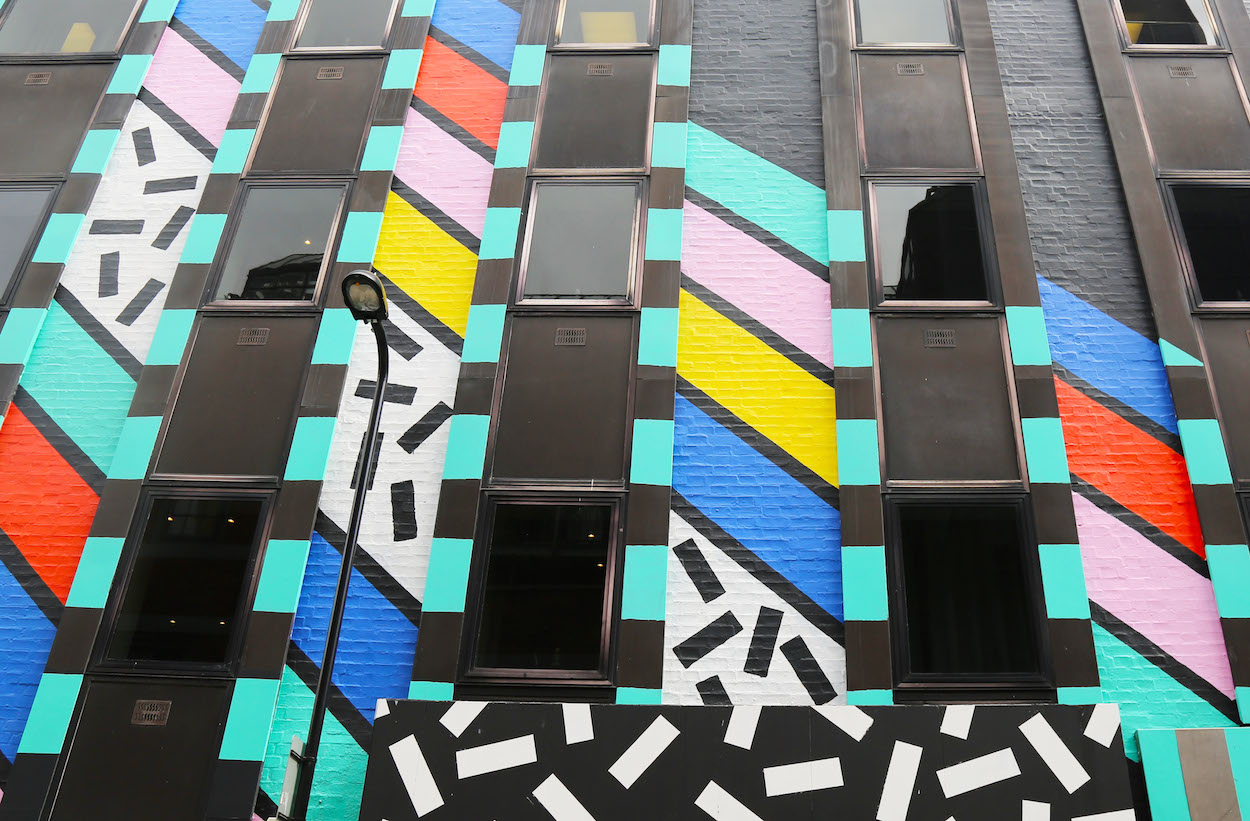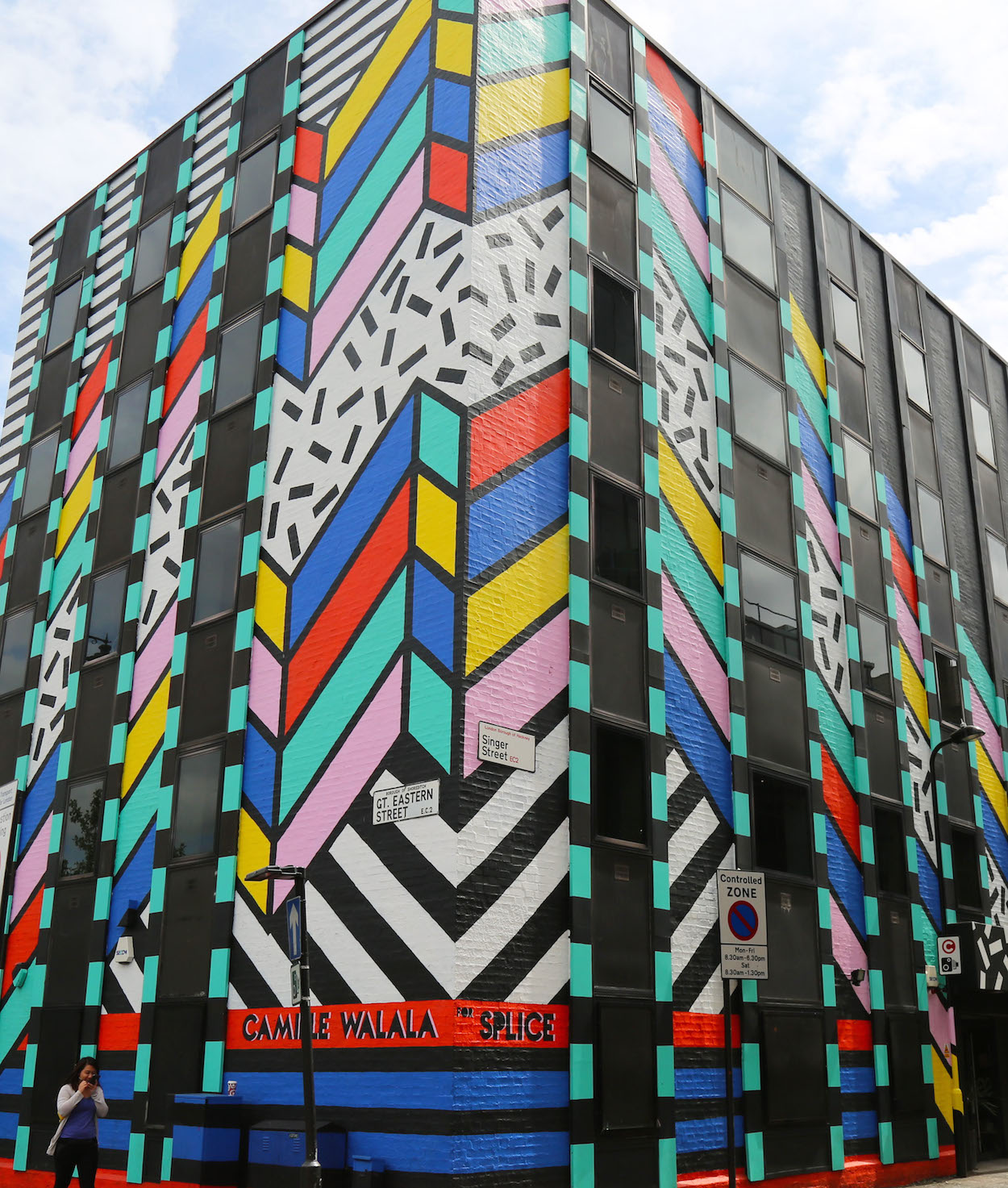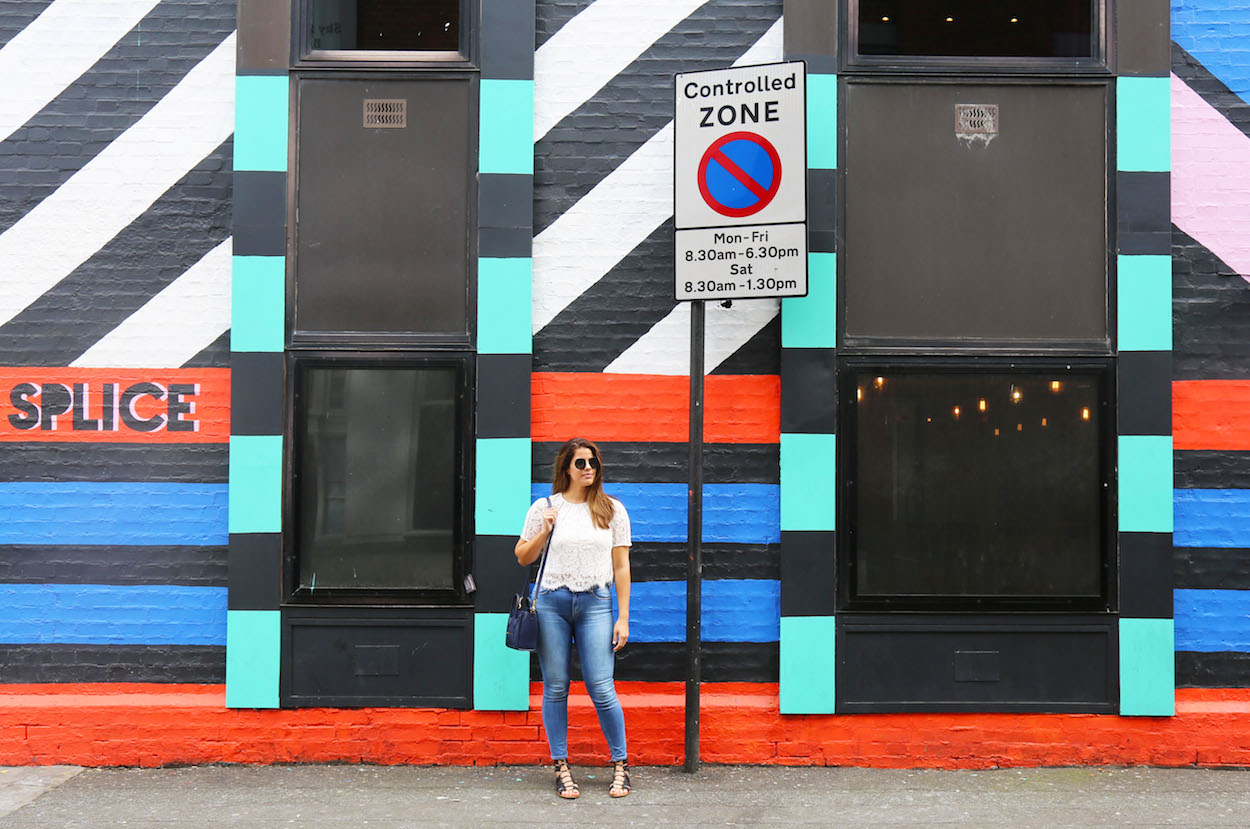 1 – When this artwork by Camille Walala went up on the exterior of Splice TV offices, I immediately loved it.  I am of course drawn to its geometric patterns and bold pops of color.  It is situated on an otherwise grey concrete looking road…which makes all the more mind blowing when you see it in passing.  FYI…I am obsessed with Camille Walala's work, she even does iphone cases in this style …).  (Visit this on the corner of Great Eastern Street & Singer Street, East London).
v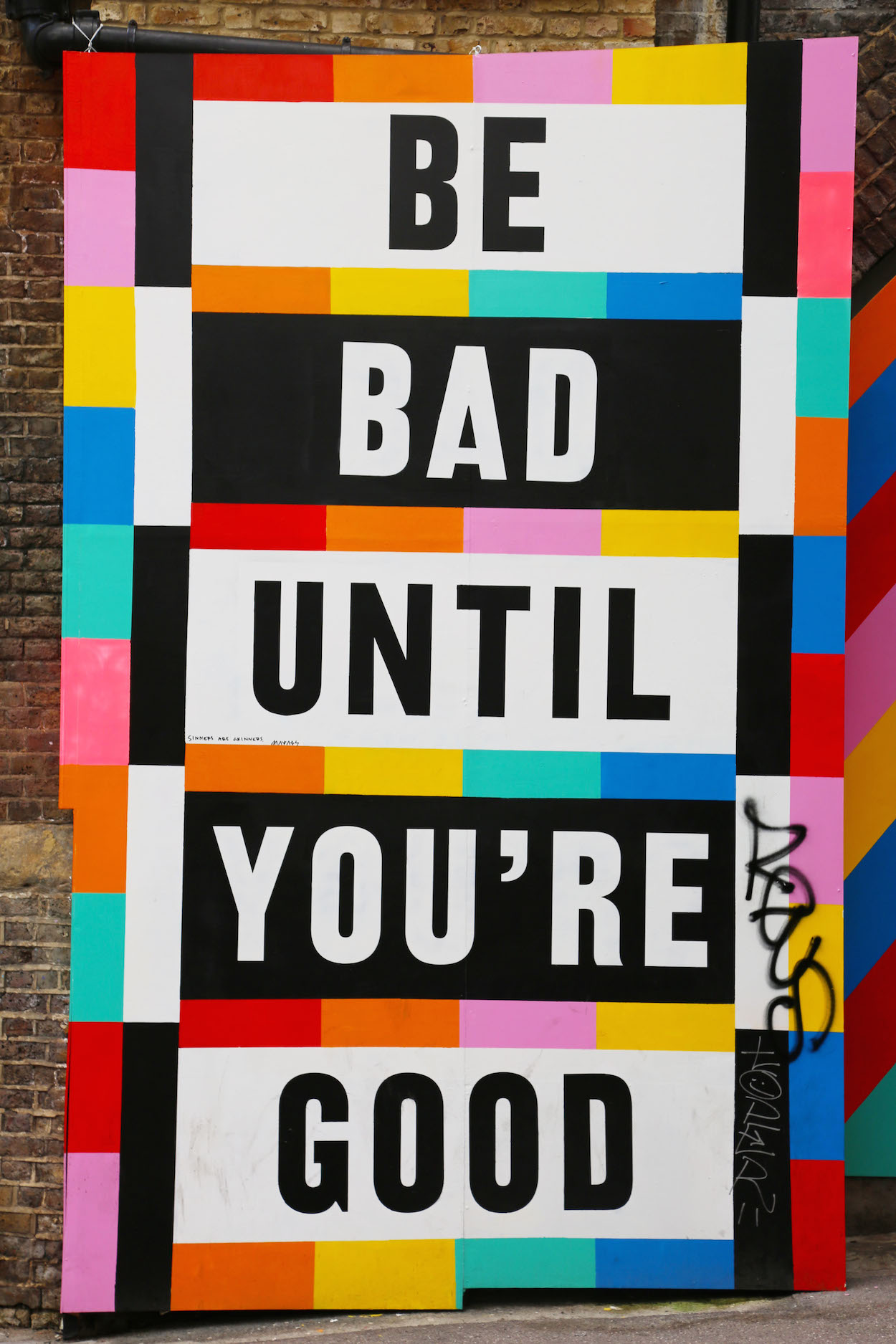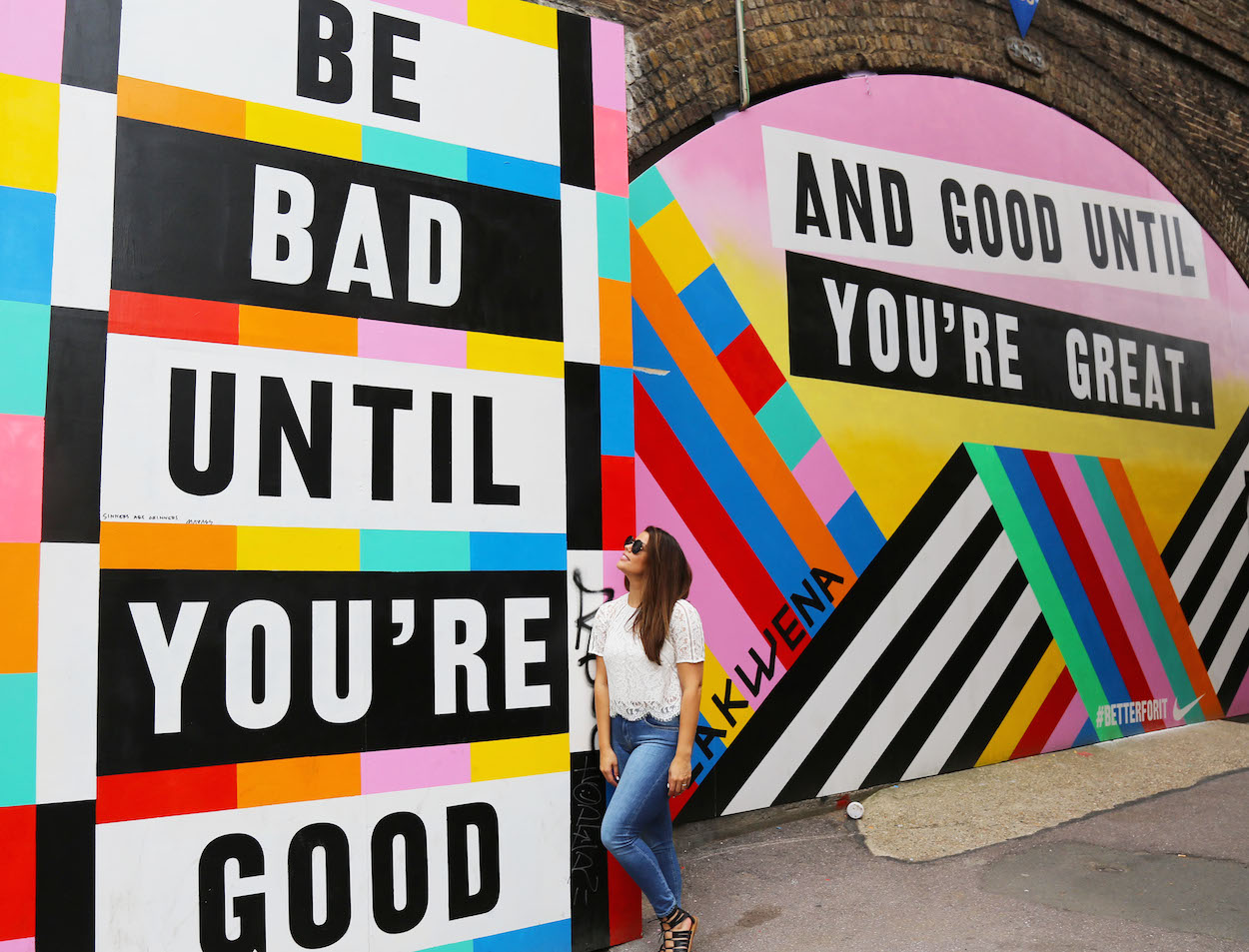 2 – This wall is everything and so is the message "Be bad until you're good and be good until you're great".  Set on the exterior wall of Frame Shoreditch (a dance and fitness studio), this super graphic artwork is inspirational on all sorts of levels.  When I took these pics there was a work out class going on inside (which we could hear outside), the whole scene had me motivated…not to mention the nike sign with the hashtag…betterforit. This was done by London based artist Lakwena who works in pop culture within an urban environment.  Yes I'd say that is about right! (Visit this at 29 New Inn Yard, East London EC2A 3EY)
v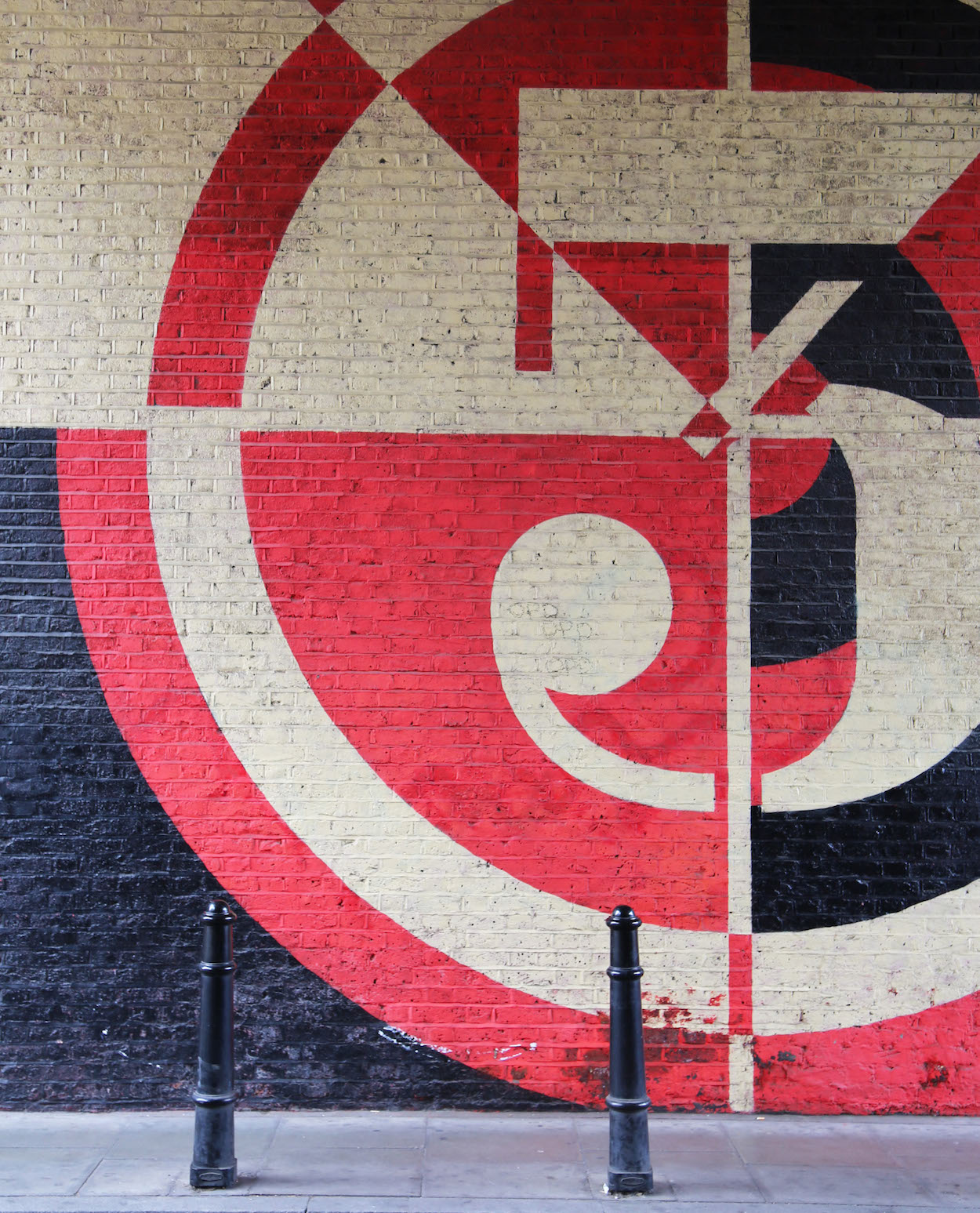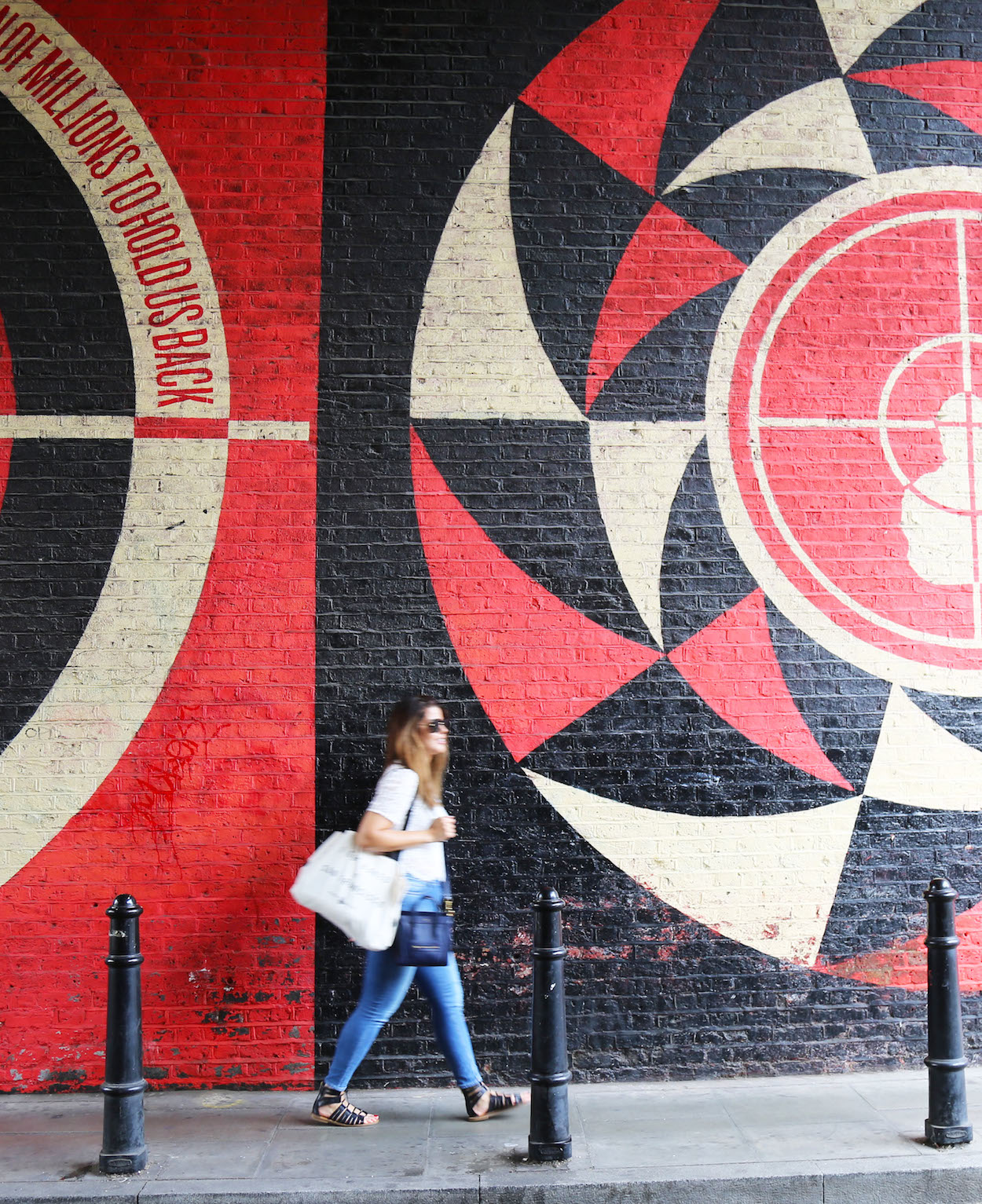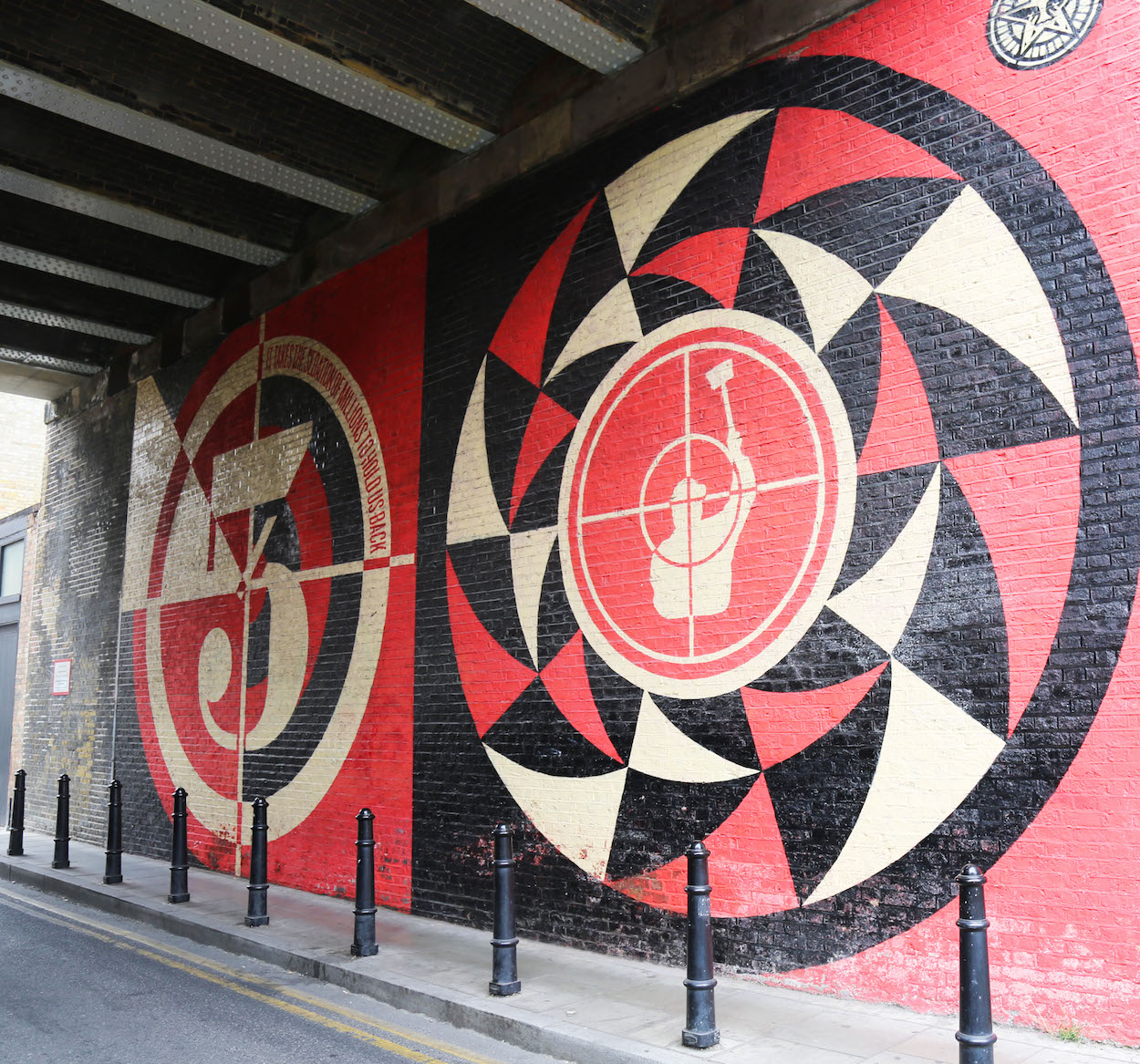 3 – This is a classic art wall, which is to me a staple piece of the area. Set just outside the new (ish) Nike Lab in Shoreditch, this work is of by Shepard Fairey and of course features his signature tones of red, cream and black. (Visit this at the Arches, 477-478 Bateman's Row, London EC2A 3LQ).
v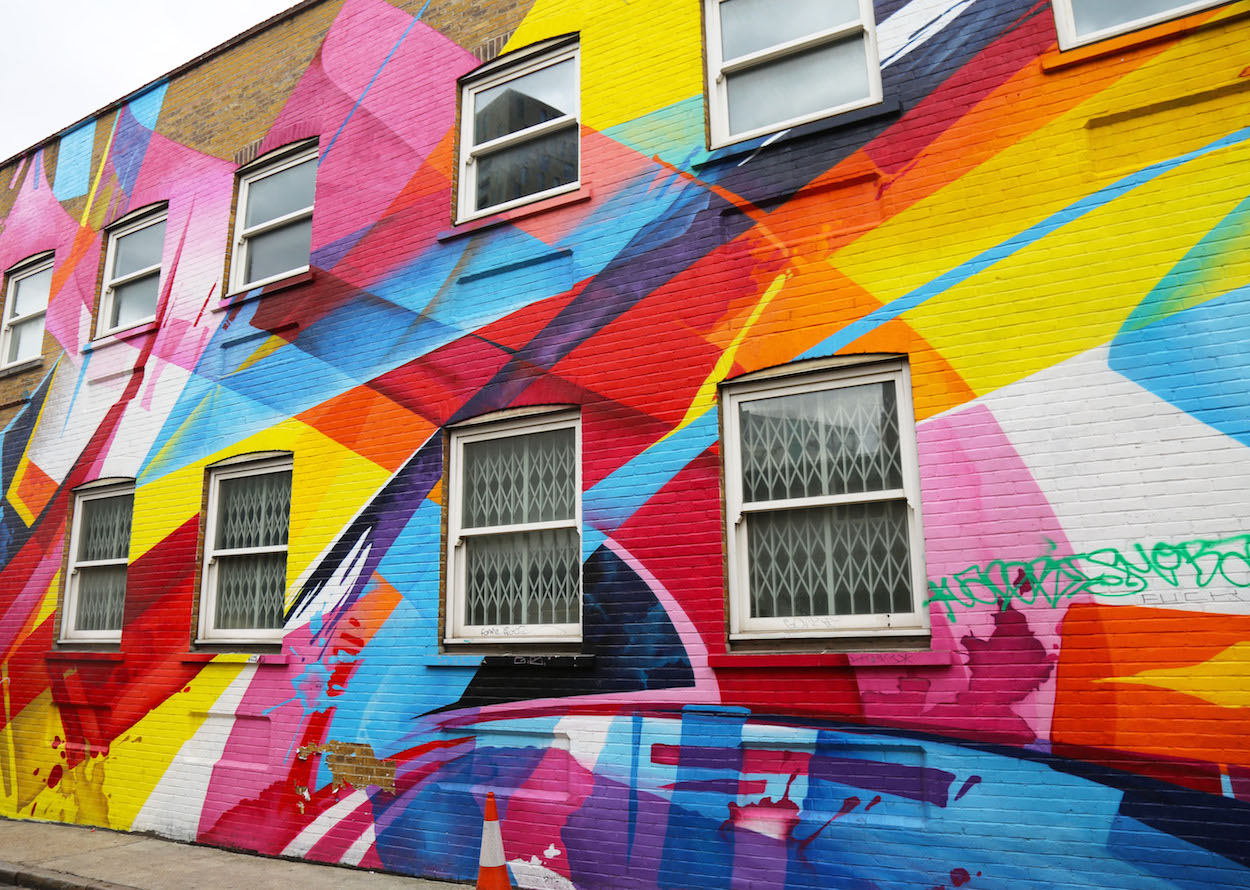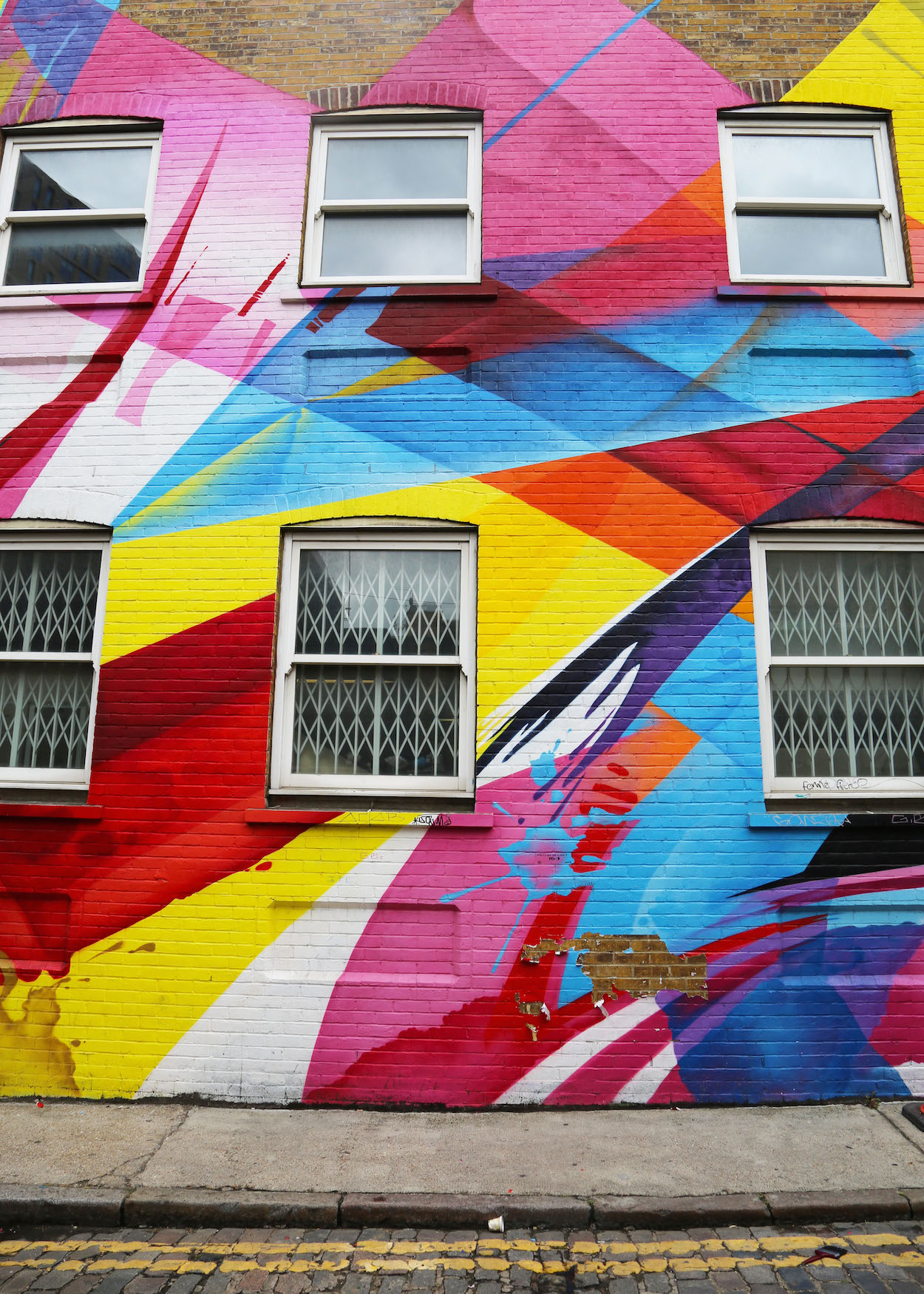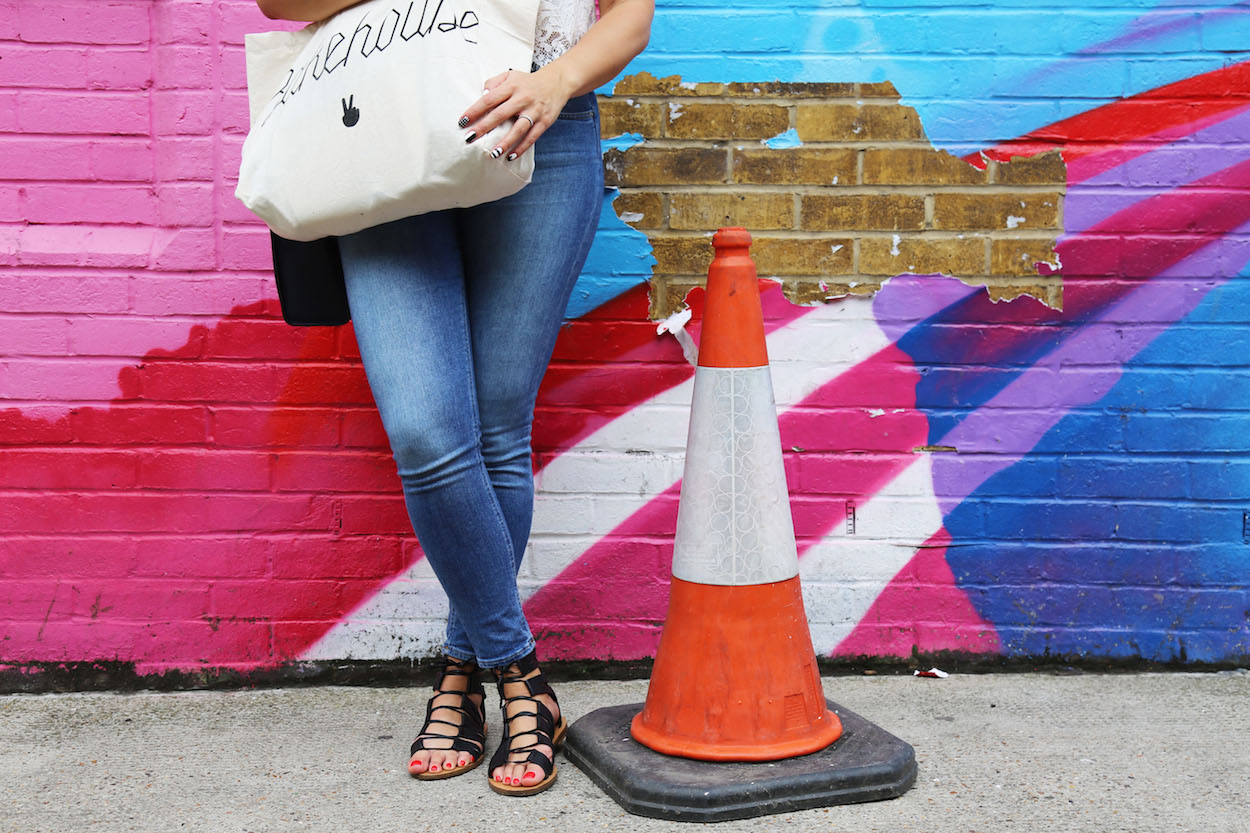 Painted in 2013… this wall gets me every time. It is so vivid and has an almost painterly quality to it.  This time some of the paint was coming off as you can see in the pic above…but it almost made the work all the more special.  Created by artist MadC aka Claudia Walde is pretty epic.  (Visit this one on Chance Street in East London).
v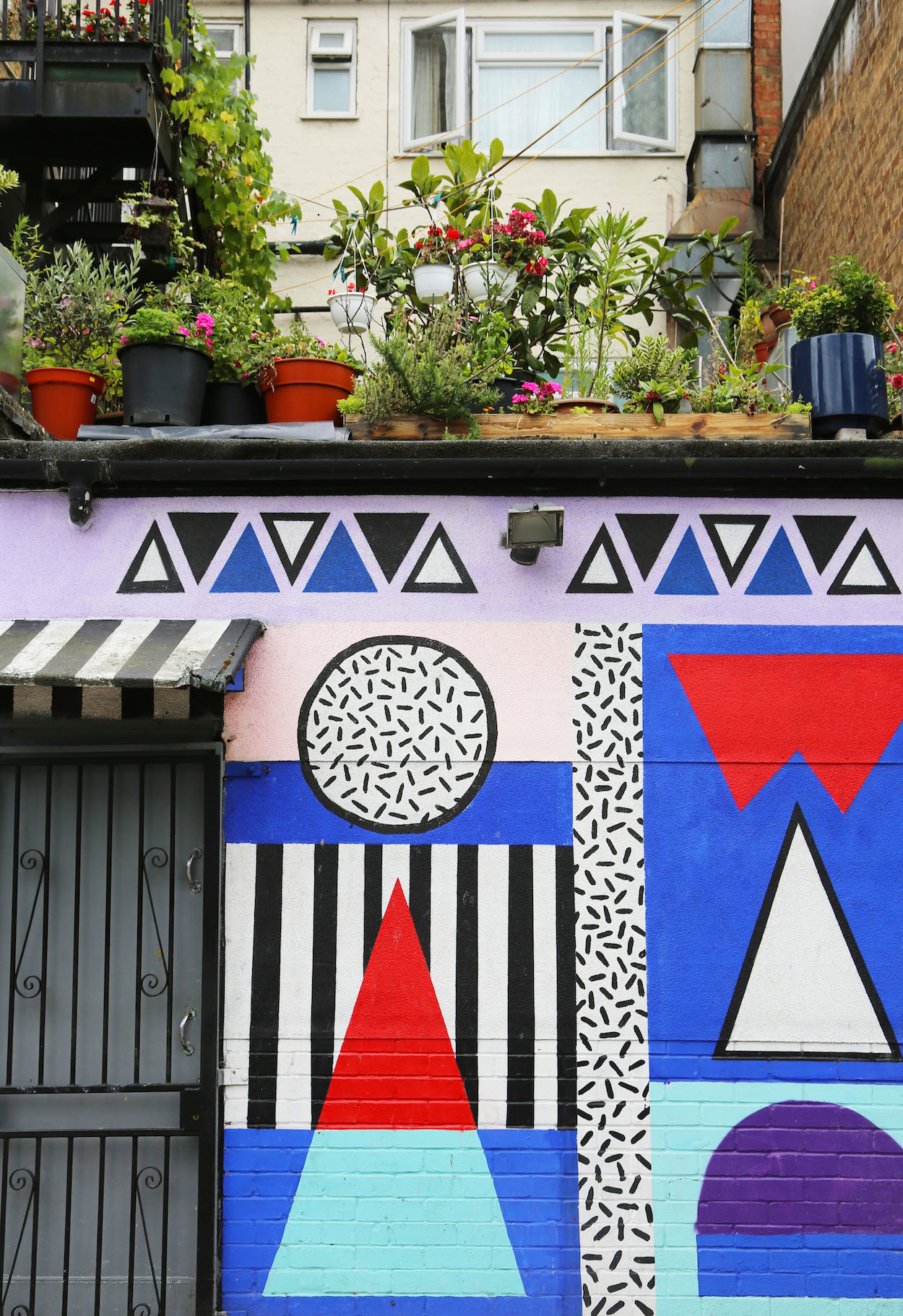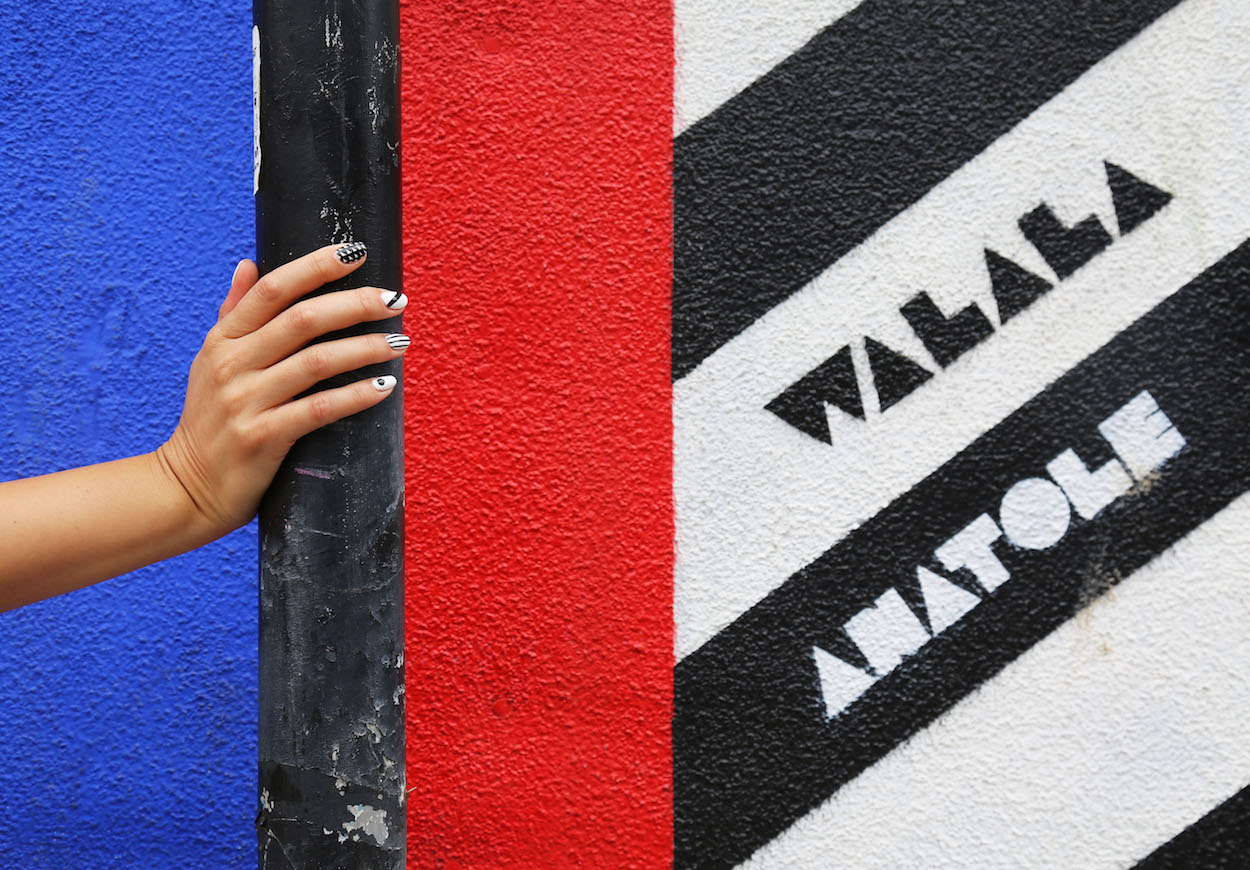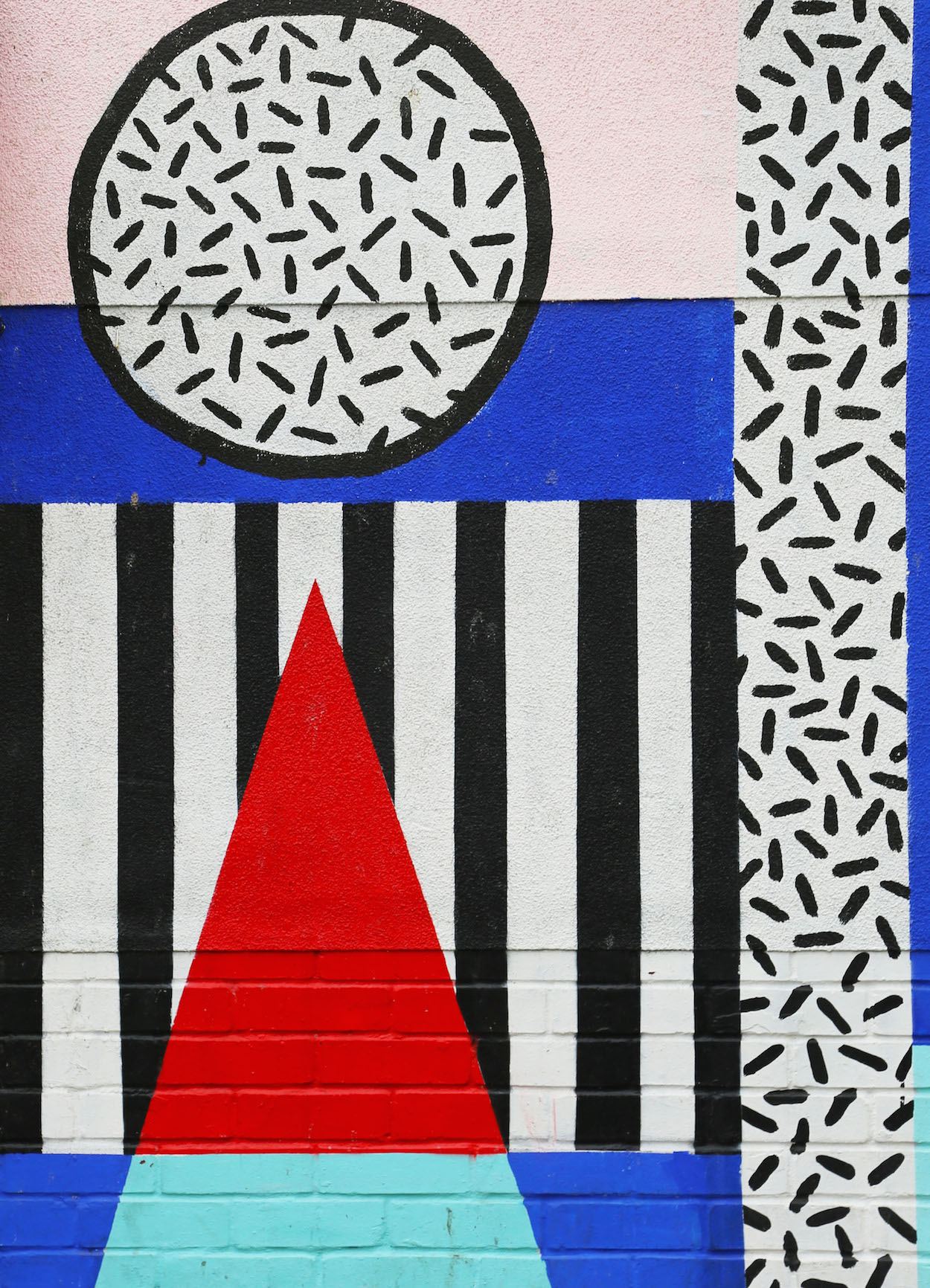 This is another amazing piece by Camille Walala.  Painted on the exterior of what looks like a small home…this one has been a favorite of mine ever since I bumped into it on a very small back street.  I especially love the roof garden which is situated above this artwork.  On this visit my nails happen to match the design… like perfectly?  (Visit this work on Whitby Street in East London).