Spare Bedroom Makeover: Grey, Copper + Pink
I have been sharing my current love for dark grey walls (see here) and therefore it became my inspiration when I did a quick makeover of my spare bedroom at home.  My spare bedroom before was SO plain.  It included white walls, white Ikea furniture and a grey headboard on the bed.  I really wanted to change the overall look of the room, without  making major changes to the furniture, etc.  I decided to follow my dark grey inspiration and really went for it. Thing is, when you sample dark grey on the wall it looks crazy dark…don't be scared though because it's worth it.  I have been also really keen to add some copper touches (a metallic hue that is in my opinion so beautiful with dark grey). I finished off by adding a light pink duvet cover and pillow cases.  Overall, this change took me 2 days…easy peasy.  I am loving the color combination which literally brought the entire room together making it feel warm and cozy.  Here are the changes below, let me know what you think!  I also included before pics too.
v
COLOR PALETTE: DARK GREY, BLUSH PINK & COPPER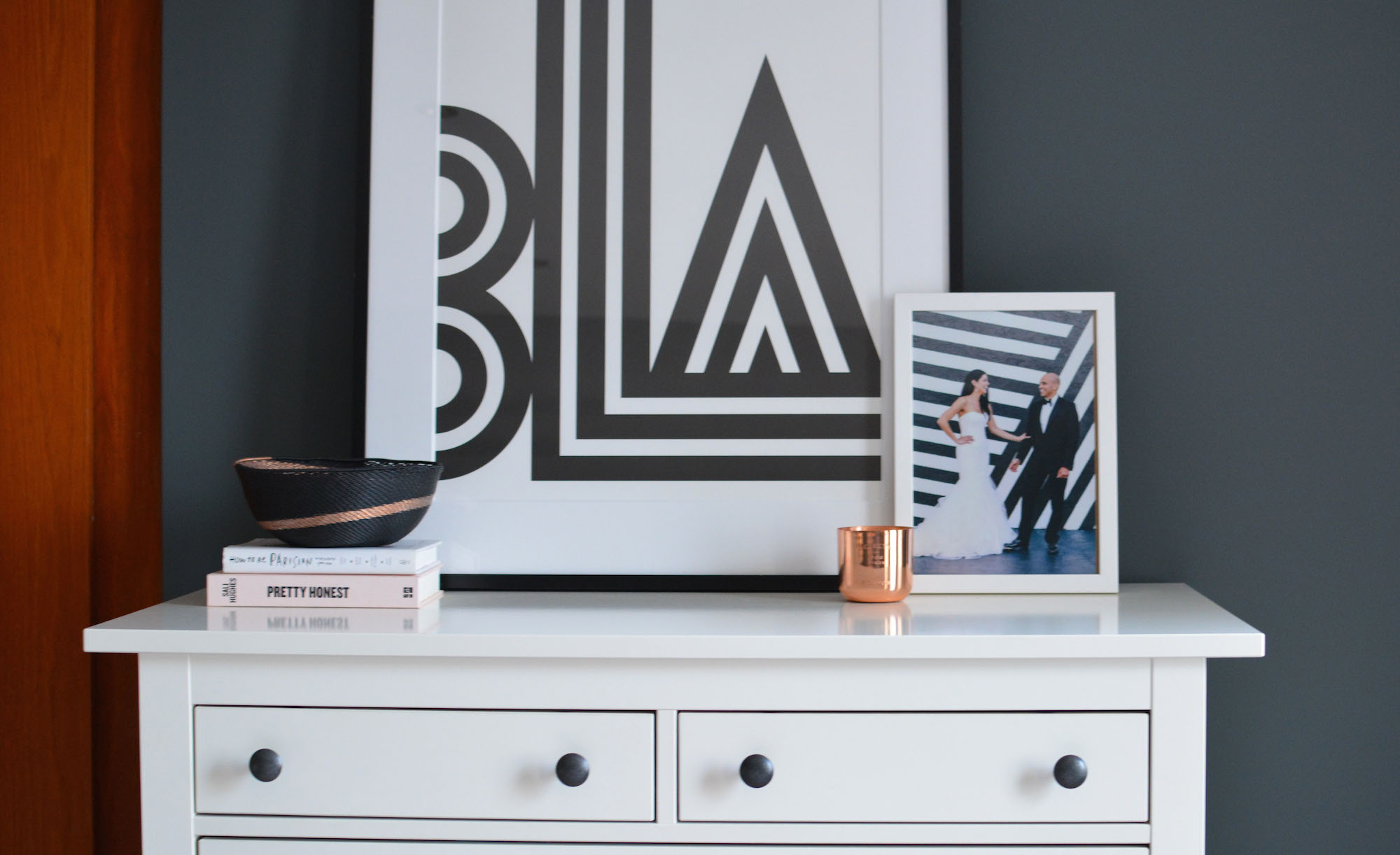 STRIPES
: I brought in my beloved BLA print as I wanted to bring out the black handles in the Ikea dresser plus I thought the minimal pattern would fit in nicely to the palette.  I loved the combination of adding in the picture from my wedding of my husband and I in front of the striped wall in Wynwood, Miami.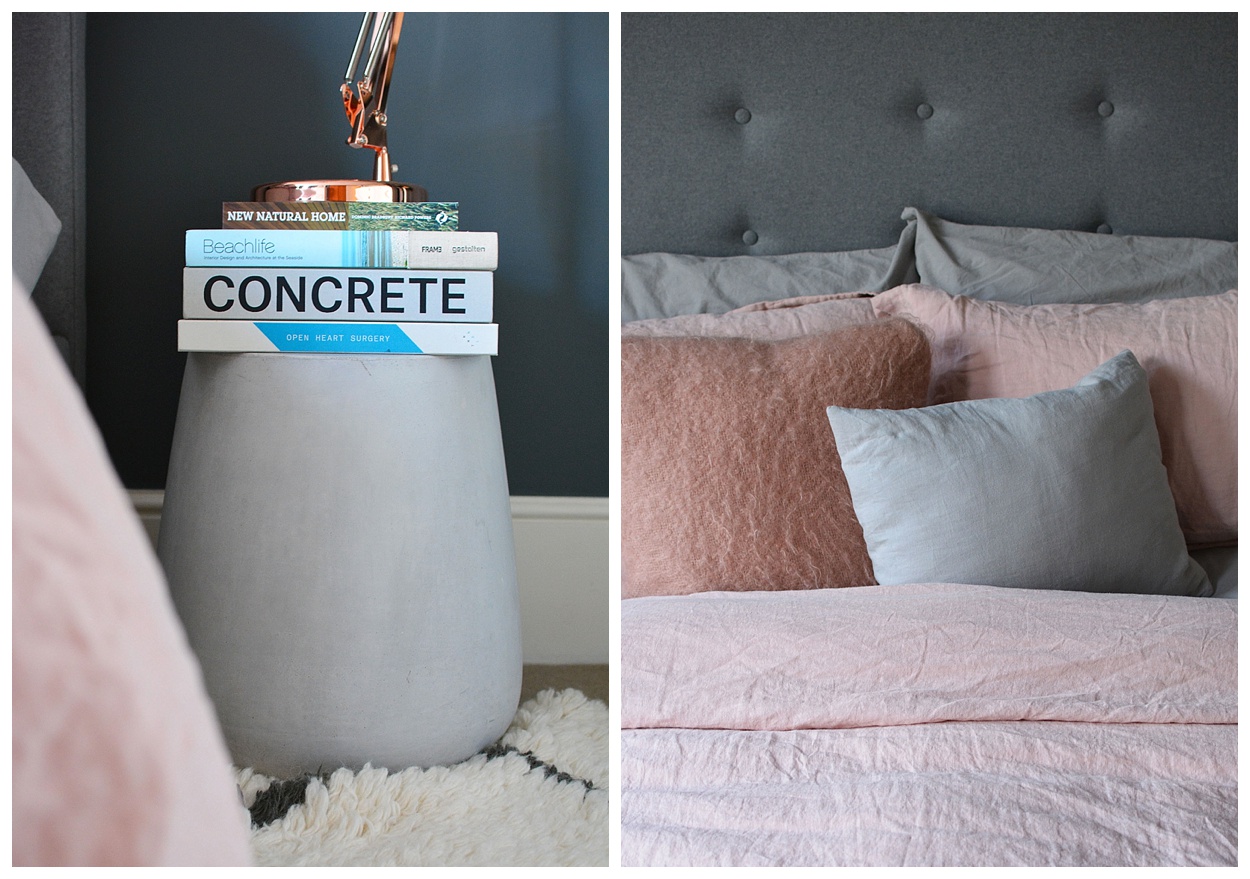 LINEN
: I have a new love and that is linen bed sheets.  I have them on my own bed and they are so comfortable.  I also really loved the casual yet chic (wrinkly) texture it brings to a room.  I decided to go with a very light blush pink color for the duvet and pillowcases. I also mixed in shades of light grey to offset the wall color and the bed frame color (also I thought all pink would be a little intense).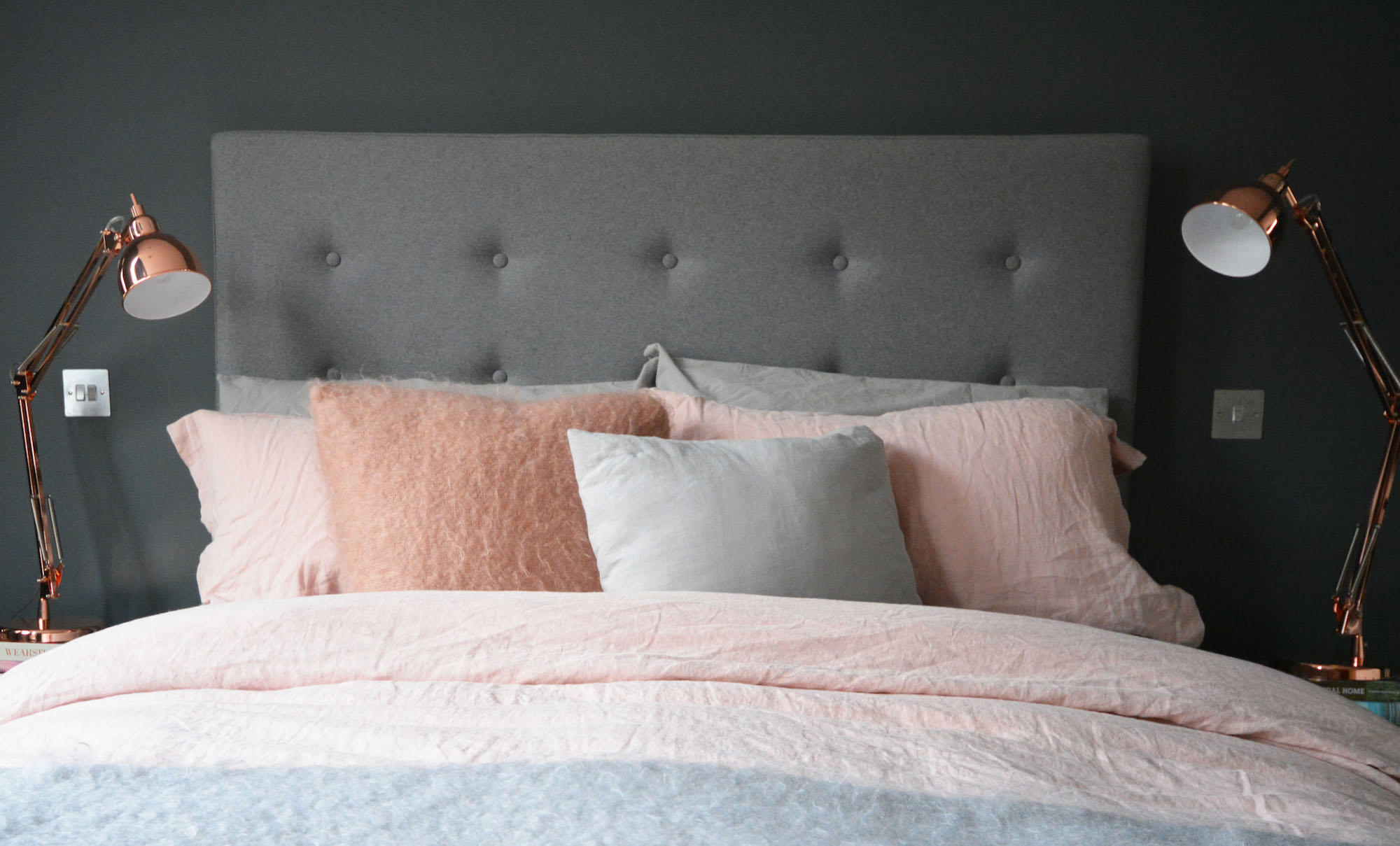 SHADES OF GREY
:  I mixed a lot of grey hues together in this room with the medium grey felt headboard, the dark painted wall and the lighter shades of bed linens.  I loved how these shades blended together but also stood out on their own.  I went with Down Pipe on the walls from Farrow & Ball to give a dark backdrop to everything.   (Tip: if you want to go dark.. then go for it.  I have made the mistake in the past where I got scared and went lighter and my walls turned out a "nice" shade of grey but not a statement shade if you get my drift).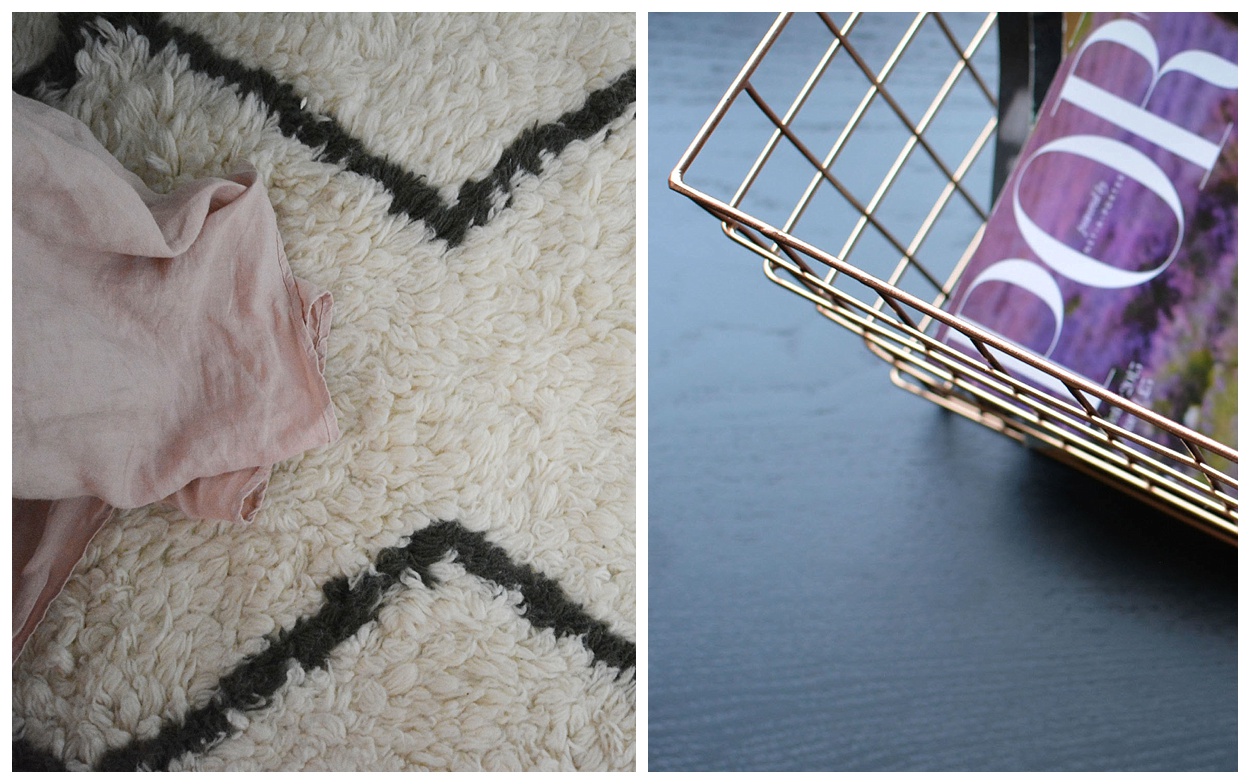 COPPER:
I kept the copper accents really consistent in the room withe the table lamps, small side table, wire basket, Tom Dixon candle and the small container on my tea tray.  Little simple touches that are consistent are a great way to go.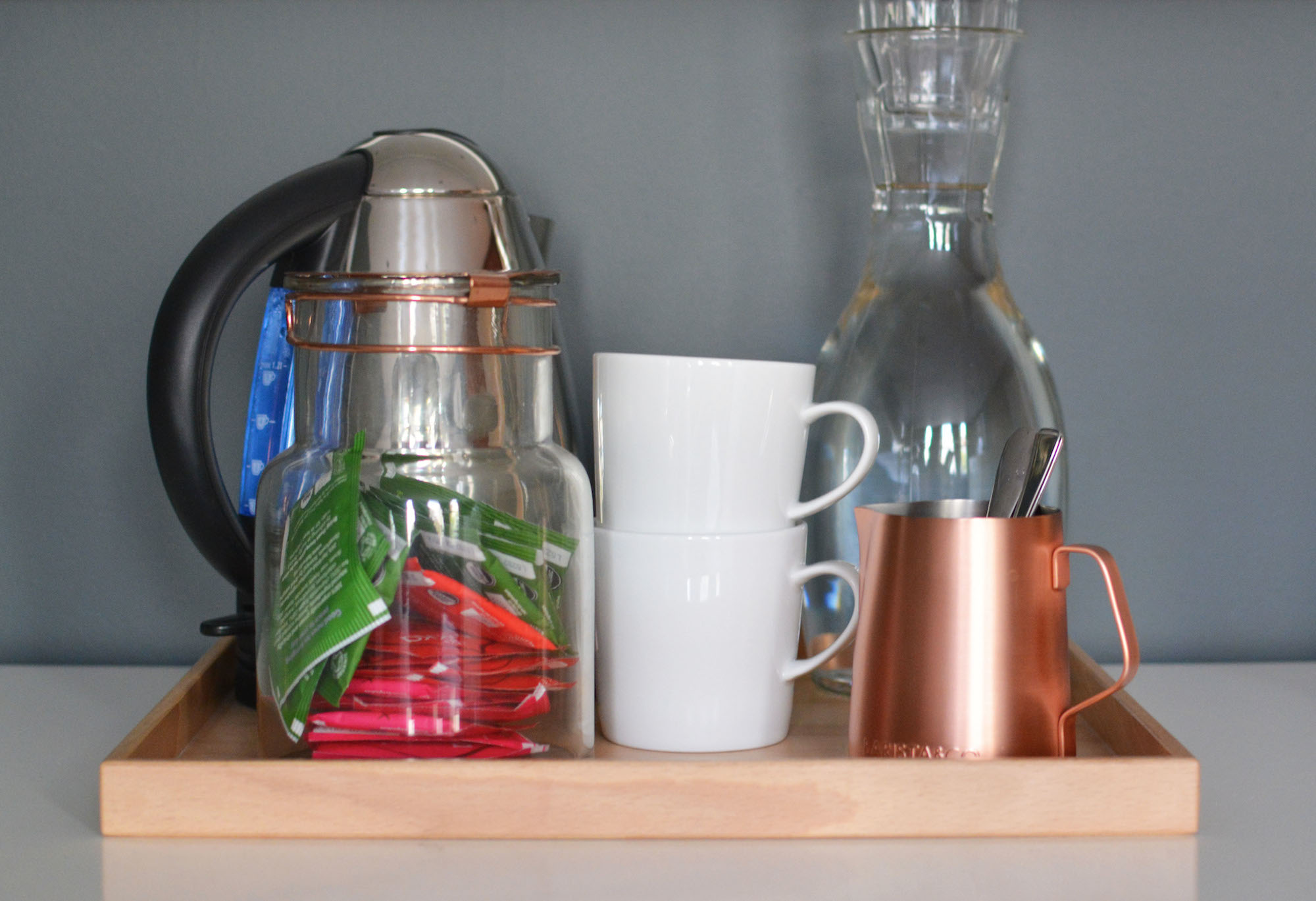 ADDITIONAL ELEMENTS
:  Although this room is mainly grey, copper and pink, there are also some other materials that I love to mix with this palette.  For example: light woods (see the tray), concrete (bed side tables) and white marble (I do not have any in this room but still would be beautiful). 
TEXTURES:
 I went for a feeling of Winter cozy with the bed linens, fluffy area rug, sheepskin on the desk chair and the angora throw at the end of the bed.  All soft and inviting fabrics.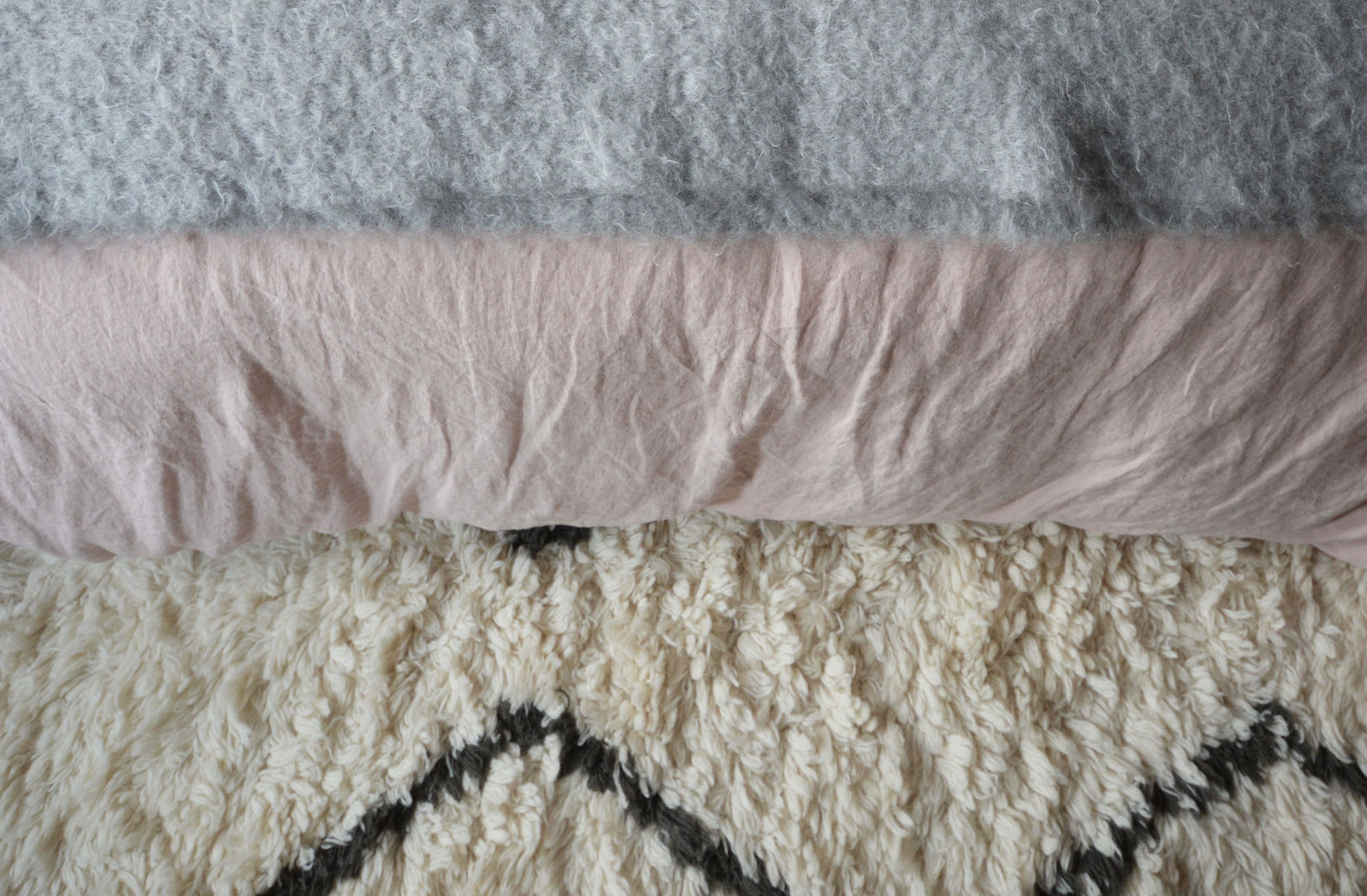 MINIMAL PERSONAL ELEMENTS
: Obviously this is my home so of course there will be personal elements in it.  I tried to keep it really simple though as it is my spare room and we have friends and family stay over all the time.  Just one very simple picture of us and some books I currently love.  That way it still stays inviting for my guests.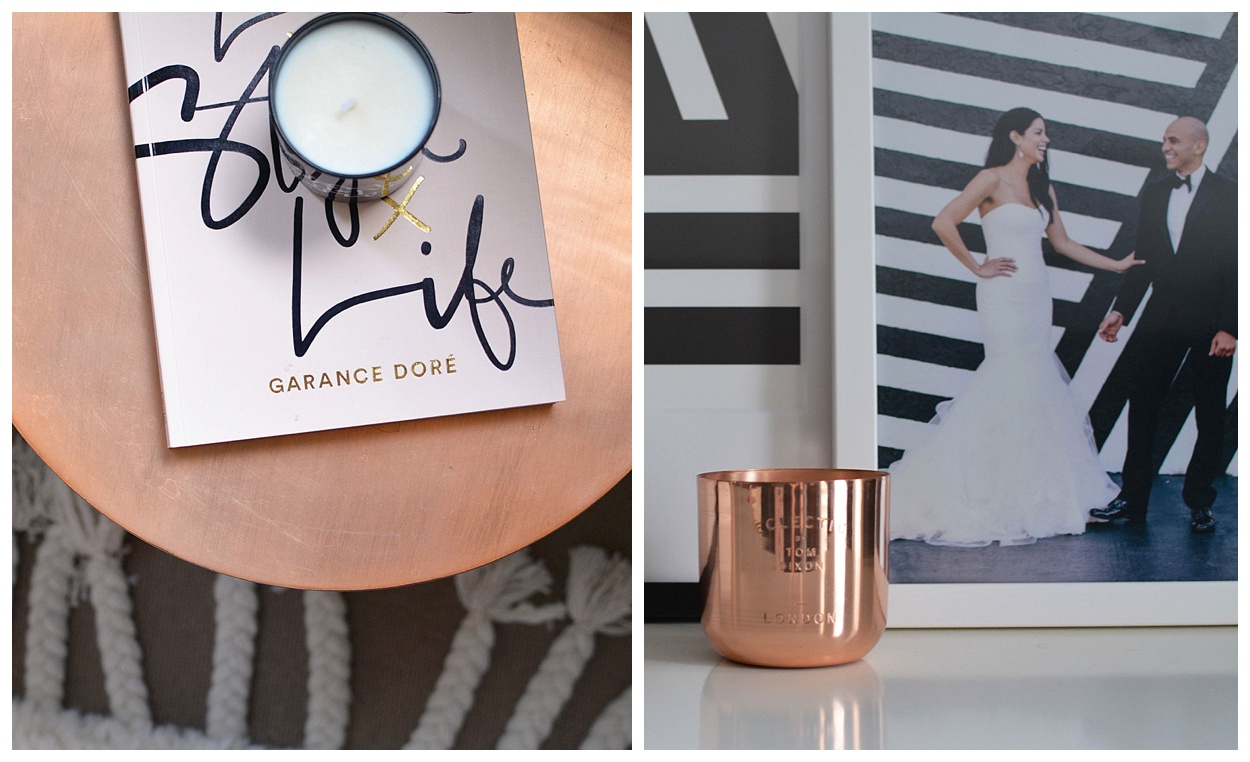 v
BEFORE SHOTS & THE PAINT SAMPLES
SHOP THIS POST:
Copper: Side Table / Table Lamps / Wire Basket / Tom Dixon Candle / Vase
Grey: Paint / Concrete Bedside Tables / Desk Chair / Headboard / Bed Linens / Mohair Throw / Rug
Pink: Bed Linens / Fluffy Bed Cushion / Book