People & Their Spaces: A Filmmaker's Sanctuary
Interior: Converted Church Home in Forest Hill, London
Profile: Harry Otto BrÜnjes
v
I think most people can agree that a great home is one that reflects the personality of the individual living in it. This statement could not be more fitting for film director Harry Otto Brünjes and his incredible living space located in Forest Hill, South London.  To give you some background, Harry's house is a converted church which has become a light filled home embodying exposed beams, soaring thirty foot ceilings, gothic arches, original stained glass windows and spiral staircases.  What is even more impressive about this interior is the unique style and character that Harry has infused into the space through his design.  Harry's strong personality shines through in his home with perfectly placed decor accents which tell a story of his passion for film, music, arts and his loved ones.  Along with the design details, an overall feeling of warmth will leave any guest feeling happy.  Today I am sharing Harry's characterful home tour as he explains his design process and inspiration in making this vast space feel like home.
v
LIVING AREA
What is your favorite room at home and why …  "The Lounge.  It's comfortable and snug for film watching, music, socialising. An awesome space."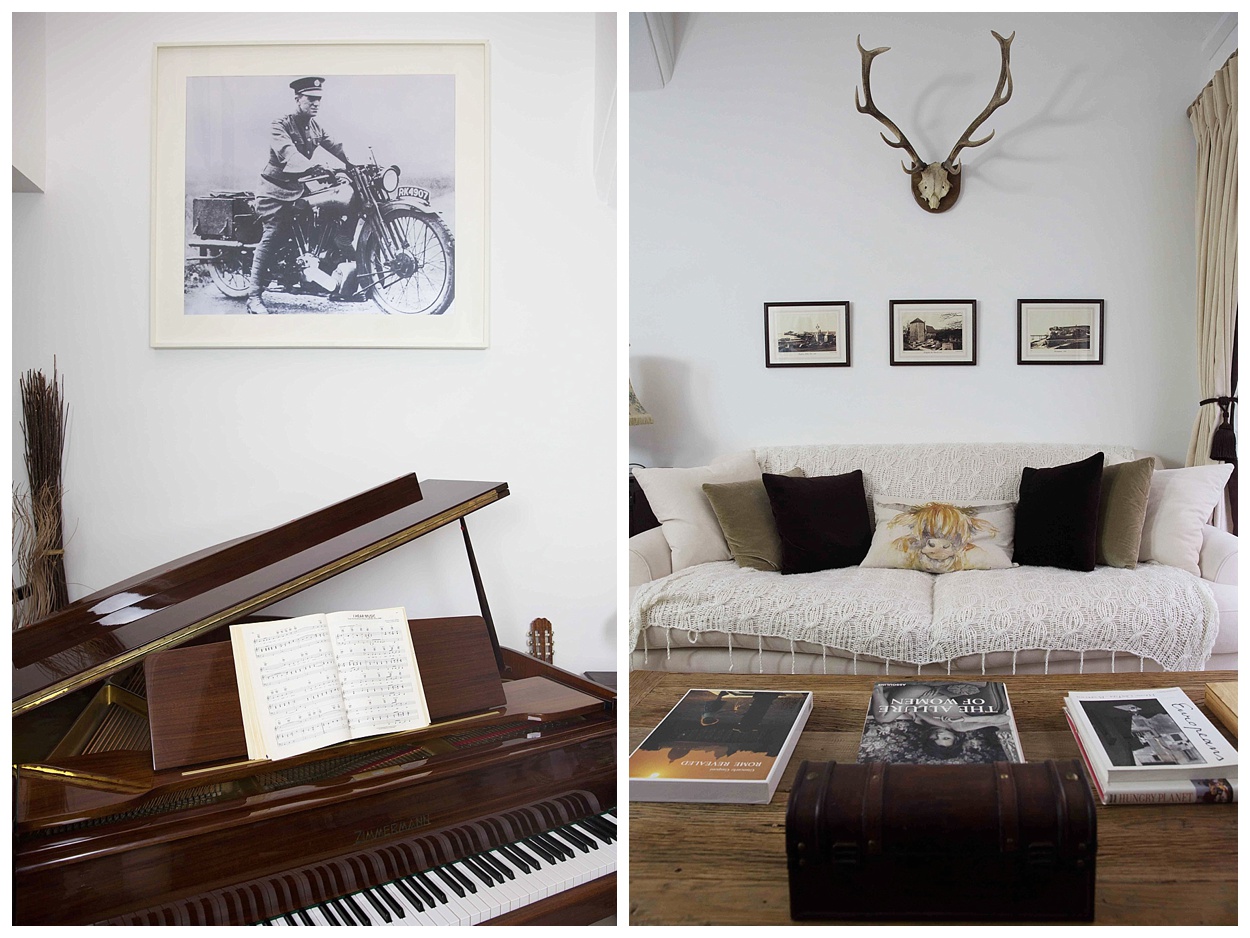 Describe your home in three words … "Comfort, Character, Sanctuary"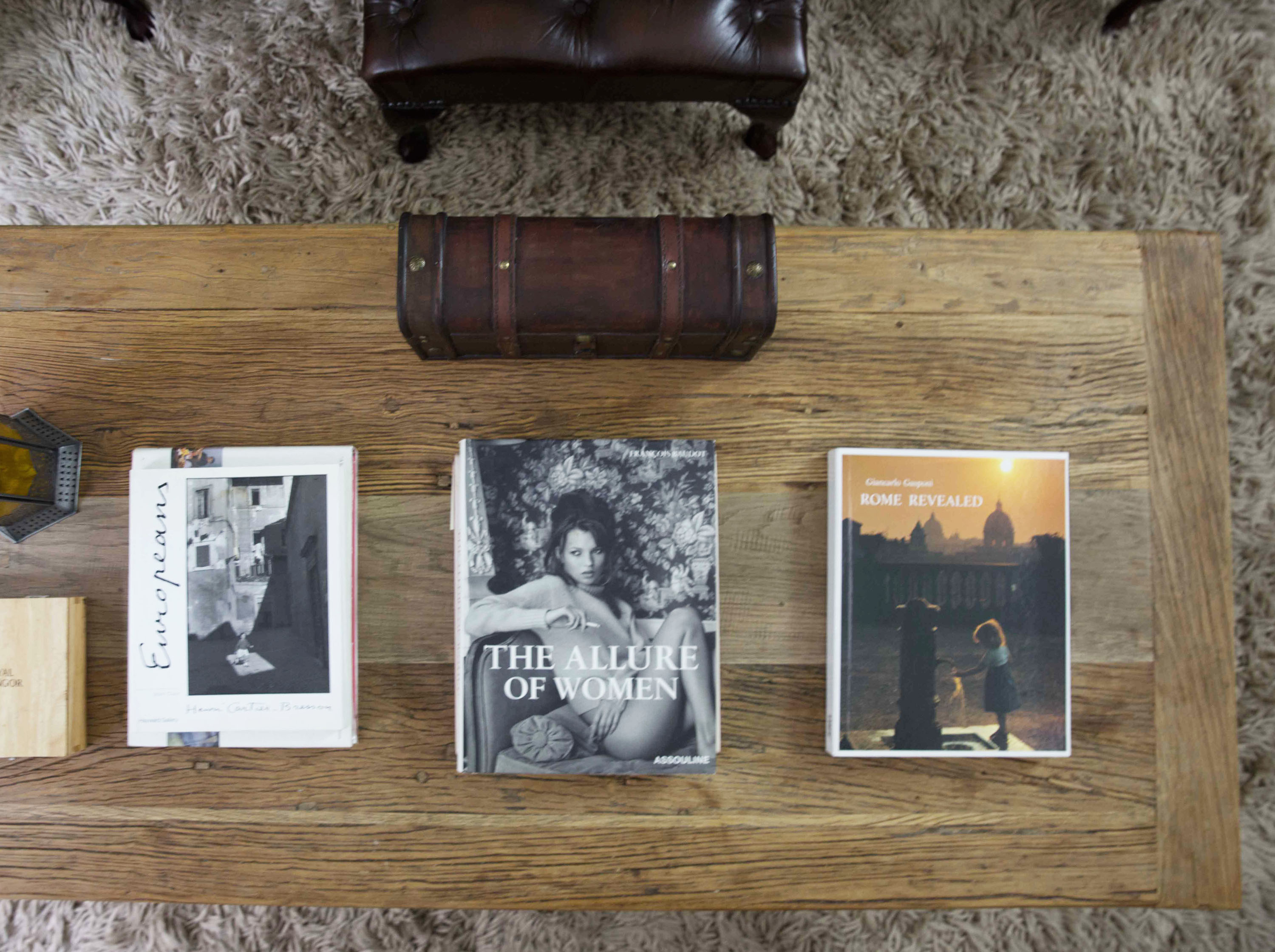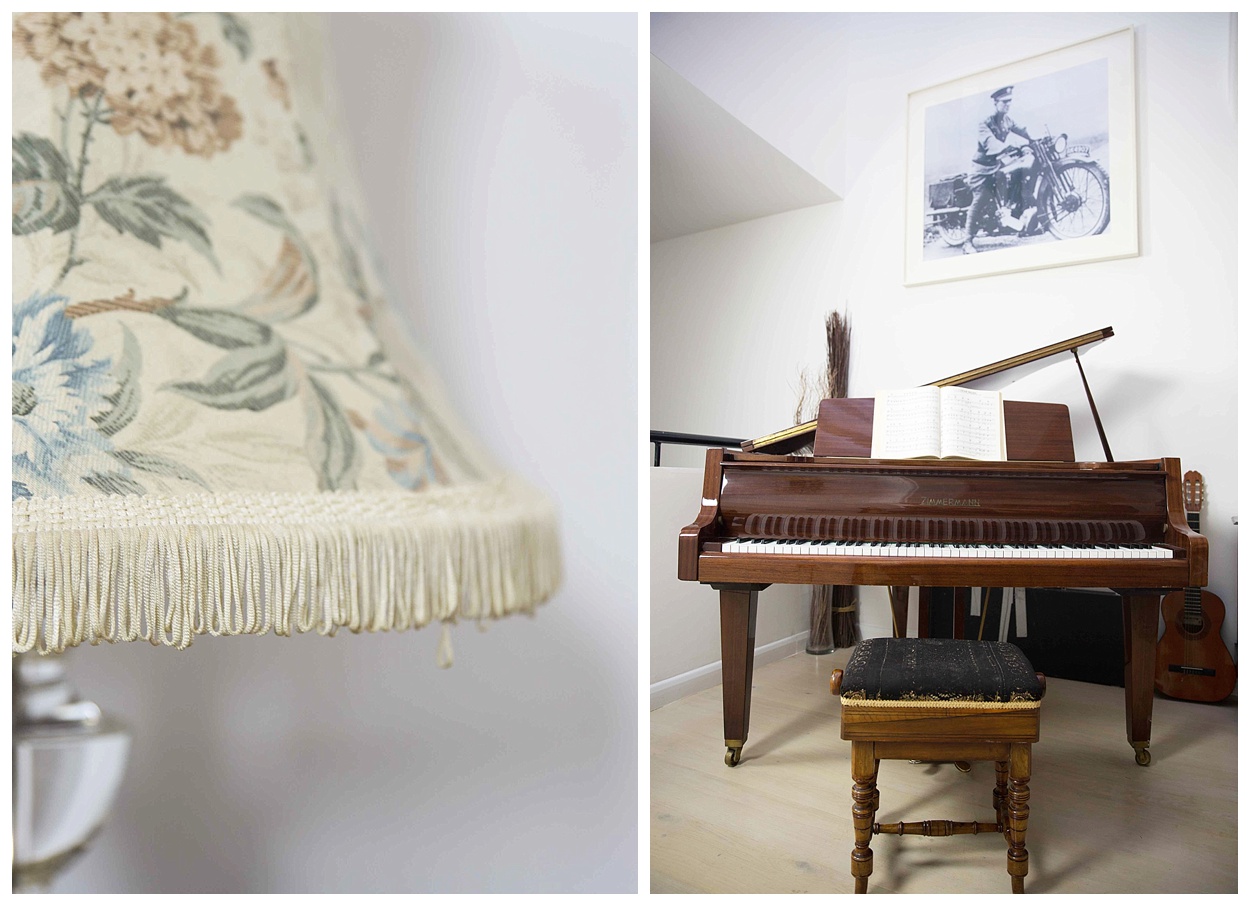 To you, what is the most important characteristic for a home to have … "A feeling of a sanctuary.  Somewhere you can come back to and chill. A den, of the highest order. To switch off and feel great about it. A home is all about foundations, it's the order of your life. As a creative I find you can't have your head in the clouds, unless your feet are firmly on the ground and an Englishman's home is his castle. Yet being a church, it is very peaceful inside."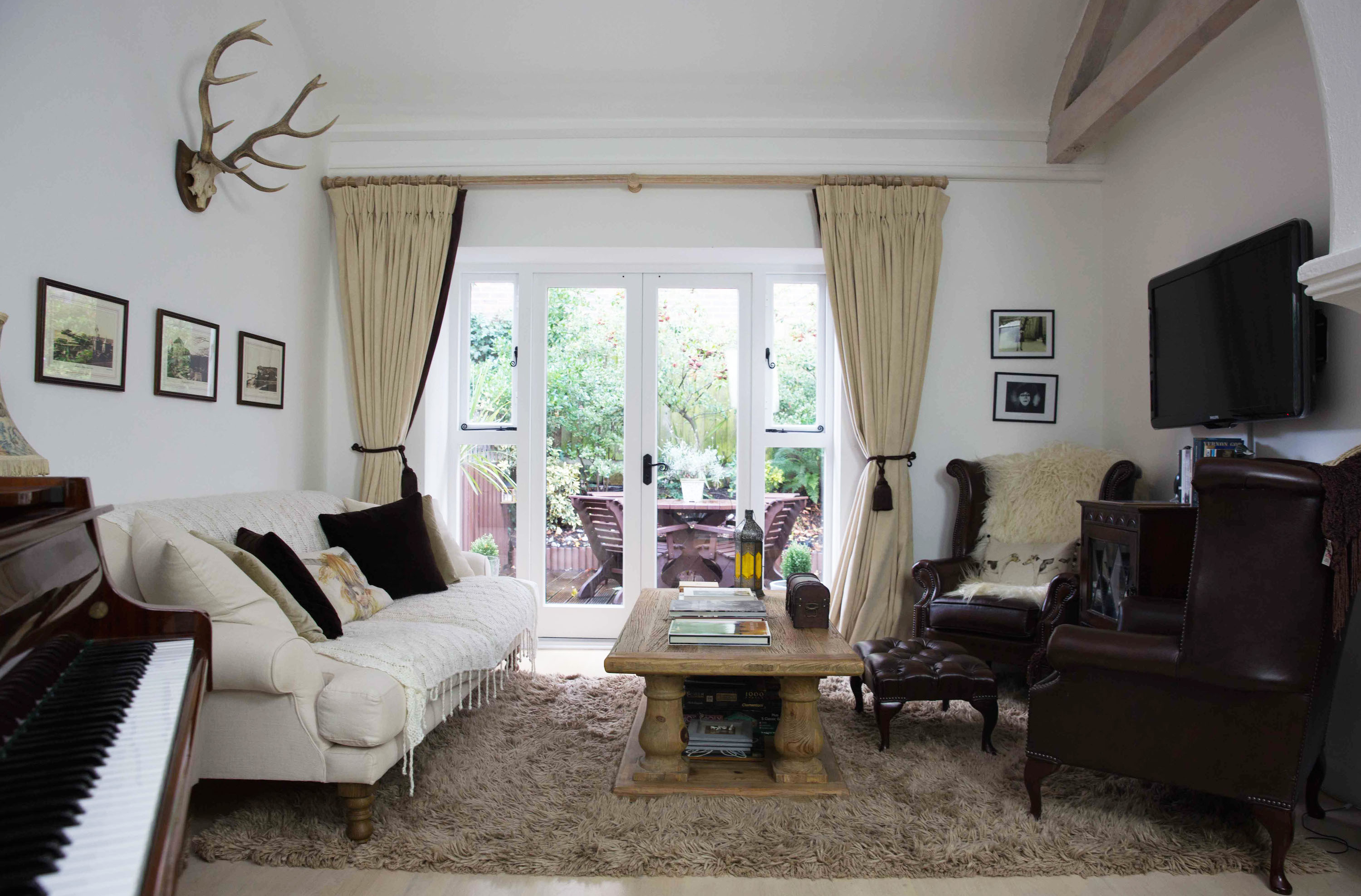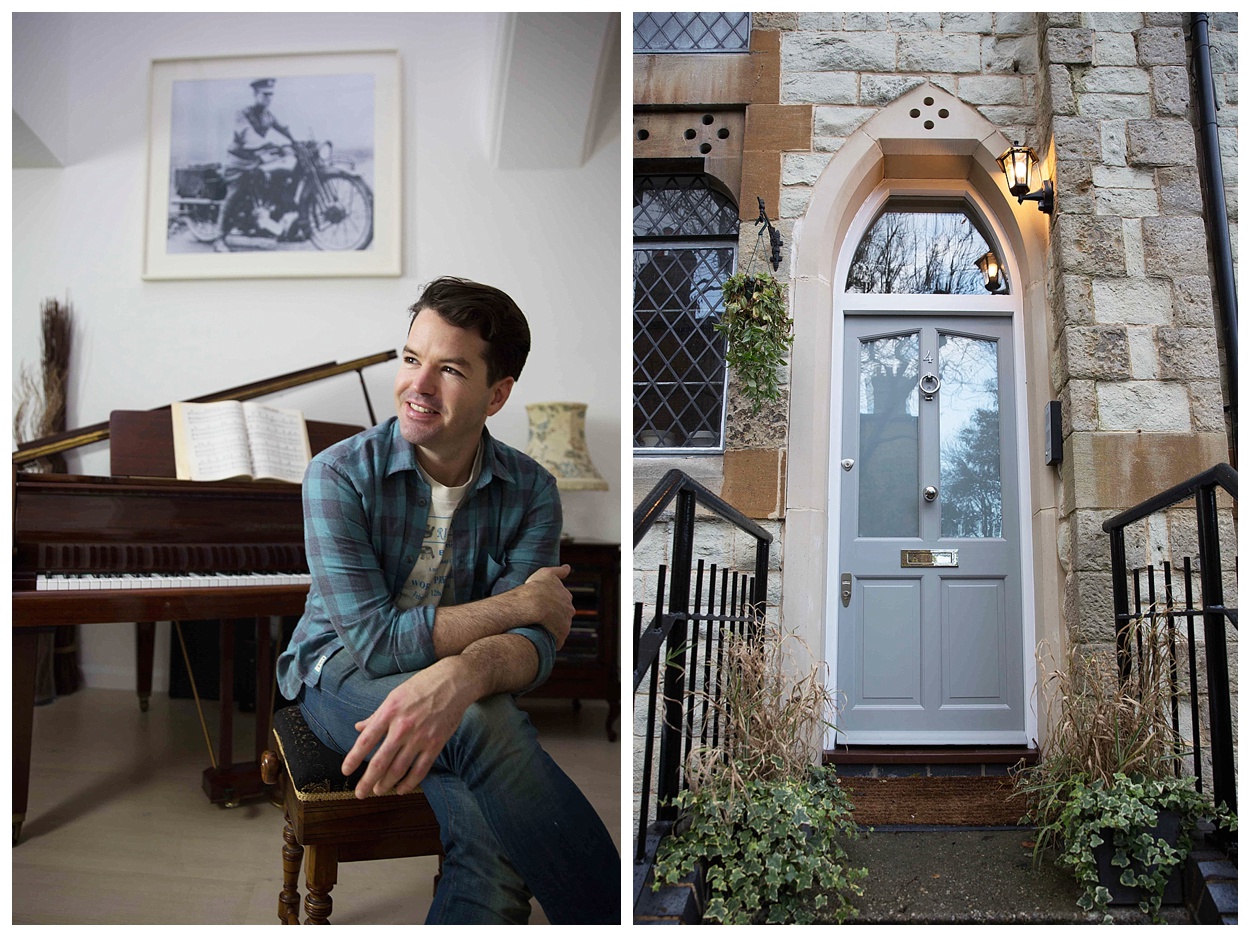 What in particular made you choose this space for your home …  "It is 1500 square foot, which meant space for a piano, two beds, two baths and close access to the tube. But it even feels bigger than that with the thirty foot high ceilings."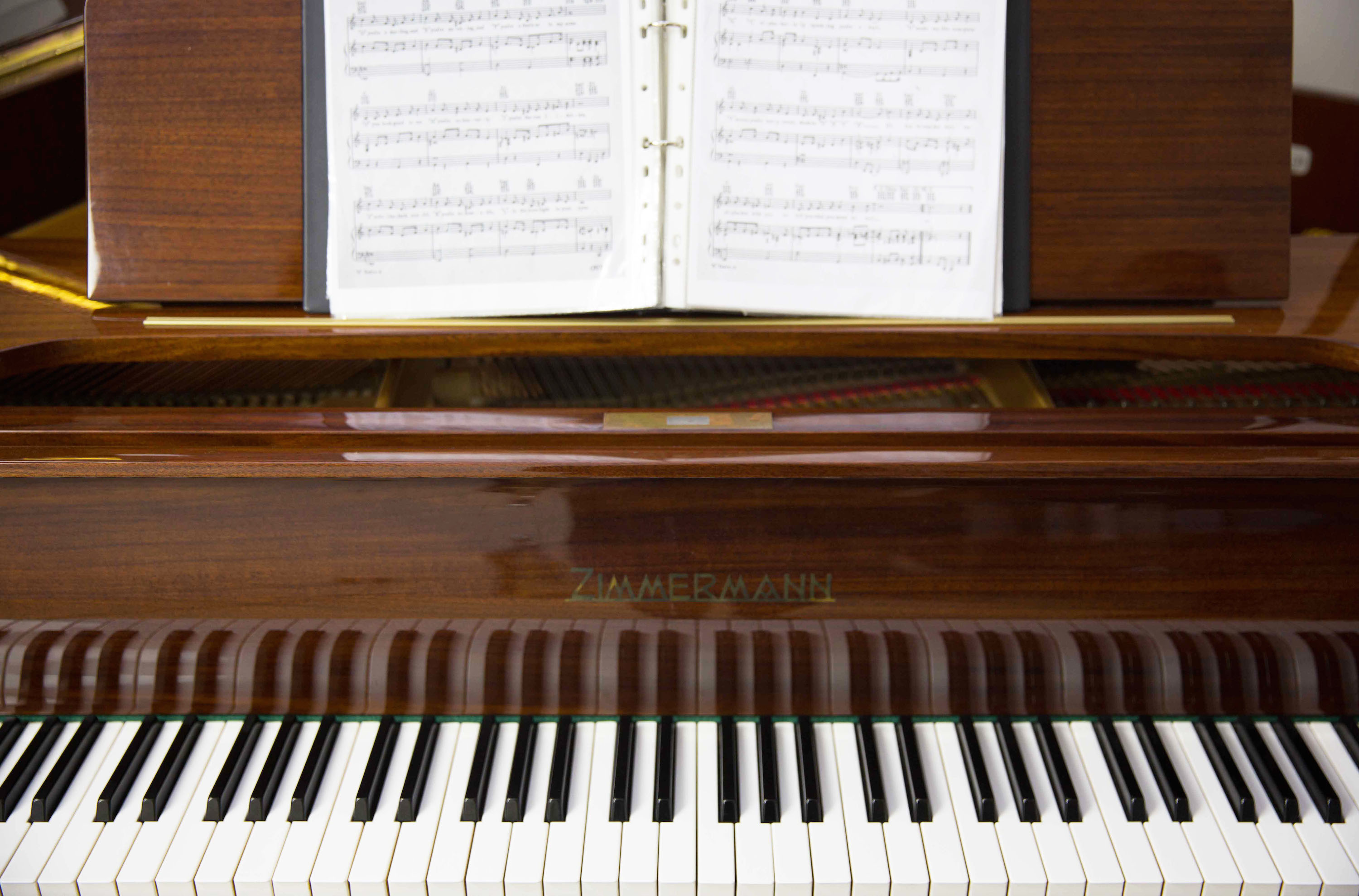 Tell us about the importance of your piano in your home …  "I play piano like I drink cups of tea. Actually more.  It's my five minute respite in between work. If I'm really procrastinating… it's half an hour! I guess it's a big thing in my family too, because I grew up surrounded by pianos, we had 7 in our house at one time growing up! One in every room! We used to have battle-offs!  But also, it's a funny tradition in my family that the eldest son is called Harry, and I'm actually the fifth piano-playing Harry! Never forced upon me, just happened."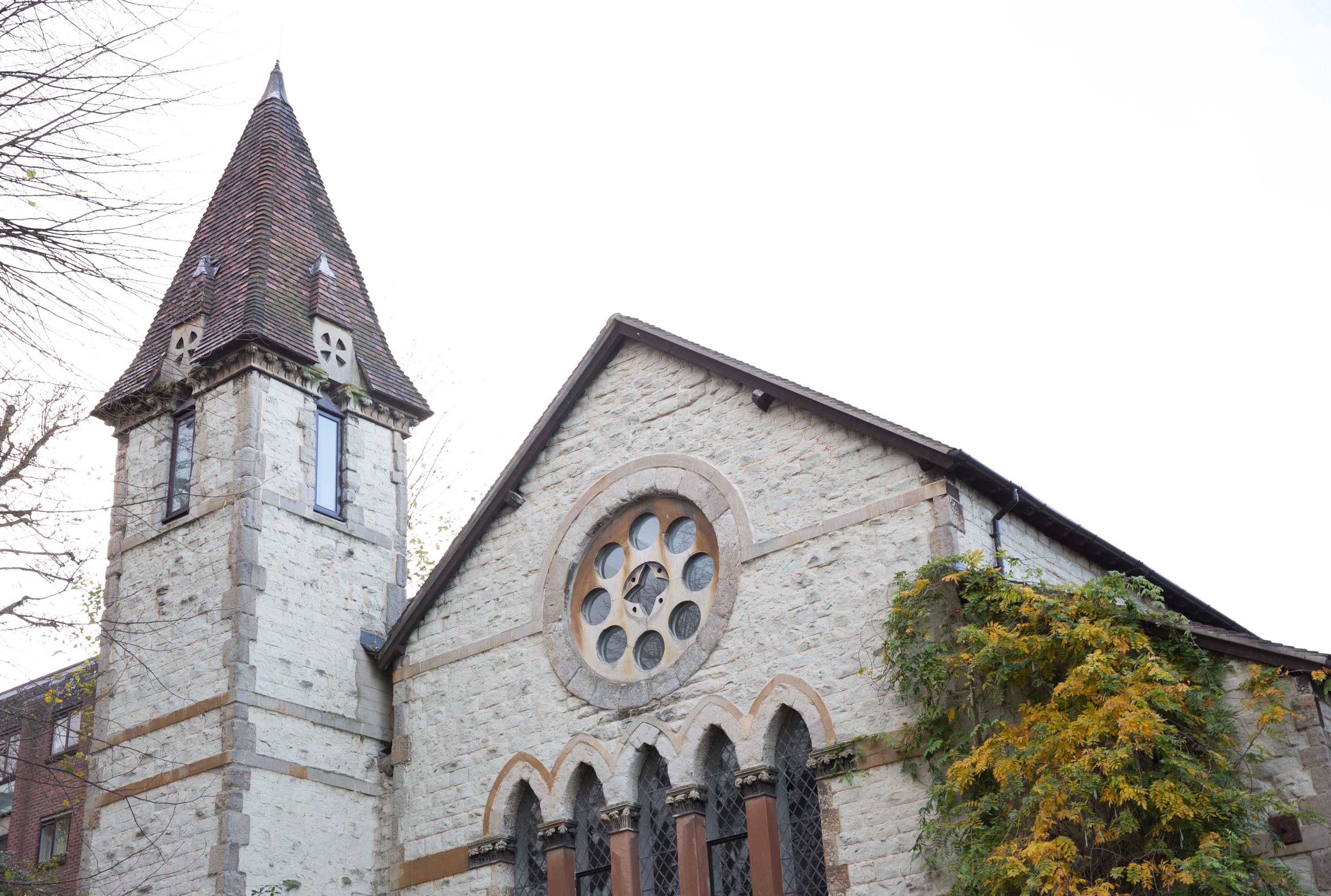 v
KITCHEN AREA
When you were decorating your home, what design element was most important to you in this process … "Being true to the natural period features and character of the church and making the most to suit that. Such as the pillars, arches, exposed beams, limestone floors and lead-light windows."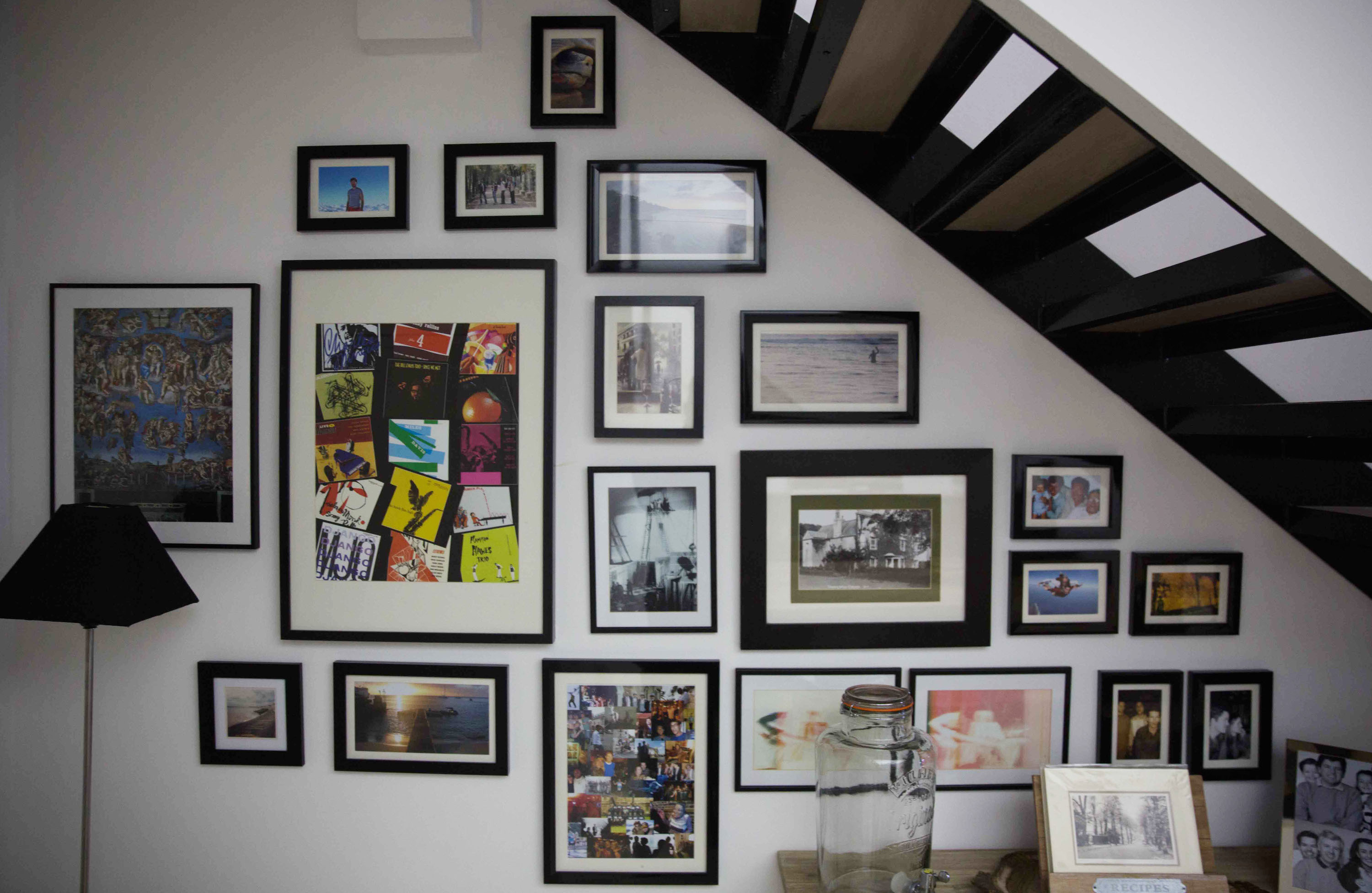 What makes your space special … "It's unique. The church was sliced into 4 on conversion in 1997, and each interior section was designed individually. It was clear to me the architect had a great vision for mine, allowing the light from the roof windows to flood in all the way down through the open spaces to the ground floor."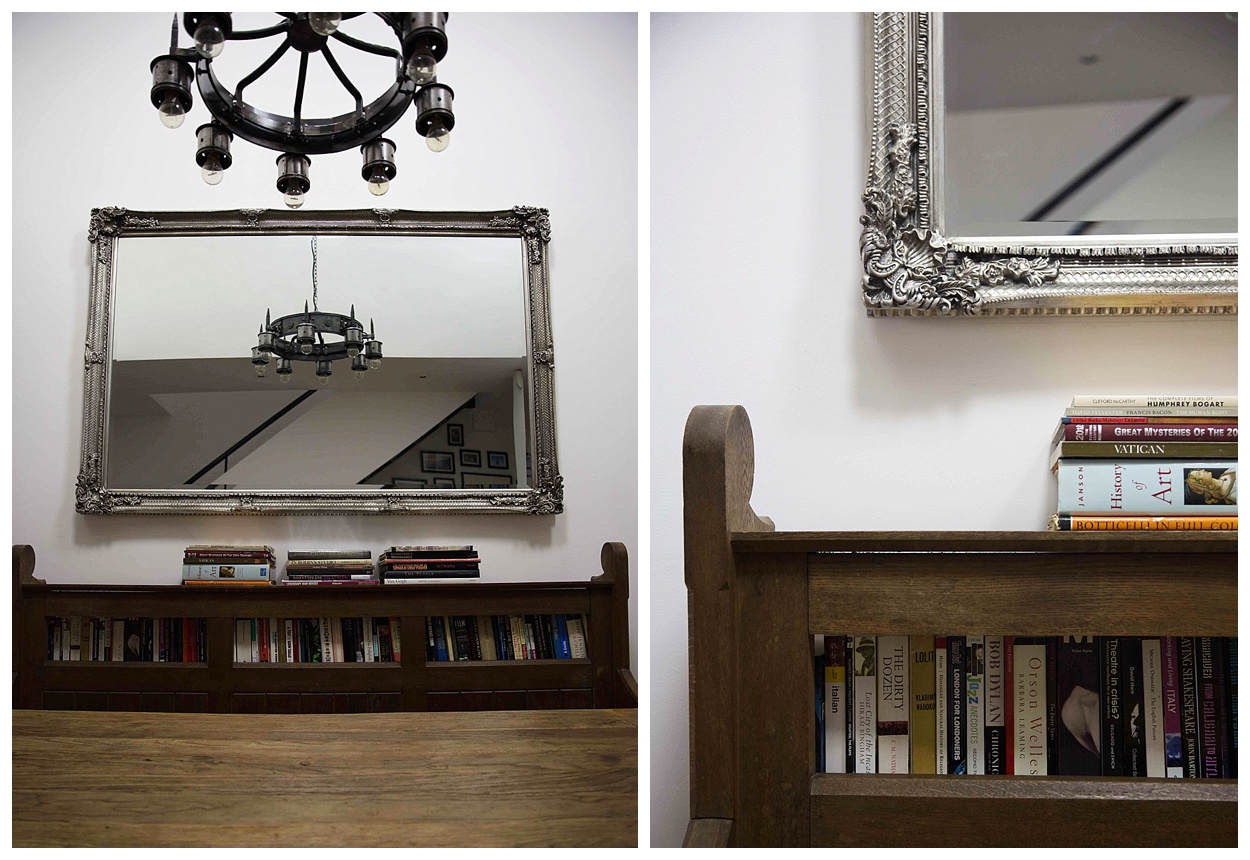 WORKSPACE
What item could you not live without …  "Literal answer… my computer. It's what I make films on which earns me a living. The rest, I can live without it all. Actually, I think I'd need a pen and paper. Make that a Parker Pen, and paper ;)"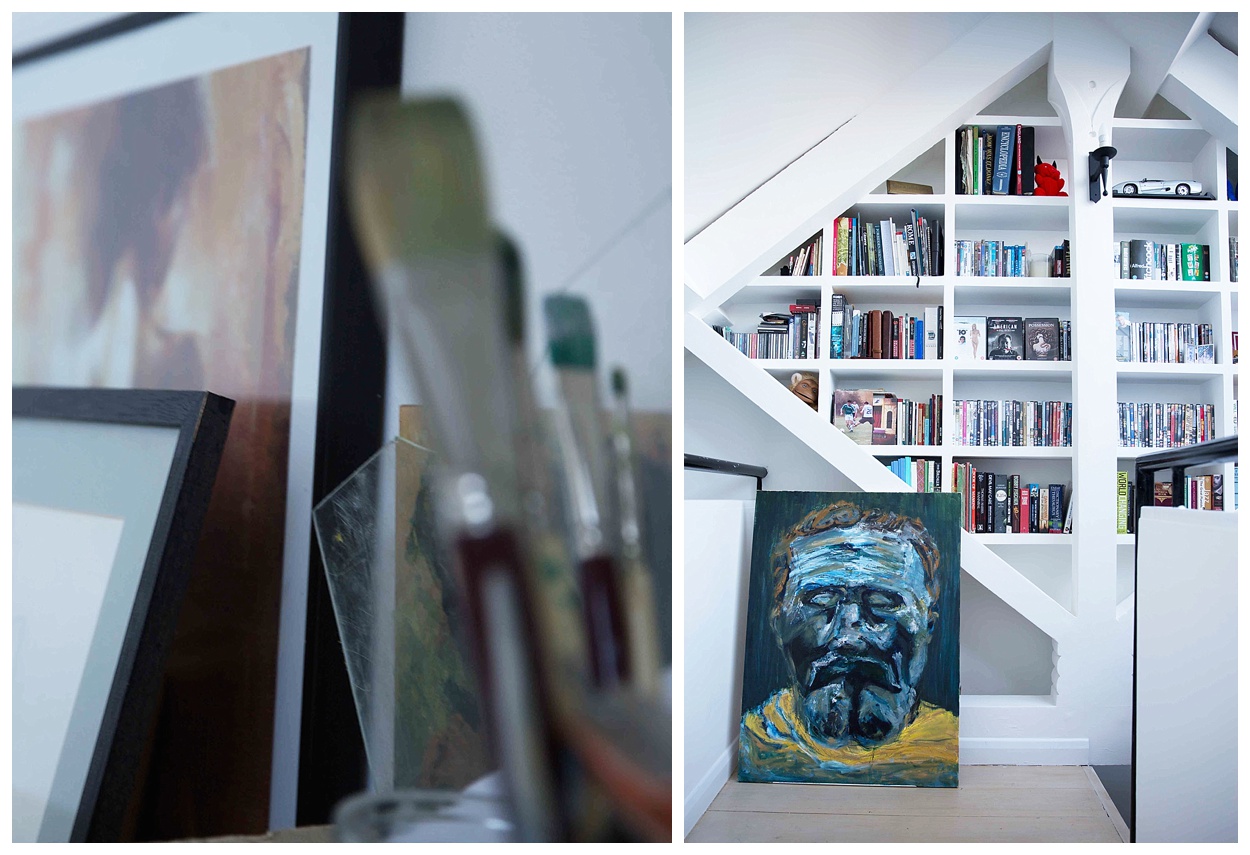 Where do you look to find creativity … "Inspiration is for amateurs. 😉 But in fact I've never been aware that I'm actively looking for creativity. It's just how you are. But I suppose that's reading, travelling, people. First hand experiences, fascination, curiosity, playfulness. All things in life are your palette, creativity is just about what you make with them."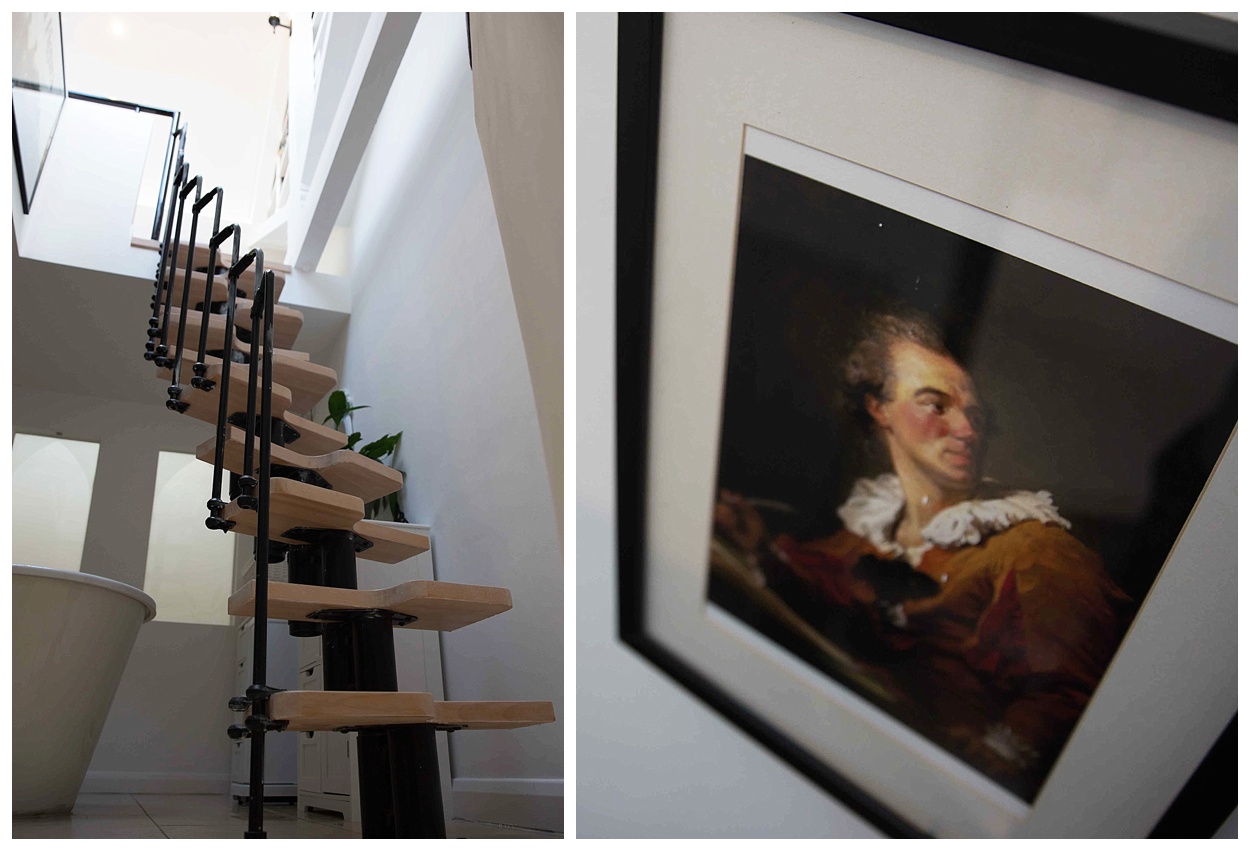 v
BEDROOM
What item in your home is your favorite and why … "My bed. Even over my piano. It's something else!"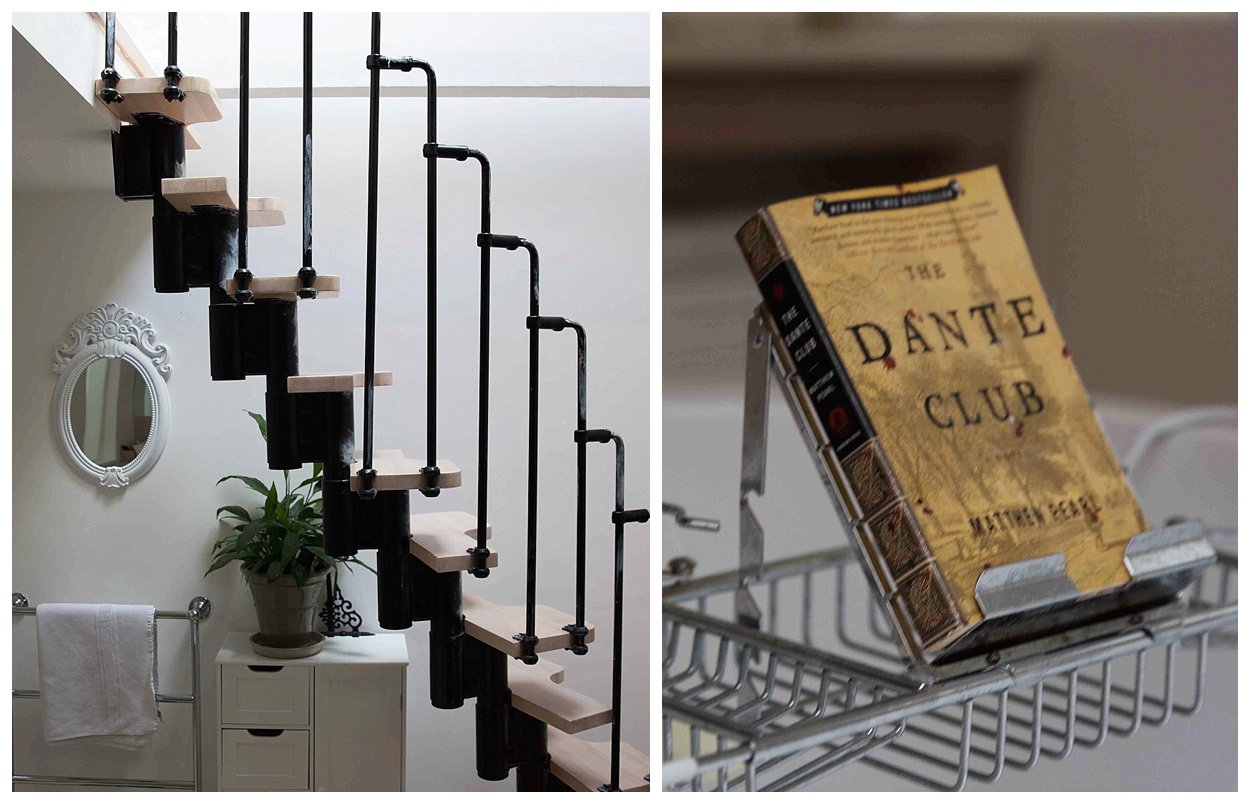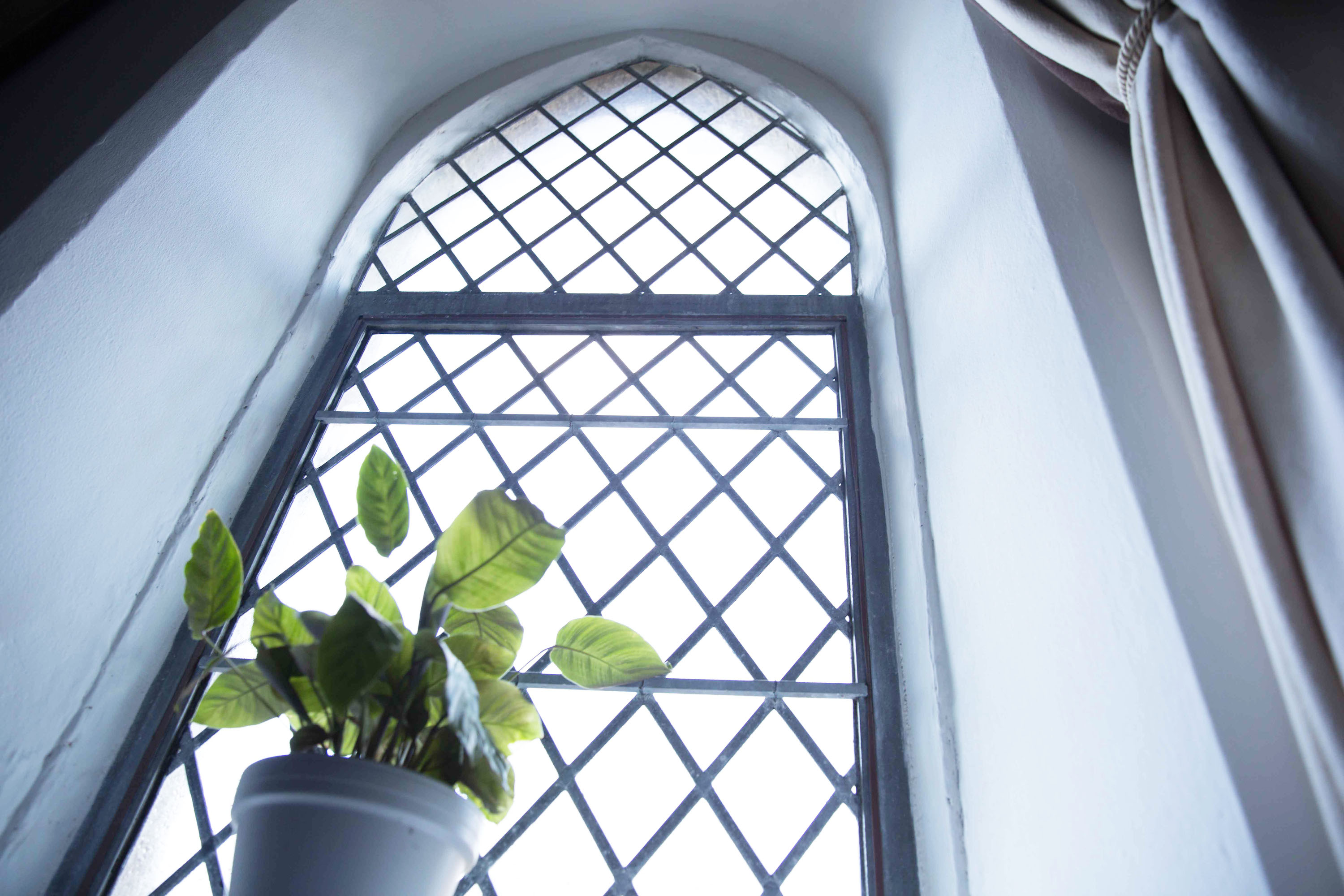 v
Q & A:
Tell us a little about yourself.
"I'm Harry. Incapable of taking anything seriously. I tell stories for a living. I often play the piano. Sometimes I play the fool. Ok, in case you want the less jovial answer…  I'm a writer and film director and run a production company called Deckchair. Named after a famous school report which once described me as 'laid back as a deckchair' "
When you were decorating your house, what design element was most important to you in this process?
"Being true to the natural period features and character of the church and making the most the suit that. Such as the pillars, arches, exposed beams, limestone floors and lead-light windows."
Where did you find inspiration for your interior?
"Ralph Lauren Chalet scene in the New York HQ! Copied it almost identically…  After I visited and felt how homely it was. It seemed to suit the natural features of the church, and to make what would otherwise be a big cold space feel homely and stylish."
Has there been any challenging aspects of your home since you have been there or during the designing process?
"Yes, and remain so. It's very difficult to work around the architectural structure of the house, with the open mezzanines, 4 floors, and huge 30ft walls, areas segregated by columns and arches and not many doors. You have to go with how it lends itself to be. You can't paint any walls for instance.  It has to be white… theres too many walls!"
Tell us a little about your neighborhood.
"I live on the border of Forest Hill and Dulwich. We have the Horniman Musem over the road, which is like south London's Primrose Hill with spectacular views over the city. It also hosts a famers market every weekend. Forest Hill is known to be a very arty and very friendly community. 'The people of Forest Hill' is a common phrase. I didn't understand it until I moved here, but it's true. Everybody knows everybody. It's lovely. 
Do you have any additional design plans in mind for the future?
"Yes, I'm doing the kitchen in the new year. It's going to transform the entire place."
What advice would give to someone who is about to decorate their home?
"Live in it. Take your time. Let it grow on you. Keep looking."