The Power of Petite Flower Arrangements
While I love the look of a large statement bouquet of florals at home, sometimes there is nothing quite as impactful as a petite flower arrangement done right.  I started to experiment with smaller florals to be more practical with my flower budget.  I noticed that by using bunches of the same florals or adding a group of blooms all within the same vibrant hue really created some eye catching arrangements.  I also love the simplicity of adding a smaller bunch of strong flowers on my coffee table or shelf… such a chic look.
Today I have created petite flower arrangements : 3 Ways.  Each look is easy and statement making, plus they are all under £15.
v
1- VARIOUS FLOWERS : ALL THE SAME COLOR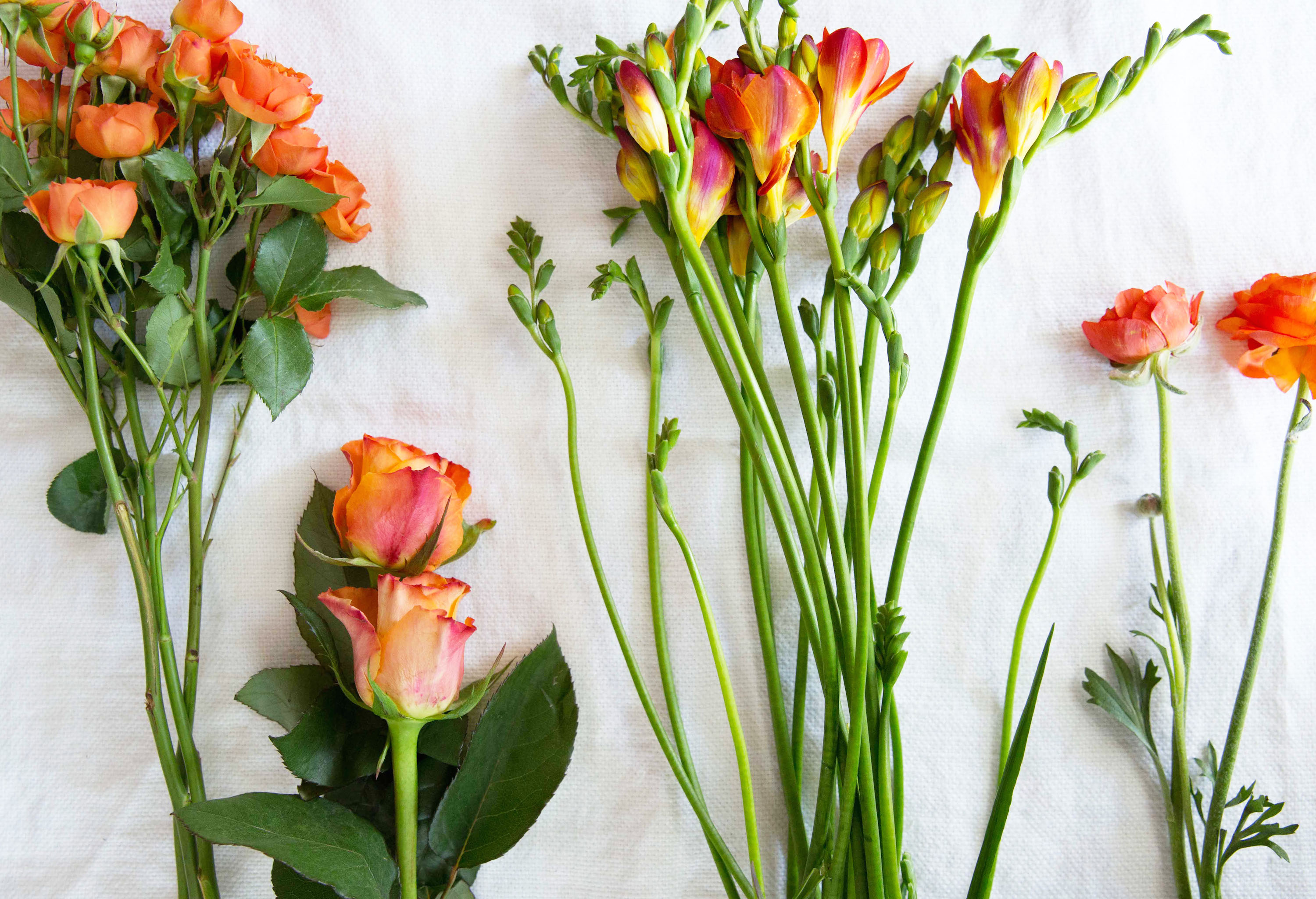 Choose Your Color: Here I am working with a vibrant orange color scheme.  All of the flowers (which include Roses, Spray Roses and Ranunculus) I chose are the same color just different in shapes and sizes.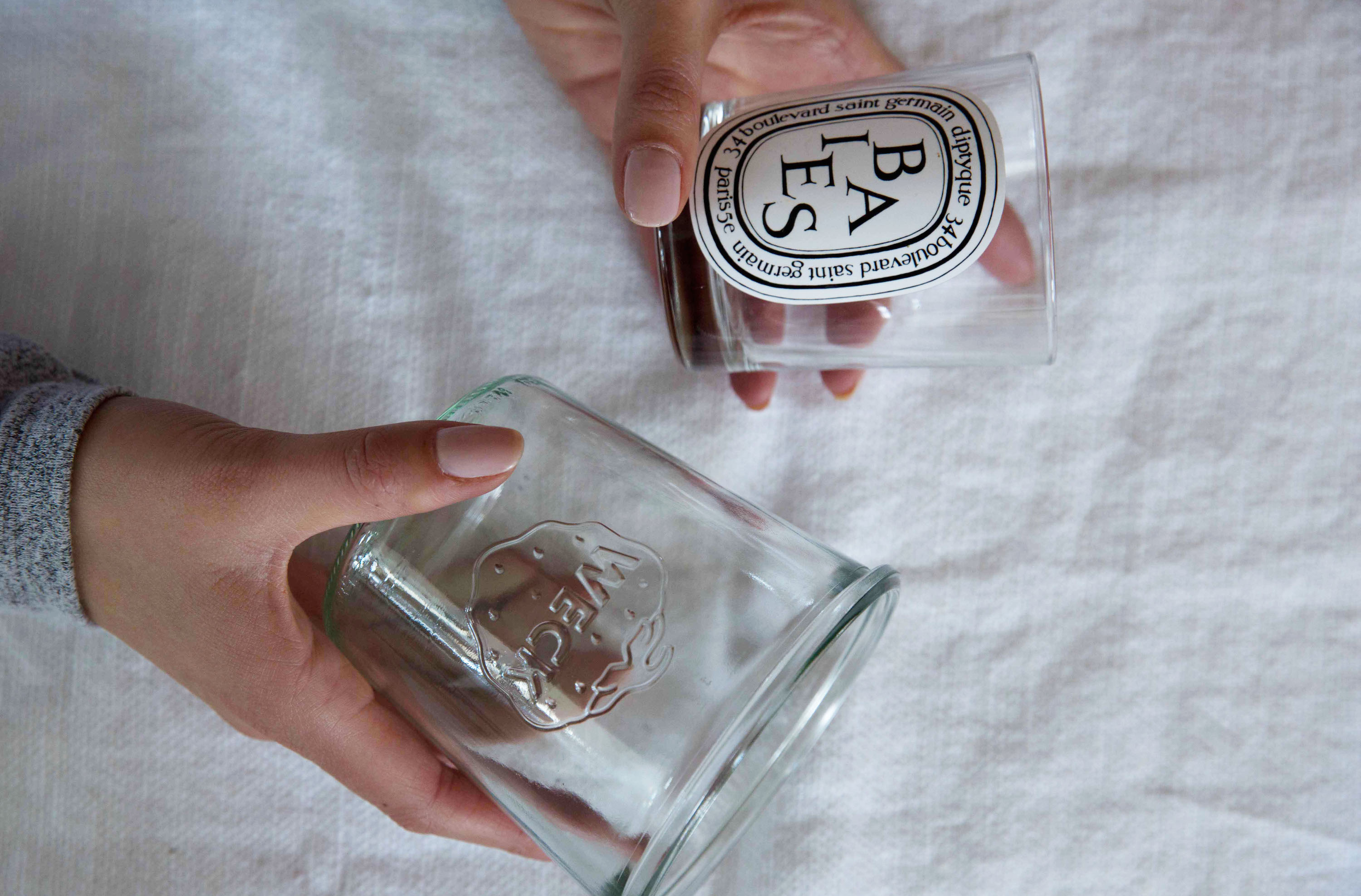 Decide On a Small Vase: When I arrange smaller florals, I like to keep my vases simple.  Using a small mason jar or re-used candle holder is always a perfect fit.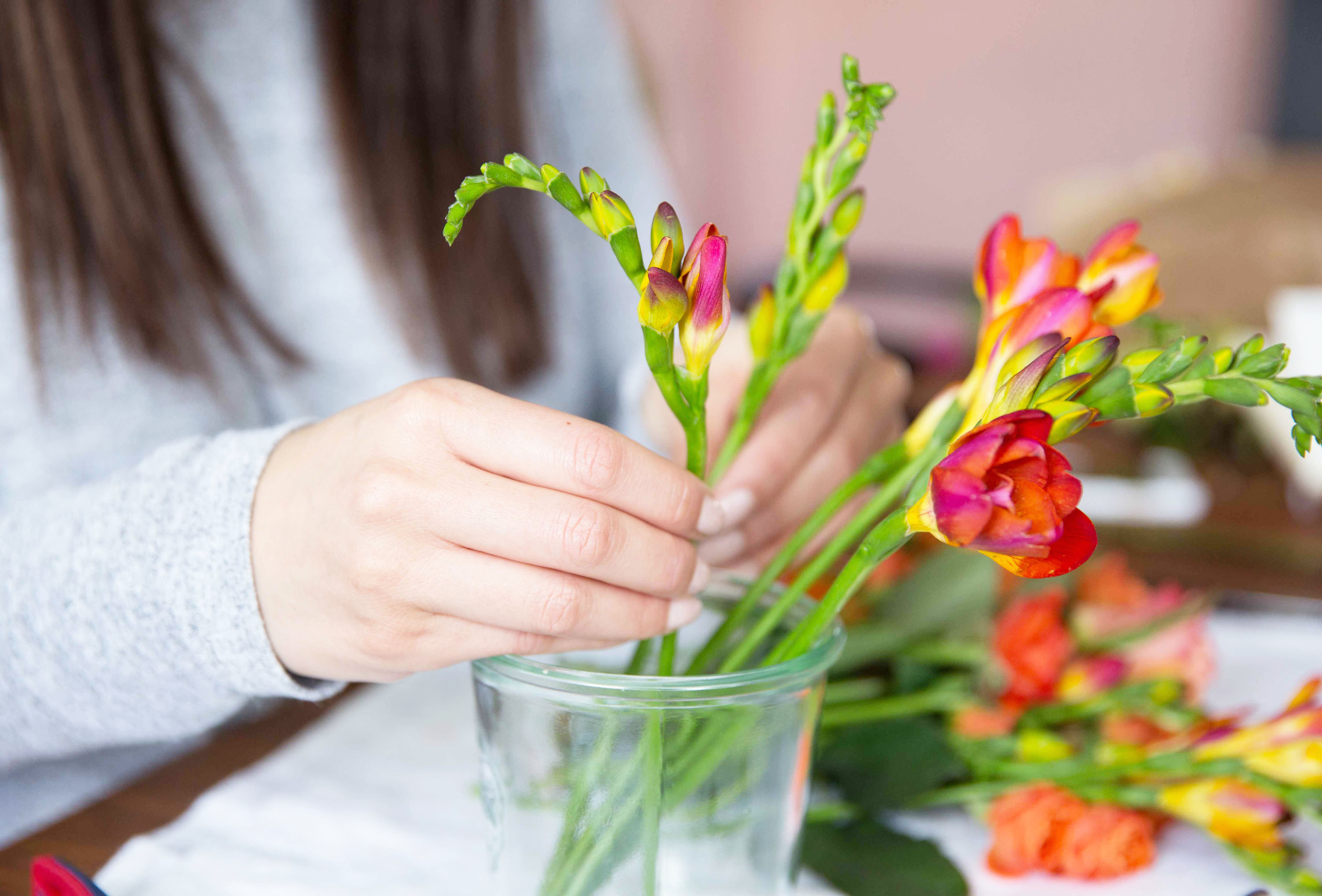 Cut Your Flowers To Fit The Vase:  Once you have chosen the vase, cut your flowers (at an angle) so that there is about 2 inches between the top of the vase and actual flower itself.  This way you don't cut your flowers too short (this happens) and you can trim them down from there to be the perfect height.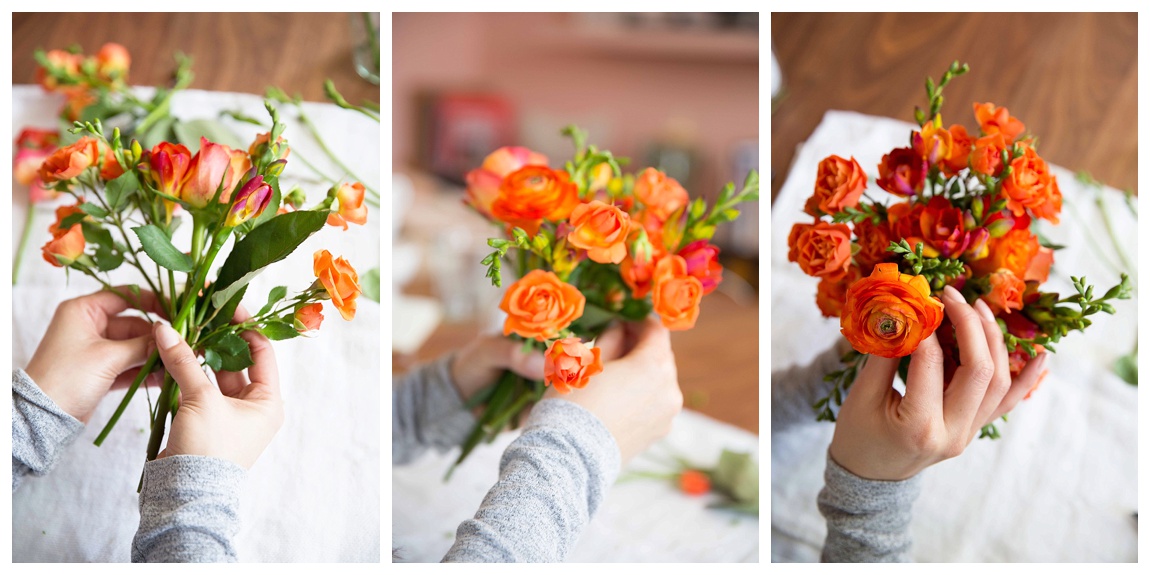 Build Your Arrangement: I like to start off with a central "larger" stem and work around it adding each stem bit by bit.  Remember to alternate the stems and watch out for bare patches. You want the bunch to be varied in shapes and sizes.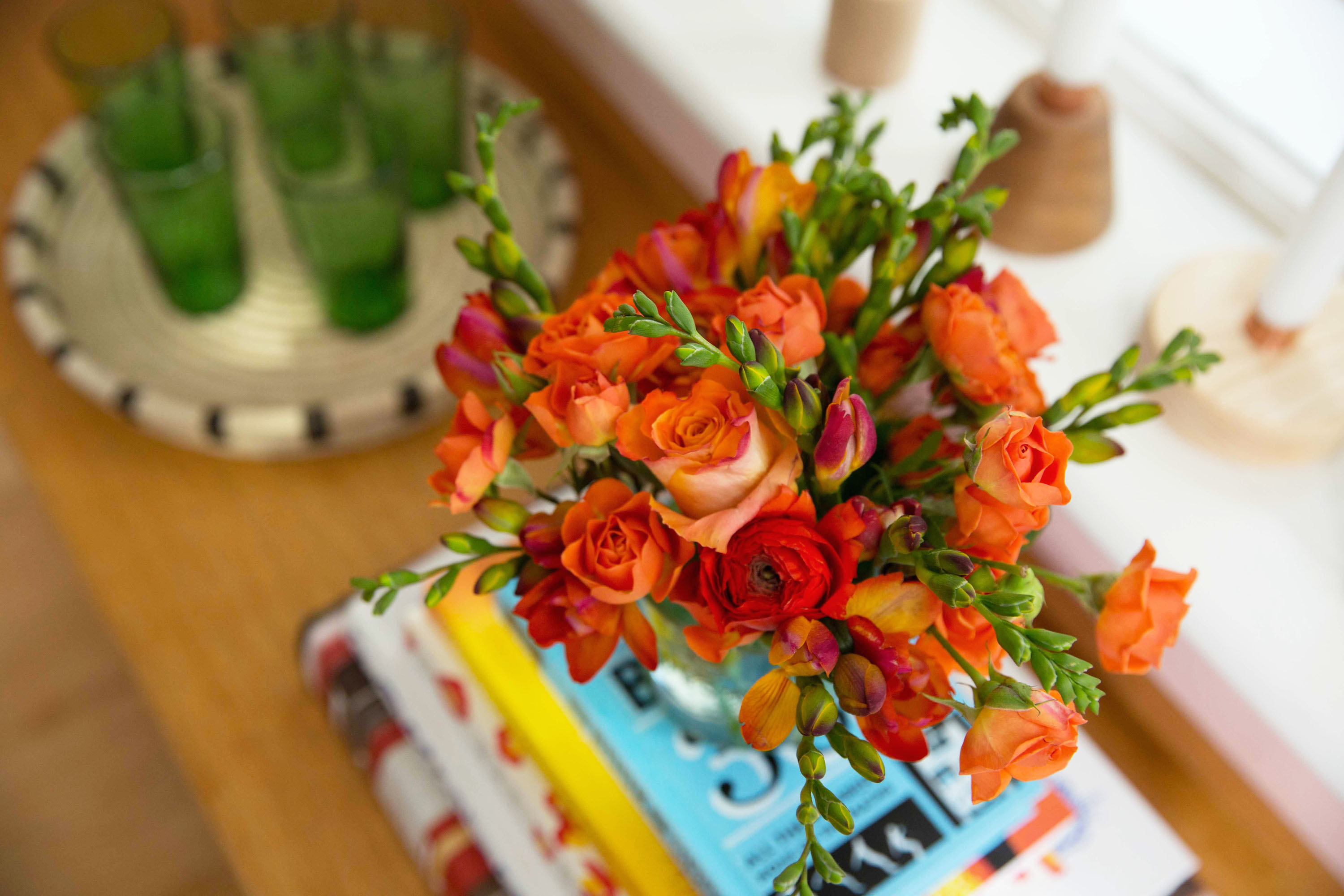 Pick a Perfect Spot For Your Flowers: Here is my small punch of orange florals.  I love how they are varied in shape and but so strong in color.
v
2 – USING JUST ONE FLOWER TYPE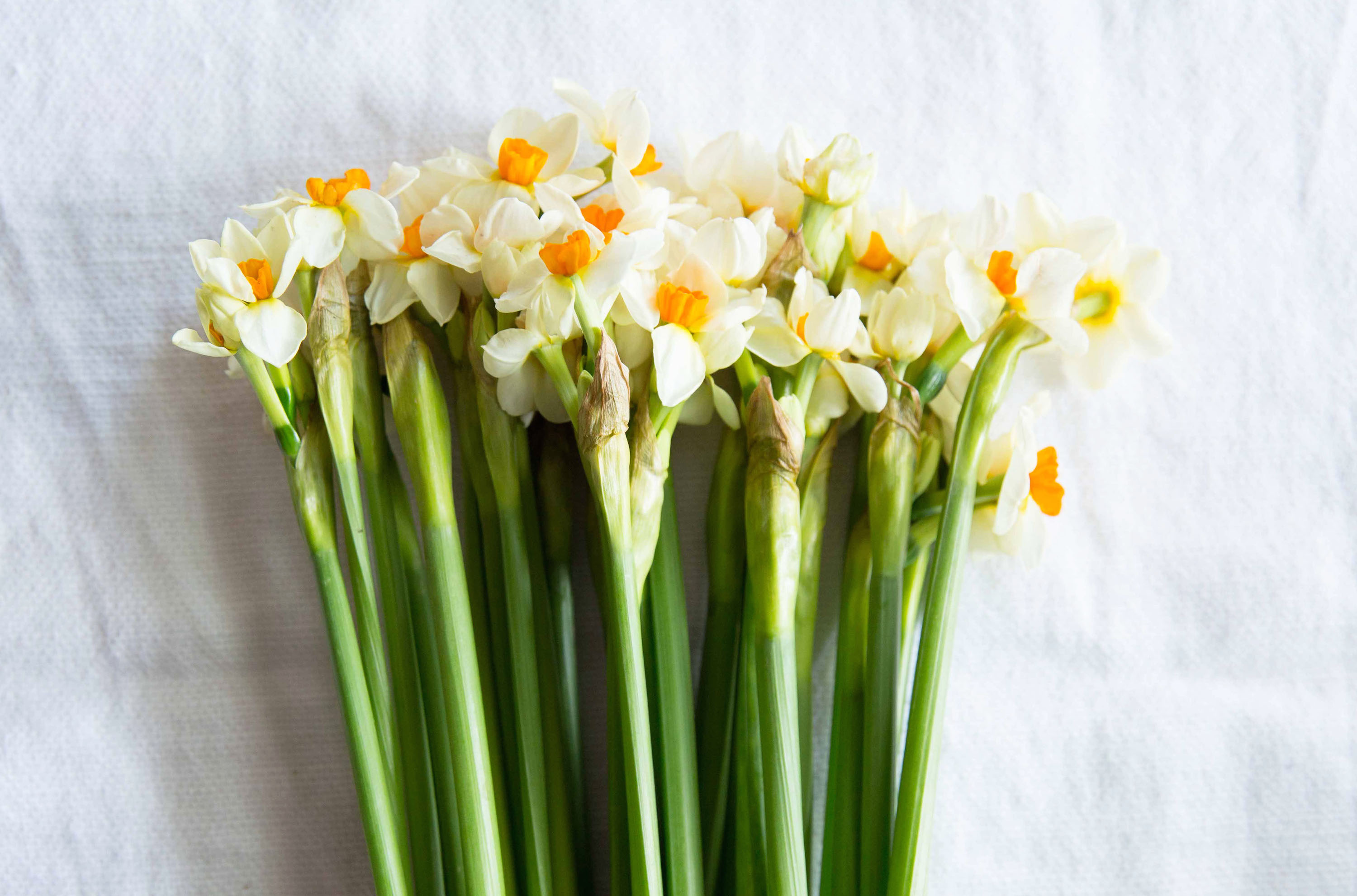 Chose One Distinct Floral Type: Sometimes being overly simple can be a statement all on its own.  Another way to arrange a small bunch is to chose just one type of flower.  Here I decided on Daffodils, as I am dreaming about Spring (I also love to use single bunches of Peonies, Garden Roses & Hydrangeas).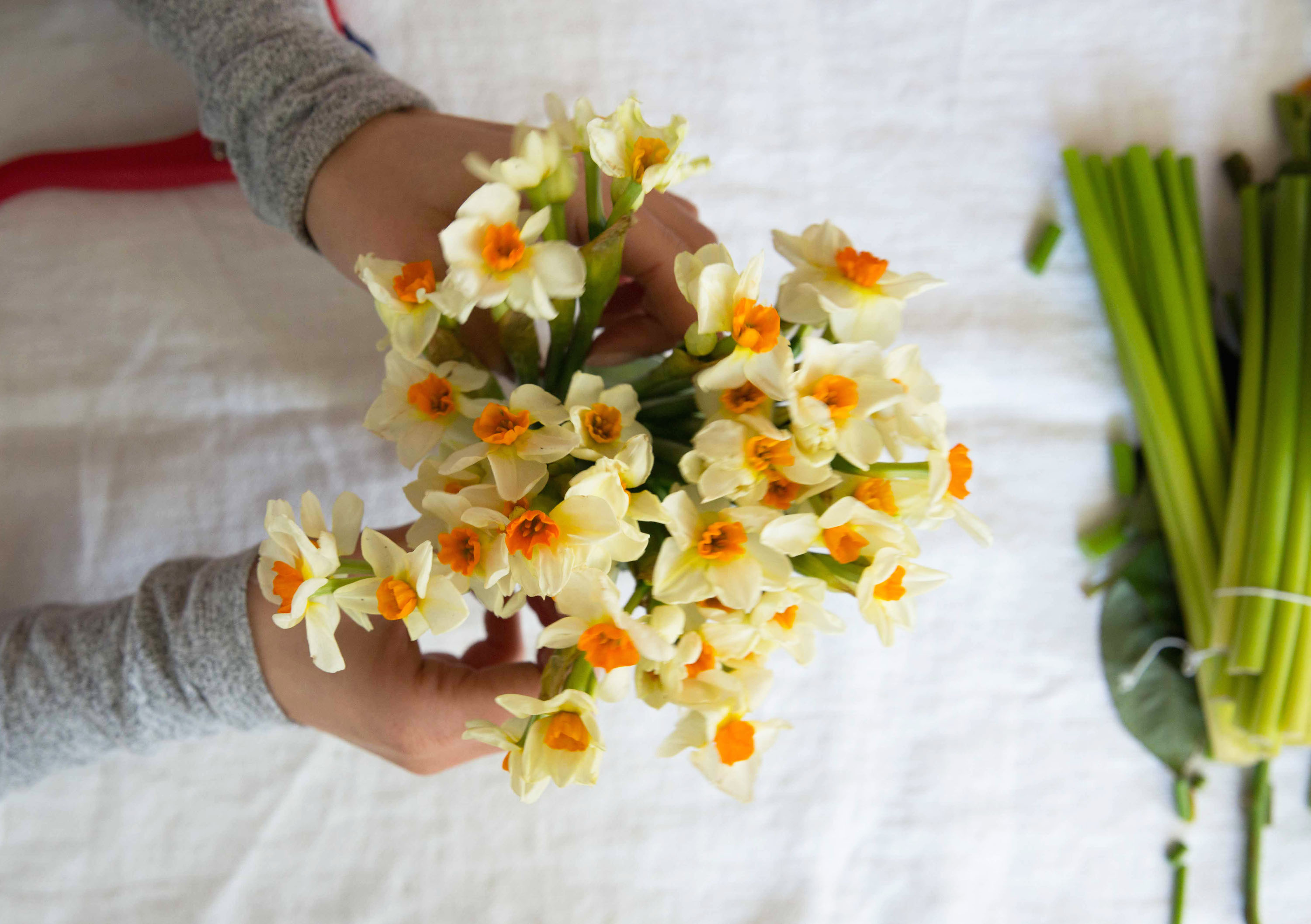 Place Entire Bunch In Vase With Nothing Else: Keep it simple and use only the flowers in a beautiful vase … do not add anything else.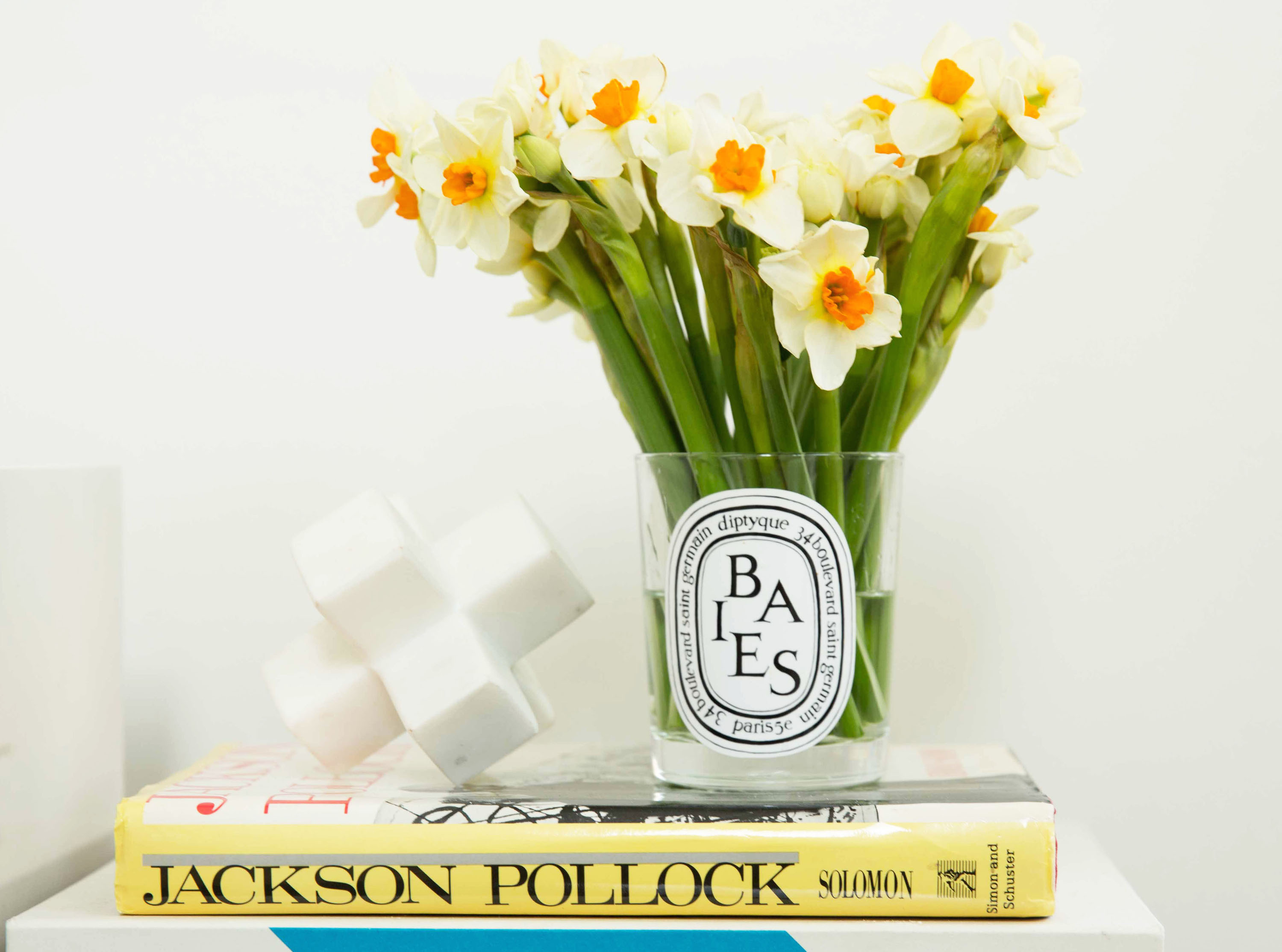 Place In Your Decor:  This look is minimal and will create an (understated) statement … they best kind in my opinion.  (I love my re-used Diptyche candle jar, see more here).
v
3 –
MIX OF FLORALS & COLORS: ALL IN THE SAME HUE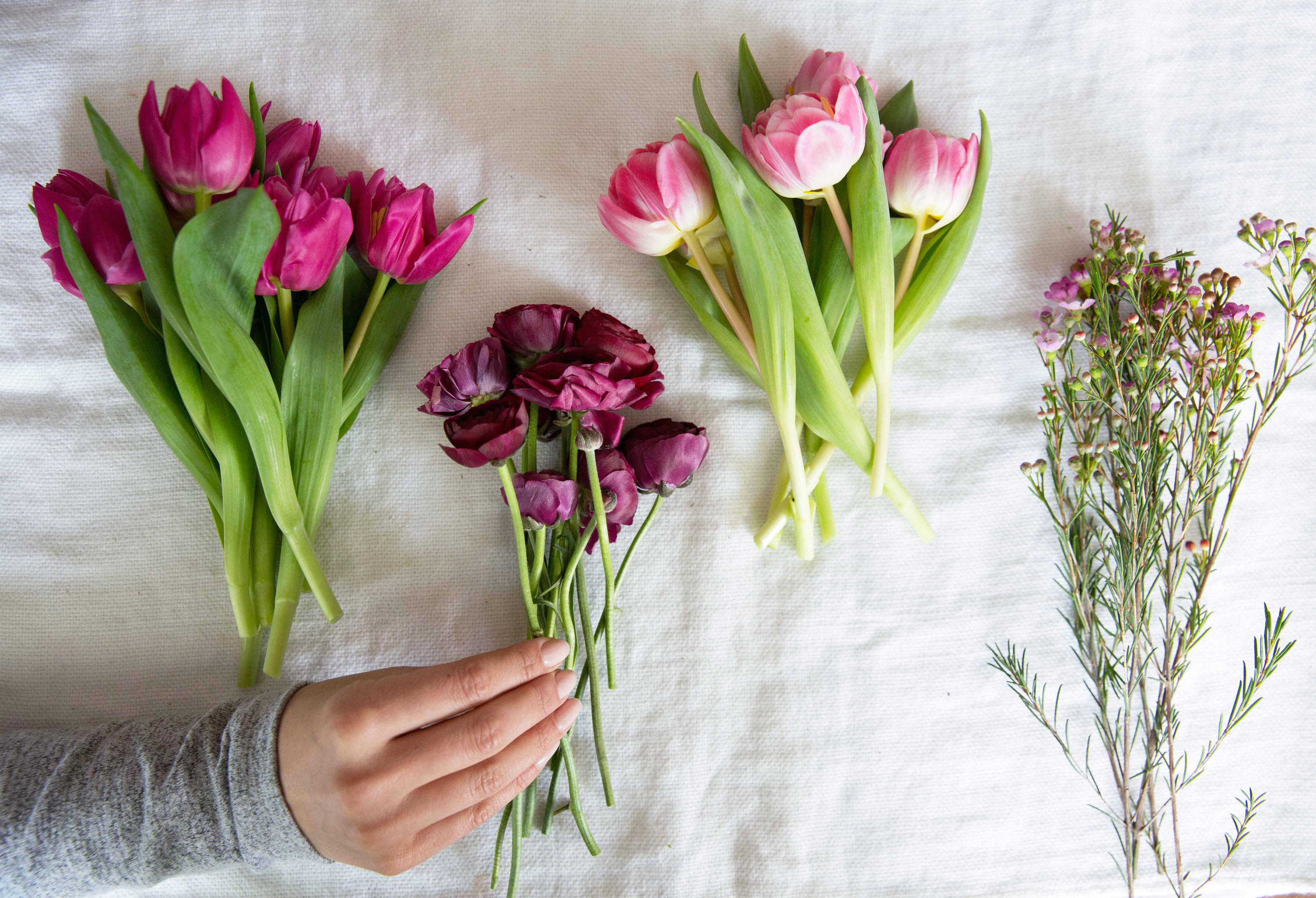 Stick To The Same Hue:  This look is great because you are adding different colors but as long as they exist within the same hue, it will mix perfectly.  (Tip: Add in one flower with a very different texture to add dimension to your arrangement).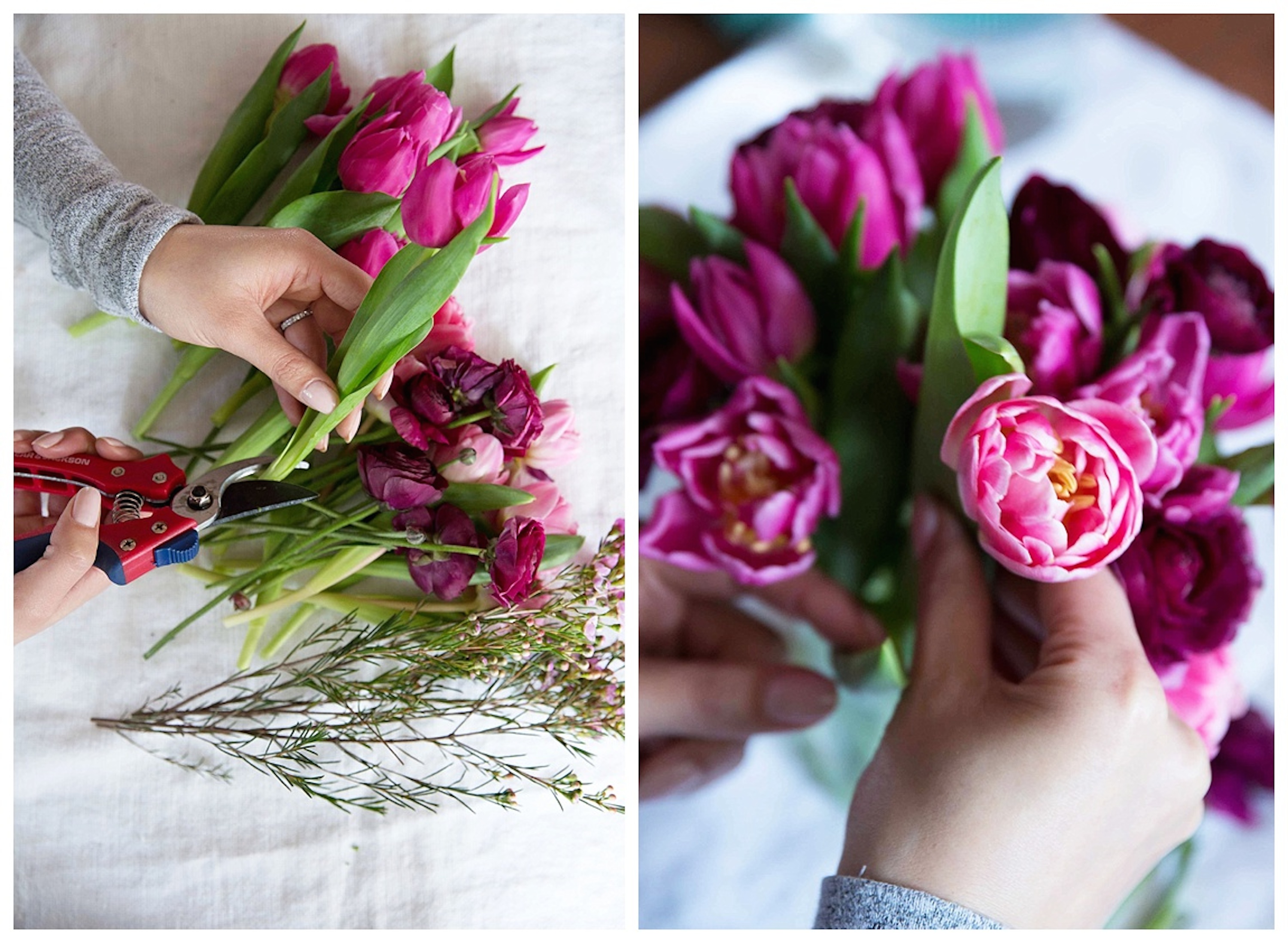 Build Your Arrangement: Make sure to build the bunch by really mixing up the color tones and the textures.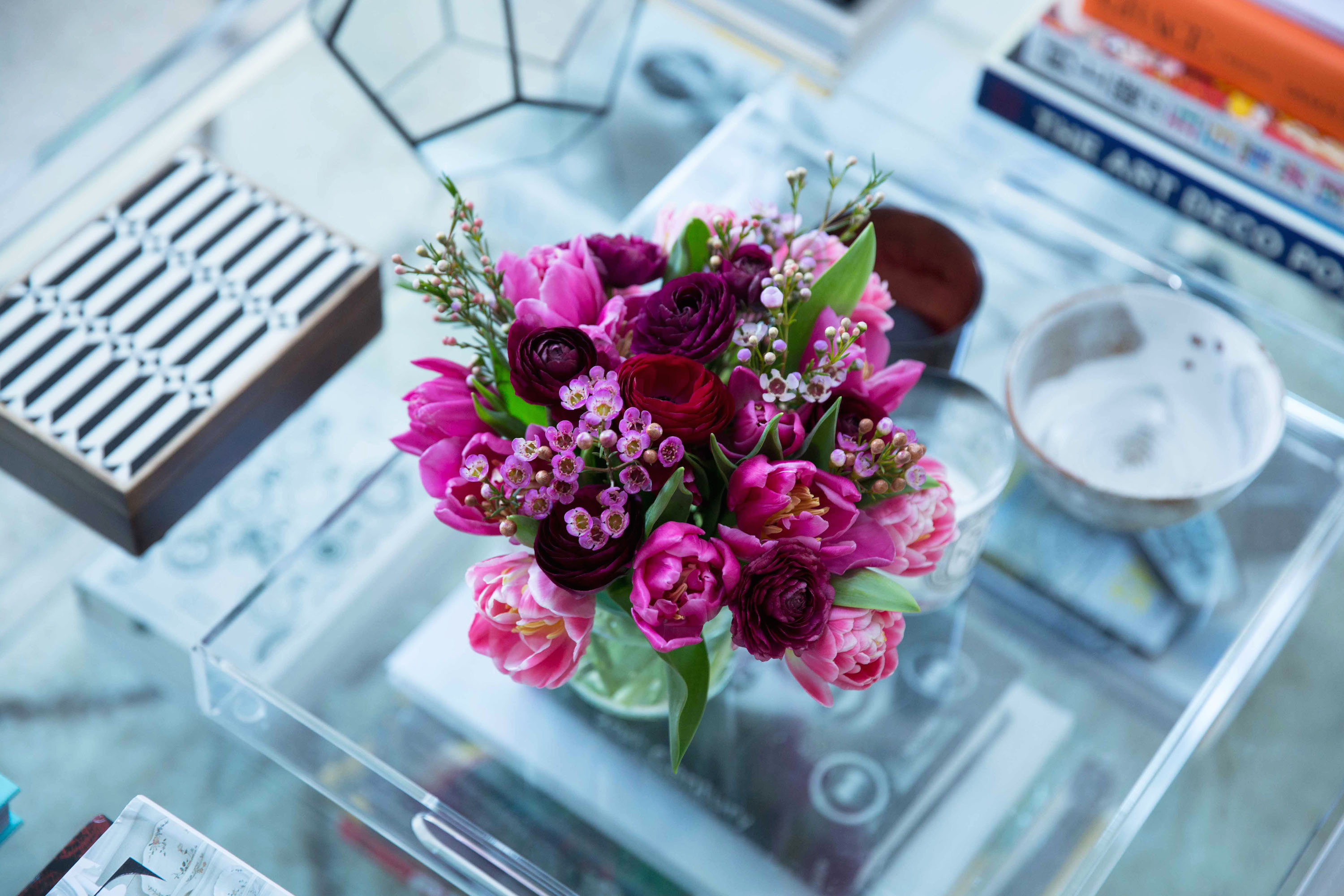 Make A "Small" Statement: Place your arrangement on a lower focal point (like your coffee table or bedside table) for a perfect design addition.