Recently I have really been into the interior pieces from Ikea. I always convince myself that I am not shopping at Ikea again, yet there I am, scanning through their site, or to my horror waiting in the lines at checkout at 9:25pm on a Tuesday night (that is the crazy time I always go to try and avoid lines … it doesn't work FYI). I just bought two rugs from there because well, they have some amazing and affordable choices, and I noticed that their new collection is pretty good … no, more like freaking awesome. They are firstly working with a softer color palette (light pinks, muted greens, soft oaks), as well as infusing cool graphic pieces into the mix. In my opinion they are killing it right now with their selection of decor and today I am sharing some of my favorite pieces from their new collection.
Ikea Shop Edit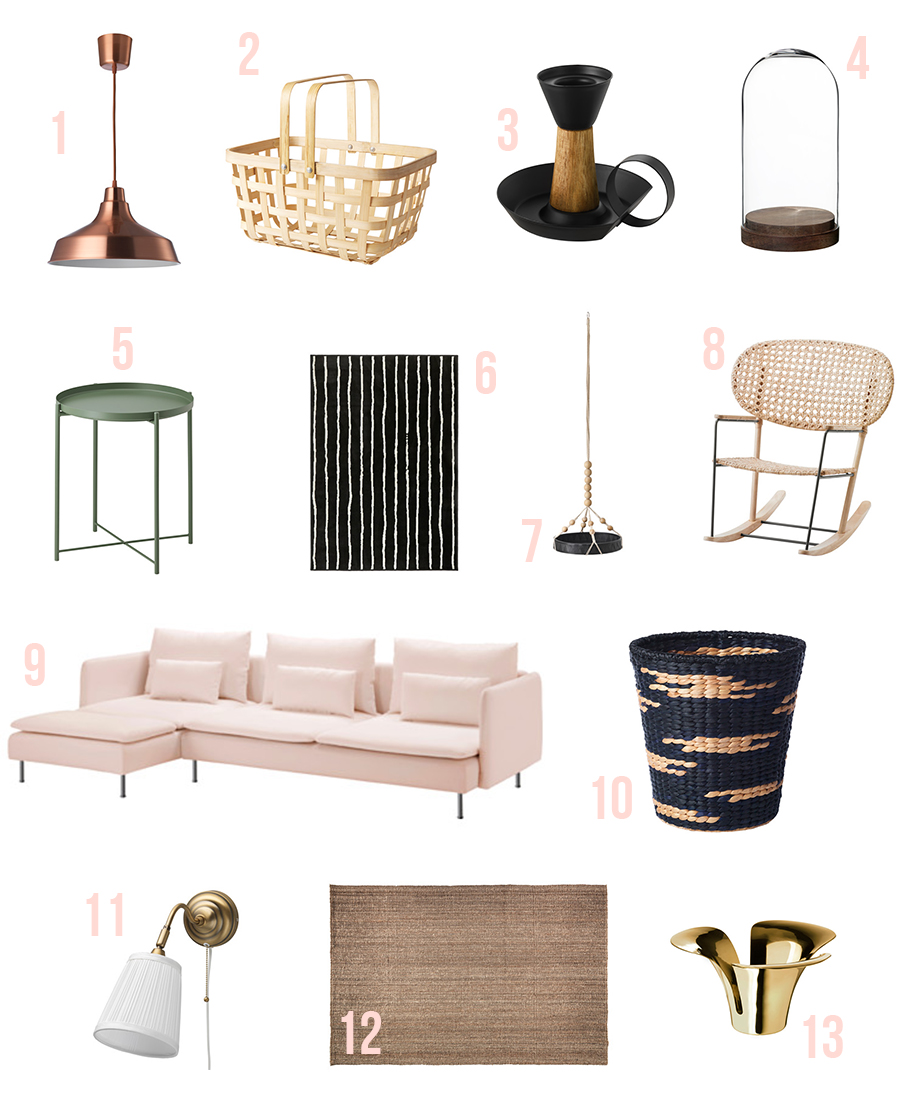 Shop This Post
1- Copper Pendant Light (£34) : I love this perfectly shaped copper ceiling light. Perfect into infuse some warm metallics into your space.
2- Bamboo Handle Basket (£9) : This reminds me of a shopping basket, but I really love the light bamboo material it is made of. This would look great in a corner in your living space to hold magazines or throws.
3- Candlestick Holder (£3.95) : I am very into this scandi inspired candle holder. It's a perfect minimal decor accent for the colder months that are coming soon.
4- Glass Dome (£5.50) : I am a big fan of glass domes. They are perfect for holding small plants or distinct decor objects, plus they are a sculptural piece all on their own. For £5.50, I'm not sure you can say no to this one.
5- Muted Green Side Table (£20) : This table is perfection to me … the color, the price and the size. Combine it with light pink … perfection.
6- Monochrome Striped Rug (£15) : This rug is a must especially if you are into monochrome and graphic accents. This pattern has an 80's geometric feel, which I am feeling 100%.
7- Hanging Tray (£25) : This is such a cool piece for your kitchen. Place some small succulents or spices on it and add a natural decor element to your space.
8- Rattan Rocking Chair (£145) : This is a beautiful accent piece for your space … love the softness and the boho style.
9- 3 Seater Light Pink Sofa with Chaise (£745) : The price of this sofa is on the higher side for Ikea but look how large this piece is! They have really nailed the color and shape … for sure a show stopper.
10- Handmade Basket (£15) : I love the colors and pattern on this basket. It's just a great accent piece.
11- Gold Wall Lamp (£16) : I like the classic shape of this piece. It is simple in shape, yet would add a really nice pop of gold to a space. They would be perfect in a bedroom.
12- Natural Flat Woven Rug (£145) : I have been admiring large natural rugs recently (minimal or no patterns), especially as my color palette of choice has softened. I am really into these plain natural flat woven rugs because they are a great size and still the best price around.
13- Brass Tea Light Holder (£4) : Such lovely little brass sculptural accent for your dining table. Perfect for the upcoming holiday season.