How To Build & Style Your Own Terrarium
It is no secret that greenery has taken center stage in design trends over the past year. Palm leaves, fiddle fig trees and cacti have become firm favourites amongst designers along with succulents and terrariums being on just about everyone's wish list for their home decor. I am super passionate about greenery in the home, but the truth is my passion with plants stops with how they look visually. I (like most people) really don't have the knowledge on how to care for plants. I usually take some advice from the plant shop and I can can admit that over the years I have even killed succulents at home from over watering, because I just didn't know any better. As the greenery trend filters down from the magazines to the high street, it is important that we understand how to care for our plants at home.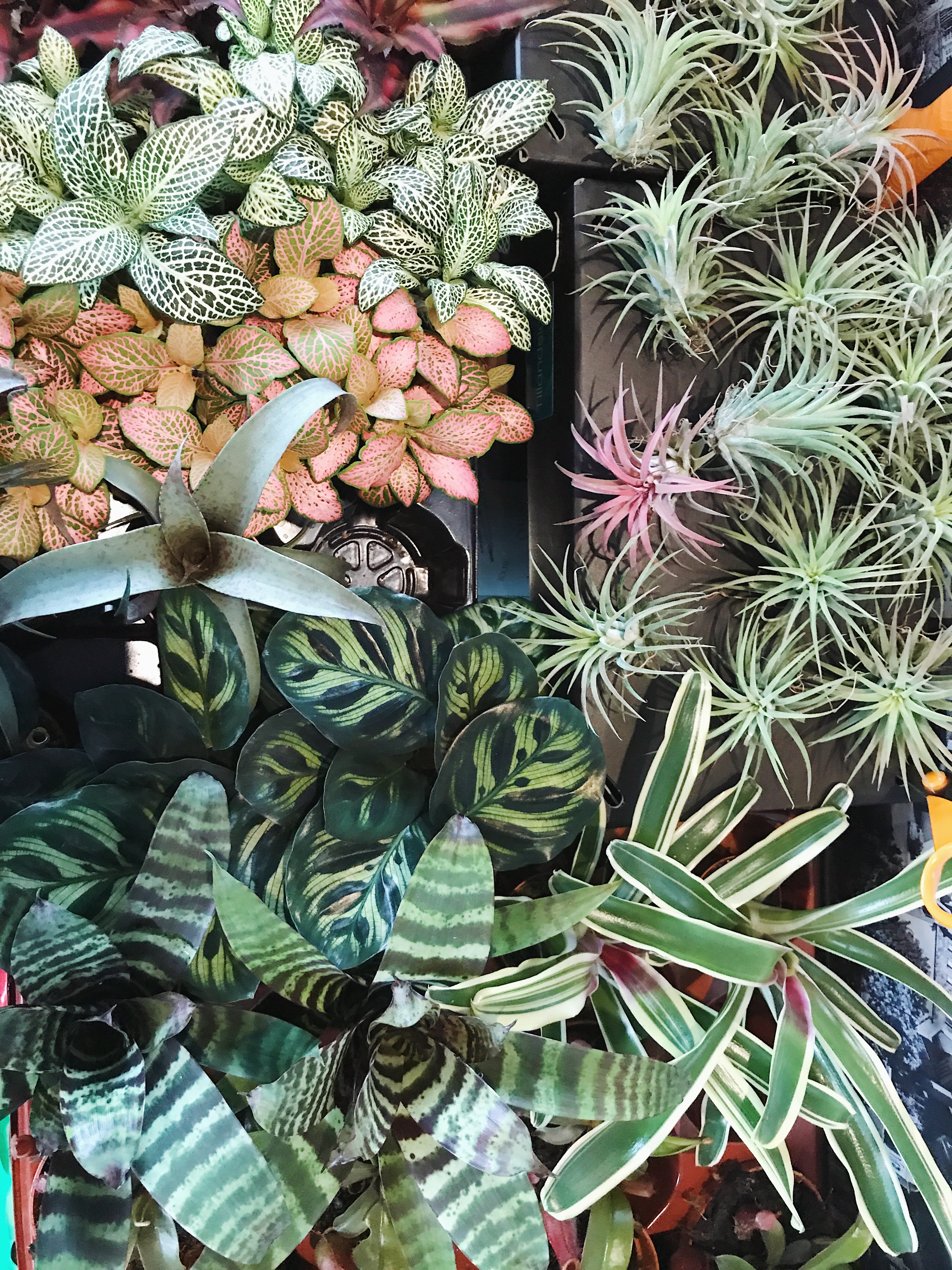 One of my favorite ways to design with greenery in the home is by using a terrarium. I love them because they are sculptural airy decor objects that also contain beautiful greens within them. Also, the greenery planted inside terrariums usually requires less maintenance and therefore will last longer. I really think that this is why we are seeing terrariums sold just about everywhere these days.
Last week I had the opportunity to spend the afternoon with Fiskars and expert botanist James Wong at the stunning Sky Garden in London. James guided us on how to make our own terrariums and also how to care for them afterward. I learned so much from this process and wanted to share a few highlights.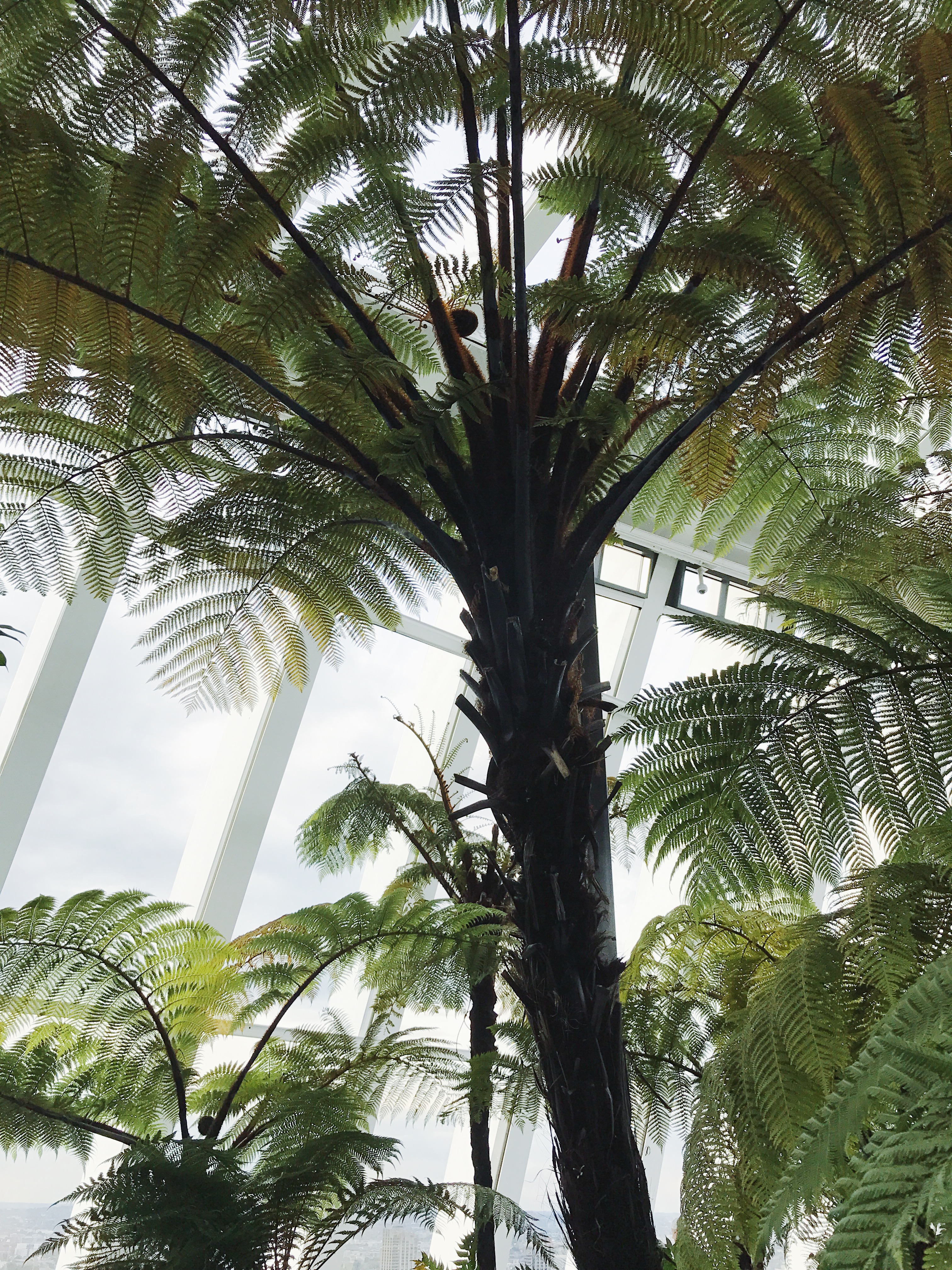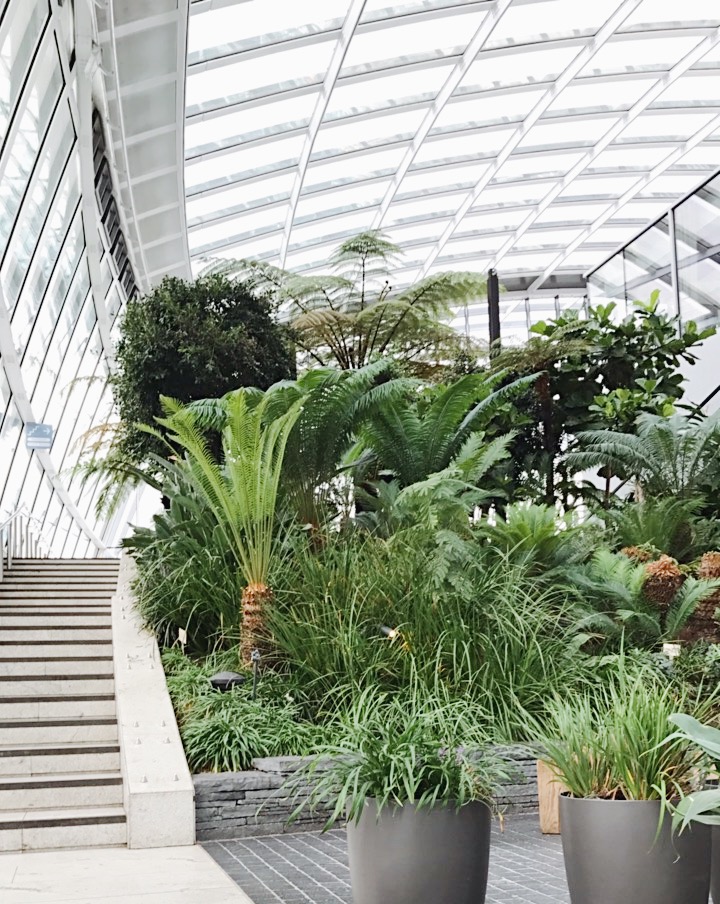 Getting Started
Fiskars organised the afternoon and we were able to use a range of their gardening tools for this project, which made the process really easy.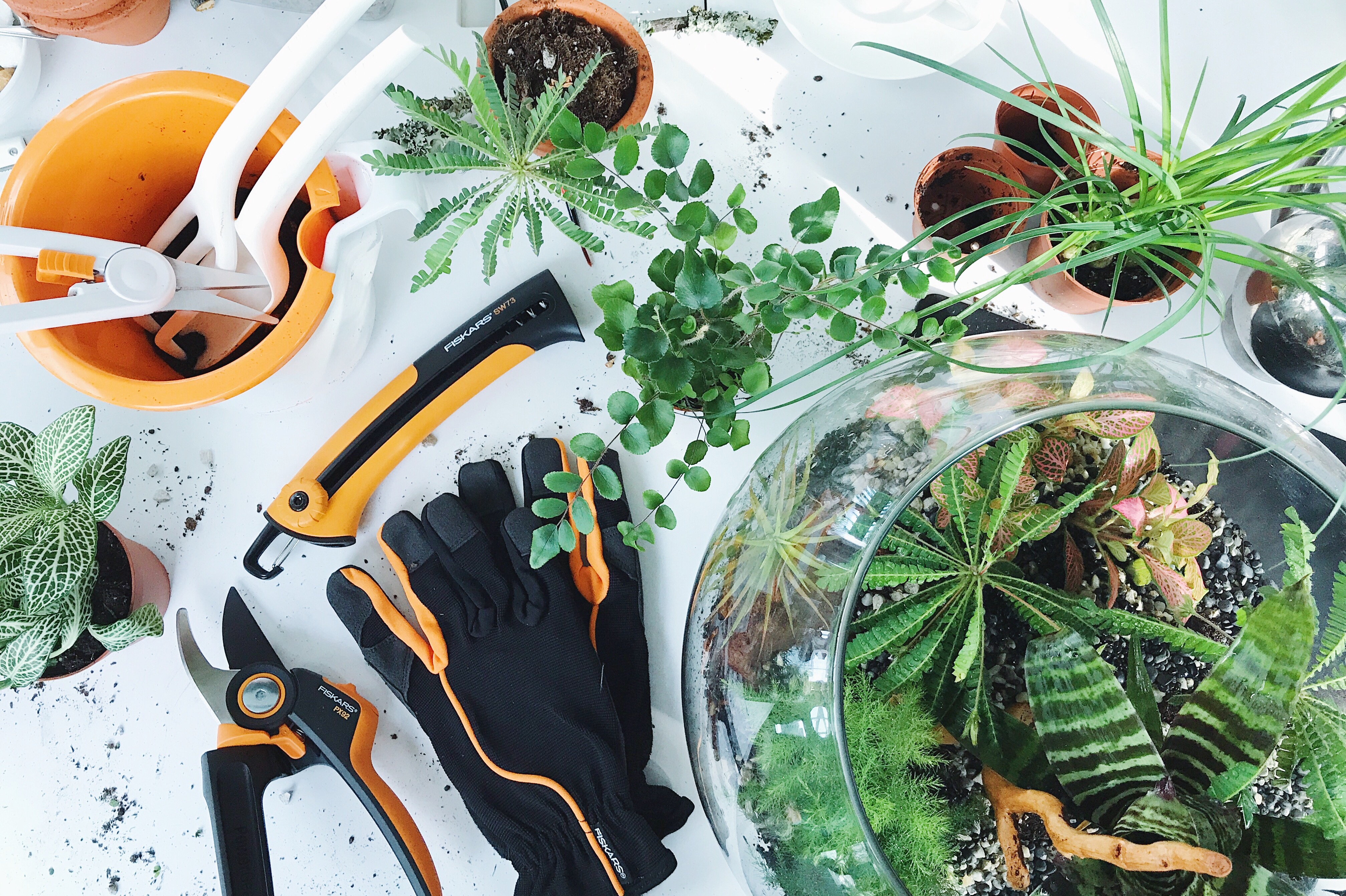 James Wong then spoke to us about the actual science behind plants (something I have never considered before). Everything from how the history of how plants were first transported from country to country, to the way our brain reacts to different shades of green. It was so interesting and had me looking at greenery in a whole new way. James spoke a lot about the recent popularity of plants and how so many people are not aware of how to take care of them at home (so true)!
How To Make A Terrarium
I have never done this before but it was so easy and I loved it. Here is how we made them.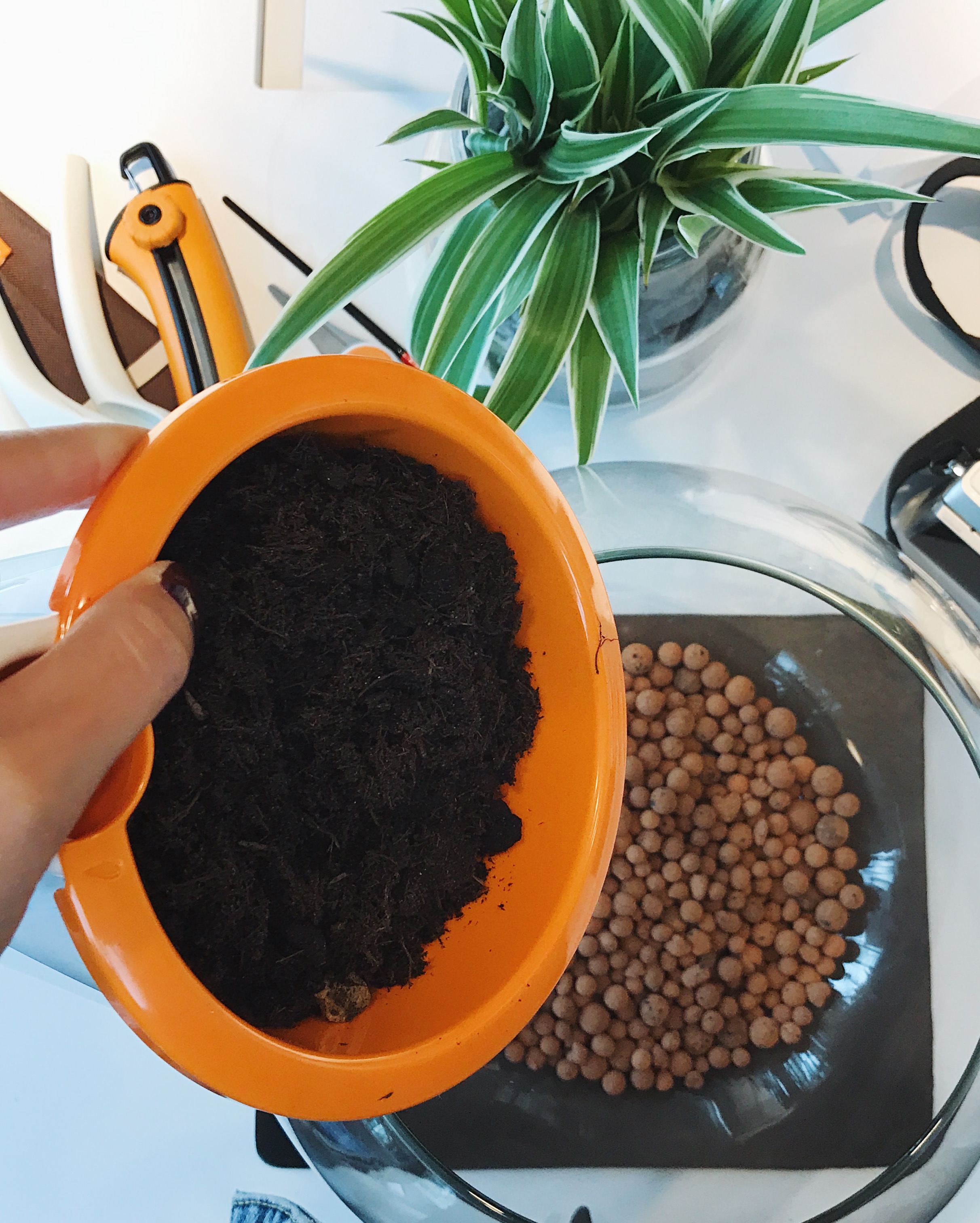 Step 1: We started off with a medium size glass container (either circular or square shaped) with enough height to let the plants have room above. We went layer by layer, first placing a handful of small clay pebbles at the bottom of the glass terrarium. This was followed by adding fews cups of soil on top (see above).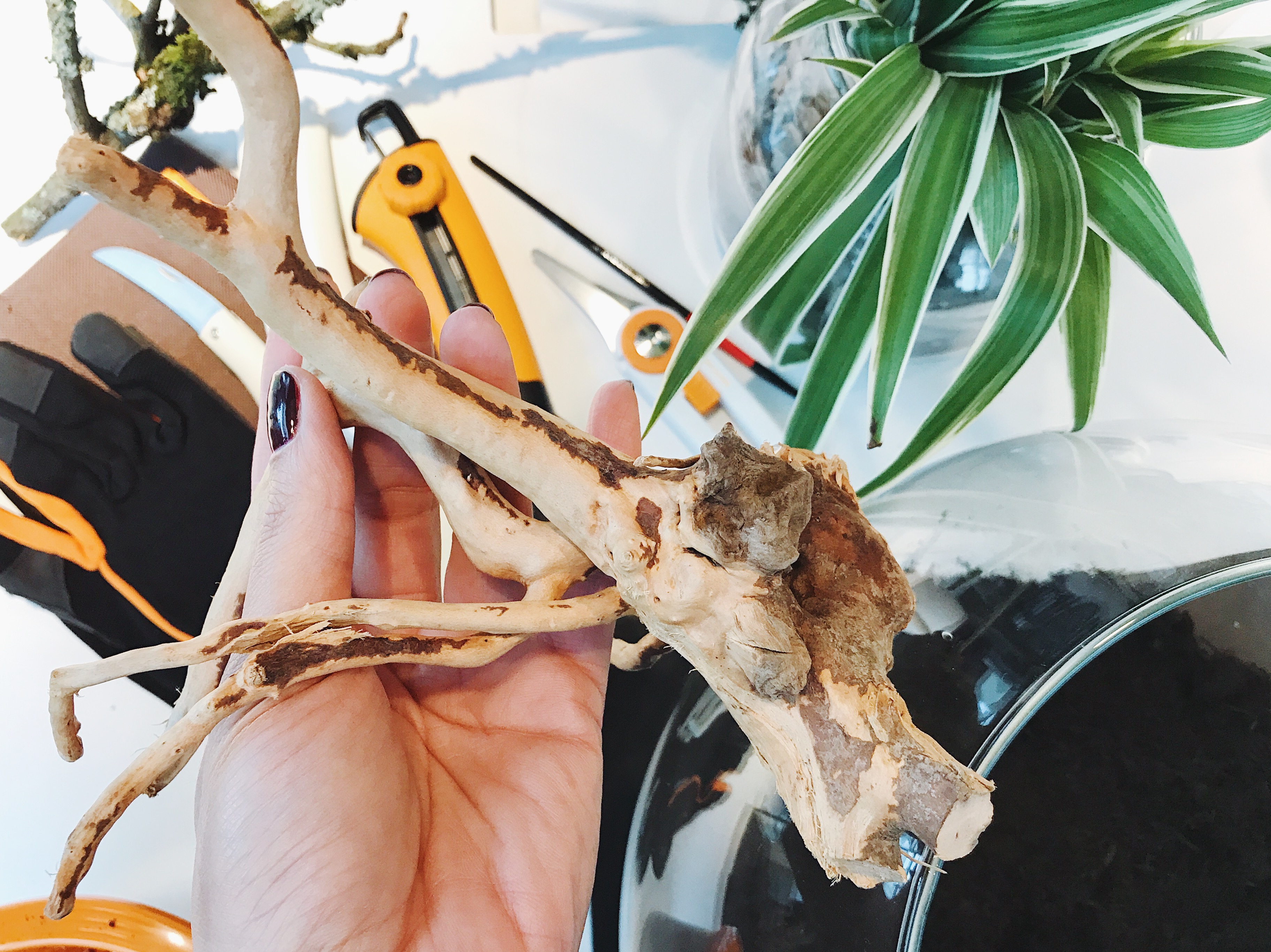 Step 2: We then began to curate our terrariums with objects and greenery. We started off using small branches and rocks as a base to create structure and various height. We then were able to choose our preferred plants to place around the objects. We made sure the plants were in place by gently packing them down with the soil (I added more soil as I went along).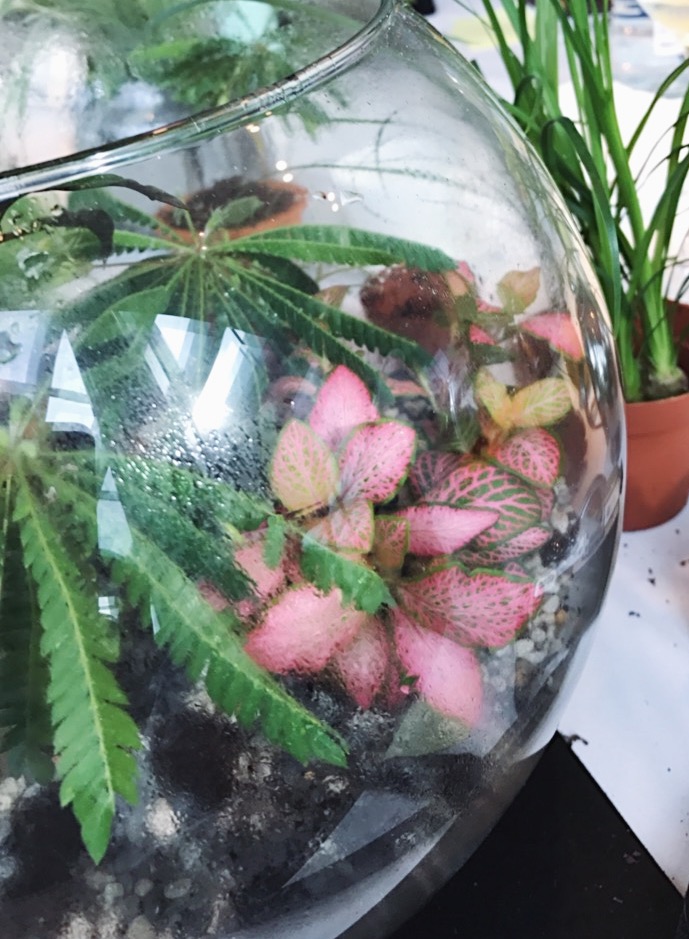 Step 3: For the last step we covered all of the soil in the terrarium with either moss or small multicoloured gravel stones. I decided to go with the gravel as I thought it went with the overall style of my terrarium. We finished by added water directly into the soil and then using a spray bottle to really soak the plants (it almost felt like you we were creating a mini greenhouse).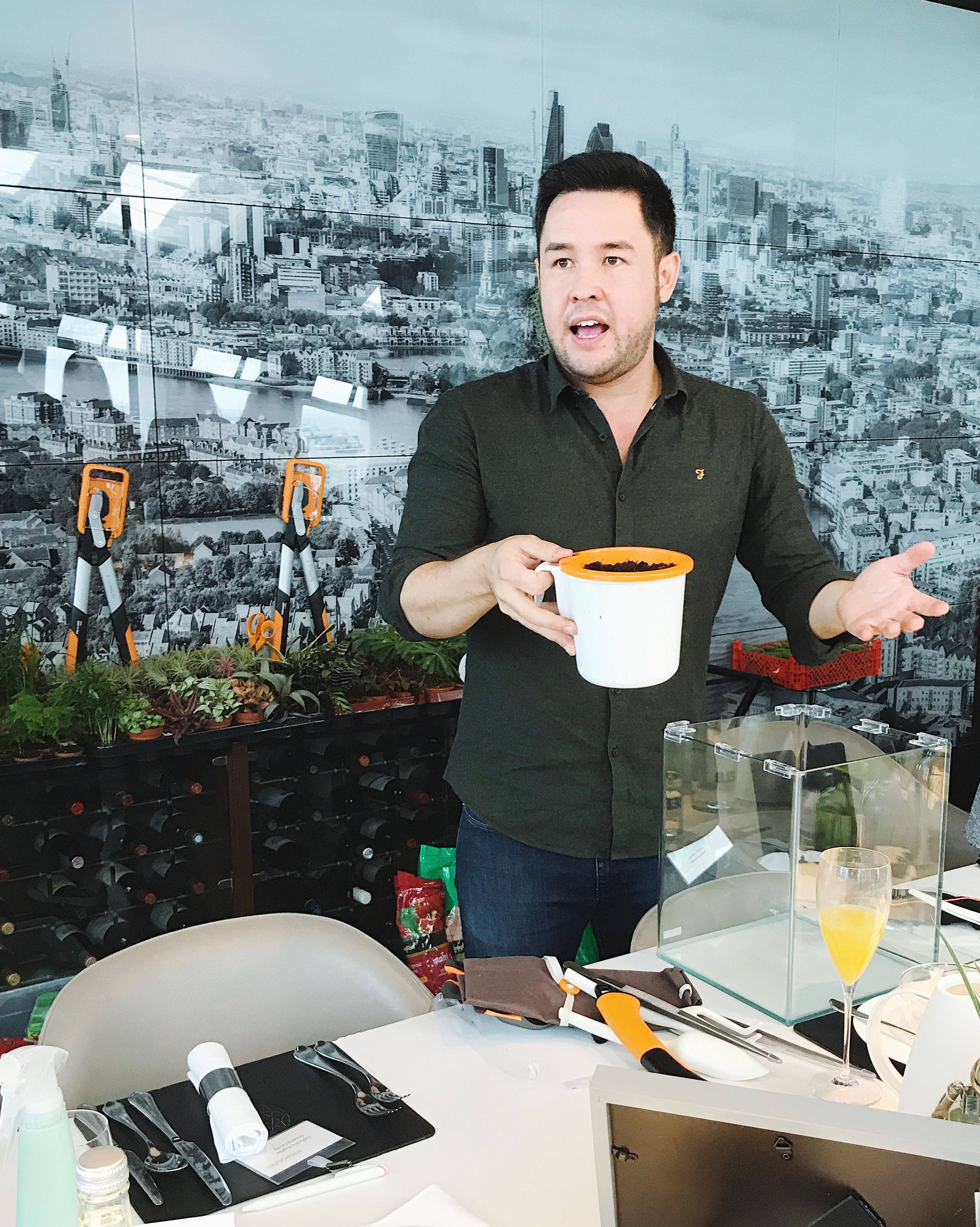 Advice: We were also given the advice not to overload the terrarium. Choosing specific greenery and placing it with empty space above really allows the glass container to have a well looking design and it is also great for the plants to breath and grow.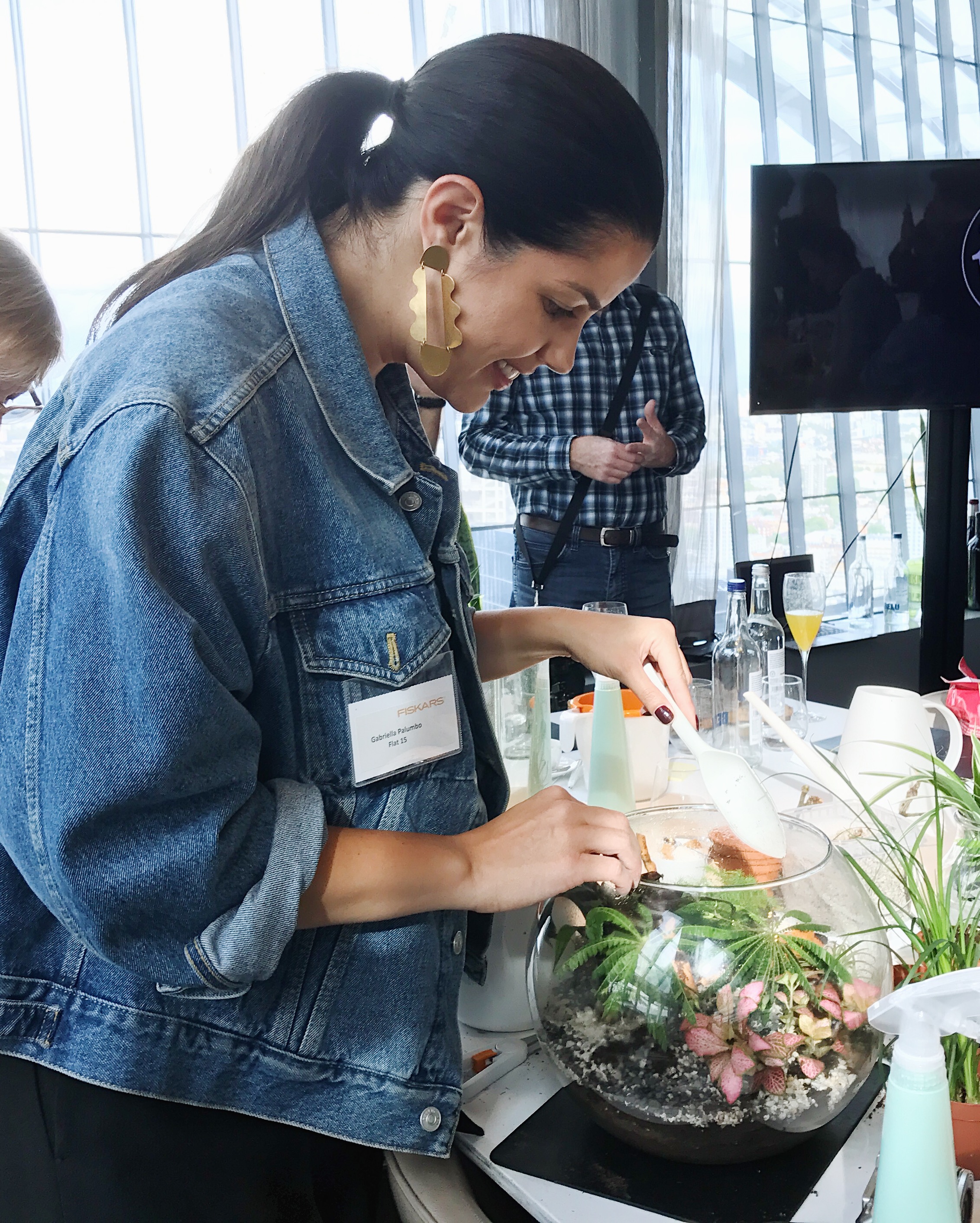 The Challenge: James challenged us to style our terrariums based on a specific theme (fun fact: this is apparently how they judge the gardens at the Chelsea Flower Show). I decided to call my terrarium "California Dreaming". I used greenery that reminded me of palm trees, as well as pops of vivid pink plants (the perfect L.A. color palette). I think it's a great idea to keep a theme in mind when making one at home. It really allowed me to be creative and also focus on a particular styled look (something I would not have done otherwise).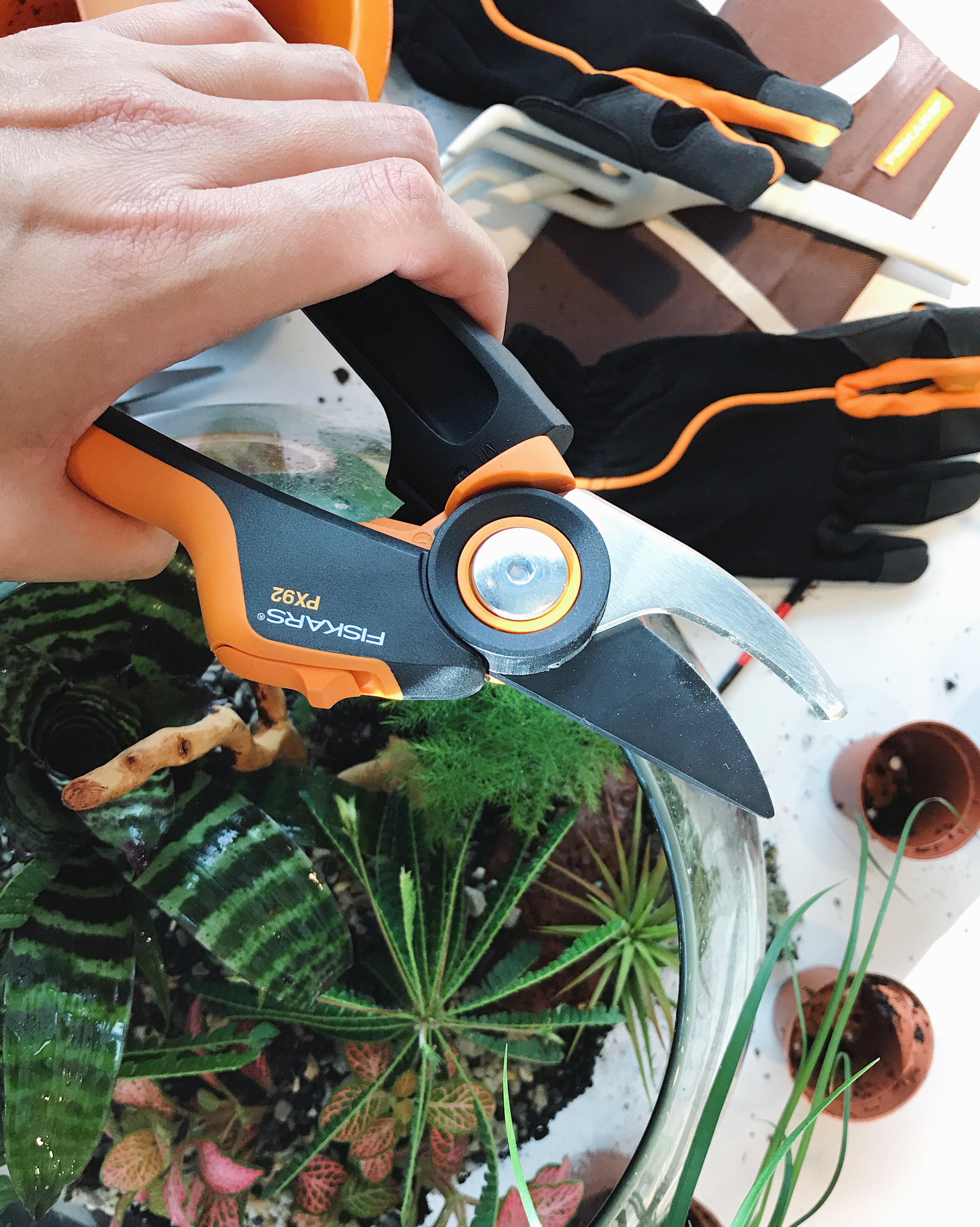 After Care: James advised us that our terrariums only need to be watered about every two weeks. He also suggested even to use a spray bottle to spritz the plants, as many times direct watering might be too much. Lastly, if possible keep your terrarium in a bright space but also out of direct sunlight.
My Terrarium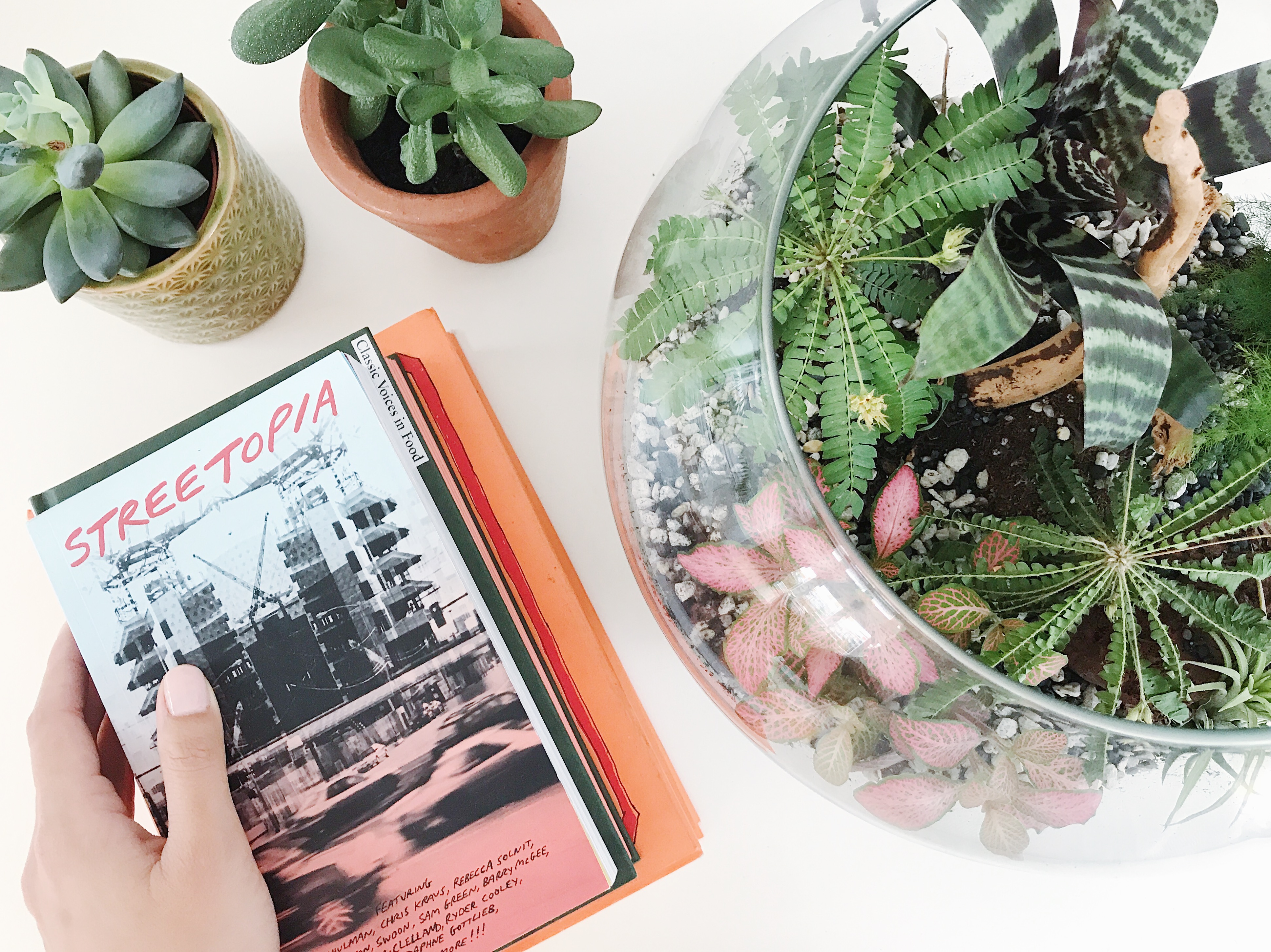 This is a sponsored post in collaboration with Fiskars.