Mothers Day Gift Ideas For Mums Who Love Design
This Sunday is Mothers Day here in England and since this will be my first year celebrating the holiday (as a mom) I thought that I would put together a little gift guide for all the mums out there that love design like me! Here is a round up of special pieces that I am loving at the moment.
Gift Guide for Mum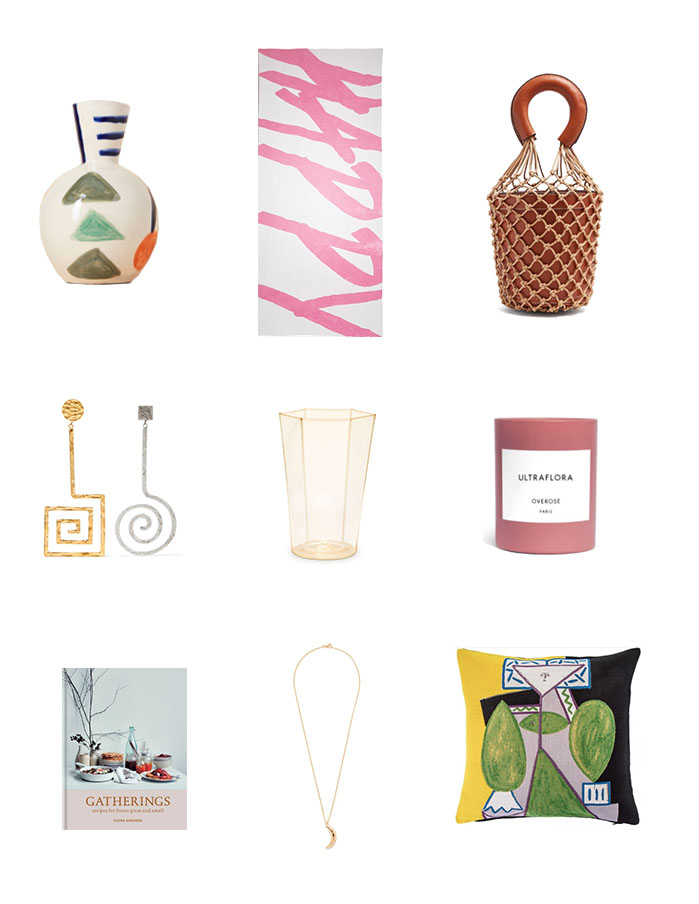 Shop The Guide
1 – I love the hand drawn abstract patterns on the beautiful new collaboration between LRNCE & Conran Shop. This vase is one of my favorite pieces.
2- This 'Happy' tablecloth is also a work of art in my eyes. This is a very special piece that any mum would cherish for years to come.
3- The bag of the upcoming season is this bucket bag by Staud. I love it so much and it would be a hit for any stylish mama.
4- Unique jewellery is always a favorite of mine. These graphic gold and silver earrings are definitely on my wish list.
5- Classic and chic. These very special gold glasses by L'Object will elevate any tableware collection.
6- These Overose candles are fun and upbeat. I love their matte pink style. Such a fun gift for mum.
7- Gatherings are what keeps family together. This is a stylish book is full of great ideas and beautiful inspiration for family get togethers.
8- Does anyone else watch "This Is Us"? (if you don't you should). This moon necklace reminds me of the one that Jack gave to Rebecca on the show. It is a lovely keepsake for mum.
9- I am a big fan of alternative ways to bring art into your space. This Picasso cushion is so great and also a perfect way to feel inspired at home. (It also coincides with the opening of the Picasso exhibition at the Tate Modern in London – could be a great present also!).