9 Reasons To Visit Design Week at Chelsea Harbour
Although I am a frequent visitor to the Design Centre Chelsea Harbour (usually searching for fabrics, furniture or tiles for clients of mine), I have somehow never experienced Design Week there. I didn't want to let this year slip by again, so I made it a priority to visit the showrooms for their bi-annual Design Week. I have to say that it was a great experience full of design eye candy and inspiring designer insights. Everything from the light filled domes to the bold decor colours felt uplifting and exciting. It is also super easy to navigate through the many showrooms and events that were going on throughout each day all week. What I took away from this experience was that this event is not just for interior designers. I think that despite popular belief anyone who has an interest in design or is just a general design geek (like myself) can find so much inspiration from visiting this Design Week!
9 Reasons To Visit Design Week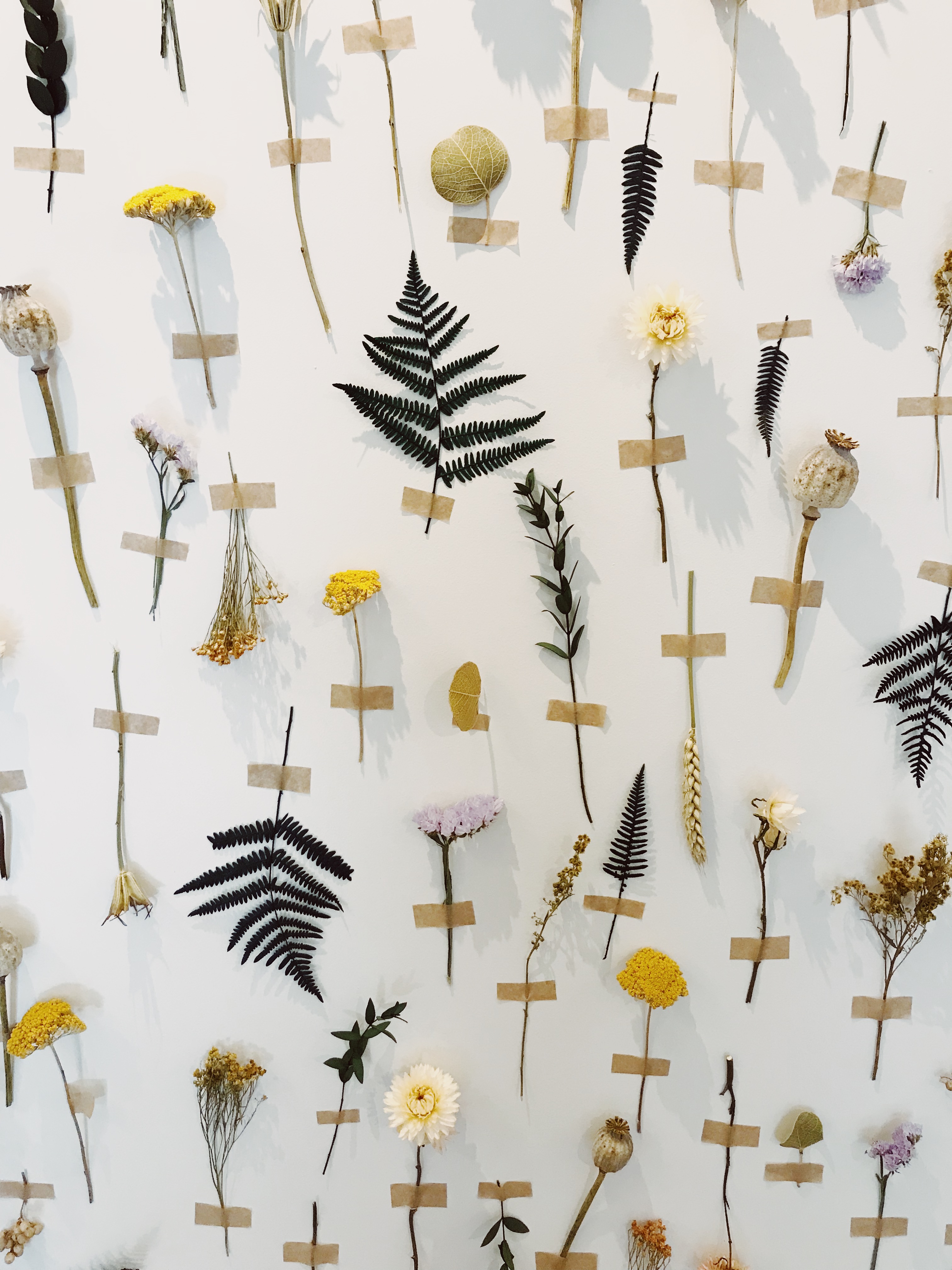 1. Unexpected Inspiration: Aside from discovering the latest collections and trends from the design showrooms, the centre was full of gorgeous decor accents and colours. I spotted this amazing wall of dried florals inside Style Library that just made me smile. I also want to try this now for an event of my own. The flowers didn't stop there. Tall and dramatic cherry blossom branches were on display at the How To Spend It Restaurant on the ground floor and they were beyond stunning.
2. New Bold Design: Typically when I visit the Design Centre, I am usually there on a mission to find something in particular. This time I had the chance to visit some of the designers that I haven't been able to before. I was especially in awe of the strong and vivid handmade wallpaper designs that I spotted in the Fromental showroom. This look goes right along with my trend prediction of Maximalism for 2018 (see more on that here). I could have stayed in this shop all day.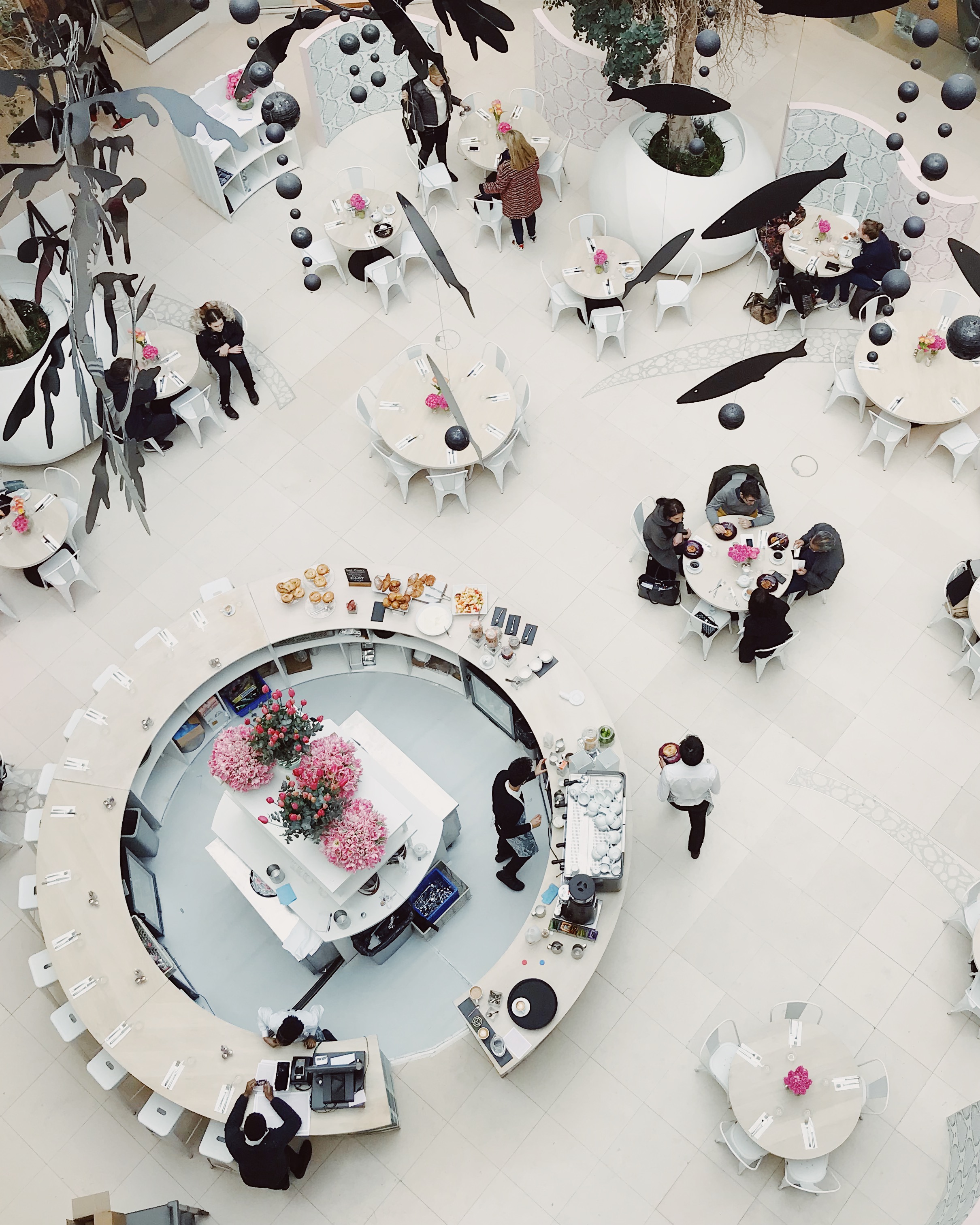 3. It is completely free to visit: Something I didn't realise about this Design Week is that it is completely free to visit. They also provide courtesy transport. It doesn't get much better (or easier) than that. This picture above is a view from the 3rd floor South Dome looking down over the cafe. I loved the geometric nature of the bar and tables.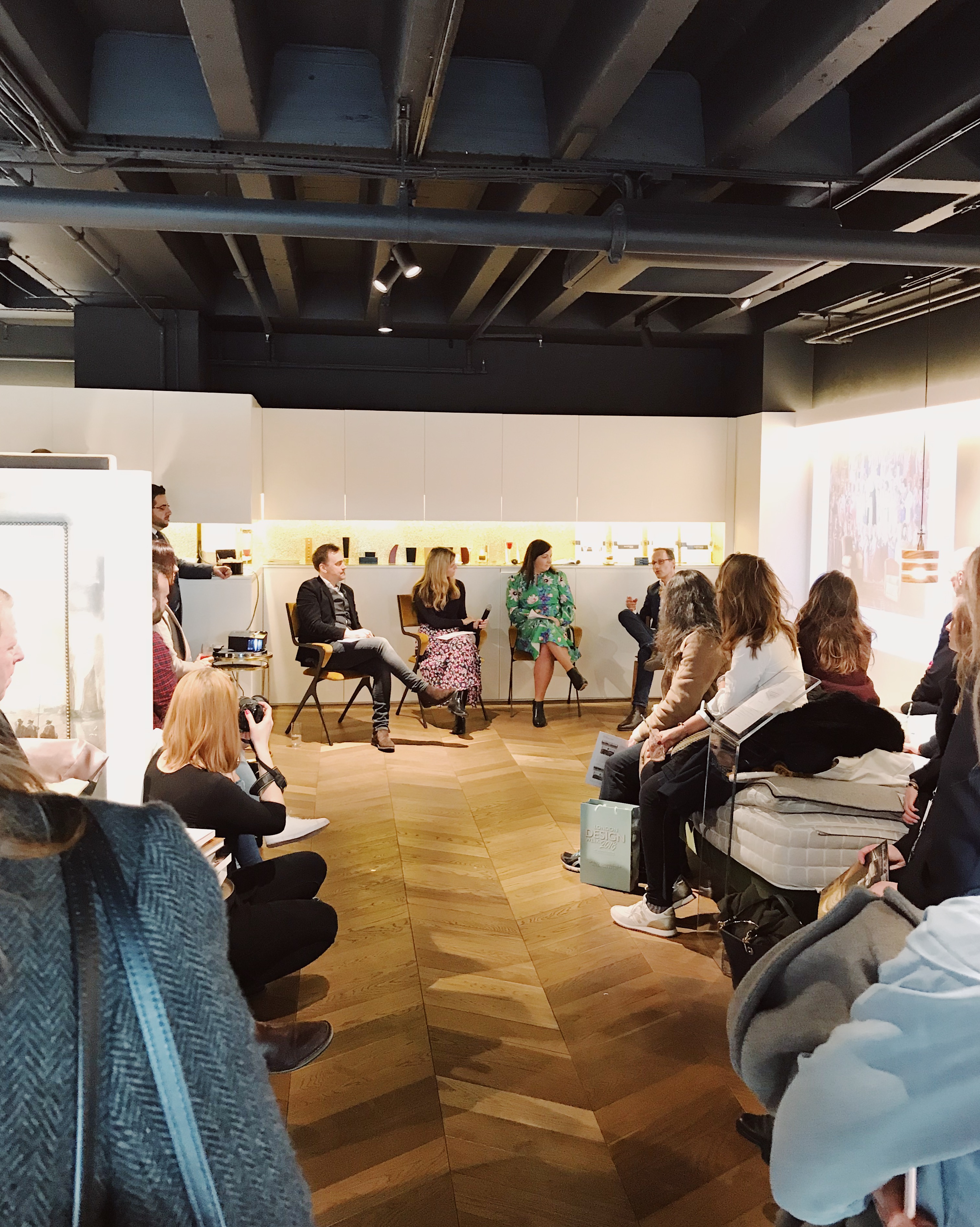 4. Conversations In Design: Throughout the entire week there were panel discussions and talks taking place in the 3rd floor Design Studio and also in some of the individual showrooms. One of the talks I really enjoyed was this Art & Design panel discussion in the Savoir Beds showroom. Emily Tobin (Art Editor and Features Director of House & Garden) talked with Judith Mather from The National Gallery and Andrew Martin's David Harris talk about the role of art in design. We also were able to view the latest National Gallery collection from Savoir Beds (which was beautiful), while listening to this group of experts discuss the important connection between interiors and art. This talk was right up my alley, definitely a highlight for me. Other talks on the main stage included design legends such as Kit Kemp, Martin Hulbert, Jay Grierson and Lord Snowdon (to name a few).
"Channelling a rising spirit of individuality and creative expression."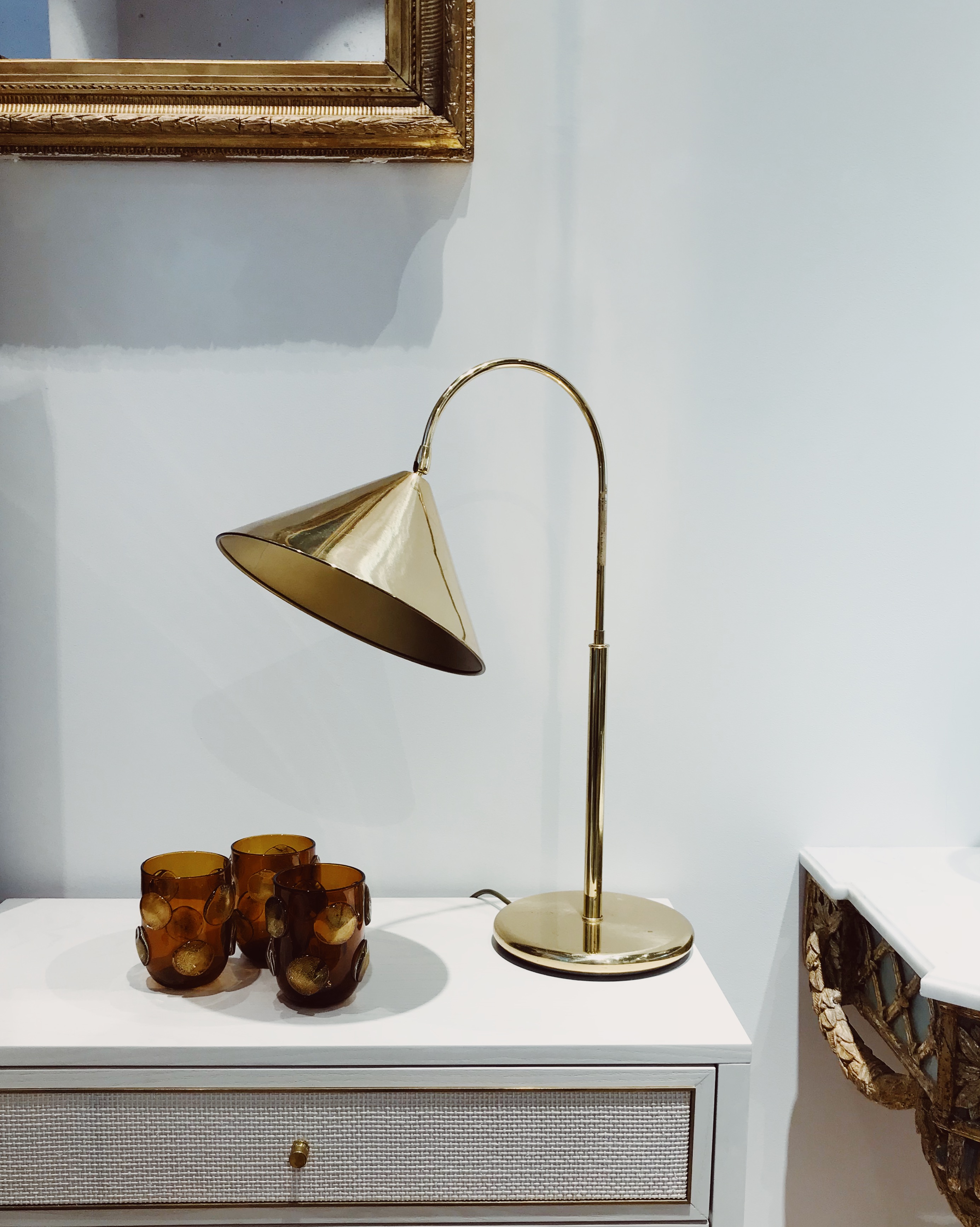 5. Checking In On Old Favourites: As well as exploring new showrooms, it was so enjoyable for me to visit some of my favourite designers to see what they were up to. Among them are Birgit Israel (image above), Romo (I love their fabrics) and Flexform (such a contemporary classic).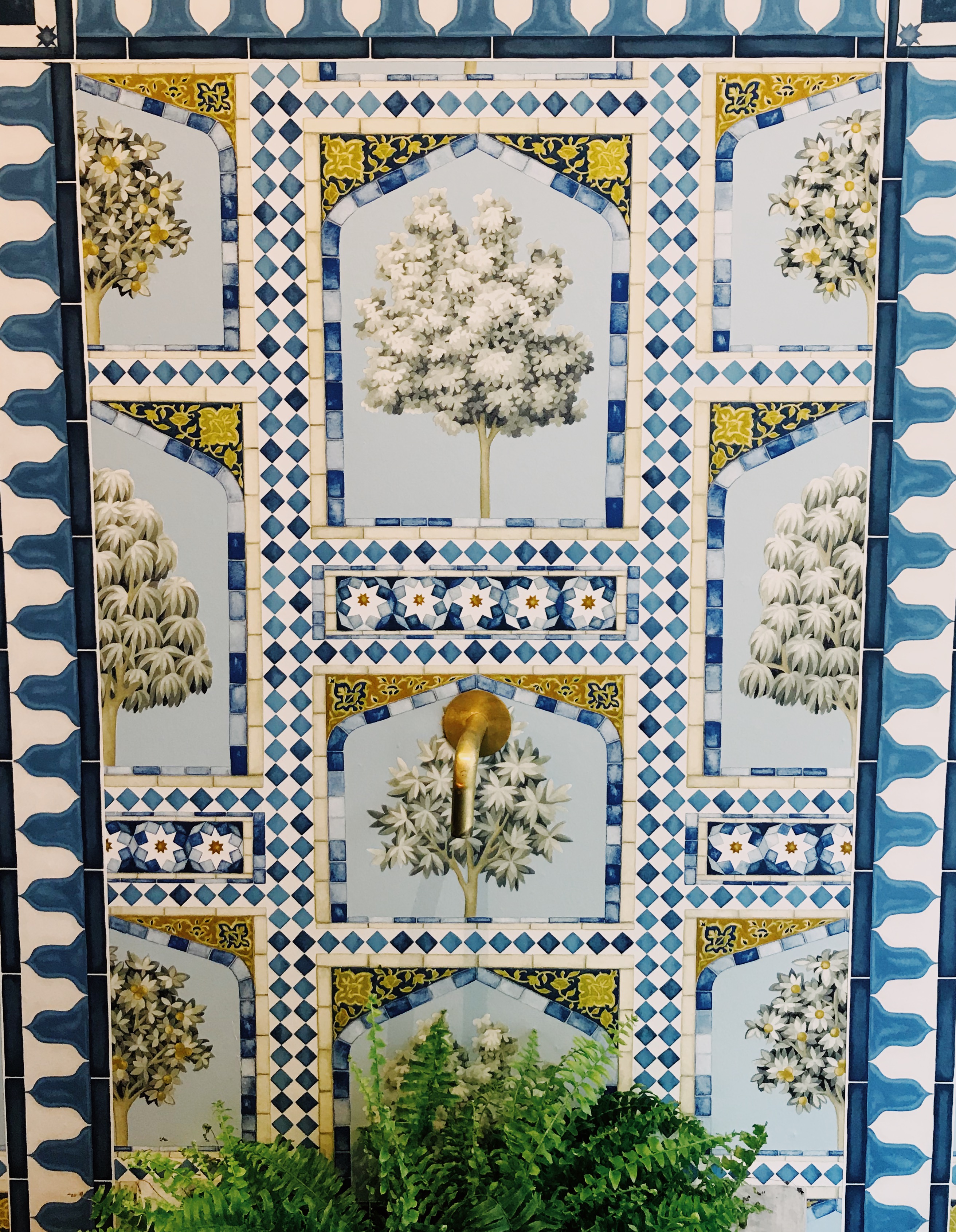 6. Legends: For this collaboration series, world-renowned designers from the interiors, art and fashion worlds collaborated with particular showrooms, showcasing draw dropping window displays. It was wonderful to also read about these tastemakers and their personal take on the world of design. A favourite of mine was the Martyn Lawrence Bullard and Cole and Sons wallpaper collaboration which included pattern themes such as "Hollywood Palm" and "Bazaar" in the collection.
"These eye-catching collaborations are visible expressions of imagination, style, wit and verve, and mean that a voyage of discovery will be waiting on every floor."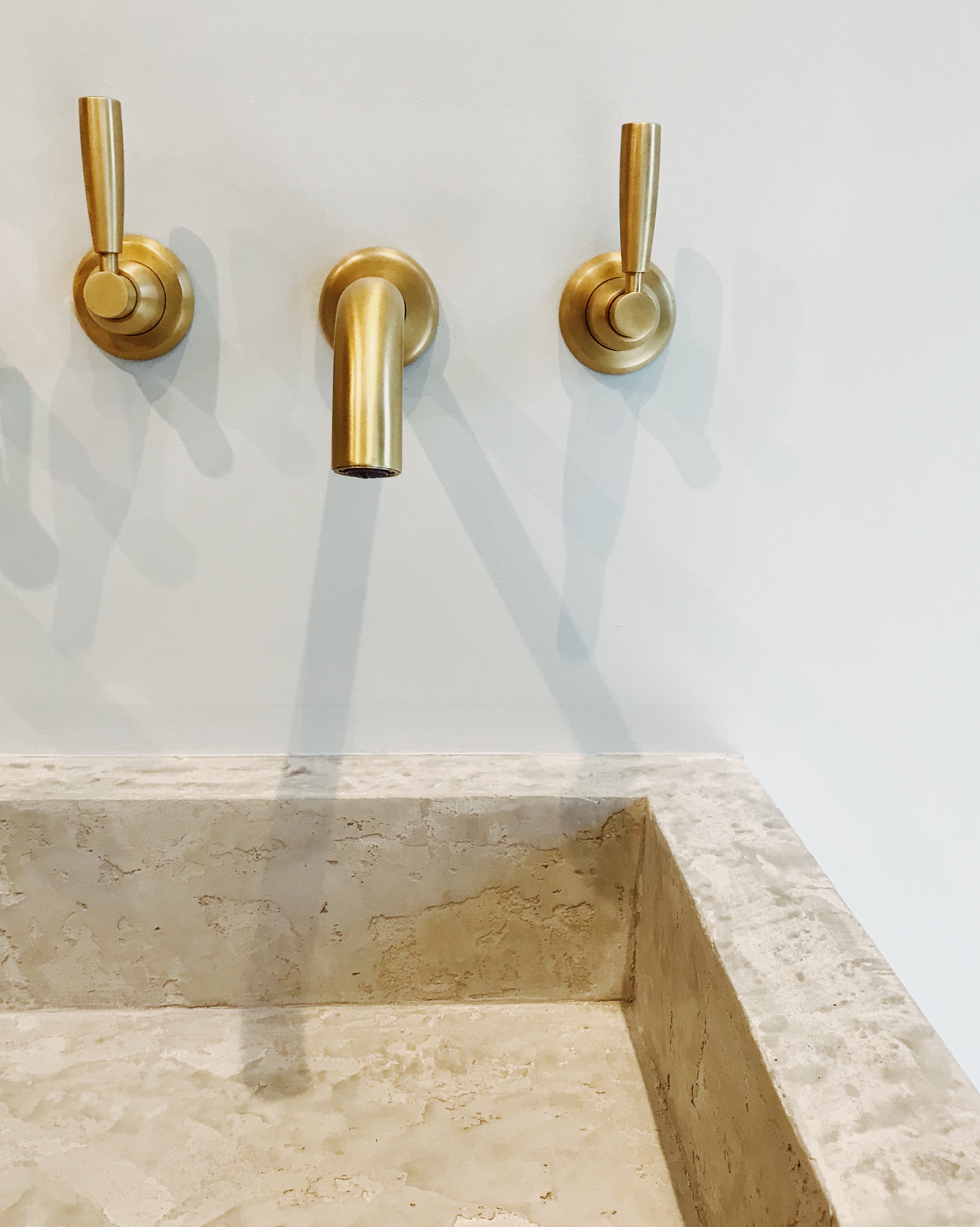 7. Classic Style: Something I enjoy about the Design Centre Chelsea Harbour is that even though they are celebrating great design and new collections, many of the showrooms in the centre are classic design houses … and let's face it, classic design is many times the best. It is where true style derives from. I especially loved the neutral bathroom and brass details at Perrin & Rowe.
8. Eye Candy Everywhere: The cafes and and restaurants were flooded with stiking florals. I especially loved this lilac wallpaper (which was also part of the tent) in the small coffee stop that connected the showrooms.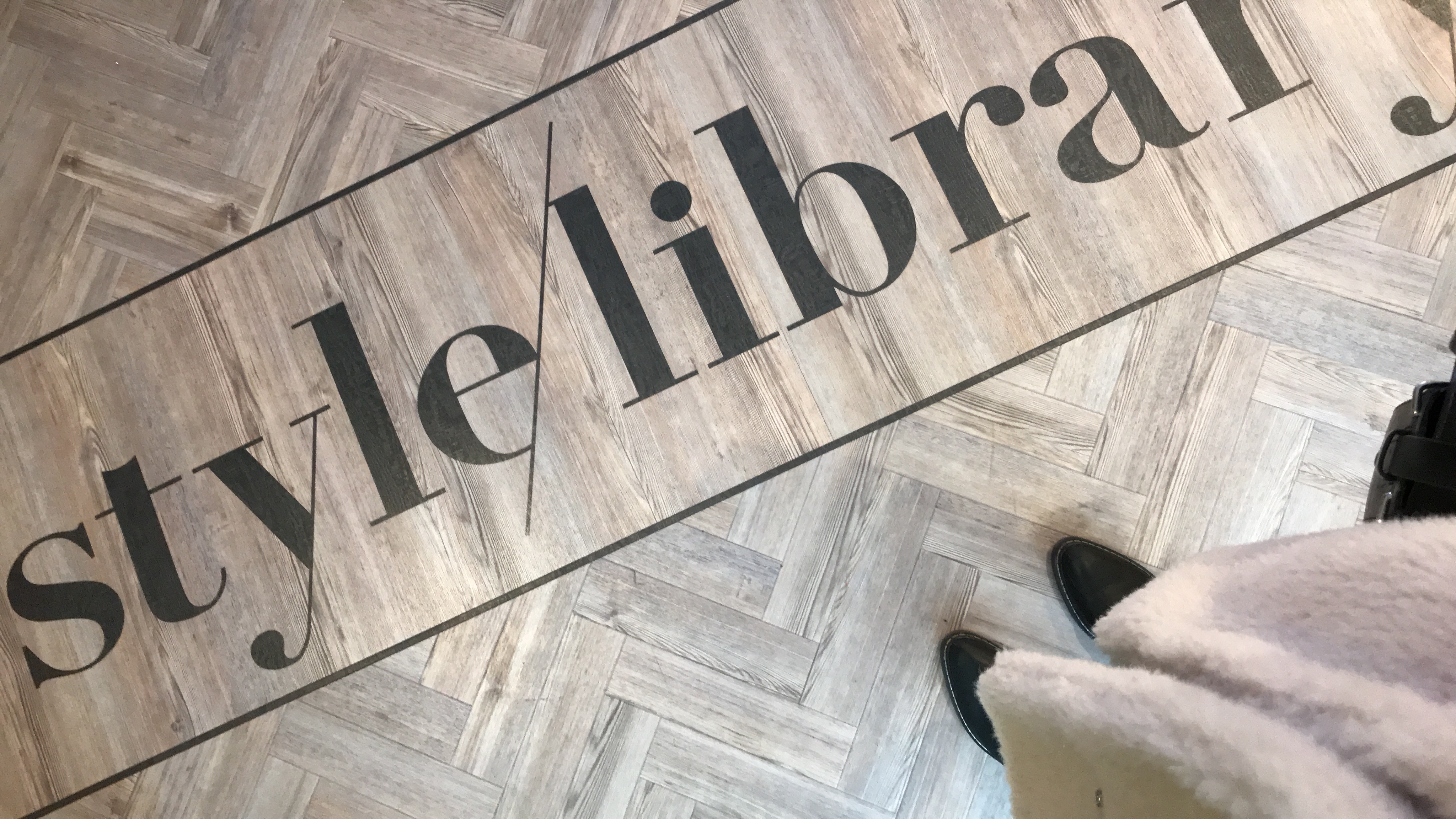 9. Fun Collaborations: I especially loved the collaboration between luxury accessories brand Loewe, who teamed up with Morris & Co at Style Library. The pattern was beautiful and for me, it is always nice when design branches out to fashion or art.
To read more about the Design Week at Chelsea Harbour see here.
(Quotations from Design Centre.)